There are so many reasons why you would want to work from home. It could be that you're a student trying to save and make extra money, a 9 -5er wanting a side hustle or even a retiree looking for a way to make extra income but the most common reason is to become a stay at home mom to get the freedom to stay home and take care of your family.
But wouldn't it be great to do that and still earn money without having to commute or do late hours in the office or factory or wherever you work?
Although this post is directed at stay at home moms, others of you who are looking for freelancing freedom can use this as a helpful guide to find the ideal work at home job and side hustle.
Once you start a family life changes, priorities change and what used to seem important as a single person no longer has the same sense of urgency.
You may not notice it all at once, but in the months after having children you start to realize that your life and your goals have slowly changed course.
This post may contain affiliate links. For more information read full disclosure.
It's no longer just about you and your partner but that tiny human, your partner and lastly you. Yes, you end up putting yourself last.
As your maternity leave draws to an end and reality sets in you are now on a mission to find the best job ideas for stay at home moms and I've compiled a list of some of the best even if you don't have the right experience or you're a complete newbie.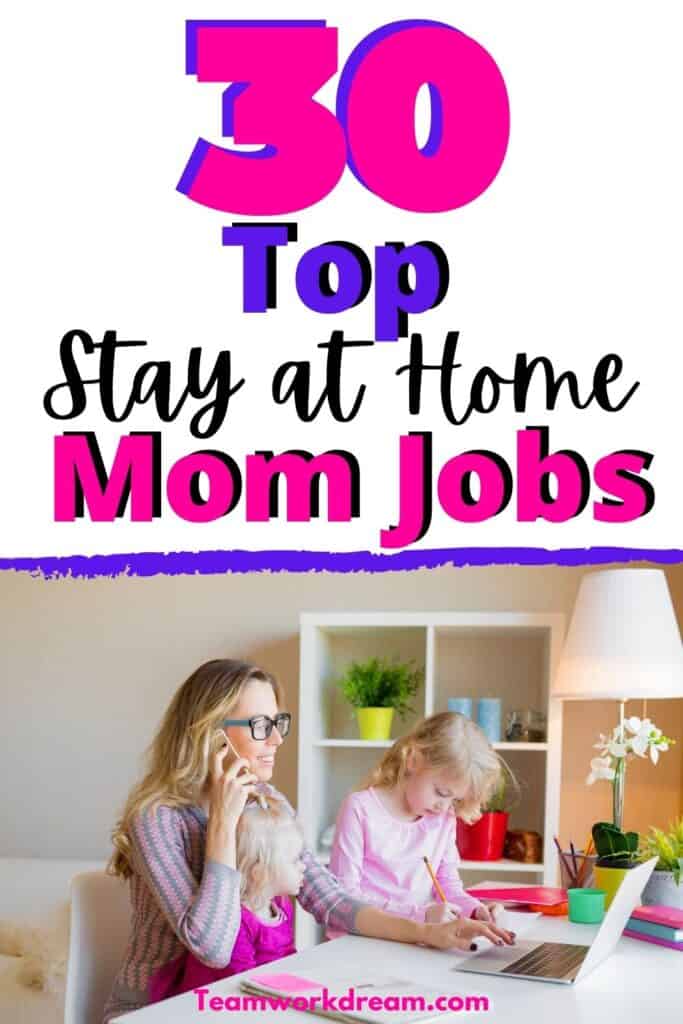 Best Job Ideas for Stay At Home Moms with No Degree
One of the greatest things about the stay at home mom job scene is that it is widely accessible to all moms regardless of whether or not they have a degree.
Some job ideas for stay at home moms who may only have a high school diploma and didn't go onto further education can still earn good money and can do things like the following:
This blog post is a seriously long read so if you want to relax and read this in your own time I've made it into a simple and convenient 21-page pdf ebook for you to easily download.
1. Blogging
If you can write helpful content in a friendly tone, then creating a mom blog is a very real career choice. You'd already have more than enough parenting knowledge to share as content and there are no limits to what new perspective on motherhood your blog could bring to the mom blogging table.
While it may take a little longer than other jobs for you to start seeing the fruits of your labor in the end it will definitely be worth it. A few of the ways you can make money through blogging include Affiliate marketing, Ad Networks, Selling Ebooks, and Offering Online Courses.
A great guide for showing you the ropes of blogging is Suzi Whitford's Blogging By Numbers. She sets out simple step-by-step instructions of exactly how to set up a successful blog.
I wish I knew about Suzi when I was first starting out as it would have saved me tons of time and money. You can check out more information here.
If you're looking for remote work from home jobs FlexJobs can help you find legit work at home opportunities. Sign up now to join FlexJobs.
2. YouTubing
Since the beginning of 2020, there has been an upsurge in the consumption of user-generated video content.
People are no longer content with just reading content, they want to watch, learn, and be entertained by it. As a result, if you don't mind being in front of the camera and sharing your expertise on a matter or just documenting your everyday life for your subscribers to see, now would be a good time to start that YouTube channel that you've been putting off for so long.
It's a great way to make extra income or even a full-time income through YouTube advertising, affiliate marketing and even sponsored content.
One of the best courses out there is from the inspirational Jennifer Maker who runs a Cricut crafting site and is massively successful on YouTube.
3. Transcription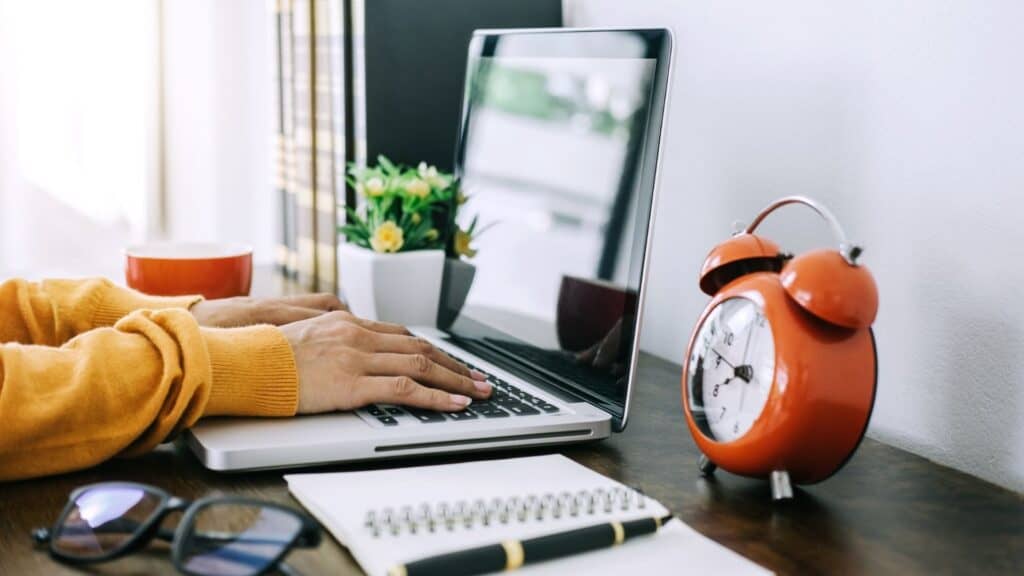 If you're more of an introvert or hate being on the phone or on camera then transcription could be the answer for you as a stay at home mom.
If you've listened to a podcast or any other audio production and thought this speaker dropped some gems and wished that you could see the contents in written format? Well, you can as it's done through transcription.
Many podcasters, vloggers, journalists use transcribers to convert audio and video into written word and this is where you can earn some money without having to leave your home.
There are a number of companies that offer transcription work from home jobs and there are even local places that you probably never even thought to look for this type of opportunity.
To learn more about how you can get paid to type as a stay at home mom check out this post of a colleague of mine, Layten Pryce who is an awesome stay at home mom whose whole business is as a transcriber and who now runs a transcription agency.
For even more ideas on where you can find transcription jobs where you live, have a read of this post.
And if you are a complete beginner to the world of transcription you can also try out this in depth course by Janet Shaughnessy.
4. Question Answering
You've probably had the experience before where you googled the answer to a question you had and saw an answer written by someone else on sites such as Quora or Yahoo Answers.
Back then you probably never thought twice about it since your question was answered but what if I told you, you could get paid to answer questions? If there is an area in which you have a lot of technical knowledge and wouldn't mind being paid to answer people's questions about it, a job as a Question Answerer could be an ideal work at home mom or dad job.
5. Print on Demand
How many times have you bought an item online or watched a YouTube video and the host tells you about their 'merch'? This is another pretty simple way to make money at home even if you have no design skill whatsoever.
The best part is to sell this merchandise you don't even need to keep stock as the companies that you sign up to will do all the hard work.
All you have to do is create and upload the design and the company prints, packs and ships the ordered items. Then you can sit back and collect your royalties.
You can add your designs to mugs, t-shirts, phone cases, shower curtains, leggings, clocks, wall hangings with print on demand companies like Redbubble or Printful and those are just some of the items.
Also, you don't need any expensive apps to make money from this. As a matter of fact, there are quite a few free apps that you can use like GIMP, Inkscape, Pixlr so there is no need to spend any money when starting out.
I've recently started doing this and have so far sold a T-shirt, a long-sleeved T-shirt and a couple of stickers and that's without me even trying to promote.
You can find out more about making money from print on demand here. This is a great side hustle idea for anyone as you can make designs even while sitting and watching Netflix.
6. Brand Ambassadorships
Most brands have figured out the secret to maximizing their earning possibilities. This secret is based on the idea that people sell, which means the best way to sell your product is to have people to sell it for you.
As a result, a lot of brands are now looking to take on brand ambassadors who they can send free stock to, who will in return post about the brand's product on their personal social media pages.
To guarantee sales, most brands give their ambassadors a discount code they can share with their friends and followers and some brands even allow their ambassadors to make a commission for every sale in which their discount codes are used.
If the idea of getting free products and making a commission from your sales sounds appealing to you, make sure to have your Instagram and other social media accounts up-to-date and start applying to those brand ambassadorship gigs.
7. Voiceover Acting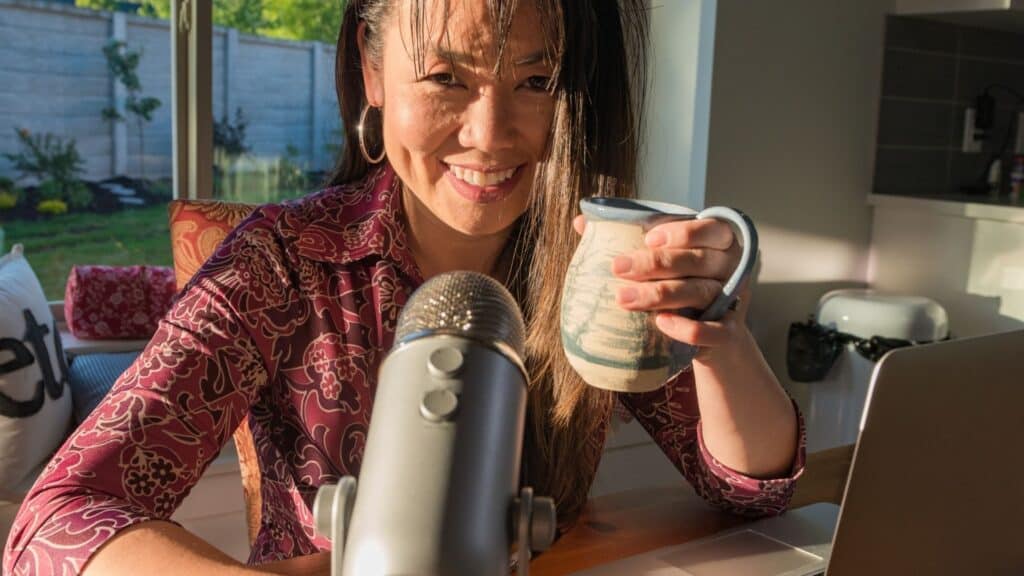 How many times have you bought an audible book for yourself or your kids? Did it ever occur to you how they found the narrator?
You have probably been practicing your voiceover skills and not even realized it when reading bedtime stories to your children or been complimented by others for the sound of your voice.
There are companies that you can register with where you don't need to be a professional actor but must be able to read and speak clearly within a quiet environment.
I actually know a few people who do this and when starting out they used their clothes closet or sat inside their car and recorded their voice on their phone for a voiceover project.
Crazy right? But it can be done. They now earn regular income reading audio books or providing jingles for podcasts and radio ads.
If you want to find out even more about becoming a voiceover artist read this post right here.
8. Babysitting
At some point as a teen, you might have been paid to perform babysitting duties and got paid to do it. Maybe you spent a few nights a week watching your next-door neighbor's daughter or you occasionally filled in for your aunt's son's babysitter on days she couldn't come in.
Even if you never babysat as a teen, as a stay at home mom you've spent more hours babysitting than you can count so you have more than enough experience for the job at hand.
Since you are already home, offering your service as a babysitter for other moms in your neighborhood who commute could be an excellent way to earn from home.
9. Virtual Assisting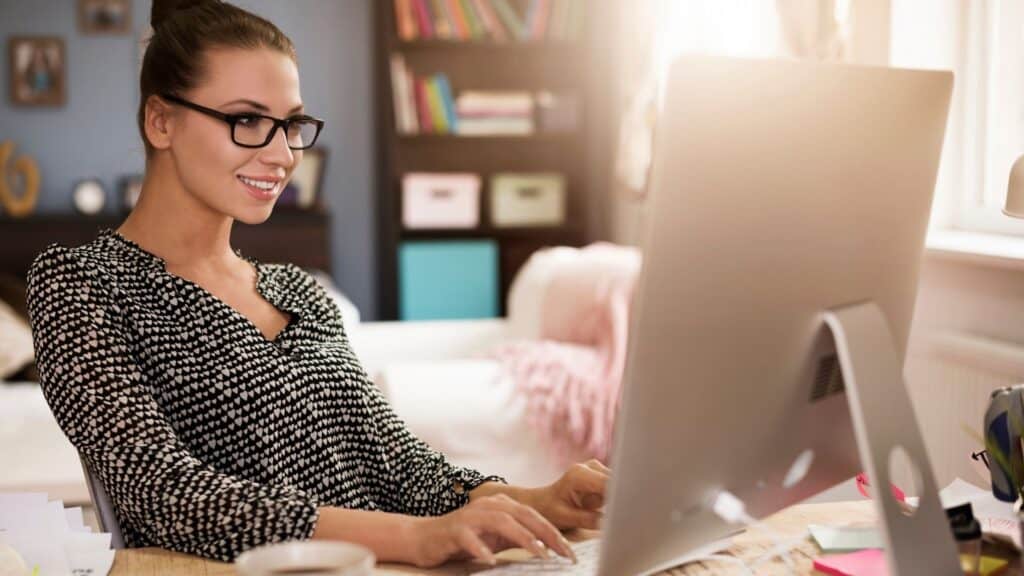 There is a growing popularity in the demand for Virtual Assistants. Companies, especially small businesses and entrepreneurs are starting to recognize that it is much cheaper to run their businesses remotely by outsourcing and getting the job done just as efficiently and without the added overhead costs.
That said, the job of a virtual assistant can be very diverse depending on the company with which you work.
Generally, the job entails performing regular admin work such as scheduling meetings, writing and sending emails, and performing data entry but there is a much larger scope and some positions involve writing articles, graphic design, social media management and much more.
Some of these tasks you can learn on the job or you can take a course, so you don't necessarily have to have the experience you just need to be highly organized and proactive.
I have been a virtual assistant for a number of years and the course that helped me was Fully Booked Virtual Assistant . An excellent resource from the Horkey Handbook team who have a range of courses to including this mini course to start a stay at home working career.
To find out more about how you can become a Virtual Assistant you can learn more by reading this post.
10. Freelance Writing
If you have a passion for writing and looking for a job that will make you money faster than the time it takes to monetize a blog then why not consider becoming a freelance writer?
As a Freelance Writer, you'll have the ability to set your prices and your own schedule. For more information about how to become a Freelance Writer and where to find great paying writing from home jobs check out this post.
You can also get the right skills by Writing Your Way To $1,000, a step by step blueprint by Elna Cain that shows you how to set up your freelance business, where to find freelance high-paying writing jobs, how to pitch to clients, made up of 54 lessons with helpful tech videos and Facebook Group.
I took this course and earned back my course fee after doing one job for my first client so it's well worth the investment.
11. Social Media Managing
How about earning from something you use everyday. Are you one of those persons who use social media every day, know the ins and out of it, follow your niche to build your followers, and look at things and curate and share things you're interested in with others all for free?
Rather than doing this for free and for your own personal enjoyment you could essentially make serious money at home by creating, managing, and growing brands through advertisements on platforms such as Instagram, Twitter, Facebook, and more.
Would you like to offer a service like this? You can find out the full ins and outs about becoming a social media manager or social media virtual assistant right here.
If you have a knack for writing, editing, researching, graphic design, marketing, and data collection with great analytical skills then you could manage social media accounts for clients.
If you want to get yourself a helpful guide on how to do this without breaking the bank then this is the course to take.
12. Graphic Designing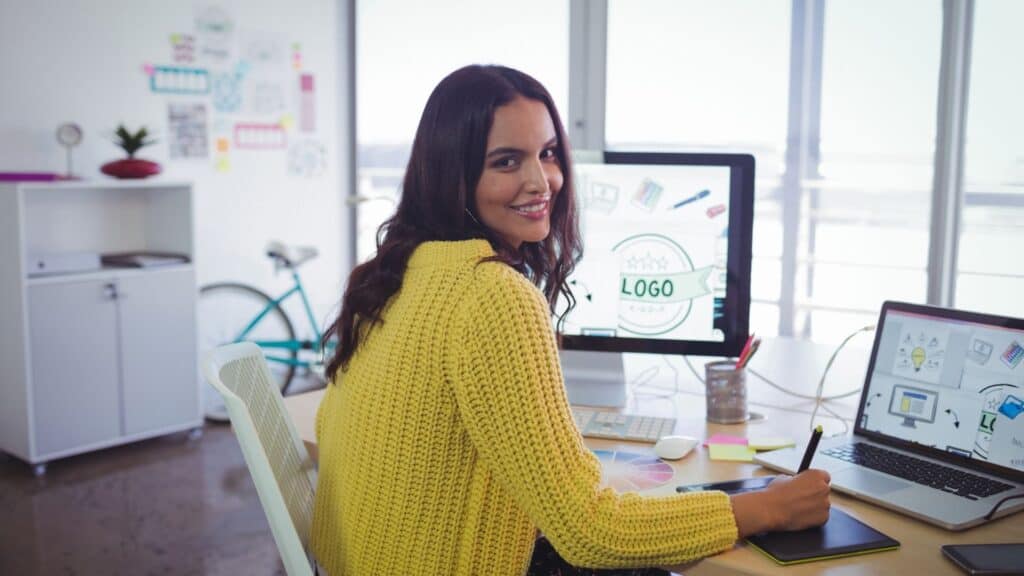 Another of the popular work at home jobs for moms right now is Graphic Designing. As companies seek to improve their digital presence they're looking for experienced Graphic Designers who can bring their brand messaging to life.
If you have an excellent grasp of graphic designing platforms such as Adobe Photoshop, Adobe Illustrator, or other graphic design applications, even Canva, you can make good money as a Graphic Designer.
One of the most requested are for social media platforms like Pinterest. If you can design pins for Pinterest or animated Instagram and Facebook graphics, and also YouTube banners then you can set your own rates and promote your design services to bloggers, vloggers and small businesses.
An easy way to do this without having to constantly design is to create editable graphic design bundles that people can easily purchase. This saves you and your potential customer lots of time and can make you a semi-passive income.
13. Web Designing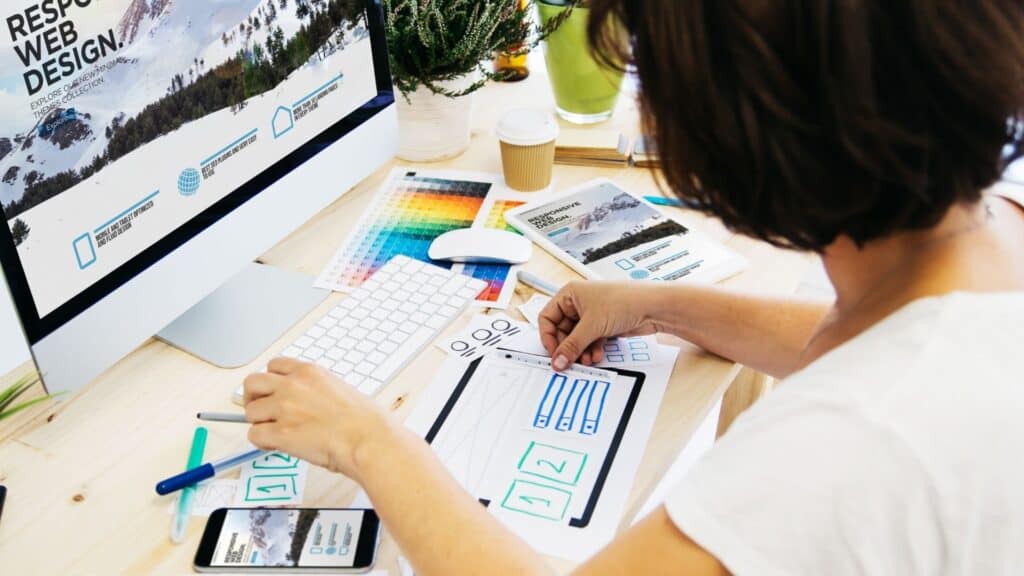 Stop for a minute to think about the first place you go to when you want information on a company. Chances are your answer is Google.
The power of Google as a search engine allows you to see all the information about a particular company and in the top 10 listed results you're likely to see a number of company websites.
Company websites are usually one of the first places you find out information about a company, especially now that we are in the digital age.
If you did this kind of job when working in an office or studied in college and never took it any further you are truly missing out on a money making opportunity.
Many companies are willing to pay just about any price to the best web designer who can develop their company's website.
You can learn the right way to create WordPress sites for clients. How about taking a shortcut? These days you don't even need to start from scratch with a ton of coding to develop websites.
You can create ready-made themes that you can sell to clients who then just need to drag and drop their content and images.
If web design is a skill of yours or you're willing to learn, now is a great time to use this skill to make money at home.
14. Bookkeeping
Does the phrase highly organized best describe you? Are you the person everyone turns to when they can't find a bill or receipt? If you answered yes to any of these questions then the job of a bookkeeper could be the perfect fit for you.
As a virtual bookkeeper, you'll operate as the safe for a small business's transactions by keeping track of invoices, bills, payments, and receipts.
For more information on starting your virtual bookkeeping business, you can read this post right here.
15. Pet Grooming and Pet Sitting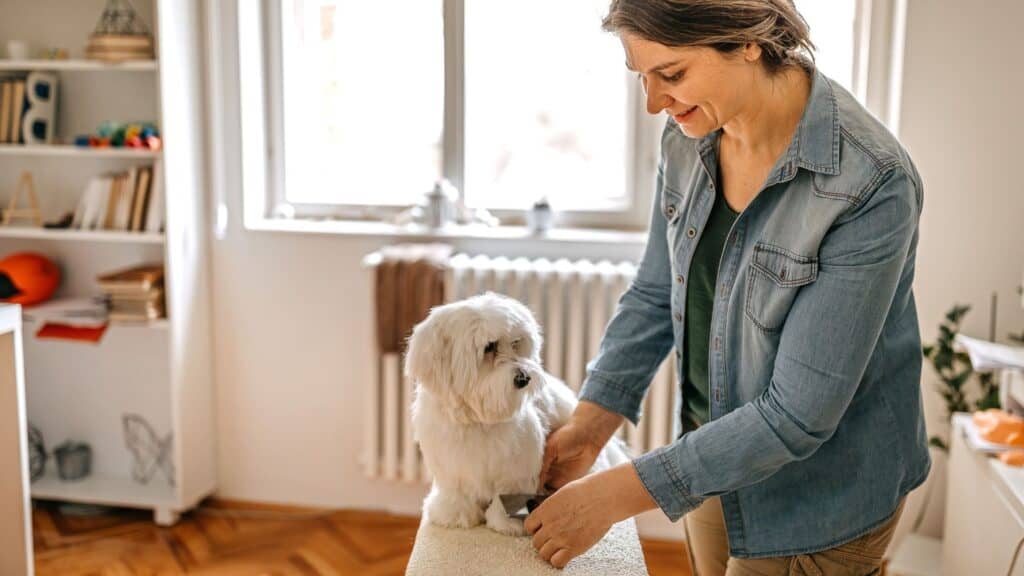 Do you love animals and can't get enough of the time you spend around them? Don't mind doing a few animal chores? Well, pet sitting could be the ideal job for you.
Animals need a little or a lot of TLC from time to time. A walk in the park, or perhaps some cooing, cuddling and grooming not to mention preparing and feeding them with very satisfying meals on-demand. This lucrative and rewarding pet-loving opportunity awaits you at CareGuide Pet Sitter.
If you want to go all in in the world of taking care of pets you could even start your own at home pet grooming service.
Best Jobs Ideas for Stay At Home Moms with No Experience
If you are new to the life of work as a mom, you're probably thinking that finding work will be next to impossible because you have little to no experience. Contrary to such thoughts, there are, in fact, jobs for stay at home moms like yourself that require no experience whatsoever. To find out about some of these keep reading.
16. Airbnb Hosting
This is a job that can be done by putting little to no effort in on your part. All you need is an available empty space in your home such as a room, a second home, or apartment that you can list on the Airbnb website and if you live in a tourist area within the blink of an eye, you'll be raking in those dollars.
There's a little bit more to it than that but it's not as hard as it may seem if you use the right guide to start an Airbnb business.
Another thing you might not be aware of is that you don't even have to use your own home to start an Airbnb business. You can learn how to be the best Airbnb host at other people's property. Airbnb Hosting allows you to offer your hosting services to a wider audience.
17. Amazon FBA Selling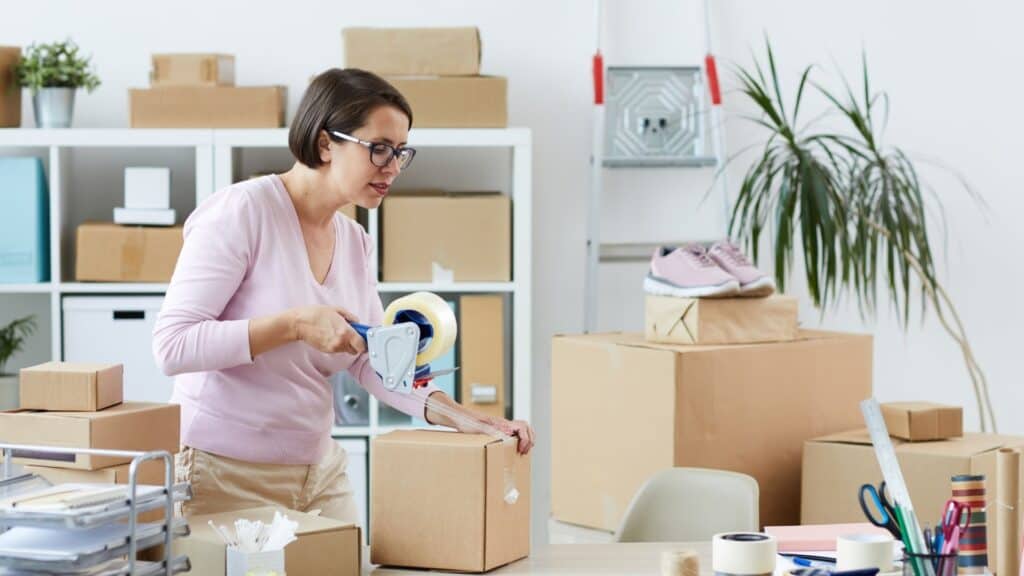 Ever dreamt of starting your own online business but didn't have a clue where to start? Well becoming an Amazon FBA seller can easily make this dream a reality if you're prepared to put the work in.
As you know, Amazon caters to many users worldwide, which means your products will be seen and available for purchase by a variety of people. Best part? You don't have to worry too much about managing your business because Amazon will do all the work for you.
In case you want to know what FBA stands for it is Fulfillment By Amazon. Meaning Amazon allows you to use their platform for you to sell your products through. Giving you a worldwide audience and providing customer trust through the Amazon brand.
Just send in your inventory and create your relevant product listings and Amazon will take care of the rest. You will have to learn how to use the right SEO words and how to write great product descriptions.
Also a word of warning, you're home will look a bit like a warehouse for some of the time but if you don't mind or have garage space then this might be a good option for you
To note that you will need some start up costs for your inventory and for Amazon fees. For more information about becoming an Amazon FBA Seller learn more here.
I myself prefer Amazon Merch as I don't have to have any inventory at all but that comes under print on demand.
18. Surveying
If you're just looking for a few extra dollars to help with the groceries then why not try completing a few surveys?
Filling out surveys will not earn you a full-time income in anyway but if you have a few spare moments it's a great idea to make a little money in that time.
You can easily sign up with various companies like Opinion Inn, Survey Junkie and Reward Fish.
Do you constantly read product reviews online, whilst trying to decide on whether or not a product does what the makers say it will do? If your answer to this question is yes, then you should consider being paid for your opinion.
Many many moons ago I did a review for Samsung which was not a popular brand at the time, They hadn't even rally gotten into phones then. I had just bought one of their flat screen TVs and a music system.
I couldn't afford the Sony one and I found out that Samsung made parts for Sony anyway and I did a survey and a face to face forum for Samsung. I was paid around $300 at the time for my product opinion.
There are a lot of websites that are craving a visit from you wanting your opinions and suggestions. If your interest is sufficiently piqued then you should visit Swagbucks for additional information about getting paid to take surveys.
19. Proofreading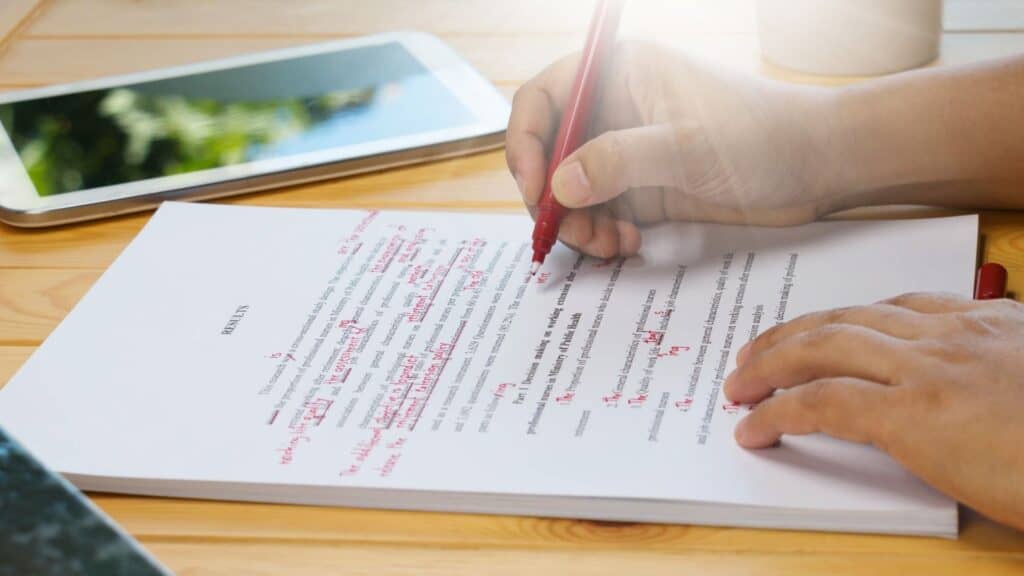 A lot more goes into content creation than just writing. Use of language, grammar, and punctuation are also very important aspects of obtaining the finished product for your writing piece.
If you can spot a missing punctuation mark from a mile away and pick up on improperly used grammar within seconds of reading it, a job as a Proofreader may be the perfect fit for you.
You can find proofreading work from home opportunities all around both locally and globally. Local authors, court reports, stenographers, journalists. For more information on the best proofreading work from home jobs this year click here.
If you're interested in learning how to become a proofreader as a stay at home mom then the best online proofreading course available has a free webinar where you can find out the full details.
20. Translating
With people living all over the world and speaking tons of different languages, people who know more than 1 language are always 10 steps ahead of the game and in very high demand.
If you have the good fortune of being bilingual or trilingual, this is a skill that if offered as a service could possibly make you lots of money. To find translation jobs that best suit your language knowledge, you can check out FlexJobs, Unbabel, or Gengo.
21. Etsy Selling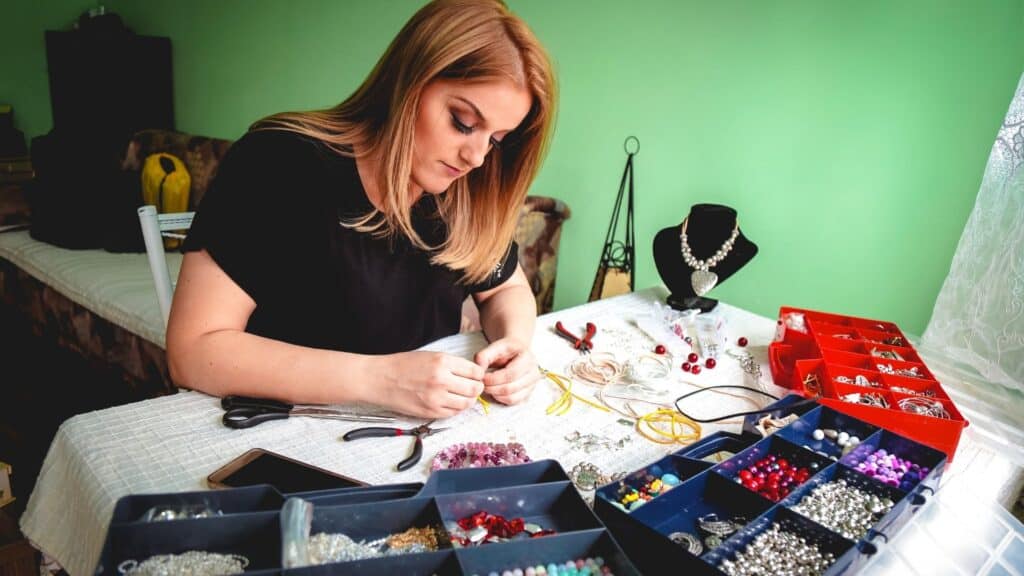 Like Amazon, Etsy is a marketplace where people can sell their products (usually crafts, such as paintings, pictures, digital printables and handmade items) online.
Unlike on Amazon FBA, on Etsy all business transactions take place between the seller and the buyer, no stock has to be sent to any warehouses so you can run your business right from the comfort of your home. Plus, with a little bit of research into the best things to sell on Etsy, you can make a really decent income.
So, if you're a whizz at making handmade soaps, making cake toppers or making gardening aprons you can sell them on Etsy. There are a lot of other craft-selling sites but Etsy is the most popular.
If you're interested in opening a craft store on Etsy but need some inspiration why not learn something new on the Craftsy site to make an extra income.
As mentioned earlier about a popular Youtuber her whole business is crafting and if this is your talent it can easily be done in the comfort of your home.
Many stay at home moms find that they want a complete change of career once they have children and crafting tends to be one of the more creative things to start as a business from home.
Even I've recently bought myself a Cricut machine to start a new hobby and who knows where it will take me. You too can give it a try and check out the YouTube videos for crafting at home business ideas and inspriation.
22. Event Planning
Do you get really excited like a kid in a candy store when you attend an event that is well-coordinated and impeccably executed? Well, I most certainly do!
As a stay-at-home mom, you probably plan and execute a lot of birthdays, christenings, and sports championship parties for your kids and their friends year after year.
Scouting for the ideal location and organizing kid-friendly meals and activities are a specialty of yours. So just imagine getting paid to do Event Planning as a stay at home mom. This also nicely ties in with crafting and having an Etsy store.
23. User Experience Testing
In a world where online researching takes precedence over making phone calls or in-person visits, the sales a company generates can be dependent on their business' online presence.
One way for them to ensure that their business website is up to standard is by conducting user experience testing.
As a User Experience Tester, you'll be required to evaluate websites based on their visual appeal, navigation ability, and quality of content. For jobs in the User Experience Testing Industry you can check out Respondent, UserTesting, and TryMyUI.
24. Call Center Agent
I'm not going to lie but this job isn't for everyone. Though the benefits are amazing, if you don't like having phone conversations then this job isn't for you.
Being a call center agent requires you to spend a great period of the day talking to strangers on the phone and helping customers satisfy their needs.
There is no special requirement really needed for this but it does test how well you are able to communicate. Call Center Agents are high in demand, whether it be full-time or part-time I am sure there is a job out there for you.
There are companies like Sutherland Global, Alorica, and Appen that are always recruiting and they actually recruit globally for call agents.
25. Data Entering
If you're quick at typing and detail oriented the role of a Data Entry Clerk is a simple work at home choice.
To become a Data Entry Clerk you need the basic of equipment and all you really need is a working knowledge of Microsoft Office Apps and in particular Microsoft Excel and Microsoft PowerPoint or use the free Google apps such as Google Sheets and Google Slides.
You can find more information on the best data entry jobs that you can start this year here.
26. Online Styling
Are you a fashionista? Do you love fashion and it doesn't just have to be clothes? It can also relate to home decor. Are you the one your friends come to whenever they need styling advice for them or their home? If you answered yes, here's your opportunity to turn your hobby into an online paying gig.
In today's world, the eCommerce market is booming, more people are shopping for clothes and home decor online but not everyone knows what looks good or will suit them or even quite what their style is. Hence, the need for people like you.
Clients need you to help them identify their personal style. As a stylist, your job duties will entail matching your clients' personal style, while shopping for them at their budget request to ultimately make them look fabulous.
27. Photography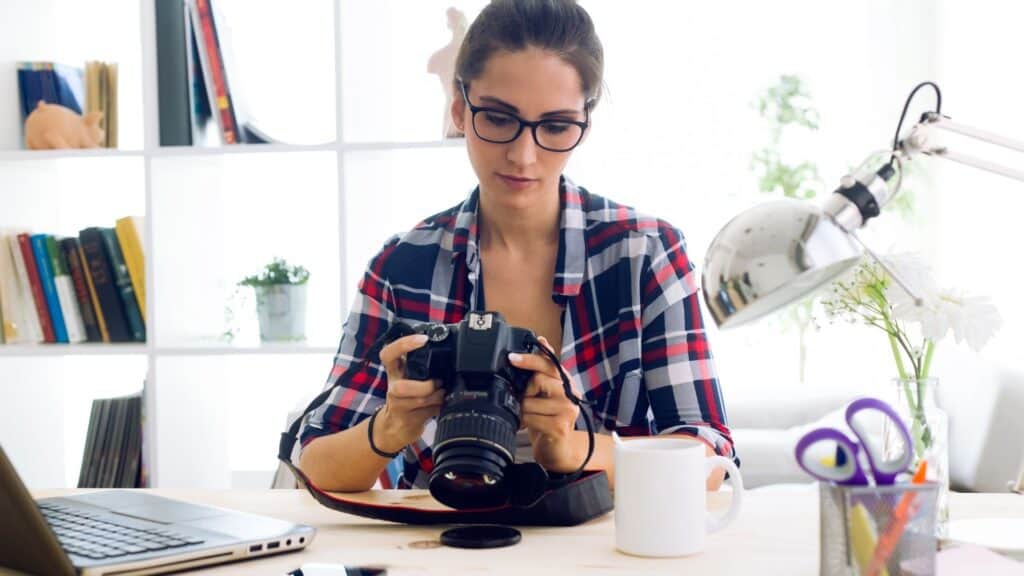 Hobbies are an excellent way to earn money. It's something that you can enjoy doing in your spare time or turn into a full-time gig. One great hobby to turn into an at home money spinner is photography.
You can use your photographic skills in a number of ways. Traditionally with a brick and mortar building where people come in to take photos or providing an online photography service.
Photography can be niched very easily so if you have a special interest such as children, animals, nature, food, fashion, architecture, special events etc, you can provide unique photo bundles to websites such as Shutterstock, Creative Market, Etsy, Snapped4U or sell on your own website using plugins such as Fotomoto.
You can even take photos and use them as mockups for other business owners to use.
You can learn more on how to make money taking photos and using photography apps as a side hustle by uploading them online.
28. Travel Consulting
Are you the consummate vacationer or do you live vicariously through others? Do you regularly give a blow by blow account of the places you have visited and your cultural immersion with its residence?
If you possess the ability to plan, organize and expertly prepare a budget for traveling, then you should consider getting paid for your experience as a remote Travel Consultant and help individuals or groups decide on their next travel destination.
29. Online Tutoring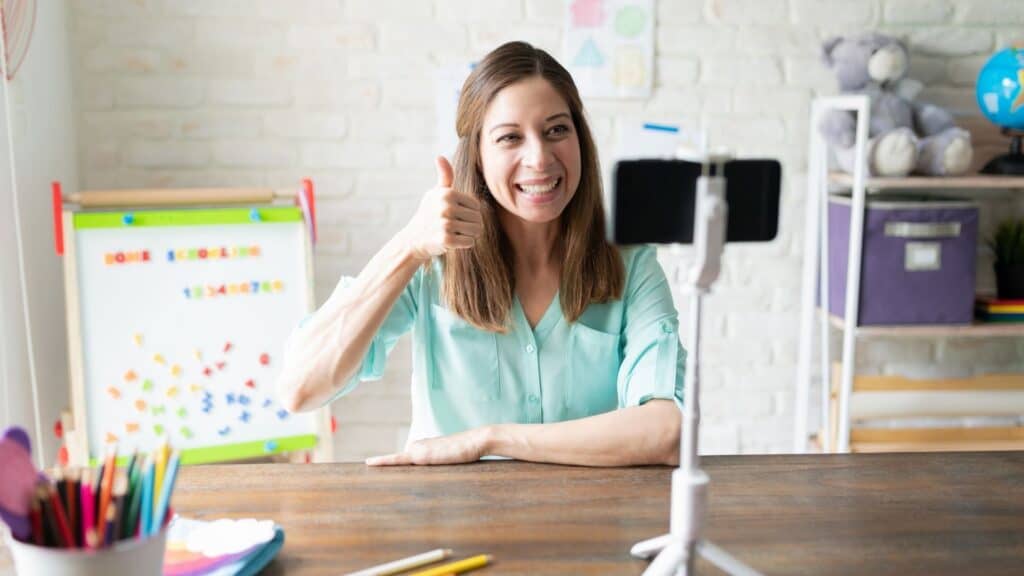 If you have a vast amount of knowledge in a particular subject or expertise or you fluently speak another language, then online tutoring might be for you.
In a nutshell, you use your experience to offer tutoring services online. Once your service is purchased you can use your expertise to assist students who need the extra help. The better of a job you do the more clients you will be able to get.
One of the most popular online tutoring platforms is VIPKids and many stay at home moms who have past experience as teachers join this tutoring platform to earn money at home.
There are tons of learning platforms that you can add your services to tutor and they cover a range of topics. From piano lessons to traditional classroom teaching but done online.
30. Product Testing
Before a brand launches a new product there are a few things that need to be done to guarantee that when it hits the market the company will be able to generate sales. Chief amongst these things is to find out buyer perception of the product.
The best way for companies to obtain this information is by hiring Product Testers to share their honest opinions of the product. If you're interested in becoming a product tester you can sign up with companies such as Pinecone Research, McCormick and American Consumer Opinion to get started.
Final Thoughts On Best Job Ideas For Stay At Home Moms, Dads, College Students and Retirees
As a stay at home mom or dad, there are a number of jobs accessible to you with or without a degree and with or without any prior experience.
That said, even if you don't find a job that best suits you from the list of 30 job ideas for stay at home moms, I want you to leave knowing that the job opportunities available for you are endless as long as you put in a little research.
If you found this post helpful and plan on trying one of these job ideas out, be sure to let me know in the comments below.
Also if you know anyone who is a stay at home mom or maybe a college student a retiree or someone who is planning on working from home who needs a little help in the job finding department, don't forget to share it with them.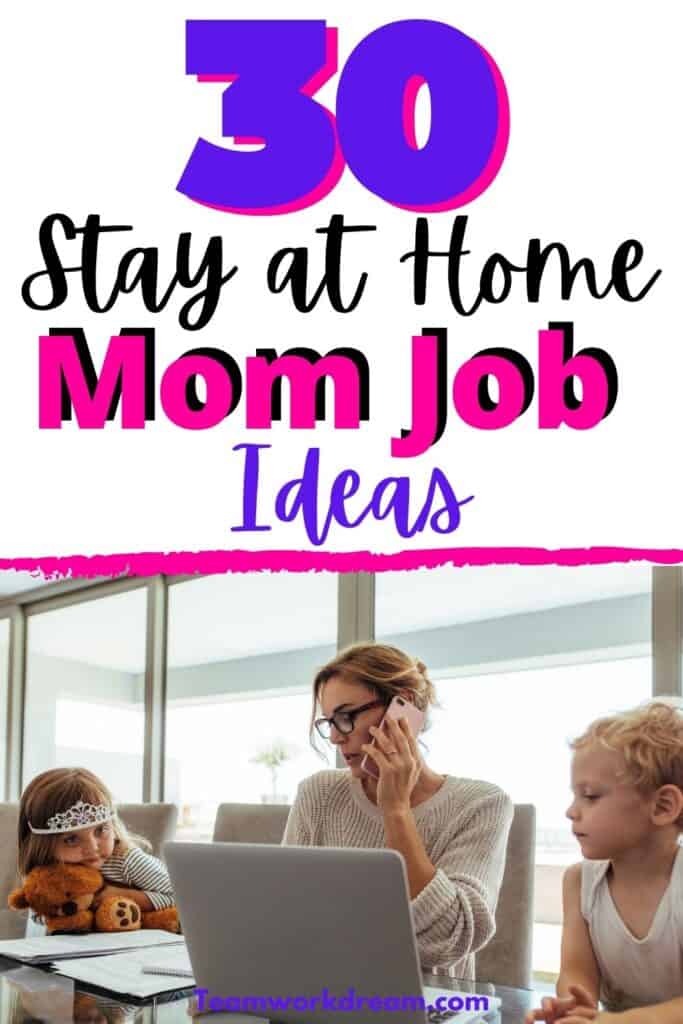 Related Posts