We all set some sort of goal for ourselves each year but as a newbie or even as an experienced freelancer have you set realistic work from home goals?
I imagine that you have a long to-do list of things that you want to achieve this year but is it organized, focused and attainable?
This post may contain affiliate links. For more information read full disclosure.
Can you realistically reach your goals in the timeframe you have set? Get more clients, make more money, promote your business more, clear your inbox, create an online course, take on virtual staff. The list seems endless. So how are you going to set the best work from home goals this year?
There's a famous quote that says 'you're only as solid as the foundation you build on' then if you plan and set realistic work at home goals you will definitely see growth in your freelancing business month after month.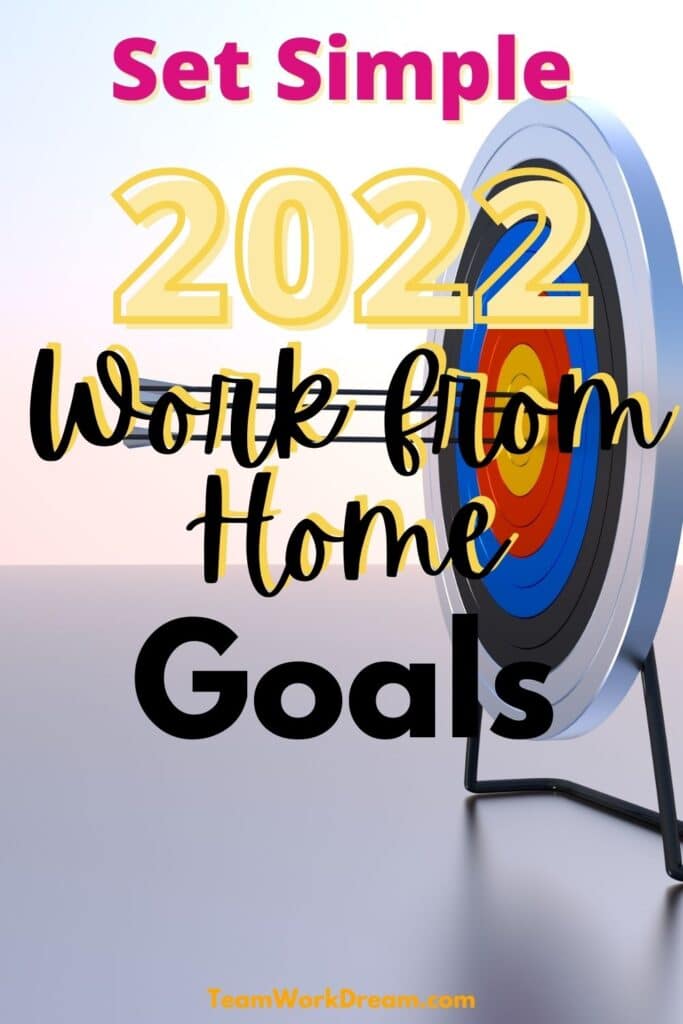 How To Set Work from Home Goals?
One of the first things you need to do is to figure out exactly what you want to achieve.
Sounds simple enough, but if you are full of big dreams, awesome thoughts and fantastic ideas this can take some time and they will remain only a dream.
To simplify things and make it super easy break everything down to its simplest form. You can use this Smart reusable notebook that I received recently as a gift and it's something I don't know how I lived without.
If you want to learn more about this smart notebook you can watch the easy to follow video here.
As an example, if your plan is to become a successful full-time proofreader within the next 6 months then that is your first goal set.
Become a proofreader in 6 months
Are you already qualified to do proofreading? If not
Set half-yearly, quarterly, monthly and weekly goals to achieve this.
Invest in yourself by taking a proofreading course. How long will the course take if you already work full-time, part-time, are a student, retiree or a stay at home parent?
Set yourself a strict schedule to do your proofreading training.
Check your training progress, are you moving in the right direction? Are you understanding the course. If you find yourself facing any difficulties such as not being consistent and not sticking to a schedule, figure out why.
Get an accountability partner to help you stay on track. This can be a partner, BFF or another course participant.
Find out where potential clients hang out.
Offer your proofreading services with introductory rates
Get testimonials
Promote your business on social networks
Start making money until you achieve a full-time income through networking and referrals.
That's just 12 of the basic things you need to think about when setting work from home goals when starting out.
As mentioned that was just an example. If you have an interest in any other work at home career just change out the world proofreading and add what you have an interest in. Virtual Assistant, Social Media Manager, Freelance Writer and so on.
>>>You might also be interested in the 50 Best Online Services To Offer
You will also need to set additional goals for your own freelancing business. You are the boss after all.
Additional Work from Home Tips to Think About
How many hours do you plan to work for?
How many clients will you need to make a certain amount of money?

Set monthly money making goals

Do you have a distraction free area to work from?

Create a dedicated work from home space free from interruptions.

How will you balance your work at home business and home life to be productive?

Set working hours and best practices for you and your family so everyone knows your work at home schedule

What are your daily and weekly work tasks that must be done for your business to grow and become known?

Use the smart notebook so that you always know what you should be working on wherever you are.
You will see many bloggers say it's easy. It can be if you are determined, thick-skinned, patient, highly organized and a total go-getter but if you allow doubts to creep in it can easily wear you down, knock your confidence and cause overwhelm.
That's why it's always good to network, talk with others and share your thoughts on all those work from home things that you are going through. This is where joining the right Facebook groups can help immensely.
Final Thoughts on Work from Home Goals
So as you look at this year to set the best work from home goals, remember to follow the 12 basic steps above in whatever work at home business you plan on doing and also follow the work at home productivity tips to really boost your freelancing business to the next level.
Don't set your goals like the annual New Year's resolution that fade away after a few months. Make sure that you work from home effectively by setting manageable goals for yourself.
If you found the post on work from home goals useful make sure to share it with as many people as you can. We could all use some work at home guidance to make our online businesses much more successful this year.
Related Posts