Do you want to start a new side hustle to make money while at home? There are many ways to make money from home and it can be passive yet creative. One of the quickest and fun ways to do this is by finding a way to sell products online without keeping stock.
What do I mean by that? You can simply create digital designs and use platforms that will add your designs to products and they will market, accept orders and deliver merchandise to customers anywhere in the world and you will earn a royalty on every item sold.
This means you will not have to have boxes and boxes of merchandise taking up valuable space in your home or spend sleepless nights packaging out shipments to customers. This saves you time, energy and of course, your sanity.
This post may contain affiliate links. For more information read full disclosure.
And in case you were thinking of outsourcing the packing and shipping, another good point is you do not have any additional costs such as paying storage companies to perform these tasks on your behalf. It's all taken care of by the print on demand companies.
For a full understanding of how it works check out this super easy explainer Redbubble video.
Which are the Best Free Print on Demand Platforms?
There are probably between 30 to 40 print on demand platforms out there and some are easier to join than others depending on where you are located. Some also have monthly costs involved or you need to have a credit card for deductions to be made each time a design is sold.
As a newbie these expensive costs are not for you so the best ways to test the waters is by signing up with the free options. I'll cover the 3 easiest that you can sign up with today to start selling your products online and they are RedBubble, TeePublic and Zazzle.
No costly outlay, each has a simple to use platform with an extensive range of products to add your designs to. From clothing, home decor, shower curtains, clocks, phone cases, and even jigsaw puzzles.
The three easiest print on demand platforms to join are Redbubble, TeePublic and Zazzle. For more information TeePublic and Redbubble are actually sister companies and they offer a full service where they help promote your designs via emailed newsletters to viewer signups, use pixel ads to follow you around on the internet.
There is no cost involved and you can set up your own shop on their platform and earn great royalty rates.
Do You Need to be a Graphic Designer?
The answer to this question is an emphatic no. You do not need to be a graduate of any art school, you do not need to know the ins and out and the history of art.
All you need is to be creative, follow trends in the first instance and you can use text, photos and illustrations for your designs.
You might be a nature lover and have hundreds of pictures that can be used as digital art on T-shirts, mugs, pillows, stickers and many other items. You can draw cute illustrations using a basic app like Canva. Check out this video right here for some inspiration.
Or, if you're a digital drawing fan you can always use Procreate or Adobe Photoshop Sketch.
In reality you do not need any real drawing skills, you can use available fancy fonts and create tons of designs, use royalty free vectors or purchase commercial use images, illustrations and designs to create your own one-of-kind design.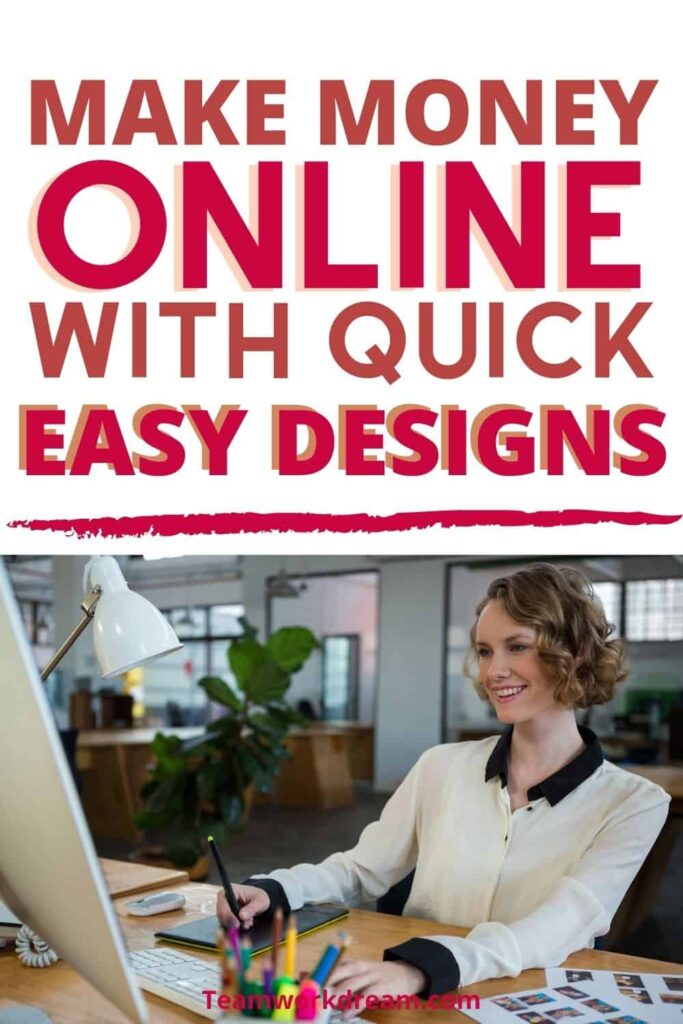 Which Apps Can You Use to Design for Free?
Before you start worrying there are a number of free applications you can use to help you to design and keep your costs down. There is no need for you to purchase Photoshop or Illustrator.
So what are the free or open source options? There are a range of free applications that you can sign up to or download.
Canva is free to use, simple to use and available for both pc and mobile. A pro version is available for even more design options.
Inkscape, very similar to Illustrator with the positive of being free to use as an open source application.
GIMP, If you're not familiar with Photoshop then you might find this application a bit more difficult to use but it has all the functions of Photoshop and you can use the how-to videos on YouTube to guide you.
For a more user-friendly application similar to Photoshop you can use PhotoPea. Super user friendly and it's an application that I've been introduced to recently and it's super easy to use. This application is available to use online only.
There are many others but these four are the absolute best to get started without any unnecessary costs when in start up mode.
How Do You Get Paid For Your Designs?
Now that you know which are the best free platforms to sell your designs online, which design applications to use for free, you're probably wondering how do you make any money?
As stated earlier you earn a percentage or royalty on your designs. On completion of a sale this is paid out to you via PayPal or direct deposit.
So no matter where you are located in the world you can use these print on demand platforms and get paid.
For those of you located outside of PayPal regions you can sign up to Payoneer which offers a Global Payment Service that provides a virtual US/UK/EU bank account (and other currency options).
You can then link your Payoneer account to your local bank account so that you can get that money. If you require more details you can learn more and sign up here. It's very easy to set up.
3 Easiest Print on Demand Platforms to Sell and Make Money Online
Okay, so let's get to it. Here are the three easiest free print on demand platforms that you can join to sell your designs to start making money quickly.
Just as a quick tip, the more designs you make, the more chance you stand of your designs being seen. It's suggested that you add at least 100 designs so over a period of time you could add say, 5 to 10 designs per day to build up your online store choices.
Here's an example of a quick start up store that I created on Redbubble – Teamworkdream
So who is Redbubble? They are an Australian global print on demand marketplace for artists to submit their unique and original artwork. They were formed in 2006 and also have offices in the US and Germany. Perfect for distributing merchandise globally.
Redbubble is a super easy platform to join and as stated throughout this post is absolutely free to join. To add your designs just follow some basic sizing rules making sure that dots per inch (dpi) is 150 and above for quality printing.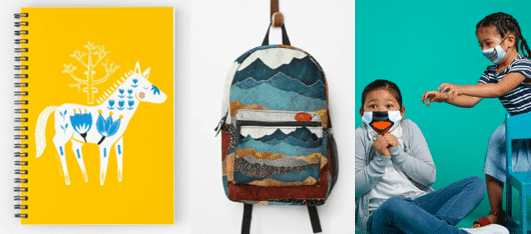 Is a sister company to Redbubble and has a very similar format which is a very intuitive print on demand platform.
It makes sense to be able to upload your designs to more than just one platform to get your designs seen to as wide an audience as possible and make as much money as you can.
Another great platform that is free to use is Zazzle. A popular online personalized gift store that you might not even realize offers a print on demand service.
A lot of the items are designed by individuals with stores on the Zazzle print on demand platform. If you want to join just sign up here to start selling your designs on a range of products.
Final Thoughts on Ways to Sell Products Online Without Inventory
Now that you know that there are simple ways that you can make money online without having to sell a physical product you can get your designs ready and upload them to the various platforms. You can then quickly use this way to sell products online.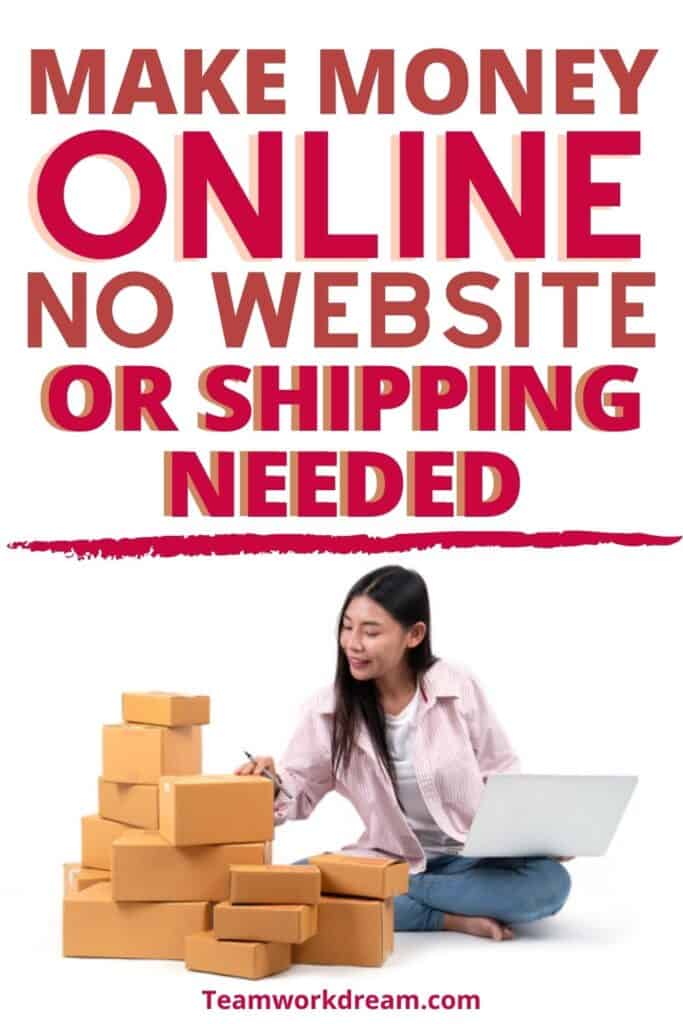 One more point to add is that you can add your designs to more than one print on demand platform.
The more designs you upload to the many free platforms and also promote on your own social media accounts the more your designs will get seen and the more money you will make.
If you would like to get yourself a free basic startup guide along with videos I suggest you subscribe to The Money Game YouTube channel. Phil provides excellent tips and tricks when starting a print on demand business.
Related Print On Demand Posts
Best Print on Demand Companies to Earn Passively
31 Hobbies to Make Money from Home