Discover the best apps to sell your photos online with this practical guide.
Are you that friend who's always got their smartphone or camera out, ready to capture the perfect moment? Does your phone gallery tell the tale of numerous night outs, weekend getaways, celebratory dinners, and other noteworthy events?
Perhaps you're a photographer who's just starting out selling their photos commercially.
If you answered yes to any of these questions, then you've come to the right place. In an ever-changing economic landscape, there are many ways in which you can supplement your income with a fun side hustle.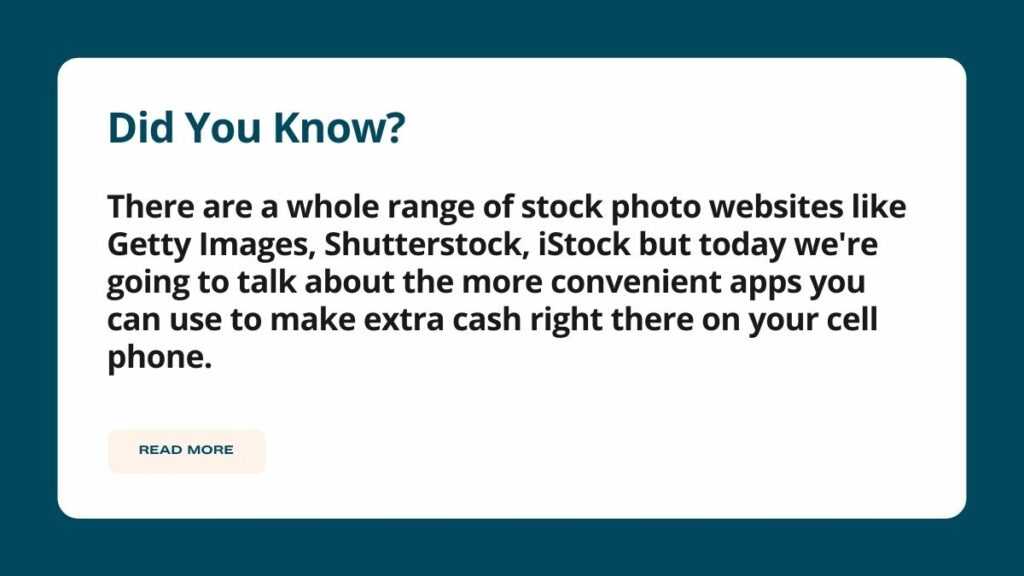 Did you know that you could make a stack of money from your top-notch photographic skills by using some of the best apps to sell photos online?
Whether you're a professional photographer or an amateur who knows how to achieve high-quality photographs with a click of your smartphone, selling photos online may just turn out to be the extra income earner you've been looking for.
There are a whole range of stock photo websites like Getty Images, Shutterstock, iStock but today we're going to talk about the more convenient apps you can use to make extra cash right there on your cell phone.
To help get you started, here are the 7 best apps to sell photos and make money online.
This post may contain affiliate links. For more information read full disclosure.
Best Apps to Sell Photos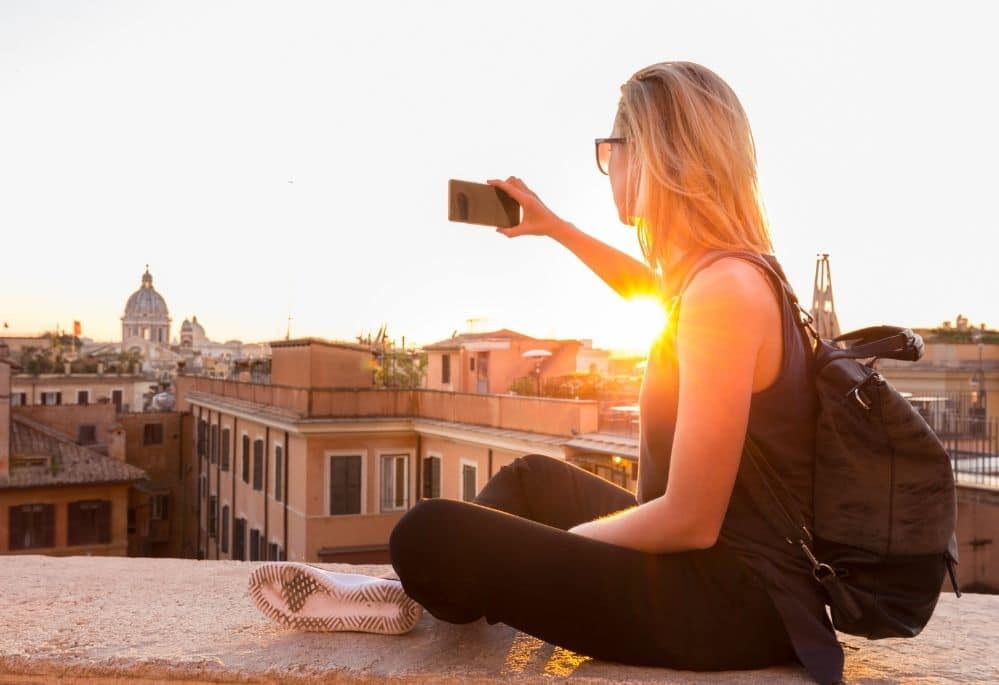 AGORA Images
Best of the best as far as apps to sell photos go, AGORA is available for download on both Android and iOS and is free of cost.
It is one of the few apps that allow you to sell your pictures without paying exorbitant membership fees and also boasts the added benefit of giving you 100% of your total earnings.
Unlike other apps, AGORA enables you to sell the same photo for an unlimited amount of time, which means you just need to upload your images once and you'll be able to earn money from it nonstop.
Foap
Another great app you can use to earn cash from selling your pictures is Foap. Like AGORA it is also available for download on the Android and iOS playstore free of cost.
Once you've downloaded the app, to get started selling your images all you need to do is sign up for an account, upload your photos and make them available for sale by listing them as stock photos.
Payment for your photos may be significantly less on Foap, as you'll only get 50% of your total earnings. Which will work out to $5 a photo, since all photos on this marketplace cost $10.
Snapwire
If you are looking for multiple marketplaces to sell your photos, Snapwire is another app that is worth checking out.
On Snapwire there are three main ways you can earn extra money. You can either earn by selling individual photos on the marketplace, entering photo challenges with certain specifications, or providing specific photos at a brand's request.
You'll get 50% of the total earnings for every individual picture you sell but, if you enter challenges or provide a specific photo at a brand's request then you'll be able to get 70% of the photo's total earnings.
Scoopshot
If an app that allows you to set your own prices, and earn additional money for the excellent photographs you take is what you're looking for, then the Scoopshot app may just be right up your alley. Like Snapwire, Scoopshot provides multiple ways you can make money.
You can either earn by selling individual digital images or participating in daily tasks and contests featuring image requests from brands.
As a bonus, when you sell your photos on Scoopshot you'll also earn a share of advertising revenue each time your photo is used by an online advertiser.
Stockimo
Stockimo is the place to be if you want to ensure your photos are being sold at competitive rates.
Whilst their payout percentage of 20% per photo, is relatively low when compared to other photo selling apps, it should be noted that the average Stockimo sale price is $90.
This means that the minimum you could be earning per photo is $18 (3x the amount you'd make if you sold it on other platforms which makes it a great advantage). The one downside to this app however, is that it is only available for download on iOS and not Android devices.
Shutterstock Contributor
One of the top apps for selling pictures online for obvious reasons is the Shutterstock Contributor app which fuels the stock photos available on the Microstock giant, Shutterstock's online platform.
Unlike other photo-selling apps, the Shutterstock Contributor app does not feature many ways in which you can earn extra income.
However, due to its popularity amongst stock photo buyers, it is likely to generate the most sales for your photos when compared to other photo-selling apps.
Getting started as a Shutterstock contributor is pretty simple, all you need to do is download the app and start uploading. Though I must warn you that each photo uploaded is subject to a review and as a result not all photos you upload will make it to Shutterstock's website.
Photerloo
The Photerloo app is one that I affectionately call the time saver photo seller app. Very different from the other apps on this list, the Photerloo app boasts the ability to upload your images to multiple stock sites at the touch of a button.
You can literally save the time and hassle of having to upload your photos on different sites whilst simultaneously making you more money through targeting a wider audience.
Dreamstime
If you're looking for an app for selling pictures Dreamstime is a great option. With this app, you can upload photos and sell them as stock photography.
Dreamstime is a great option if you want to be able to sell your photos in multiple ways. You can make more money by selling your photos as stock photography and there are handy functions built in for easily uploading model releases and property releases.
The app is easy to use and it offers a lot of helpful resources for photographers.
EyeEm
EyeEm is a photo selling app that allows you to sell your photos as stock photography.
With this site, you can upload your photos and tag them with keywords. When someone searches for a photo with those keywords, your photo will come up in the results.
EyeEm is a great option if you're looking to sell your photos as stock photography.
The site is easy to use and offers a lot of helpful resources for photographers, including tutorials and tips on how to improve your photography skills.
Getty Images
If you're looking for a more professional option, Getty Images is a great choice. This site allows you to sell your photos as stock photography. That means that people can buy them to use in their own projects, like websites or ads.
Getty Images is a great option if you're looking to make more money from your photos. Because people can buy your photos to use in their own projects, you can earn a lot more per sale.
Plus, the app is well-known and respected, so you can be sure that you're selling your photos to a reputable company.
Tips for Making the Most Money on Photo Selling Apps
Whether you're looking to sell your photos on one of the best apps to sell photos online, or another site, there are a few tips that can help you make more money. Here are some key tips to keep in mind.
Invest in quality photography equipment. This will help ensure that your photos look their best and that you can sell them for a higher price.
Take your time to edit and enhance your photos. This will again help you sell your photos for a higher price, as buyers will be willing to pay more for a photo that looks great.
Learn how to use keywords effectively. When selling your photos on sites like EyeEm, keywords are essential. By learning how to use keywords effectively, you can ensure that your photos come up in the search results and that you make more sales.
Promote your photos. Once you've uploaded your photos to a site or app, be sure to promote them. Share them on social media, in forums, and with your friends and family. The more people who see your photos, the more likely you are to make a sale.
Selling your photos online is a great way to make money from your photography hobby. By following these tips, you can maximize your earnings and make the most money possible from selling your photos. So what are you waiting for?
Best Photo Selling Apps: Final Thoughts
The world is ever-changing and so are the ways accessible to you to earn an extra income.
If you've been uploading a ton of pictures on Instagram, Facebook, and Twitter or have a pile of images sitting on your memory cards and laptop hard drives this is a perfect opportunity to turn those memories into cold hard cash with the best photo selling apps.
Let this be a way to share your creativity with others. Your cityscapes and holiday snaps might just end up being a great ad campaign for a brand.
Not to mention the fact that as far as side hustles go, selling photos online is one of the easiest markets to break into as you already have the resources you need to get started. Plus you don't have to invest a lot of time upfront to enjoy long-term rewards.
Your amateur passion projects could end up being purchased as the inspiration for marketing agency publications when using these applications, as companies and the public can buy your images as many times as they like.
And, if you're more of a hardcore photo enthusiast and want your picture-taking talents to lead to bigger photography opportunities then the EyeEm app is one that you can join.
Turn your picture-taking hobby into a money-making career by choosing any of the listed best apps to sell your photos online.
If you found this post helpful or know someone who could use a few of these apps to make money selling their photos online, be sure to share it with them.
Love This? Save and Share on Pinterest!