I have been blogging about ways you can make money online for quite a few years now and I still get pleasantly surprised whenever I come across a new way to earn online.
Did you know that you can get paid to answer questions? Yes, you read right. You can make money by answering questions.
If you can do something as simple as answer questions and earn money can you imagine the many opportunities out there to earn online at home?
Yet so many remain in 9-5 job positions unhappy when you could simply do a little research and find a new way to earn a living.
This post may contain affiliate links. For more information read full disclosure.
This is exactly why I created the Teamworkdream work from home platform so that you find out the right information that you need to make money.
Not only do I want to give people alternative ways to earn whether full-time or as a side hustle but I also want to normalize the view that even without a steady 9-5 income you can still generate a reliable earning source.
Now, I want you to pay very keen attention to what I am about to share with you.
Somewhere in the world is a person who is just like you. Same skillset, expertise, and knowledge. But what's the difference between you and them? Well, they just got paid to answer a question that you probably answered online for free.
Lucky for you, however, I won't allow you to make this mistake again. Read on to find out how you can work and make money online answering commonly asked questions
How To Start To Earn Money Answering Questions?
You've probably seen a ton of questions on forums like Quora and Reddit and even asked a couple of questions yourselves but these sites don't actually pay you for answering although you can get some really technical answers from members in these forums.
There are lucrative sites that you can sign up to share your expertise and make money from your years of experience and knowledge.
But how exactly does it work? Well, you do not necessarily have to have a degree in teaching but having some amount of mastery in the topic asked would be to your advantage.
Those with the most knowledge and competence to answer will become the ones in most demand and will be able to earn more than those without the technical knowledge.
So, for instance, a Doctor, Nurse, Lawyer, Scientist, Teacher, Certified Plumber, Electrician etc would have a better know-how than a DIYer and I doubt very much that someone asking a valid question would want someone answering their query without the right qualifications.
There are specific niches that you can focus on such as earning money by solving physics problems online or doing an online maths problem solving job.
This would be an excellent opportunity for a Teacher or a college student with expert knowledge in those subjects.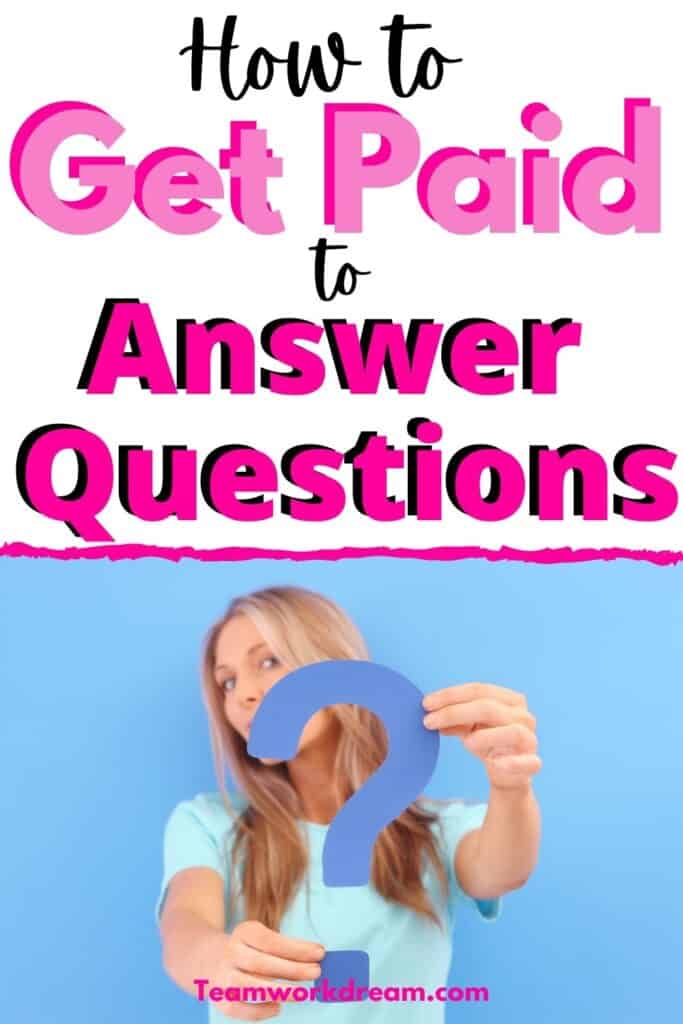 What Skills and Expertise Do You Have?
Like I said before people want information and in order to get this information there is a high likelihood that they're gonna ask questions. In the role of a Question Answerer your job will include:
Identifying Your Topics Of Expertise – Let's say someone wanted an answer to a medical related question, chances are they wouldn't be pleased if someone who had zero medical expertise were to attempt to answer. So as to avoid situations such as this, when you sign up to become a personal research assistant most sites will ask you to identify the topics you are most knowledgeable about to streamline only the relevant questions to you.
Communicating Answers To Questions Effectively – If someone is asking a question about something you have in depth knowledge of, chances are it means they don't share your level of expertise. This means, in answering their question you will need to simplify and condense the information you provide in a way that it can be easily understood by a variety of audiences.
Consistently Providing Quality Answers – Having conducted your research on various question answering sites, some websites will rate the answers you give to questions and poor ratings could significantly hinder your earning capabilities. That said as a researcher and person who can answer questions you have to always be on your A game to provide the best quality answers at all times to, of course, ensure the security of your earnings.
A Willingness To Perform Research – Even though you will identify your topics of expertise, there is still the possibility that you could be given a question to answer that you just don't know how to answer. So, what do you do? Head over to your good friend Google and do a little information searching, then generate the best possible answer that you can.
Can You Make Money Answering Questions?
Since the job of answering questions online is a highly subjective one, there is no standardized amount that you can earn.
What you put in is what you will get out and in terms of a payment amount, this will vary based on which site you choose to answer questions for.
That said, if you are answering questions on a daily basis you should be able to make at the very minimum $200USD a month, regardless of which site you use.
Important to note however, is that some sites will actually allow you to set your own prices so your minimum earning possibility could be significantly higher.
Again, if you are a fully qualified professional and answer questions within your field you could earn an extra $4000 per month.
Some sites also charge by the hour or by project but this again varies depending on your knowledge. Most sites pay through PayPal. Others use a points earning system that you can redeem for rewards. Just check out each one for their individual rates.
What Kind of Person Can Answer Questions Online?
At the very least this kind of job is best suited for an individual who has a good amount of expertise in a particular subject matter.
It would also be beneficial if this individual is able to articulate their points well and where necessary is willing to perform additional research.
Great knowledge
Good communicator
Good researcher
If you tick all or at least 2 of these boxes then a job as a Question Answerer could very well be an excellent fit if you are willing to put in the extra work on research.
This kind of job also offers you much flexibility as you could either answer questions part time while still maintaining your full-time job, or dedicate yourself full-time and enjoy some very good compensation.
If you're looking for flexible work from home or work from anywhere jobs FlexJobs can help you find legit remote jobs. Sign up now to join FlexJobs.
Where To Find Online Jobs Answering Questions?
If after reading everything so far you're still thinking that you want to join one or more of these question answering sites there are a range of companies to choose from.
You can find them from a simple Google search of websites that will pay you to answer questions. A ton of results will come up and I'm sure you don't have the time to sift through pages of google search results.
To make the process easier for you my top 5 best sites to use based on how much you can earn answering questions are as follows:
One of the most popular question answering sites is Just Answer. What's great about Just Answer is that it is broken down into categories such as Legal, Medical, Mechanic, Computer and so on, making it much easier for the user to ask direct questions to the right person.
This site is best for those with good technical knowledge.
You can get paid via PayPal and also gift cards and the rates range from around $20 to $50 per answer. Of course the more questions you answer the more you can earn.
Another excellent site to join is StudyPool. This is for those of you who are more academically qualified to answer technical questions on school or college subjects.
Rate of pay is done by a bidding process so you set your own rates.
This site is more of a research website but it also provides opportunities to answer various questions from the research selected.
The pay can be as much as $25 per hour for detailed research answers and you are paid every 2 weeks.
This is another great place that you can offer to answer questions. You would answer these questions in article format and you can easily sign up as an expert. Become to the go-to person to answer technical questions.
The pay rate is around $10 to $20 per article.
Is a problem-solving site that some of the world's top 500 companies ask questions from upcoming innovators and thinkers. If you can find ways to solve problems for these companies you can start earning from it.
This site is a great opportunity for college students to develop their critical thinking and problem-solving skills.
You can even use these offered challenges as a mini internship and add to your resume. There are no restrictions and is open worldwide users.
Final Thoughts
Making money answering questions online is one of the easiest and, of course, legitimate ways you can earn an income.
If you are already an expert in a particular field and may have even been answering questions for people in the past for free, don't you think it would be a great idea to earn an additional income just by doing this type of task on the side?
There are too many ways to make money online to not be living a debt free life. If you think you have what it takes to make money by answering questions online, by all means go right ahead but please remember whatever you put in is what you will get out.
There are many other sites and apps that you can sign up to but they tend to pay a little bit less like Weegy, and Clarity but if you just want to test out this question answering method you can easily sign up with them on your phone.
If you found this post helpful or know someone who would love the opportunity to answer questions and get paid, don't forget to share it with them.
Related Posts