Ways to Make Money on a New Blog
Ever wanted to start up a blog but worried that you wouldn't make any money? Do you want to know how other bloggers make money from blogging? I'm going to share with you some simple ways to make money blogging as a beginner.
Blogging can be fun but can be seriously hard work for a newbie. As a new blogger, you hear people making huge amounts of money from blogging while you are still struggling to get yours up and running. You've seen those income reports on some of the blogs and clicked on them on Pinterest.
This post may contain affiliate links. For more information read full disclosure.
The big question new bloggers face is how to monetize their blogs. Let's explore some of the incredibly simple ways to make money with a blog as a beginner.
How Do Bloggers Make Money?
There are several ways that bloggers make money and most of them you see everyday and may not even realize it.
Just think about it, how many times have you gone to your favorite blog and see adverts popup, receive an email about a course they've specially created just for you. An ebook they've written that will teach you something new about whatever your interest is or talk about a special product that they just couldn't live without?
Let me share with you the simple ways of how these bloggers do this and make good money from it too. Keep on reading for the lowdown. It's not a secret, there's nothing magical when starting your blog you just need to implement the correct strategies and believe in what you're doing. So here goes!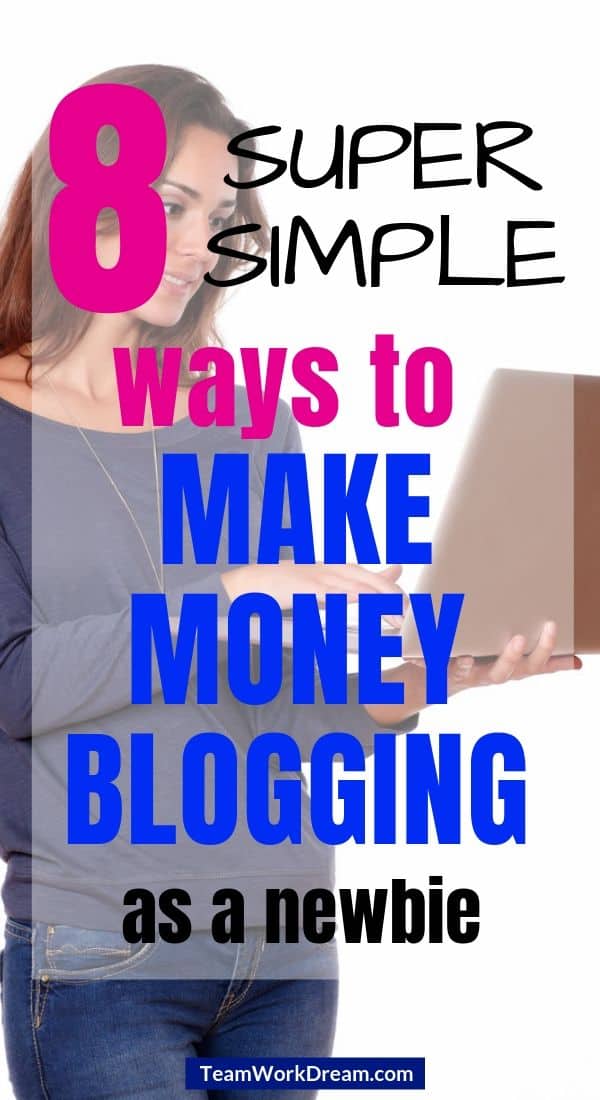 Affiliate Marketing for Blogging Newbies
Affiliate marketing is one of the easiest ways of making money for beginner bloggers. All you need to do is promote other people's products or services on your blog. When someone clicks on the link of the product and makes a purchase, you are paid a commission.
There are a whole load of affiliate programs that newbies can join and if you are still wondering where to start, you can sign up with the most popular one, Amazon Affiliate and include links on your blog. Other affiliate program options include Commission Junction and ShareASale, ClickBank that cover a whole spectrum of companies offering affiliate programs to join.
There are also niche specific affiliate programs that you can promote so for instance, if your blog is about crafts you could promote Craftsy, a Creative Live Crafting Course or even Etsy.
If your niche is mom and money saving then you can join affiliate programs like Ebates, Dollar Tree (who knew), Erin Condren for the beautiful planners. Kiwi Crate and many more.
>>>Want to know more about affiliate marketing? Read my Beginners Guide
Ad Networks for New Bloggers
Google AdSense
Google AdSense operates in almost a similar manner to affiliate marketing. You display Google Ads on your blog, and you get paid a percentage of the ad costs when a visitor clicks on the ads.
Setting up Google AdSense is easy because all you have to do is copy and paste a code given to you by Google on the specific pages of your blog where you want the ads to appear. Then Google will show relevant ads from advertisers matching with the content on your blog.
Ad Network Alternatives
Alternatives for Google AdSense include Triple Lift, Media.net, and RhythmOne.
You have other ad networks that pay out a lot more than the ones listed above but are for more established bloggers as you need at least 10,000 up to 100,000 page views or sessions per month depending on the network.
Ones like Ezoic, Monumetric, and the holy grails that bloggers strive for Mediavine and AdThrive.
Sponsored Posts
Writing sponsored posts is another great way of making money from advertisers. Advertisers will ask you to publish a post that mentions their product on your blog.
Depending on the amount of traffic you attract and the aim of the advertisers, a sponsored post can fetch as little as $30 and as much as $500 plus. You just need a bit of time to become established first and to get a good amount of traffic.
You can find opportunities for sponsored posts on networks such as TapInfluence, Clever, Massive Sway, and Activate. It is important to apply for campaigns that are relevant to your niche and accept to publish posts that are consistent with your personal values as well as those of your blogging community.
One of the most popular bloggers out there is Michelle of Making Sense of Cents and she is absolutely killin' it with sponsored posts every month within the personal finance niche.
>>>You can check out this Link to Making Sense of Cents Sponsored Posts article
Sell eBooks or Digital Products
Selling your own product such as eBooks on your blog is a great way of making money. It can also be a way of determining whether your audience is engaged and ready to buy from you.
You can write a few pages of a topic your audience is interested in and sell it for a reasonable price. Many blogging beginners sell their eBooks for $7 to about $40. Once you sell a few eBooks, you can then think of other digital products such as online courses, video tutorials, and webinars.
Other quick to make digital products to consider, depending on the nature of your blog include printable products, homeschool curriculum, budgeting help sheets, handmade creations and artwork. There are so many printable possibilities that you can start just use Pinterest to give you some ideas.
One of the most popular bloggers whose business focuses on printables is Sarah Titus and the sales of her printables are absolutely through the roof. But she didn't get this success through pushy sale tactics you can check out her story here.
Create a Loyal Tribe Through Email Subscription
Another popular blogger who I can't stop talking about is Jennifer Maker she currently has around 100,000 subscribers on her email list because of her great technique of well, just giving things away and being able to connect to her readers.
Make sure that when starting your blog you also have a way for your readers to sign up to your blog by using an email service provider such as Mailerlite to collect subscriber email addresses, which is FREE to use for the first 1000 subscribers.
Offer Online Courses
Apart from selling eBooks and other digital products on your blog, you can also create and sell online courses. A good approach would be to write an eBook and expand on the same topic in an extensive online course.
Understand what your audience wants and the kind of information they find relevant to ensure that your online course has demand already.
For instance, if you have a food blog, you can write an eBook on a unique recipe then create a course on preparing it. If you are running a relationship blog, you can write an eBook on tips for a long distance romance and create a course on surviving long distance relationships.
The pricing of online courses is usually better than eBooks with beginners charging as little as $15 for a short online course and in-depth high-level expert courses charging sometimes more than $1,000. Yes, there is a demand for courses costing that much!
If you wish to start your very own online course you might consider setting one up using Thinkific.
A course that I can definitely recommend is this one. Doing this course is a perfect add-on for your blog if you wish to offer your services as a Virtual Assistant to others and a great income earner.
In case you have not yet started your blogging business you might be interested in one of the great blogging courses out there such as the simple Blogging By Numbers.
[su_note note_color="#b2faf4″ text_color="#666666″ width="600″]WANT TO START YOUR OWN BLOG?
As a SPECIAL OFFER from me, you can start a blog for as little as $2.95 per month with a Hostinger Premium Plan and you won't find a better deal anywhere else. Sign up and get a free domain name, unlimited websites, unlimited email accounts and unlimited bandwidth plus excellent 24/7 support. [/su_note]
One-on-One Coaching and Consulting
If you are now an expert in your field an excellent way of turning your skills and knowledge into money is offering one-on-one coaching through your blog.
When you publish a blog and provide information to your niche audience, you become an expert in that specialized field. Some of your audience will want to get personalized advice directly from an expert in the market.
Why don't you put up a page on your blog that offers one-on-one coaching by answering any questions and giving useful advice for a fee?
If you're already selling eBooks and offering online courses, you will be amazed by how many people will actually seek your advice. The specific consulting service that you may offer could include web design, social media consulting, virtual assistance, or health and wellness coaching, whatever your blog is about.
Restricted Members Only Content
Based on how your blog viewership is growing and your expertise, you can earn even more money by creating restricted members-only content.
A members-only area can provide premium content and options for your most loyal readers such as more in-depth blog posts, audio content, videos, images, exclusive downloads and more.
Although membership may require a huge amount of time to create premium content on a regular basis, these type of blogs are very very lucrative because of the recurring subscription income from members.
So, making money as a new blogger although a lot of hard work is involved, especially if you have not yet gained the knowledge, with the right tools and training, you can transform your growing blog into an income-generating machine.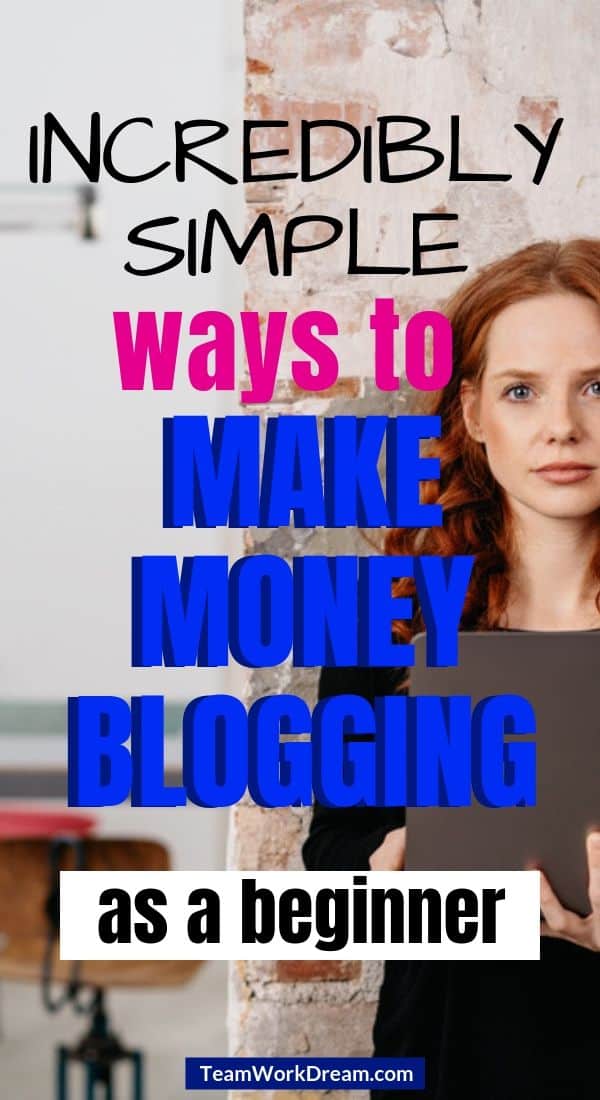 Types of Blogs that Make Money
This is where your niche selection comes in. The most successful blogs are ones that blog about blogging, mommy blogs, personal finance blogs and lifestyle blogs. But really and truly I cannot give you a magic formula as there are some successful blogs that are just simply unique.
The thing is with everything there is an exception to the rule and if you happen to find a loyal group of followers who absolutely love what you do then you can make pretty good money from your specialist site.
So, for instance, let's say you love everything about handmade bags. This is your first and only love. Craft would be your niche with a focus on making handmade bags.
What could you do with this niche? You could offer a range of products on your blog. Here are a few examples:
Offer beginners "how to" thread a sewing machine" video lesson

Offer beginners "how to" sew video lessons

Offer free bag patterns

Sell bag patterns

Sell through affiliate marketing programs, fabric, threads, various tools you use and love such as clips, ties, buckles and different types of bag handles and other niche-based accessories.
You see how quickly you can grow your niche blog especially when it's something that you love and care about.
How Much Money Can You Make Blogging?
When it comes to how much money you can make from blogging that is entirely up to you. You can make $0 if you're not prepared to put the work in but you can make a part-time income, or a full-time income of 4, 5 and 6 figures and even up to millions.
You can read this post to see how much this blogger is earning each month. It's entirely up to you, your niche, your target audience and a lot of other factors. Just check out some of the income reports of some of your favorite bloggers.
Final Thoughts About Newbie Blogging
Have a think about what you can blog about, what you love and are passionate about. Don't forget to include your hobbies and past work or voluntary experiences and get started with ways to make money blogging as a beginner by using the money-making ways above.
If you found this post inspiring why not share it others on social media or pin it for later.
Related articles on blogging: