Most people know how to type if it's even by using two fingers. One the easiest ways, especially if you don't have much experience to make money online legitimately is to get paid to type at home.
Now you might be thinking that's a scam! I've seen all those get rich work from home ads and they're not real but I can tell you there are a lot of legit companies and small business owners out there looking for people who can type just like you.
This post may contain affiliate links. For more information read full disclosure.
I'm going to share the real-life story of just such a person who is an absolute queen of getting paid to type at home and her story is not like the traditional ones.
She shares her journey, her challenges, and her successes and has since created an easy to follow course on exactly what to do to successfully start working at home by typing.
You can take this course as an absolute beginner and learn a new skill or learn some great tips and shortcuts as a more experienced typist.
But before I share her simple money-making course you will first find out in the interview below about my seriously motivated online business owner friend.
Related posts
Get Paid to Type at Home Interview
Over the years I've watched this lady progress and grow from strength to strength and through her will and determination, I don't think she really knows how many people she inspires including myself. She is who I call a Struggles Champion.
She has since become an entrepreneur, an online trainer, a motivational speaker, so let's get right to it and get to know a bit more about her.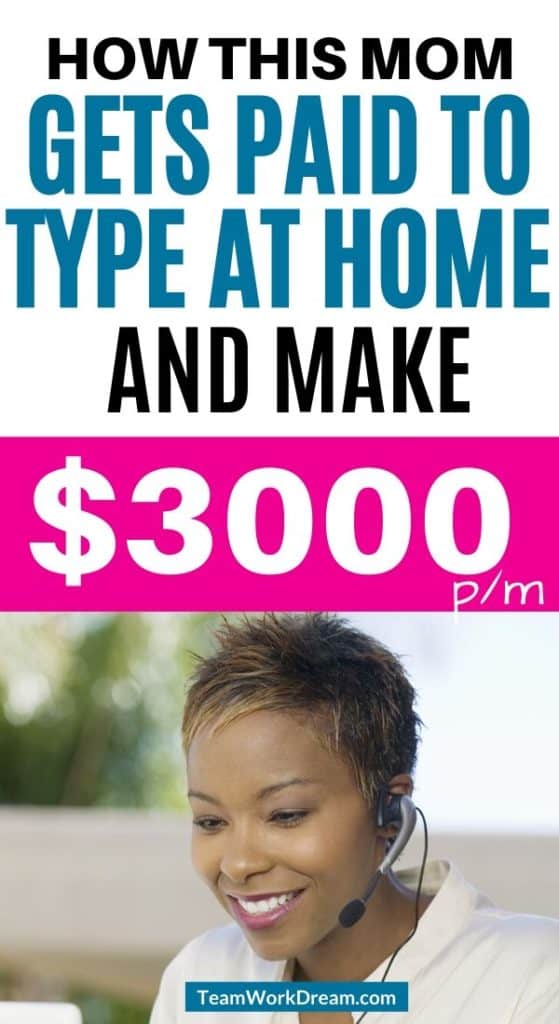 Can you share a little about yourself and where you're from?
My name is Layten Pryce, I've been working online as a transcriber for 5 years now and I'm from the beautiful Island of Jamaica.
So what made you want to start working from home?
I was inspired to work from home as I was in a job that really didn't have much scope and couldn't cover my everyday bills and support my family. To be honest I was struggling.
It was really difficult to financially support myself and my loved ones in the job that I was doing as a cashier earning minimum wage. I also wanted to have more freedom and be able to spend more time with my kids. Being able to really provide for my kids are my big motivating factor, my why.
Why did you choose the work from home business that you started rather than say, a virtual assistant?
First of all, at the time I really didn't know anything about earning online or even what my skillset was so when I did some research and found out that I could work from home by typing I tried to find out as much information as I could.
I learned about transcription through an ad by Internet Income Jamaica. This was a legitimate company formed by the Lyttle sisters teaching people how to earn money online.
Did your past working experience play any part in your work from home job or was this something completely new?
Like I said before I was a complete beginner. Working online and transcribing was a completely new world to me but I learned all that I could, put my all in and soaked up all the information like a sponge.
I did this by taking a transcription Bootcamp course at Internet Income Jamaica. Things were so tight at the time that I actually borrowed the money to take the course, that's how desperate and determined I was to take this opportunity and make it work for me.
Wow, great! How long have you been doing this and when did you realize that you could really make money from transcription?
I started back in 2015. By 6 months I had replaced the monthly payment that I was earning as a cashier. Just think, I didn't have to travel to get to work either. I was earning money by working online at home
If you don't mind Layten, can you share with us roughly how much you make as a transcriber per month? Just a ballpark figure for those who think that they cannot make a great income outside of the US/UK/CAN.
On average I make at least a consistent $2,000 to $3000 a month and have earned as much as $4000 for a month. This is US dollars coming from where I started when I was earning around $300 a month as a minimum wage cashier.
Now that you're established can you describe a typical working day for the readers?
A typical day for me goes like this. I get up, send my kids off to school and then spend a couple of hours around the computer checking messages for new client orders. If not, I go out, run some errands and work at night. That's when I'm most productive.
I make sure that I'm able to access my messages and client orders even when I'm out and about. Working online has made my life very flexible and that's one of the things I love the most about getting paid to type.
Do you need a typical skill or any special equipment to do this job or, can it be done with minimum investment?
I know a lot of readers out there really can't make big financial commitments at the moment so any way to keep costs down trying to start a transcription online business would be super helpful.
That's so true as I remember what I had to go through to start. The only skills you need are great listening skills, be able to type or willing to learn how to type and have a focused mindset.
There are many other components and some excellent free hacks that I have learned along the way but you can learn all about them in the course that I've created along with all the basics of how I earn from transcription.
Since starting your typing from home career have you faced any challenges that you wish to share and how you got over them?
Oh my, yes! When I first started out it did take a bit of time and I also had some slow periods. You have got to remember it wasn't an overnight success. I had to put the work in, balance family life, lose some sleep and everything else.
I have learned to research, build on my skillset and promote my business during those slow times but I haven't had a slow period for over 2 years now.
Is there any special training or online course that you took or can recommend when wanting to start out in the virtual transcription business?
Okay. Well, to blow my own horn since taking the physical Bootcamp course at Internet Income Jamaica I became one of their trainers and since then I developed an online transcription course called Get Paid to Type.
I would encourage anyone wanting to start out as a work at home transcriber to take this course. It's a great first step onto the online business ladder and you will learn how to set yourself up in a day.
What would your advice be to someone who wanted to become a successful transcriber?
My advice to you is you can do this. I had no prior experience before starting my transcription business, however, I researched, and placed my all into building this business. Know your WHY, get the right mindset and just get started.
Now that you've become an expert in your field how has your business grown compared to when you just started?
It was a struggle learning how to get clients but once I communicated clearly with them and went above and beyond their expectations my business grew pretty quickly.
I started out earning around $500 per month and was always on the computer now I make $3000 a month from home and I'm only on the computer for just a couple of hours a day because I outsource most of my work and make a profit from it.
Can you share your website details in case someone wants to use your services and transcription course as I'm sure there are a lot of readers wanting to know more and interested in starting an at home transcription business?
Sure, you can find my course at GetPaidtoType.com or you can subscribe to my YouTube channel Layten Pryce. You can even email me at prycelayten@gmail.com.
I do hope that you enjoyed this interview with Layten and watched the video above. If Layten's inspiring story has grabbed your imagination feel free to sign up to her transcription course right here.
After reading this post you probably still have a few more questions. I can hopefully answer them for you in the FAQs section.
FAQs
How Can You Earn Money Typing at Home?
There are many companies that are looking for remote workers for transcription jobs and data entry jobs. These can be large projects or microtasks. You just need to double-check that these online positions are being offered by legitimate businesses.
Can You Get Paid If You Type Fast
Yes, you can. The faster you type the more money you can make doing various online tasks. If you wish to do transcription and you are very fast at typing with a very high standard of accuracy the better hourly rate you will receive. Rates can range from $10 to $50 per hour.
If you have a specialism then the rate is even better. For instance, legal or medical transcription. As you would need to have specialist training the rates would be much better.
Don't panic if you're not the fastest typist. There are many companies that accept complete beginners. You can also practice your skills and find out your typing speed on my resource page.
Where Can You Find Legit Typing Jobs?
Transcription jobs are all around, both local and globally. If you speak a second language your options are even wider. Sifting through scam-free transcription companies can be quite a task as a beginner but you can always use sites like Glassdoor and the Better Business Bureau for additional information.
You can also find out about local transcription opportunities here or sign up to some of the more well-known companies right here.
Are you looking for a flexible work from home job? FlexJobs can help you find 100% legitimate remote jobs today. Sign up now to join FlexJobs.
Who Requires Transcription?
This can vary. What you will transcribe can vary between audio and video. So you could be typing, transcribing audio interviews for college professors or students doing their Masters or PhDs or you could end up transcribing subtitles for the latest Netflix series.
YouTube Vloggers may want their videos transcribed to turn into blog posts and podcasters may want their audio transcribed to be made into show notes.
A company focus group meeting or a sales group webinar may need transcription along with a pastor for weekly church sermons. Even typing up lyrics for Vevo and YouTube videos are a viable money-making opportunity. Plus of course, the traditional law firms and hospitals requiring specialized legal and medical transcription services.
Final Thoughts on How to Get Paid to Type at Home
The fact that there are so many transcription options out there means that work is available and your typing skills are needed.
You can learn the basics of transcription or upgrade your skills to provide specialized transcription. What's great about transcription is that it's a great first step into online work and you can earn really good money as a transcriber especially if you live outside of the US/UK/CAN/AUS.
If you found this post helpful or have friends and family who are curious about working from home as a transcriber don't forget to share it with them.
Related posts