Want to become a freelance writer? Read this step-by-step guide – complete with everything you need to know to help you start and establish your freelance writing business.
So you want to be a freelance writer? Great! It's a wonderful career, and there are plenty of opportunities out there for talented writers.
But how do you become a freelance writer and establish your freelancing business? It can be tough, but it's not impossible.
In this guide, I'll cover how to become a freelance writer. I'll give you some tips on how to find work, how to build your portfolio, and how to market yourself effectively. Follow these steps, and you'll be on your way to a successful freelance writing career!
This post may contain affiliate links. For more information read the full disclosure.
Why Become a Freelance Writer? The Honest Pros and Cons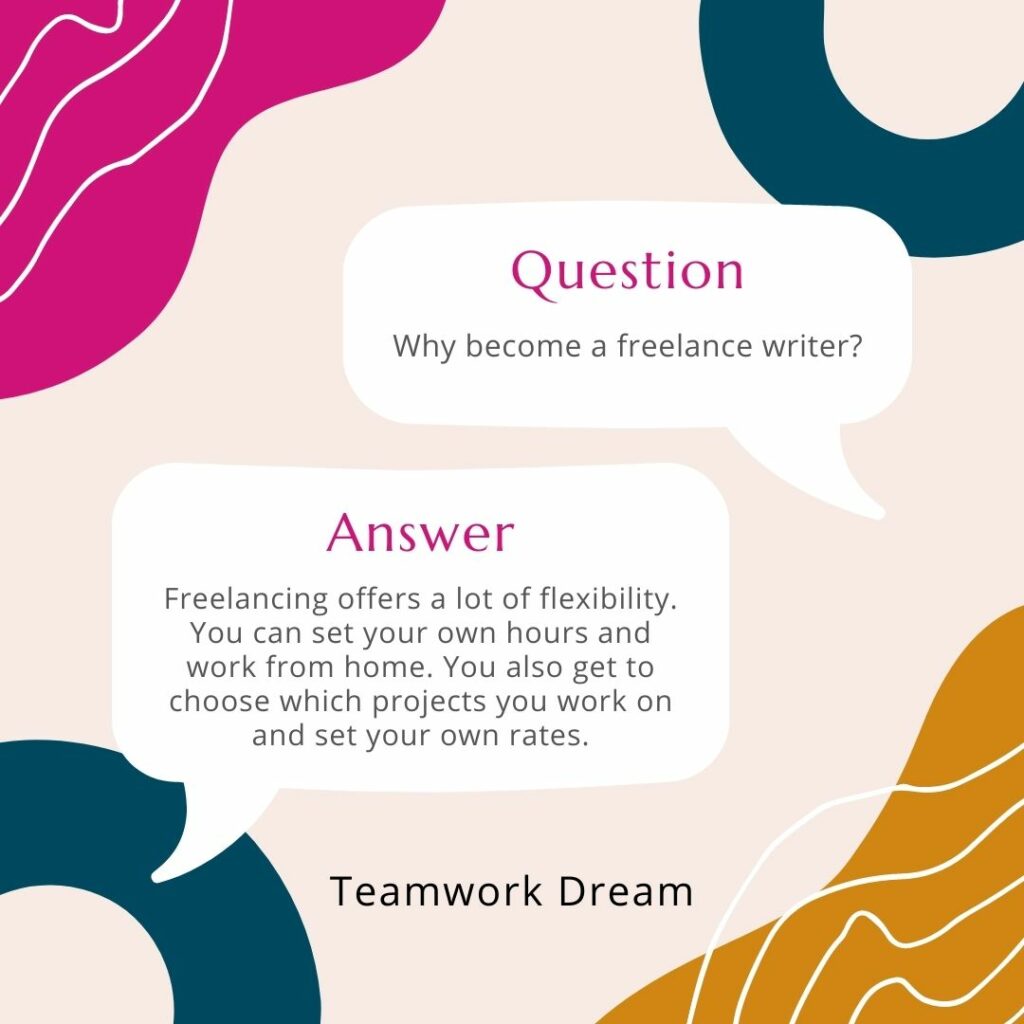 Before we dive in, let's talk about why you might want to become a freelance writer. What are the benefits and drawbacks of this career?
On the plus side, freelancing offers a lot of flexibility. You can usually set your own hours and work from home (or wherever else you want).
You also get to choose which projects you work on, which can be great if you're passionate about the topics you're writing about.
Plus, as a freelancer, you get to control your own income and how much you earn. If you're good at what you do, then you can potentially make a lot of money as a freelance writer (a lot more than you'd be paid as a staff writer)!
On the downside, freelancing can be a bit unpredictable. You might not always have a consistent income, and you might have to hustle to find new clients and projects.
It can also be lonely at times, since you're usually working by yourself. And of course, there's always the risk that a client might not pay you or that a project might not work out.
But overall, I think the pros of freelancing outweigh the cons. And if you're willing to put in the hard work, then I think you can be successful as a freelance writer.
If you're looking for flexible work from home jobs FlexJobs can help you find legit remote jobs. Sign up now to join FlexJobs.
How to Become a Freelance Writer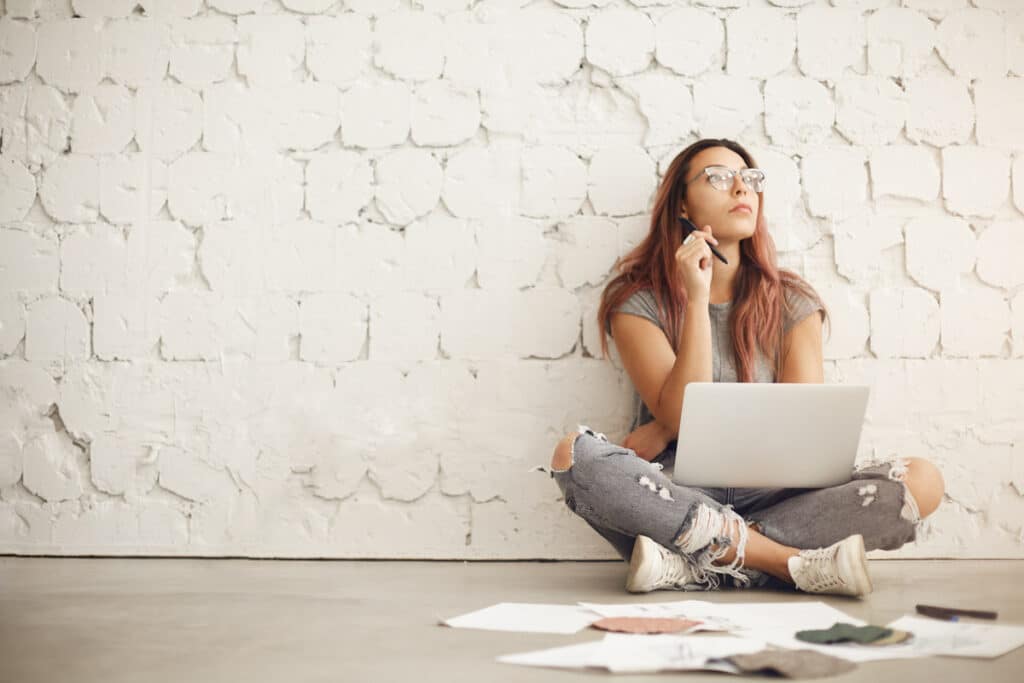 So how do you start out as a freelance writer? Here are the steps you need to take.
Choose Your Freelance Writing Niche
One of the most important things when you're considering where to start as a freelance writer is to choose your niche.
Finding the right opportunity to get your freelance writing business off to the right start is important and one of the best ways to do this is by offering a specialized service, focusing on a specific niche.
This is usually one of the hardest things to do as you might be unsure of what exactly your niche focus is. You may have so many interests that finding 'the one' might be difficult.
It can get quite overwhelming but you really need to have a good think when you get to this stage. You can do this by checking out what's the most in-demand topics, or an on-trend topic.
Here's a great example. A couple of years ago 'Keto' was the buzzword of the moment. If you did your research and learned all you could about this niche especially in the early stages you could have become one of the go-to people for writing content on the Ketogenic diet.
How to Come Up With Freelance Writing Niche Ideas
One great tool that you might not have thought about that can help you to niche down is Google Trends.
You can specify region, categories, date range and check out the most popular words and phrases that people are searching for and start pitching and writing articles and content based on the results.
Another way to find your niche is to follow your passion, your hobby, your lifestyle.
For example, if you're a vegan you could write content for vegan blogs or websites. Are you a pet enthusiast? Then you could be the perfect person to write pet-related newsletters.
If you're a fanatic for a particular sporting team (Manchester United, Golden State Warriors, Red Sox, Reggae Girlz) then you could start providing so much information for ghostwriting, product descriptions for ecommerce sporting products, the list goes on.
One other popular way to find your freelance writing niche is your work experience. No matter your working background the experience you have gained can be shared and written to help someone else.
Just think about it, how many times have you asked some regular work-related question on Google and you got the answer you wanted. Someone took the time to provide the information online and you searched until you found the one most useful to you.
As an example, there are quite a few healthcare workers/nurses who now write excellent content for a number of healthcare businesses, and even fitness experts who write online fitness courses for others as a side hustle and they make good money too.
When you choose a niche there is not as much competition, why? Because you are specialized. It makes it easier for you to make a full-time income writing for businesses in specialized niches.
Let's say you love pets but you really love pet reptiles. If you concentrate on that niche market, market your business well on social media, your website, or blog with excellent SEO the business will start to come to you. You might even be referred by other writers to clients just because of your niche.
So have a think about what you could specialize in as a freelance writer.
Decide What Types of Freelance Writing Services You Will Offer
Writing is broad and covers many different forms of content.
You may wish to stick to writing certain kinds of content – particularly as this will help you to build your portfolio.
Here are some freelancing writing services for you to consider.
• Blog Posts
• Web Pages
• Landing Pages
• Newsletters
• Ebooks
• Training Courses
• White Papers
• Press Releases
• Research Papers
• Sales Letters
• Media Kits
• Speeches
• Ghostwriting
• Copywriting
• Product Descriptions
• Social Media Content
As you can see there are a lot of different types of freelancing writing services that you can offer potential clients.
You don't have to stop there either; you can also specialize your writing services to niche businesses and special interest readers.
Set Up Your Freelance Writing Business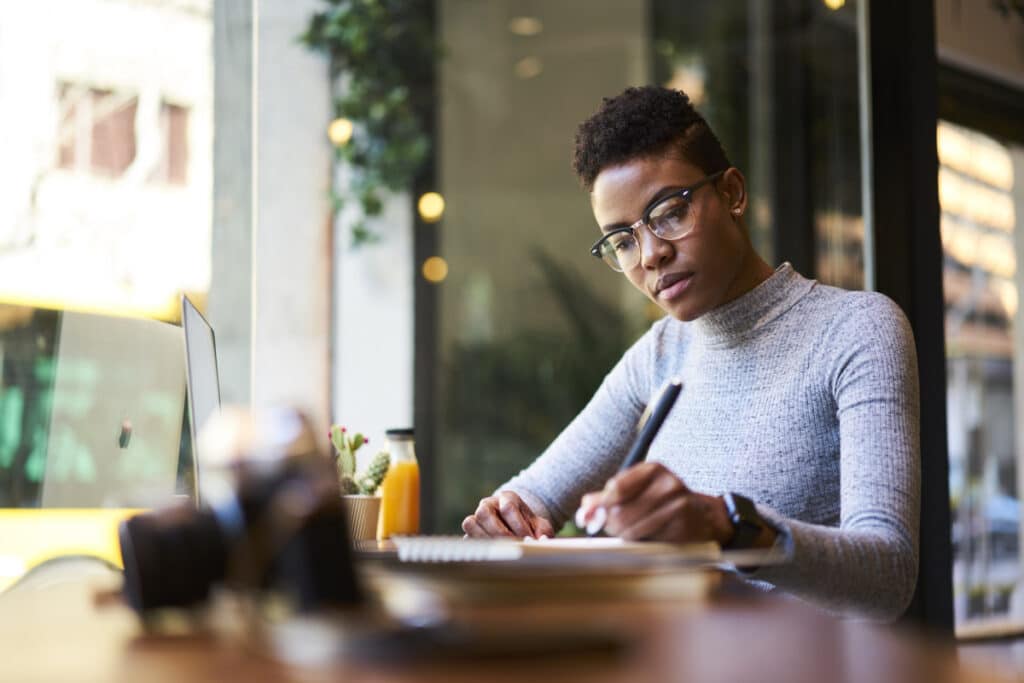 Just like any other business, it pays to think about the practicalities of the business and get them set up before you go out and pitch for clients. Not doing so is a freelancing mistake I frequently see newbies making.
Would you start selling a product before you had any idea of how you would take payments and transport the goods? No. The same applies to your writing business.
One of the best things to do when starting out and quoting for freelance writing work is to make sure that you have a contract ready and request a deposit before starting any work. This is one way to avoid the scammers out there as they won't want to pay leaving space for genuine clients only.
Decide How to Accept Payments
Depending on what you and the client decide you can easily accept payment by using Fiverr Workspace (formerly AndCo). This system accepts Paypal, WePay, Stripe and you can also receive ACH payments.
Alternatively, some accounting software like Xero, Quickbooks and Freshbooks allow you to send invoices directly from the software, which clients can then pay via bank transfer or by card.
If you have a Revolut account you can easily set up ACH payment by adding your Global Payment Service information and adding the bank account details manually to your invoice in the currency of choice.
If you are located outside of the US/UK/Canada and need a way to start accepting payment for your online business you can sign up for a Revolut card right here.
Paypal Business also has an invoicing facility along with Wave and Freshbooks. Use the one that you're most comfortable with to get those dollars.
What Platform to Set Up Your Freelance Writing Business On?
While you might want to take the easy route and just set up a profile on Upwork or Fiverr to start with, it's worth having a separate site of your own for your freelance writing work from the start.
This allows you to showcase your portfolio in the best way and go into more detail about the services you offer and what makes you stand out.
Additional Tools for Becoming a Freelance Writer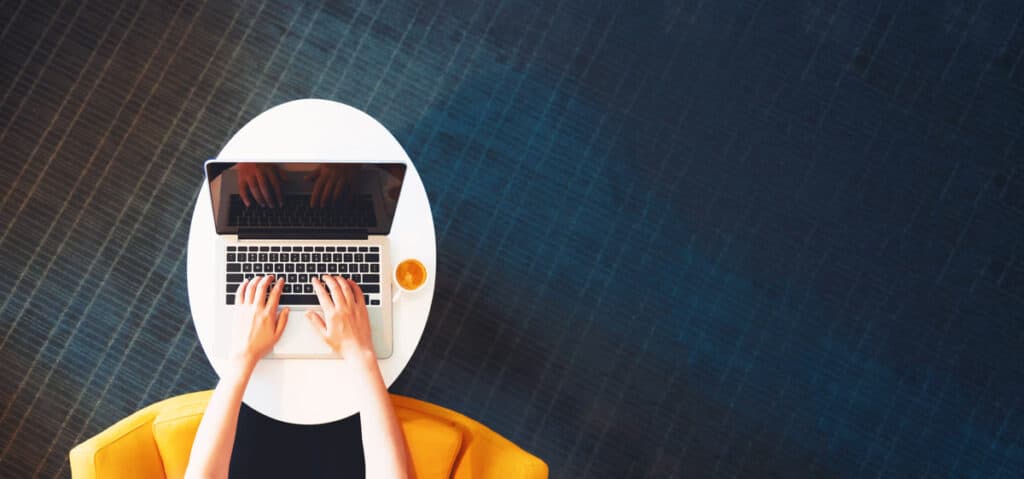 While you don't need much in the way of actual things to get started as a freelance writer, there are a few things you do need.
It might sound obvious but you must have a laptop or pc to work from. Next, you need to either use Google Docs or Microsoft Word to type up your articles. It's best to have the complete Google Suites or Microsoft Office to be able to provide a range of documents like slides, newsletter templates, and so on.
Another great resource is Canva which is free to use even though you can upgrade to the paid service. If you go into the templates section you have a wide range of templates to choose from such as Media Kits, Newsletters, Ebook designs and more.
To make sure your spelling and grammar is up to speed it's also a good idea to have Grammarly installed on your computer to avoid mistakes along with a simple project management app like Trello or Asana to keep your work organized. This is critical if you end up writing for more than one client.
Ensure Your Freelance Writing Skills are Top-Notch
Practice makes perfect, they say. When you start content writing as a freelancer, you do not have to be a perfect writer.
The most important thing is to know how to write well, express your thoughts with clarity and in an organized manner.
Even if you are not a native English speaker you can still reap the benefits of writing. In fact, many freelance writers are not native English speakers and are located all over the world providing an excellent service.
It is a skill you can develop over time and once you are dedicated and willing to upgrade and learn great writing techniques, your efforts to improve and your skills through your writing experience will only get better.
Do you have a favorite blogger that you follow? Have a look at their posts. Think about why you like their style of writing. See if you could make it better by changing it up and adding more information. You could even try guest posting on their blog.
Try different styles of writing, friendly, amusing, fact-based, comparison or review-style writing. Remember, no plagiarism but you can be inspired by their work.
This does mean you have to put in the hard work and have some content ready and waiting but it will be all worth it in the end.
One easy way to improve your skills is by reading up on your niche. Books, magazines, newspapers, blogs. Not only will you improve your writing skills but you will have the latest and most up-to-date information and your vocabulary and knowledge will increase as well.
Learn How to Create Search Engine Optimised (SEO) Content
As an upsell to your business it's a good idea to learn how to write content that helps with SEO. If you can provide SEO-written content you can ask for a higher rate and should be in a much better place to get more work than if you didn't have this skill.
This means that when you write blog posts, landing pages, websites, and even product descriptions. You know how to make the post, article or product rank well on Google.
This can save your client a whole lot of time when it comes to searching for good keywords and help them to make more money too.
Ever felt that learning SEO was like trying to learn rocket science? There are some really good courses on Udemy that don't cost a lot of money to get you started. This Ultimate SEO Course is a great resource and covers everything you need to know at the beginner-intermediate level. Check them both out as they are really worth it.
Build Your Portfolio
In your search for freelance writing jobs, most clients will ask for samples of your work. This is when you should have a special place set up showcasing your writing skills, a portfolio.
Some clients will ask to see samples of your published work in which case you can just send them the link if you have a website. If you are new then you might be a bit stuck as you likely won't have published work or any samples to give but you don't have to worry as you can get around this small problem.
One of the easiest ways to do this is by using Google docs to do this and send the link to your potential client.
Another way which may seem a bit tedious is by doing free Guest posts in the first instance for others. This will help in building up your portfolio and getting your name out there.
You can also use LinkedIn and add your content there. Sign up for a Medium account and add your content.
Most importantly you should really have a website/blog offering your services and show off your written work with a portfolio that's easily accessible on the menu bar.
This will really show that you're serious about becoming a freelance writer and make your business look more professional.
In case you haven't yet found time to design and create your own freelance writers website/blog offering your services and showcasing your work here are a few more places where you can create a quick and dirty portfolio.
Journoportfolio – Just remember that if you use the free version it will have the journo portfolio extension listed in the url. Great way to upload your pdf content or add it directly within the platform.
Clippings.me – Another simple to use portfolio platform to add your written content.
Contently – Is another great place to register and set up your portfolio.
Make sure that the content that you add to your portfolio is relevant and not random.
If you have decided on your niche, remember to include content that reflects that.
Build Your Client Base: Start Finding and Pitching for Freelance Work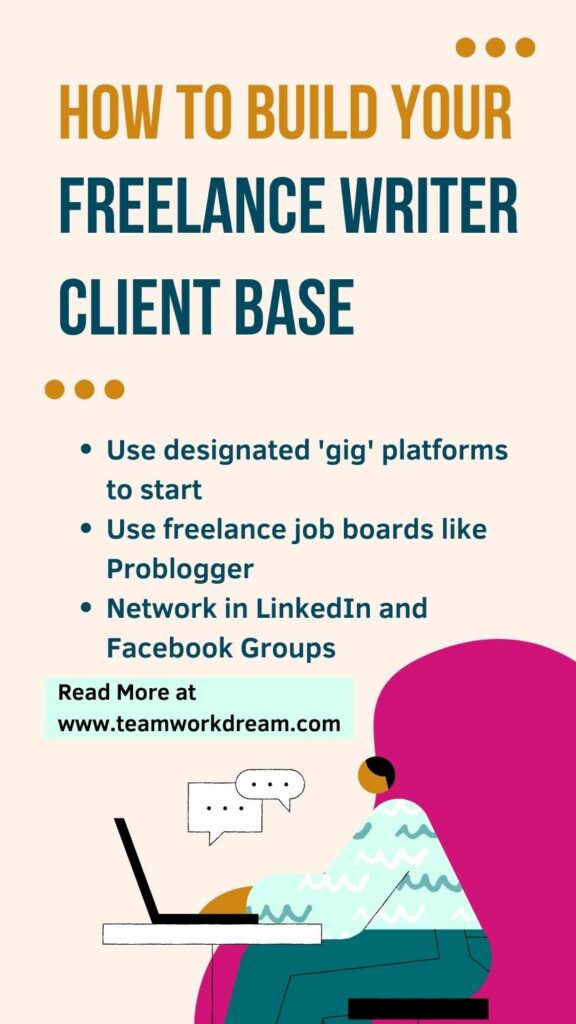 Now that you have all the necessary information I'm sure you're eager to find out where to find newbie freelance writing jobs.
Use Designated 'Gig' Platforms
There are many places you can start your online writing business such as Upwork, iWrite and Fiverr plus the content mills but if you want to avoid the urgent turnaround times, scandalously low rates of pay and avoid the scams a good first step is to start marketing yourself.
If you do start by finding clients on these platforms, I would encourage you to build relationships with the clients so you can take them private and avoid having to pay ongoing commission to the platform on the amount you get paid.
Build Your Own Freelance Writing Clients
Start by getting in touch with friends and family who already have businesses but may not have a strong online presence.
One example of this is local charity organizations – even if it starts on a voluntary basis, these can easily turn into a paying job and act as a good experience to develop your writing skills and create excellent writing samples for your portfolio.
You can even start to offer your freelance writing services to local businesses that you frequent.
Look on Freelance Writing Job Boards
Other places to look are writing job boards. The key to this is making sure you respond to any writing job requests as early as possible to be in the first set of responders.
You can easily join writing job boards like Problogger, Freelance Writing, BloggingPro, plus some paid membership sites such as FlexJobs, We Work Remotely Contena,
I had mentioned earlier that if you join relevant LinkedIn and Facebook groups you can also find many freelance writing opportunities. You can also use Google to search for paid guest posts.
Continue Marketing and Promoting Your Freelance Writing Business
Once you're happy with the content you have written and your portfolio is all up and running now is the time to start pitching your business to grow your business. This is where it gets real, real fast.
Unless you are extremely lucky and a whizz at networking it could take a week, a few weeks or months before you start to see results. It's all up to you and how determined you are in applying for freelance writing jobs.
Pitching
In the early stages it can get pretty scary pitching to clients but first of all, you have to make sure that your email signature is professional, has links to your connected social media pages as sometimes out of the blue (months later) some of them will actually get in touch.
Knowing how to send cold pitches to potential clients is a skill that you will have to develop. There are pitching templates that you can use but you must tailor it to fit your style, your niche and your client.
Other ways to connect with clients to get writing jobs is by answering questions in forums and groups. Look out for guest posts and requests for writers within these groups.
Keep your writing hustle going by promoting your services on your own social media sites be it Pinterest, a Facebook business page, Instagram and Twitter. Update regularly and add post links on your social pages that lead back to your portfolio or website.
How to Become a Freelance Writer and Get Paid: Frequently Asked Questions
How Much Does a Freelance Writer Make?
How much a freelance writer can make is dependent on experience, niche, and type of written content. So a blog post compared to an academic paper, for example, would be at a different rate.
For all instances the main thing to concern yourself with is to know your true worth, this can be difficult when starting out as you're eager to just get a job, get your first client.
You have to factor in your time, effort and skill in providing your freelance writing service.
There is no point offering to do a long-form post for $10 when no one is quoting below $150. You're just selling yourself short and there is no way you can make a living wage out of that especially if it involves a lot of research.
There are so many variables to factor in such as your location, the type of industry you're writing for so it's not something that is exact. You just need to know that you have to price your work based on your own personal experience, abilities, knowledge of topic, time spent on in-depth research and how much you can afford to live on.
Something that should definitely be noted is that if you are located outside of certain countries economic reasons and standard of living will have to be considered. Someone located in India would be able to accept less for their freelance writing compared to someone offering the same skills in Australia.
***KEY TIP – Do not charge rock bottom prices just to get the client!
To help you get a basic understanding of how much to charge as a freelance writer you can use this infographic by Clear Voice writing rate survey as a guide.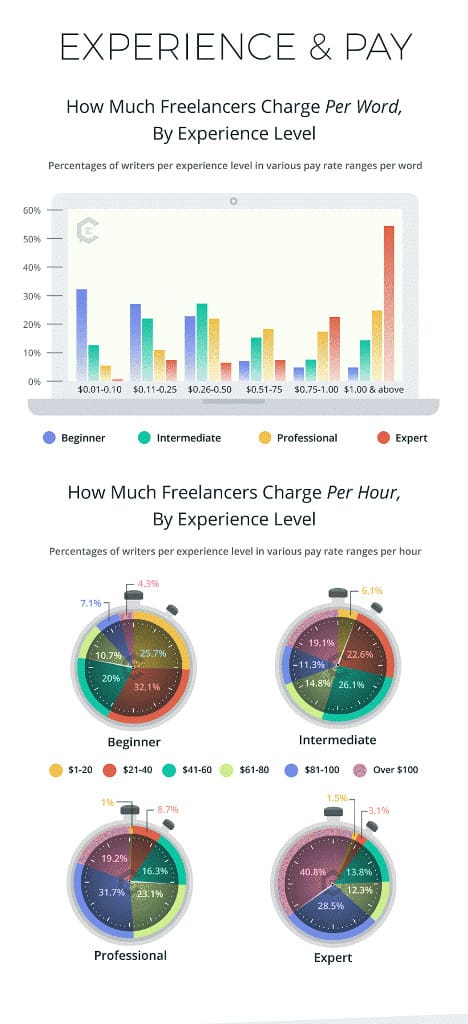 Final Thoughts on How to Become an Online Writer
To sum it all up, becoming a phenomenal freelance writer begins with understanding what it is then for you to acquire all the necessary skills and tools needed to be a competent writer.
Learn as much as possible and share and promote your services to as many people as you can through social media and your online portfolio.
If you or anyone you know want to become a freelance writer please share with them or pin an image as a bookmark.