With all that is happening in the world now is as good time as any to look into working from home for yourself. Why? Well, you can be your own boss, not have to commute, be able to spend more time with your family, set your own hours and like a lot of freelancers who work from home actually earn more money than they did from their old 9-5.
One of the best ways to figure how to get to the point of earning outside of your normal job is to start out by getting yourself some work at home reading books for information, inspiration, and motivation.
This post may contain affiliate links. For more information read full disclosure.
Before you dip your toe in the work at home business and hand in your resignation letter why not do some good old reading up first. Let me help you navigate the best work from home books that can help get you started.
There are a number of great resources, courses, and companies that offer work from home opportunities and jobs but one of the best ways is to check out legit information from a real living and breathing person. An experienced author who has been there and done that.
You can search under a specific niche that you're interested in or get inspiration on an overall view of work at home ideas. So here goes this is a comprehensive list of the best work at home books that you can order right now.
If you wish to read these suggested books electronically why not get yourself or better yet get someone to buy you a Kindle. It's thin, lightweight and easily portable without the bulk and it's budget-friendly too.
Related home-based work jobs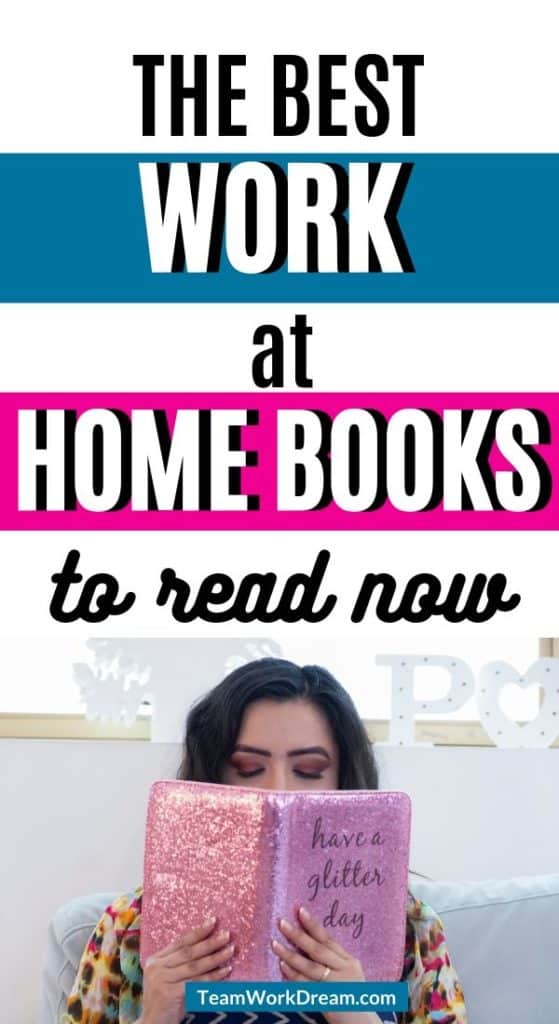 List of the Best Work at Home Books
I highly recommend this book. The author Caitlin Pyle is a great example of a work from home expert she actually started her remote working career as a proofreader and created the course Proofread Anywhere.

This book also comes highly recommended and has some of the best places to find jobs to work from home that are grouped by interests and hobbies and range from basic to expert level. so there's something for everyone. Why not get your copy!


If you ever thought about working from anywhere in the world then this is the book for you. All the information you could ever want to become a digital nomad with excellent up-to-date info that you should read now.


No matter what stage you're at in your work from home journey; a millennial, a stay at home mom or a retiree this book can help you get things organized to start working from home like a pro.


If you're just starting out with working from home you really have to be organized and this book will set you up through 5 simple steps to an organized mind, excellent time management and a home office that will make you smile. Order your copy.


If you enjoy listening to audiobooks why not sign up for an Audible Gift membership. Get access to a great selection of audiobooks like the ones on this list, plus special offers and discounts.
This well-written and well-needed book is a Godsend for those of you who are struggling to find balance while working at home and family life. Author Tricia Goyer shares her time-saving hacks, schedules, and processes to make balancing work and home that much easier by ordering your copy today.


Find out all you need to start a virtual assistant business from your home with this excellent work from home VA guide book. Learn the right information on how to start your virtual assistant business and become your own boss.


This practical quick and easy guide book on how to survive working from home is an essential addition to your library. This fun and useful work at home reading book is one of the best books to read right now.


If you're a budding solopreneur and ready to grow your business one way to do this is by hiring virtual staff. Learn all you need to know from the Virtual Freedom book. Learn how to not do it all by delegating, outsourcing and becoming more productive in your business.


Side Hustle Books
If you prefer not to work from home full-time and would like to have a side hustle instead then here are some great books about side hustles that will help you to set up a side job in your spare time.
The ultimate guide to building a side business and make extra money without having to give up your day job. Get the basics of how to start and run a side hustle. Easy to follow guide to start making money from home.


One of the most inspiring and best side hustle books you can read. Get the help you need to stop procrastinating and get started with your focused side hustle; Use Susie Moore's book to drive your business to success.


>>>You might also be interested to read Super Simple Side Hustles to Earn Money Fast.
Why not make money and help save the planet at the same time. Get this book and learn how to create beautiful crafts out of recycled materials.


Passive Income Books
How about only doing something once but it brings in a regular income again and again. Then the passive income route is for you. Check out a couple of awesome books on passive income that you can easily do from home.
This detailed book will show you the secrets to get started to find freedom, flexibility, and financial independence passively or as they say while you sleep. This book is 5 star rated so hurry and get your copy.


Once you start reading this book the ideas you will get will no longer be a secret. An excellent guide for beginners and intermediates. Learn the best ideas from one of the best passive income books to put online income earning on autopilot. Get your copy today!

Final Thoughts on Work at Home Books
Now is an excellent time to use your spare time to update and improve your skills. Or, if you're busy with your full-time job and family try to make time by reading the top work at home books if you want to start working at home for yourself.
Eager to read one of these books and want to get your hard copy books delivered quickly then sign up to Amazon Prime right now for a 30-day FREE trial
This above selection of books is just a tip of the iceberg of the work at home books that are available to you. So if you are interested in books about side hustles, want to read books about earning a passive income or generally want to know how to successfully work at home then these books are excellent to start with.
If you have family and friends who are considering working from home why not suggest this work at home book list to them or better yet why don't you buy them one of the books as a helpful gift?
Related Work from Home Ideas