Are You a Complete Newbie and Want To Start a Virtual Assistant Business?
You want to start working from home but not sure if you are able to become a virtual assistant. You've Googled, checked out Pinterest and a million blog posts and it all seems pretty difficult to setup. How many times have you made the attempt to start a Virtual Assistant business?
This year you are going to learn the simple basics of how to become a virtual assistant with no experience and get the opportunity to use the perfect step-by-step guide that you will have you working from home in no time.
This post may contain affiliate links. For more information read full disclosure.
What is a Virtual Assistant?
A virtual assistant, otherwise known as a (VA) is someone who offers administrative support to businesses from a remote location for a fee.
Virtual assistants are in very high demand by online businesses and entrepreneurs and the demand for VA's and their wide range of services is increasing year by year. Some of the services offered by a VA include Email Management, Social Media Management, Project Management, General Administration, Content Production, Customer support and much more.
If you want a few more ideas of what to offer check out this post on the 50 most in-demand virtual assistant services to offer.
Although you don't need any experience to get started as a virtual assistant, having some basic skills is important and will make things a lot easier for you.
Looking at the important question about how to become a virtual assistant as a newbie, here are some great tips to guide you on how to become a VA with absolutely no experience.
Related posts on How to Become a Virtual Assistant:
Easy Guide If You Have No Virtual Assistant Experience
Determine Your Skills and Service
The work of a Virtual Assistant is very diverse. To get around this you need to focus on a specific service to deliver. Pick one service to help you get started and expand to other services as you grow.
Decide whether you want to do this part-time as a side job due to commitments such as a 9-5 or family or grow your VA business to full-time and even bigger goals like the virtual assistant agency model.
If you're at the stage where you have no experience and you want to expand your skills one of the quickest ways to get you up and running and looking like a professional virtual assistant is to take an online course that can guide you fully on how to start, what to offer, how to pitch for clients and how to set your rates.
You can even take a virtual assistant mini course that will allow you to avoid the many newbie mistakes and get you on to your journey of making a great income as a virtual assistant a lot quicker.
Start your money making year right with an in-depth Virtual Assistant Course. Sign up for all the Fully Booked VA Courses.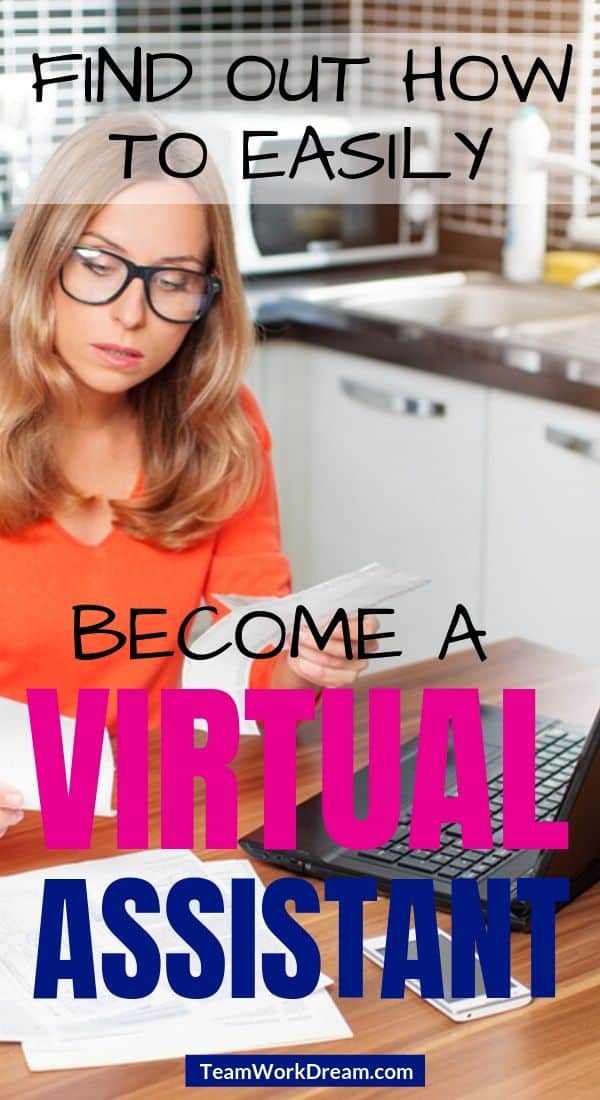 Create A Website to Promote Your Brand
It is important to have an official web page where your clients can find information about your business. Your website must include the services you offer, some of your experiences if you have some or a portfolio and samples of your work.
You must also make sure that there are easily visible ways for potential clients to contact you such as a contact form and social buttons to Email Address, LinkedIn, Facebook Business Page, Instagram and so on.
Advertise Your Virtual Assistant Business
You can advertise your VA skills through social media platforms such as email prospecting, Pinterest, Facebook, or write blogs about your work and networking through online entrepreneur groups. An online presence allows you to reach potential clients or people who may be interested in the skills you offer.
It's also a good idea to get some business cards made to give out to local prospects. Your local hair salon, your local restaurant and even other parents at your kids' school.
Tell people about your new venture, it can be daunting but if you don't share how will people know about your virtual assistant business?
Handing out your business cards locally can lead to potential business and you might just be the person they need to handle their emails or social media or even write content for heir web or blog.
You can find a basic guide on how to level up your online presence using social media when wanting to start a business.
Establish Your Target Market
Another essential key to becoming a successful VA is establishing your target market. According to the services you want to offer, you should have an idea of who your ideal client is.
Here's an idea for you, let's say you love crafting as a hobby and you're good at it but you want to keep it as a hobby. You can link your hobby to your ideal client.
There are so many craft bloggers, vloggers and craft related businesses that need assistance. You can start to target crafting groups on Facebook and LinkedIn, join forums and start to offer your services.
Identify what struggles they might be going through by paying attention to the questions asked in the group forums and what industries they are in. When you identify with the challenges they are facing, it becomes easier for you to pitch for them.
Decide on Your Virtual Assistant Rates
The amount of money you charge depends on your experience, skillset, and the type of services you want to offer.
If you are a beginner, consider charging an introductory rate to attract clients and gain experience, this does not mean rock bottom rates.
Once you are experienced within your virtual assistant job, you can start increasing your rates over time with each new client. However, the idea is not to undercharge or overcharge your clients. Compare prices with what others are offering and set a comfortable balance for yourself.
You can find out all the full details on how much to charge clients in the Fully Booked membership course.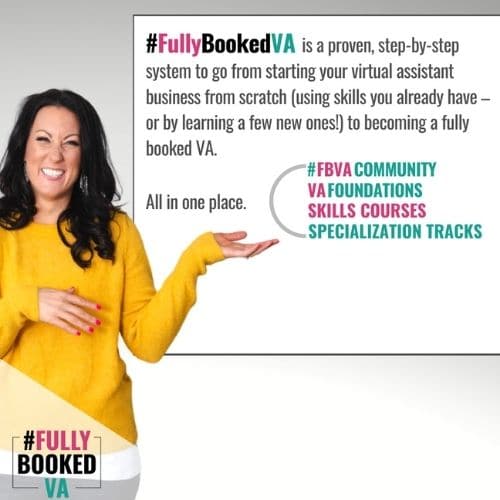 I've taken this course and it definitely has helped me to grow my virtual assistant side business and it works hand in hand with my blog. It's an excellent guide giving clear instructions on how to set up and offer your virtual assistant services.
Why not try out the Fully Booked Virtual Assistant Mini Course? Available at a super discounted price.
Essential Virtual Assistant Equipment
You might be wondering if it's going to cost a lot to start up a virtual assistant business as a beginner. If you're on a shoestring budget you really don't have to spend too much.
So what do you need? You need the bare minimum when starting and whatever you can get away with to use for free just do it.
In the startup stage, you don't want to spend a lot before making any money. Figure out what you already have. You don't need a fancy desk, an ergonomic chair although once you start earning it's a good idea to get these things.
You can work from your kitchen counter, sit around your dining table, on the couch or even from your bed in your pajamas when starting out. The whole idea is that you will be working virtually and no one is going to ask for a tour of your 'virtual' office.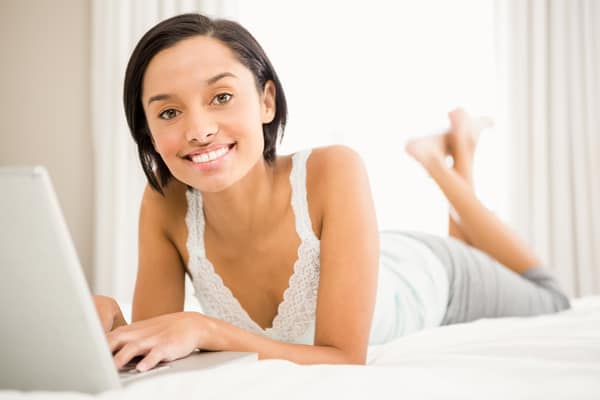 In saying that, there are some bare essentials that you must have.
A superfast computer or laptop with a good amount of storage space. You probably already have one but you can always check out Amazon for specials deals

High-speed internet, this is a must-have

A website. You can start with a free WordPress Theme and a budget-friendly webhost such as Hostgator
An app to set up contracts and send invoices such as Invoice Ninja which is free to use for the first 100 clients

Also, make sure to have a decent smartphone so that you can always respond to client queries even when on the move via email, Messenger and even WhatsApp.
As your experience grows and your earnings increase different client requests will dictate what other equipment or software you will need. After that, you can even start to splurge on some great looking accessories for your home office.
Manage Your Time
Task scheduling and time tracking is crucial in the virtual assistant industry. You should aim to perform tasks required by your clients as per their basic business requirements and urgency instead of multitasking. You should divide your regular tasks to specific times so that you can always deliver on-time work.
Use time-saving software like Google calendar, Trello, the time-tracking Chrome extension with Invoice Ninja can help you have an effective plan or schedule.
Apply for Virtual Assistant Jobs
Now that you know what your target client needs are, it is time to start offering your services and getting those jobs.
If you're looking for flexible work from home jobs FlexJobs can help you find legit remote jobs. Sign up now to join FlexJobs.
Pitch to them and assure them how your services will solve their problems. You can try the many freelancer websites but to get yourself the best rates it's always best to find your own clients through self-promotion to local businesses and online groups that may want to hire virtual assistants.
If you join the Fully Booked Virtual Assistant Membership course you will also get to be a part of the private Facebook Group that regularly offers exclusive VA job opportunities that you can pitch to.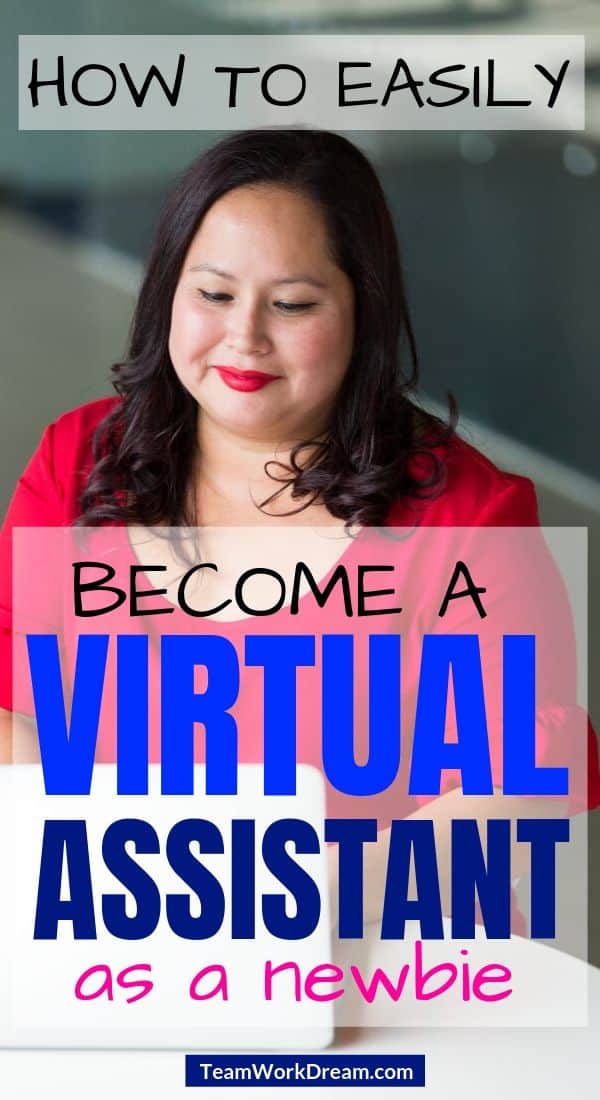 Create Clear Client Proposals, Contracts and Invoices
As a newbie virtual assistant, you want to look as professional as possible so being able to create branded proposals, contracts, and invoices will be the way to go.
There are quite a few user-friendly apps that can do all this for you and one that is great for when just starting out as it is free to use for your first 100 clients is the catchy-named Invoice Ninja. Check out all the free features of this essential freelancing app. If you need even more features you can always go Pro.
Start Working
After applying for jobs and getting your first client, you should work to give them the best quality and service. Deliver the work requested on time. This increases your chances of landing other new clients or retaining the ones you have worked for after getting good reviews.
Once you start building up positive feedback you can ask for testimonials to put on your website and your clients will also want to refer your excellent services to others.
>>>Learn how to become a successful Virtual Assistant by offering the most in-demand services.
Build Up Your Virtual Assistant Experience
When becoming a virtual assistant, make sure you are up-to-date on your knowledge by continually learning new things every day. The digital landscape is changing and there are new apps and tools introduced daily. As such, there are always new things to learn.
You can exchange experiences and knowledge with other virtual assistants within the many VA groups and associations. This will make your job easier and your clients will appreciate your new ideas and developments.
Final Thoughts on Becoming a Virtual Assistant Beginner
The demand for virtual assistants is on the rise in the modern online landscape. Becoming a virtual assistant is flexible and you can make a full-time income or extra money as a side job from the comfort of your home.
It does, however, require discipline and hard work. If you are willing to put in the work becoming a virtual assistant can be a lucrative career. The other great thing about being a VA is you can do this job regardless of where you are in the world.
Related posts on How to Become a Virtual Assistant: