Do you have a serious talent for cooking and creating unique tasty recipes? If you do you could learn where and how to sell recipes and make money online.
I admire people who have a natural born instinct to cook. While I am pretty okay at cooking, I would never say I'm next level, Michelin star making my own recipes very often type. That talent I leave to my mother.
This post may contain affiliate links. For more information read full disclosure.
For years I watched her always cooking up a storm and inventing delicious new recipes or putting a new twist on the old traditional ones. Back then, I was the chief taster and ingredient passer. 😋
Now as I'm always doing research trying to find out all the different ways you can make money online it turns out that selling recipes to make extra cash is a viable income earner, and not just by the traditional recipe book.
If you're a cooking fanatic with your own little family recipe journal and would love the opportunity to make money from selling your very own recipes, keep reading to hear how you can do it.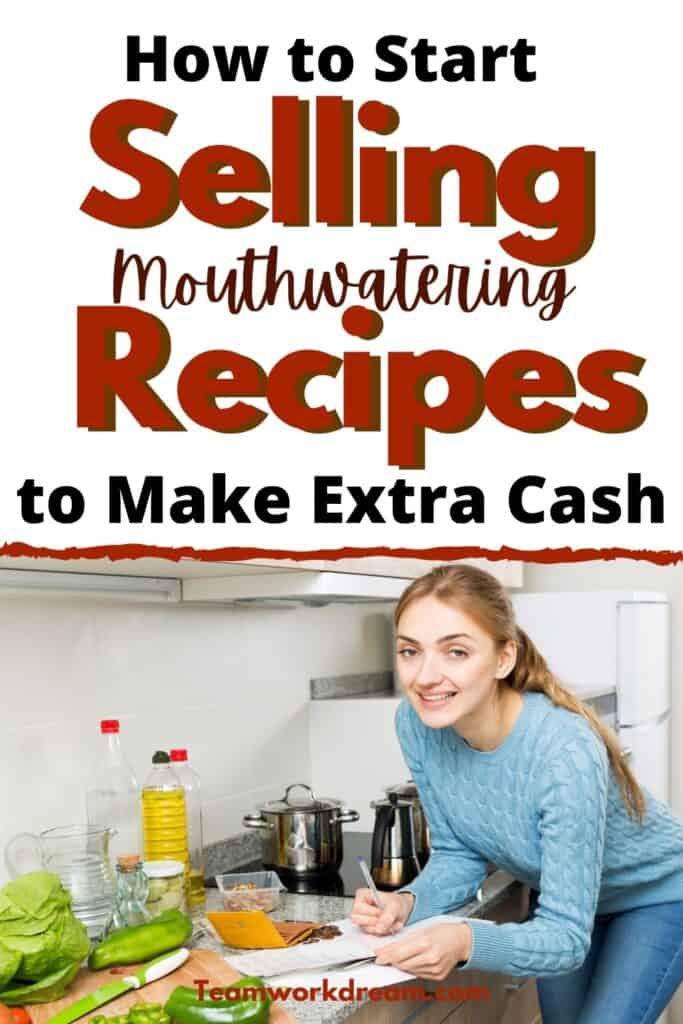 What Do You Need To Start Selling Recipes Online?
Before you can even consider selling your recipes you have to ensure that they meet a particular standard. That is, your recipe should be:
Original – It's true, there are already over a million recipes in existence worldwide, so the possibility of you coming up with a recipe that has never been done before is slim but not impossible.
Before you attempt to sell your recipe be sure to check out similar recipes that already exists so no claims can be made against your recipes lack of originality when it comes to instruction and description and so on.
Easy To Understand – The whole point of a recipe is so that individuals are able to follow particular instructions and end up with their desired food as the result.
As such your recipe needs to be precise, with easy to read language so that it can be understood by a variety of prospective audiences. This book is a great food writing guide.
How Much Can You Make Selling Recipes Online?
Now that you are aware of what requirements your recipes should fulfill in order for them to be sold online, let's discuss how much money you can realistically make from selling your recipes.
It's important to note that when selling recipes online that there are multiple channels (I will go into more detail below) that this can be done through.
The more channels you can use the more money you're able to make. You can make from a $50 to $300 for a recipe on some sites to thousands depending on how established you are and what direction you take.
These channels generally fall into one of two categories. You can either choose to sell your recipes as follows:
Freelance Recipe Writer or
Recipe Developer
Freelance Recipe Writer
As a Freelance Recipe Writer you have the ability to earn a one-time cash payment upfront. You can easily offer your services to others such as food bloggers and make money online using this method.
Recipe Developer
As a Recipe Developer you are a likely to be paid upfront in addition to earning a lifetime of recipe royalties for as long as the recipe remains in use.
It is hard to say which of the two categories would be the better income earner because while you could work as a Freelance Recipe Writer and be paid at a fairly decent negotiated price with your client, you no longer own the rights of your own recipe.
So you have to make sure you price it correctly.
On the other hand, however, there is the possibility that as a Recipe Developer you could publish a cookbook that doesn't sell and therefore not earn any royalties.
Before you decide on your course of action, my advice is that you should definitely consider the Pro's and Con's.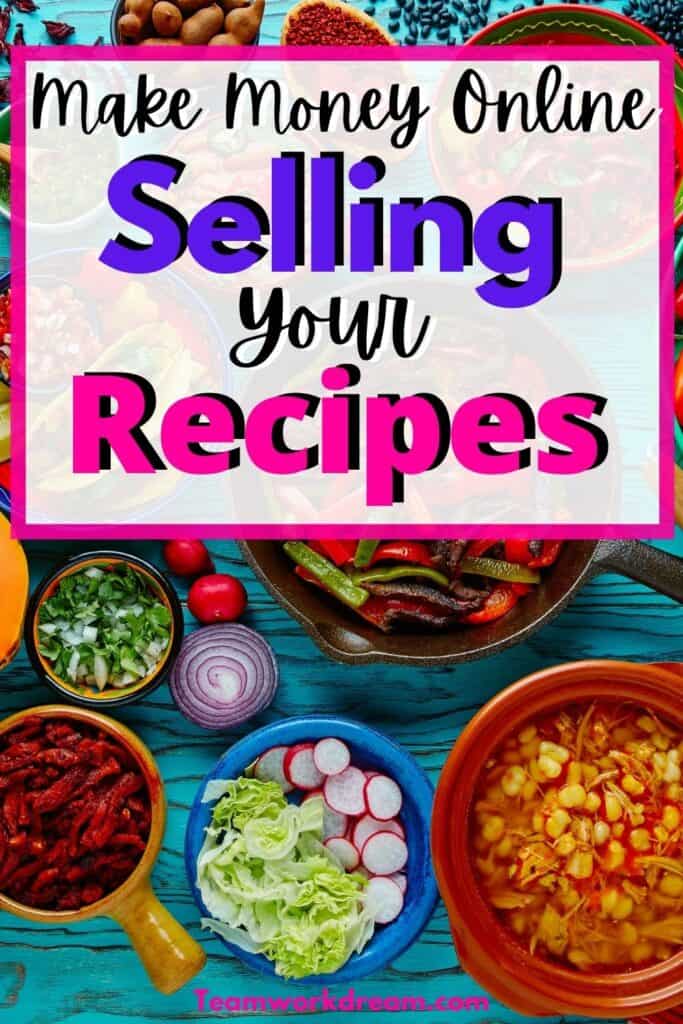 Ways To Get Paid To Write Recipes?
To best communicate how you can get paid from writing recipes I will refer to the different ways based on the two categories I mentioned before.
Where to find recipe writing jobs as a Freelance Recipe Writer
1. Apply To Recipe Writing Jobs On Upwork
In case you didn't know, Upwork is a freelancing platform that bridges the gap between freelancers and freelance job opportunities. As a result, this is a great place to not only find freelance recipe writing jobs, but also to create a recurring clientele to sell your recipes to.
2. Offer Your Recipe Writing Services on Fiverr
Like Upwork, Fiverr is another freelancing platform that allows Freelancers to offer their services and interested buyers to purchase their gigs/packages.
To get the most traffic to your recipe writing service here, you can dictate which niche you can best write recipes for. For example, writing recipes for Pesco Vegetarians.
Regularly use the Fiverr sharing button options so that it goes public on social media platforms and gets seen by as many people as possible.
3. Sell Your Recipes Directly To Food Bloggers
Many popular food bloggers do not have the time to always create content of their own and as such, will sometimes outsource the recipes listed on their site.
If you sell your recipes to a food blogger that is pleased with the results, there is a high likelihood that they will keep coming back. Check out the many food blogging Facebook groups that you can join.
4. Submit Your Recipes To Food Companies
Most food companies will jump at the idea of receiving an original recipe created using their products, and will pay good money to acquire it from you.
Ways you can get paid to write recipes as a Recipe Developer
1. Start a Food Blog
If you know anything about owning and monetizing a blog or you're willing to learn how to start a food blog, then you know that the income generating opportunities are endless.
There are a lot of food bloggers out there making full-time income and you can become one of them.
Why not create easy to use online recipes for your readers with the right food blogging tools.
Make an impact with well laid out instructions, ingredients, measurements and nutritional value information without having to overthink the design process. You can even learn how to make video recipes that will give your food blog the edge.
So rather than selling your recipes to a food blogger for a one-time payment you can develop, share recipes and generate income on your own professional looking food blog for years to come.
2. Start a YouTube Channel
As more people are consuming video content some people would much prefer to watch someone prepare a dish from their homes and follow along then have the recipe to read and keep afterwards.
This is a good way to earn money twice by repurposing your video content and converting it into blog posts, newsletters not forgetting to add a full written video description so that you can be found easily.
Starting a YouTube channel is a great way your recipes can generate income over a period of months and years.
There is another benefit of creating both video and blog recipe content, affiliate marketing.
You can make money promoting, for instance, kitchen gadgets that you love through Amazon and other food associated affiliate programs.
For more information on how to do this have a read of this affiliate marketing beginner's guide.
3. Publish a Kindle Cookbook
For many people creating eBooks and performing self-publishing has completely replaced, the creating of hardcopy books and using traditional publishers.
This change has also impacted the cookbook industry where more persons are now purchasing digital cookbooks and the recipe royalties earned from self-publishing a cookbook for Recipe Developers are significantly higher than using traditional publishing.
Revenue Sharing
Sites such as RecipeYum and Hubpages allow Recipe Developers to submit original recipes through an online forum where they are able to earn a revenue each time a buyer purchases their recipe as well as part of the revenue that is made from advertisements on the recipe website.
Final Thoughts
If you love cooking and the idea of experimenting with and creating new recipes in the kitchen is a favorite pass time of yours, then selling recipes online may just be the additional income earner you've been looking for.
Don't delay your income prospects any longer by finding reasons you can't start earning online right now. As the creators of the great Nike brand once said "Just Do It".
If you found this post helpful or have friends and family who are excellent cooks and would love the opportunity to make extra cash selling their recipes online, don't forget to share it with them.
Related Posts