Looking for remote data entry jobs? Read this step by step guide to how to find the best online data entry jobs – complete with a list of companies hiring right now.
Remote data entry offers a great opportunity for you to earn extra money. Let's face it, there are always companies that require employees to enter different types of data or information into their systems.
There are plenty of work from home jobs available for people with data entry skills. While some may require a more specialized skill set, many simply ask for fast and accurate typing, along with other basic office skills.
In this guide, I will cover what you need to know before applying for remote data entry jobs, the types of jobs I am currently seeing on the market and a list of companies that are currently hiring remote data entry roles right now.
This post may contain affiliate links. For more information read our full disclosure.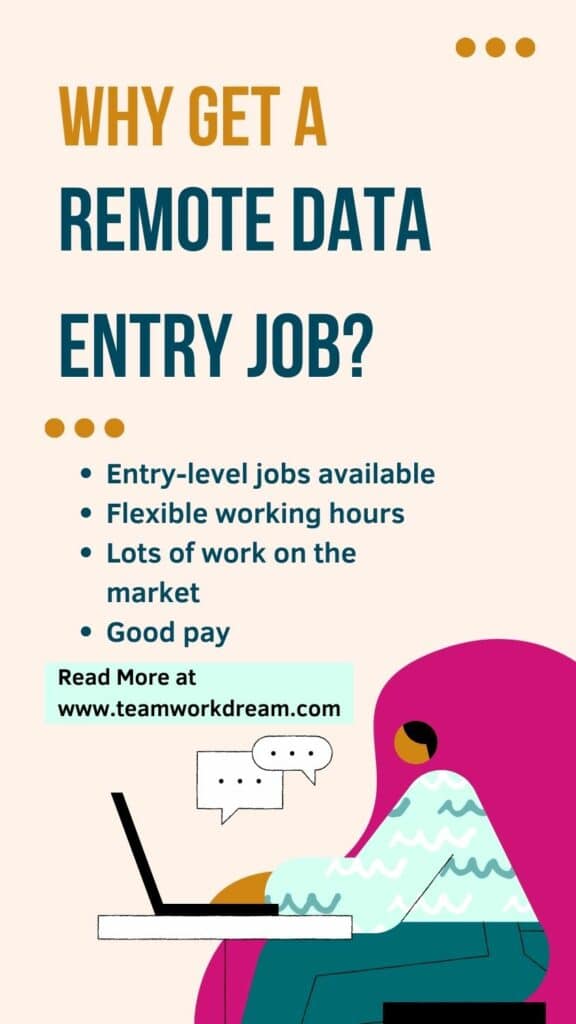 How Easy is Data Entry Work from Home?
Data entry jobs are one of the easiest online jobs that allow you to work from anywhere (including home). Many remote data entry jobs require no specialized training or skills.
You get to earn an extra income from the comfort of your home from a data entry job that does not require any deep level training and is not a big learning curve and its flexibility allows you to start anytime.
If you're looking for flexible work from home jobs FlexJobs can help you find 100% legit remote jobs. Sign up now to join FlexJobs.
What Skills Are Required to do Remote Data Entry Jobs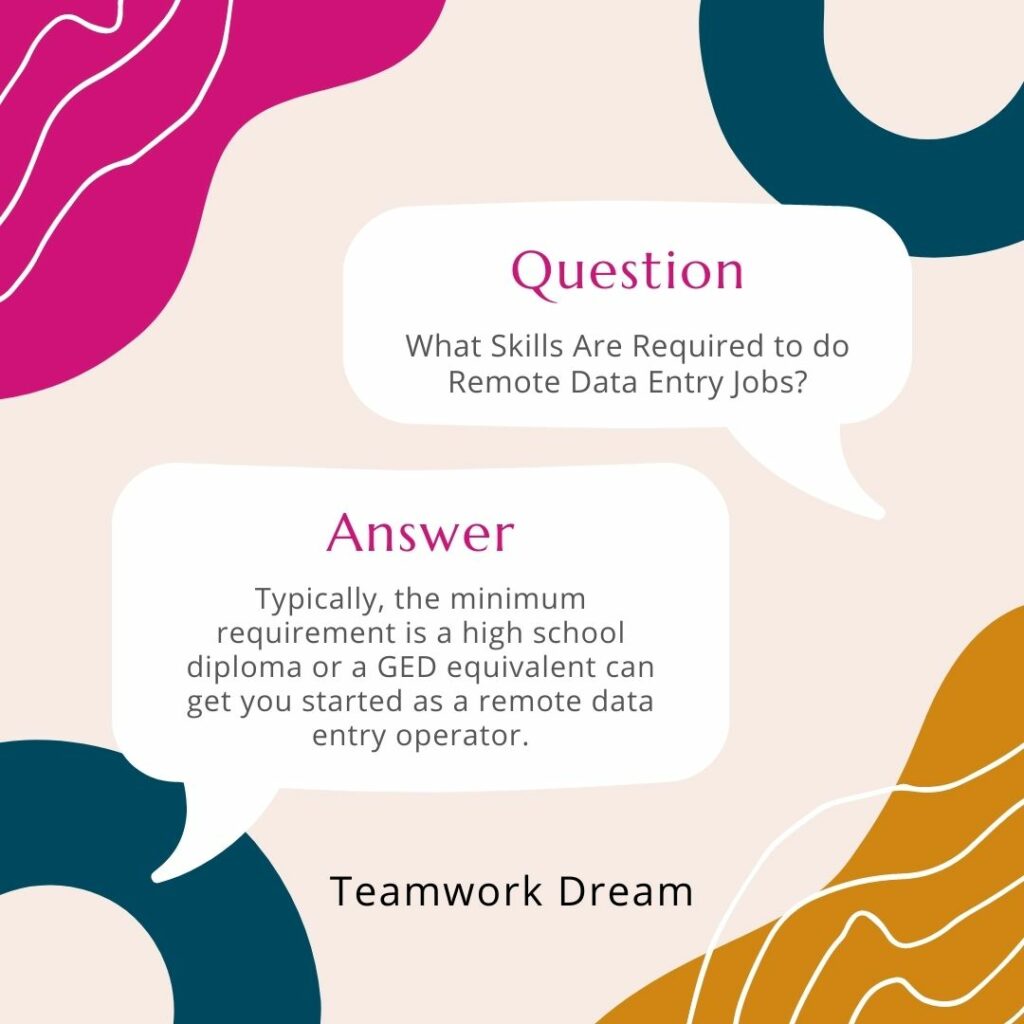 Typically, the minimum requirement is a high school diploma or a GED equivalent can get you started as a remote data entry operator.
However, in some cases, a bachelor's degree may be asked depending on the type of specialized industry.
You may also need to have the knowledge and some experience with software programs like Microsoft Office, especially Excel.
Typing skills and typing speed are also important when it comes to data entry jobs.
Other traits of a good data entry clerk include organizational skills, detail-oriented, ability to work independently and within a team, and you must be able to work within deadlines.
Can You Make Money Doing Data Entry from Home?
As stated earlier data entry is one of the easiest opportunities that allow you to make extra money from home. Although a data entry job that is easy and accessible sounds appealing, the wages can be quite low.
You will have to factor in whether it will be worth your while as a remote data entry clerk as you would no longer have commuting costs and other expenses.
If you're looking for flexible work from home jobs FlexJobs can help you find 100% legit remote jobs. Sign up now to join FlexJobs.
Do You Need any Specialist Equipment for Online Data Entry Work?
The tools you require for data entry work are a computer or a laptop plus a reliable high-speed internet connection. Here is a bestselling and reasonably priced laptop that you can get on Amazon.
This allows for easy sending back and forth of projects between you and the employer. You may also need to get yourself a comfortable desk and ergonomic chair to ensure you are working efficiently without straining too much to provide ultimate productivity.
Another essential resource that you will need especially when dealing with detailed remote data entry work such as entering information on to various spreadsheets is a pair of computer glasses.
These glasses will prevent fatigue, block blue light and help with eye strain and tired eyes. You can read more about blue light blocking glasses here.
Downsides To Remote Data Entry Jobs
A lot has been shared about how easy it is to do data entry jobs with no experience which is great but there are a few downsides.
First of all, doing a remote data entry job can be a lonely task when working on your own or from home. Not only that, it can be quite tedious and repetitive. It can take a toll to constantly record entries, especially when working on various spreadsheets.
Unless you get a chance to work within a specialized industry that you are very familiar with, it might be better to think of the pay as a good way to supplement your income as a side hustle rather than replace it.
If you're located in US/UK/CAN/AUS then it can end up being quite lucrative and treated as a full-time income
How Can I Find a Remote Data Entry Job with No Experience?
While data entry may sound technical, you can find remote data entry jobs with no experience. There are beginner or entry-level jobs in various data entry fields.
For you to land an online data entry job, you need to look at your current skills. There are many businesses that prefer to hire workers who are trainable instead of employees who are experienced and require higher rates.
Types of Online Data Entry Jobs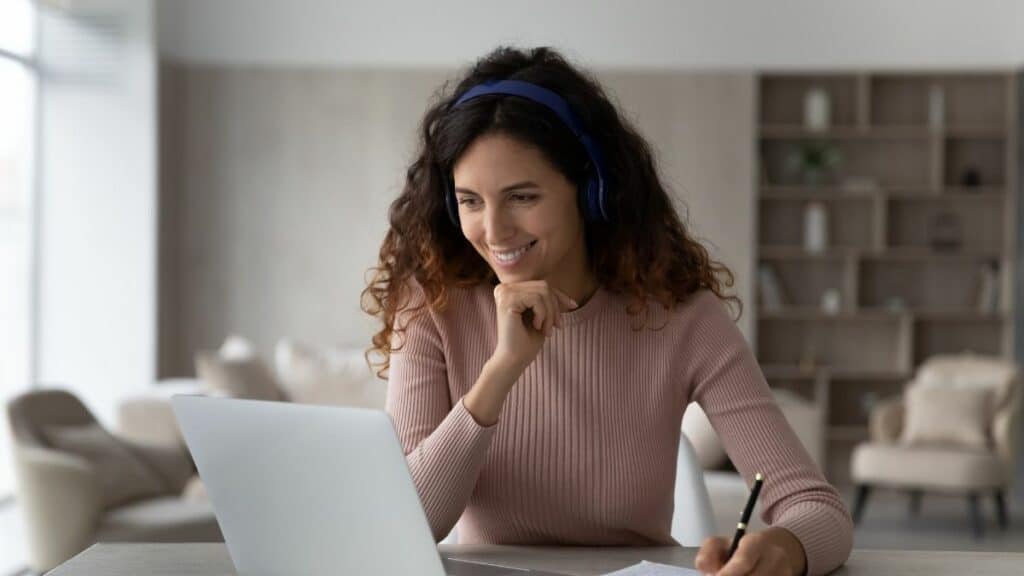 Data Entry Clerk
A data entry clerk is an entry level remote data entry job.
The job is pretty self-explanatory – you will be responsible for inputting data into a company's system. This can be done via an online form, or by transferring data from one software program to another.
Data Processor
A data processor is similar to a data entry clerk, but with one key difference – instead of simply inputting data, you will also be responsible for checking it for accuracy. This means that you need to have strong attention to detail, as well as good organizational skills.
Data Analyst
A data analyst is a step up from a data processor, and is responsible for not only checking data for accuracy, but also for analyzing it and providing insights.
This role usually requires at least some basic knowledge of statistics and Excel, so if you have these skills, this could be the perfect work from home job for you!
Virtual Assistant
A virtual assistant is a catch-all term for someone who provides administrativ eor other support to a business or individual remotely.
This could involve anything from scheduling appointments and replying to emails, to more complex tasks such as social media management or bookkeeping.
Remote Data Entry Jobs Hiring Now
ClickWorker
ClickWorker provides data entry tasks that are as simple as filling a form and you get paid for each task completed. You can withdraw your earnings using a direct deposit to your bank account or via PayPal.
Amazon MTurk
You can also get data entry jobs on Amazon MTurk to earn extra cash. Although the money you earn is low, it provides a good starting point if you have no prior experience. Once your work is approved, your payment is credited to your account.
SigTrack
SigTrack is another data processing company that is reputable for handling voter registration documents. Their working hours are flexible as you can choose your own working hours.
However, the work can become extremely demanding during the peak voting seasons, which means you will be needed for extra hours of work.
Axion Data Entry Services
This Axion Data Entry Services company recruits independent contractors for long term data entry positions.
You need to have 2 to 3 years of experience for you to qualify. You are also required to be accurate and fast since you are paid by a flat rate per project.
Microworkers
Microworkers is a gig marketplace that connects workers with clients looking for services such as data entry for extra income. Employers create micro-jobs or short tasks that require completion. Since the tasks are usually short, the pay rate is also not that high.
The SmartCrowd
The SmartCrowd, which is part of the Lionbridge group, hires workers who are home-based to complete online data entry tasks for their clients. Your application is accepted if you meet the qualification criteria and you get to start working immediately.
Appen
Appen is one of the most well-known remote search engine evaluator and microtask sites offering both in house and remote positions in data entry services.
Working from home requires self-discipline since you are expected to work independently wherever you are located.
One thing to note is that you may be required to work on special project a range of smaller projects simultaneously so you must be highly organized and be able to stick to deadlines.
Working Solutions
Working Solutions is another reputable company that offers data entry work periodically. You must fill out an online application to work with the company.
Working Solutions provide different programs and with each program, there are different pay rates. This gives you an opportunity to choose a program that matches your skillset.
Find 100% legitimate work from home job opportunities with FlexJobs. Sign up now to join FlexJobs.
How to Avoid Online Data Entry Scams?
Although remote data entry jobs can be lucrative and flexible, there are a wide variety of dubious online jobs that are not worth it.
One of the things you must be fully aware of is that a lot of data entry jobs will pay you a very low rate or next to nothing or they could actually be scams.
A good way of spotting a scam is by looking at the rates. Usually, scammers promise to pay high hourly rates for low-level data entry tasks.
You should also be aware of red flags such as if the interviewer only wants to interact with you using online platforms such as Facebook messenger, chats or emails only. This is not always the case but make sure to be on alert.
In most cases, scammers avoid making direct contact so that you cannot get them on the phone.
Another way to protect yourself from data entry scams is to check the name of the company and rating on the Better Business Bureau (BBB).
The BBB reviews will help you determine how trustworthy a company is. Make sure you search for information about the company or person you plan to work for to verify that they are who they say they are.
To avoid falling for scams, you must conduct enough research about the companies you choose to work with beforehand. Do your due diligence and protect yourself.
Use legitimate sites like FlexJobs when searching for work from home opportunities or companies that provide legitimate work from home data entry jobs.
>>>You can find out a lot more about how to avoid work from home scams by reading this post.
Final Thoughts on Remote Data Entry Jobs
Although it's unlikely that you will become a millionaire with data entry jobs there are some high paying remote positions out there. Just know that those are in very high demand.
If you perform very well and very quickly on data entry projects you can easily end up being the call upon person for data entry work and be able to request a higher rate or be placed on a higher pay scale.
Love This? Save and Share on Pinterest!
Remote Data Entry Jobs From Home: Read Next