How to Find Audio and Video Transcription Clients
One of the easiest ways to start working from home is by typing. As simple as it sounds it can be very lucrative if you know exactly where to look for legitimate typing jobs especially if you want to do it on your own terms as a freelancer.
Transcription is the way to go and we are going to find out how to find audio transcription jobs from home.
This post may contain affiliate links. For more information read full disclosure.
What is Transcription and What Does a Transcriptionist Do?
Simply put,t transcription involves the conversion of a video or audio file into text. It involves the careful listening and typing of video or audio recordings either by using automated transcription software otherwise known as speech recognition software or by physically typing the recording to create an accurately transcribed document.
Are Transcription Jobs In Demand?
Transcription is in-demand more than ever. With the ever-growing internet needing written content the business of transcription continues to grow.
The transcription service industry has been growing rapidly over recent years. Due to advancements in technology and the internet, information is readily available in the oral form that industries want to document.
There are companies such as GoTranscript, Scribie and TransribeMe that are always on the lookout for new and experienced transcribers and are open to global applicants.
You will be assessed for your speed, accuracy, and command of English but they are very easy to sign up to.
There are many automated transcription services but none are as reliable as the true transcriber who can decipher accents, moods and correct grammar and punctuation, be familiar with certain colloquialisms and place names.
A transcriber will be needed in the long-term until the automated recognition software is greatly improved. So in the current climate, there is no fear of you not being able to find a reliable transcription job.
Related Transcription posts
What Skills Do You Need to Become a Transcriber?
Depending on the direction you want to go in the basics are:
Good listening skills

Accuracy

Lightening quick typing (the faster the better)

Good grammar and punctuation

Good with accents
Additional skills you may need is a transcription certificate. If you are doing medical transcription you should either have a medical background or a Diploma of Healthcare Documentation,
If you wish to enter into Legal transcription you do not necessarily have to have certification but a background within the legal field would be beneficial.
You can actually get an Associate Degree in legal transcription which takes around two years but there is a great online transcription course available that teaches both general and legal transcription.
You can find out more information about this course or try out the free mini-course before signing up for the paid course.
What Type of Client Needs a Transcription Service?
In regards to how and where you can find transcription clients, here are industries and businesses that require transcription services.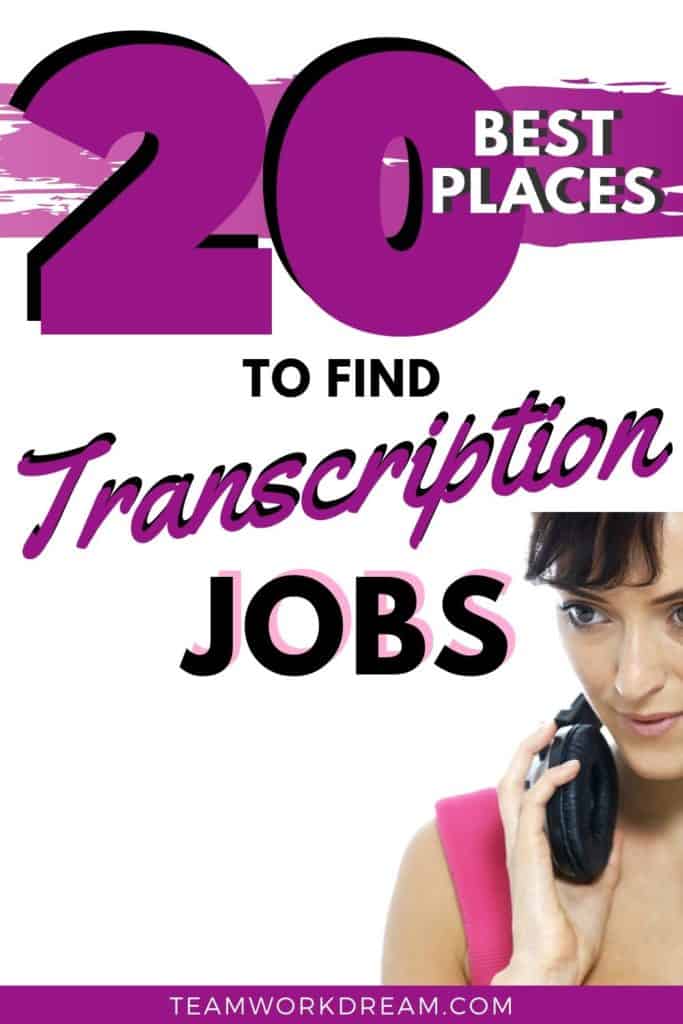 1. Healthcare and Medical Providers
Transcription services are essential in the healthcare industry. This is because the documentation of patient information is required in their files. As such, the recording and transcription of notes, procedures, and related material are crucial. Knowledge of medical terminology is important.
2. Video and Audio Podcasters
Transcription of a podcast can give a choice to the audience who prefer to read than to listen or just like to have notes that they can keep of a podcast.
This is also a way of increasing traffic to a podcast since the same information is absorbed by an increased audience and makes content more SEO searchable.
3. Attorneys and Law Firms
Due to a wide variety of material recorded by legal professionals, legal transcription offers an opportunity to transcriptionists.
You can transcribe various materials like hearings, depositions, and interrogations. Legal transcription guarantees higher pay due to its specialized nature. Some recordings may be of a delicate nature so you might need to decide if you wish to transcribe criminal cases.
4. Police Departments and Law Enforcement Agencies
This is another industry that offers a specialized type of transcription. Some of the materials to transcribe include police reports, investigations, victim interviews, witness statements, and interrogations.
This field requires absolute accuracy and strict verbatim. However, you can set rates per audio minute, and you can get jobs due to less competition.
Again, please note that the recordings can have very serious topics to be transcribed. You will also be background-checked.
5. Insurance Companies
Insurance companies hire qualified transcriptionists to produce claims investigations transcripts. This industry also requires strict verbatim and a high degree of accuracy.
Some of the other materials to transcribe are statements, witness interviews, and reports. For you to qualify as an insurance transcriptionist, you should be familiar with legal terminologies.
6. Market Researchers
Market research companies often conduct customer research to help in new product designs create buyer persons, improve on existing products, analyze competition, and develop marketing strategies. You can transcribe their interviews, phone surveys, and focus groups.
7. Entrepreneurs
Business and corporations produce a range of recorded materials for transcription such as press conferences, staff training, conference calls, and board meetings.
>>> If you need to choose a great pair of noise-canceling headphones check out this list on Amazon to start your transcription business.
8. Media Industry
Media professionals, public relations agencies, and journalists conduct interviews that require transcription to produce press releases or articles.
You can network with journalists and copywriters who also conduct interviews with executives through LinkedIn and Facebook groups to get transcribing jobs
9. Financial Services Companies
Banks, accountancy firms, credit cards companies, and brokerage firms require transcription services. If you become a transcriptionist for a financial sector, you can transcribe earnings calls, executive meetings, seminars, business surveys, investor relations, and interim results.
Attention to detail is key for this type of work as you will often be working with numbers.
10. Entertainment Industry
Film, radio, and television production companies produce a lot of material to transcribe like documentaries, reality TV, and radio programs. These companies require as broadcast scripts, post-production scripts or continuity scripts.
11. Educational Institutions
Academic researchers and professors hire typists to produce transcripts of interviews, lectures, focus groups, and symposia. Masters and PhD students also require transcription services to prepare their theses or dissertations from interviews.
This is a great one as the transcription work is usually bulk interviews so you will have the opportunity for long-term work and the topics can be very interesting.
12. Authors
You can transcribe interviews for biographies. Authors dictate their Kindle eBooks and later have them transcribed.
13. Real Estate Companies
Home inspector professionals regularly dictate reports for inspection that need transcription services.
14. E-Learning Websites
The eLearning industry is growing. Sites like Udemy offer courses on various subjects. They produce video and audio courses that need captioning and transcription.
15. Religious Institutions and Churches
Sermons from ministers and pastors often require transcription. It is easy to transcribe because they are well recorded. Great regular work.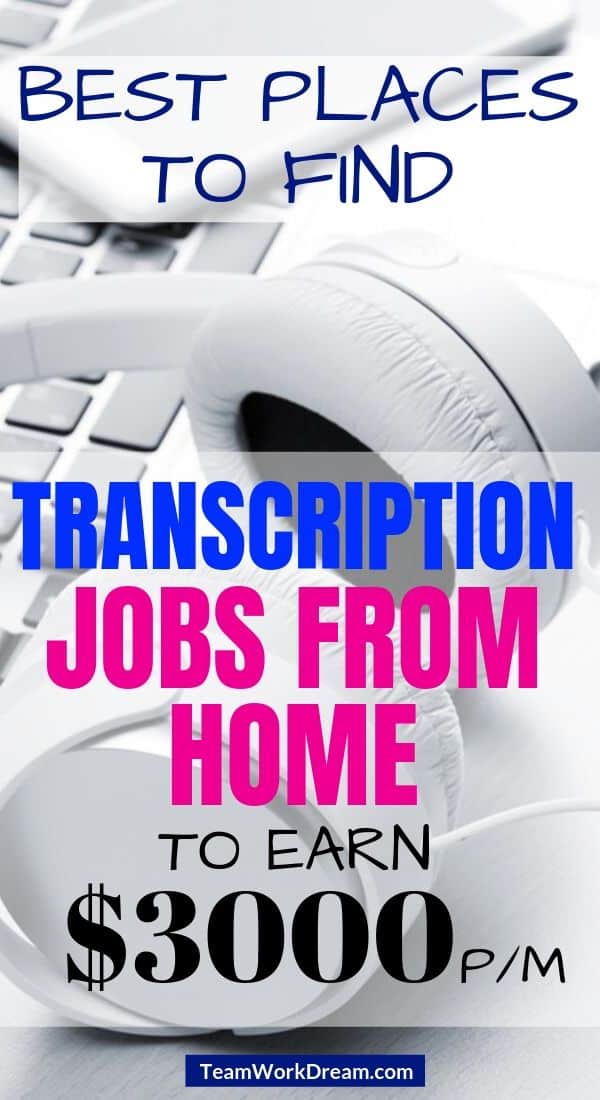 16. Conferences
Recorded materials from trade fairs, conferences, and seminars often need transcription services.
17. Public Speakers and Personal Development Coaches.
Coaching and personal development services in fitness, online business niches, wellness, and nutrition are growing rapidly. Coaches produce video and audio materials like webinars and live streams that may require you to create transcripts.
18. Content Strategists
Writers and content strategists for entertainment websites require transcriptionists to create repurposed transcripts.
19. Marketing Consultants
Marketers providing planning and marketing strategies, video marketing, and web development services use transcriptionists to create text from videos, live streams, and webinars
20. Governmental and Nonprofit Organizations
These organizations generate a wide range of materials from interviews, research, and council meetings that need documentation.
Final Thoughts on Audio Transcription Jobs from Home
As you can see from the list above you really shouldn't be out of transcription work once you choose what direction you want to go in.
I myself have done a number of transcription jobs but my favorite is doing interviews for music journalists. You get to listen and transcribe first-hand the interviews with famous entertainers before it hits the newspapers and magazines.
If you have a computer or laptop, a great pair of noise-canceling headphones, and can type super fast and accurately you are ready for a transcription job.
Why not share this post with someone who is thinking of doing audio transcription jobs from home working from home.
Related Articles on Transcription