Looking for daily transcription jobs? Read this step-by-step guide to getting started in transcription and finding the perfect role.
It's no secret that here at Teamwork Dream, we're all about giving you the tools you need to create your own work from home income streams.
If you're a skilled typist (or if you're willing to learn) there are plenty of online transcription jobs where you can make money whilst working from home.
Wondering what transcription is? What equipment you'll need to get set up as an online transcriber? Which sites are the best for online transcription jobs? Read on…
This post may contain affiliate links. For more information read full disclosure.
Categories of Transcription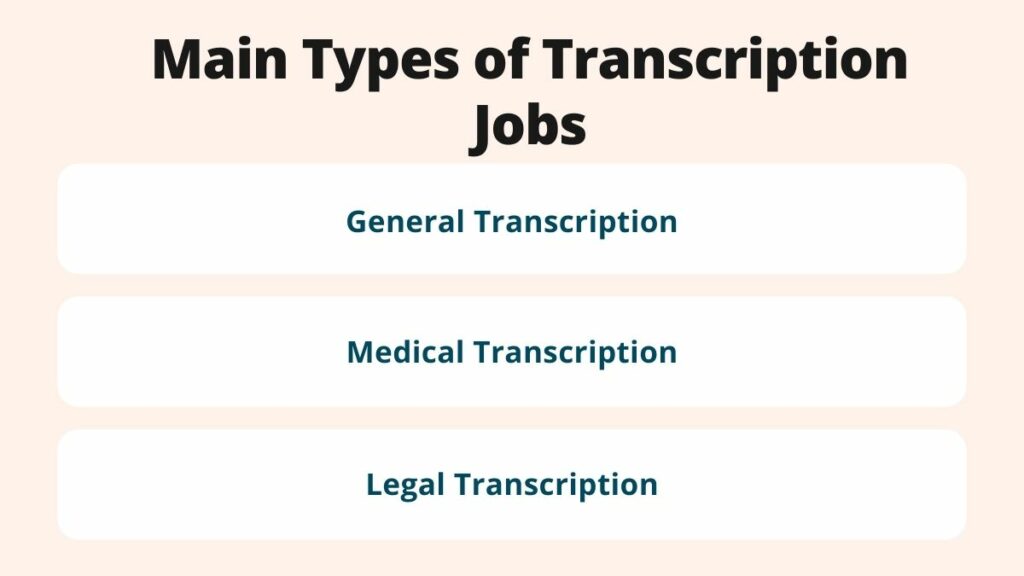 What is Transcription?
Transcription is the careful listening and typing up of audio or video files into readable text.
There are many businesses both small and large that require daily transcription services and they are broken up into 3 categories.
General Transcription
The general transcription category can be done by anyone.
All you need is good listening skills, be a quick typist and have a good command of English (or any other language that you may be fluent in) and you are ready to start offering your services as a transcriber.
Just starting out? I recommend signing up for Transcribe Anywhere's free General Transcription mini-course – a seven-lesson course about how to build your own online transcription business by a top transcriptionist. You can also sign up for the full transcription course right here.
Medical Transcription
For medical transcription again you need excellent listening skills but you have to be a fully certified medical transcriber due to the technical jargon used and formats required.
Legal Transcription
This type of transcription is quite similar in requirements to a medical transcriber again due to the technical nature, the content and the layout of legal documentation.
Both medical transcription and legal transcription tend to be paid at a higher rate – but it's a smaller pool of work than general transcription.
If you want to get the right training for legal transcription sign up to find out more here.
Which Type of Online Transcription Job to Go For and What to Expect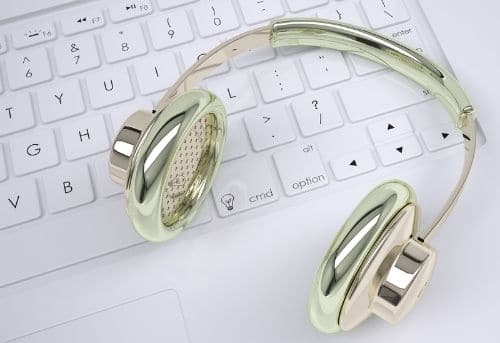 General transcription is usually a good first step when going into the work from home world for the first time, thanks to the fact that there are several legitimate daily transcription sites, plus it is also simple to do.
You should understand that unless you have extremely fast typing speed the transcript will probably take you longer than anticipated.
Transcribing 5 minutes of audio or video will not take you 5 minutes to transcribe: it may take you 10 to 15 minutes or even longer. So if a client requests 1 hour of audio to be transcribed it might, in fact, take you 6-12 hours or more to do so please take this into consideration.
Necessary Equipment for Daily Transcription Jobs
You do not need anything expensive when starting out as a general transcriber. All you need is a laptop, a good pair of earphones and a quiet area to work from and transcription software.
Headset (Preferably Wireless)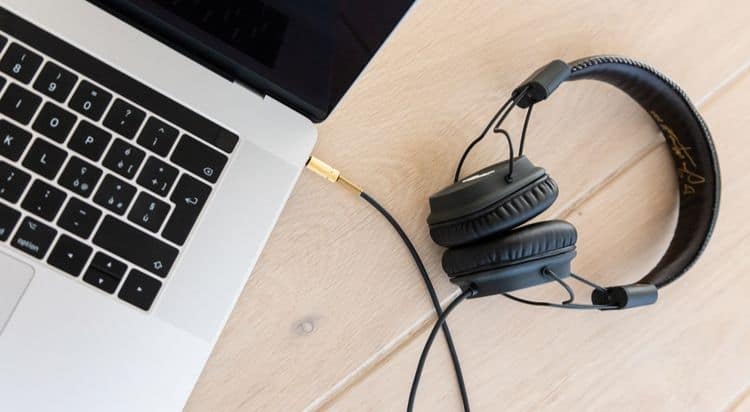 When I just started I actually used my mp3 player earphones plugged into my laptop. Not ideal I know but it got the job done in the first instance.
After that, I upgraded to a great little headset with noise cancellation with a microphone attached.
The one I currently use is a comfortable Logitech headset which I got at a phenomenally low price which you can grab for yourself.
Transcription Software
Now don't get flustered when you hear the word transcription software.
You may have come to realize by now that I love free stuff and a good deal and when starting out one of the easiest transcription software to use is the open-source Otranscribe.
It is basic, simple to use and great for most audio and video formats but a word of caution, you must back up your work at regular intervals in Word or Google docs by copy/cutting and pasting as it may sometimes crash if caches are not cleared. With a lot of tears, I learned this the hard way so be warned!
Did you know Transcription and Proofreading work hand in hand? Check out this post on How to Start Proofreading from Home.
Finding Daily Transcription Work
It's not very difficult finding legitimate transcription companies to work for.
There are a whole host of them located worldwide and as these jobs are remote you can usually provide a daily transcription service from anywhere.
Just make sure to double-check what location and language is required.
Which Are The Top Transcription Companies to Work for?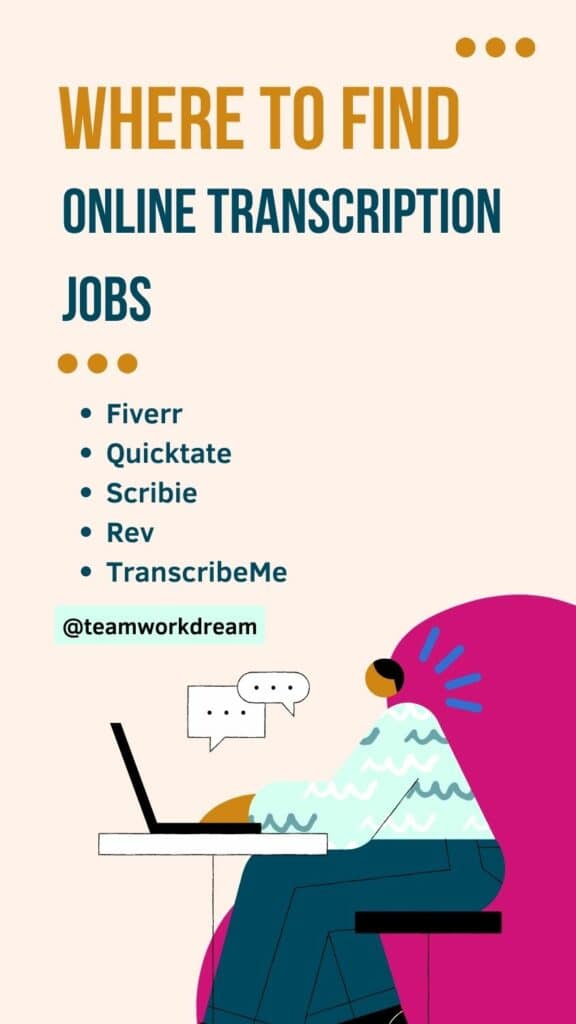 As mentioned before there are a lot of transcription companies that are located all over the world. You can work for large or small companies and even individuals such as vloggers, bloggers and podcasters. Transcribers are in very high-demand. Here a just a few of some of the best transcription companies to work for.
Fiverr
As a freelancing gig platform, Fiverr is one of the easiest places to look for or offer general and daily transcription services.
Once you have registered and uploaded your advert on Fiverr listing your skills you can then bid for transcription work under the Buyers Request section or be directly contacted by clients.
Payment is made by PayPal, Payoneer or a bank account.
Quicktate
Quicktate hires transcribers from all over the world and is well recognised.
It's suitable for all experience levels, so is a great one to start with as a newbie. A typing test is required and payment is made via PayPal.
You might want to check out our Free Resources page to practice and find out your typing speed.
Scribie
Scribie is another transcription service that hires globally but you must have a verified PayPal account. Scribie also accepts beginners so it's a good place to start learning – plus it has the huge bonus in this list of being the only one of the transcription jobs that pay daily.
So submit an application, take a test and start to earn.
Rev
You may or may not have heard about Rev transcription but they are one of the most popular transcription companies that do subtitles and close captioning for TV programs.
If I'm honest, Rev has a very, very high standard and the test that is taken seems to be quite difficult to pass, but maybe it's just me. This is for the more experienced transcriber and accuracy and speed are key.
TranscribeMe
TranscribeMe is a great beginner platform to get into transcription with earnings starting at $20 per audio hour
If you prefer to branch out on your own and not use job sites here is a great list of where to look for legitimate transcription jobs from home as a freelancer.
There are many other legitimate transcription companies that provide regular transcription work and as your skills improve the demand for your transcription skills can turn into daily requests. Here are a few more companies that provide scam-free transcription jobs:
Can You Make A Living Doing Daily Transcription?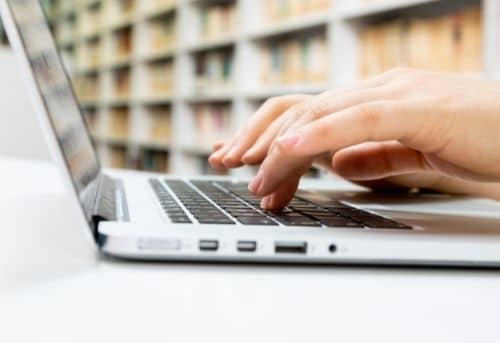 With anything you get out what you put in so if you want to do transcription as a side hustle or part-time then of course you will not earn as much as someone who does transcription full-time.
If you're looking for flexible work from home jobs FlexJobs can help you find 100% legit remote jobs. Sign up now to join FlexJobs.
Another thing to make a note of when it comes to earning from transcription is that it depends on your niche – i.e. general versus medical or legal.
As you have to have some technical knowledge with both the medical and legal transcription the rate will be slightly higher and there are many transcribers who earn a good income.
It's even better if you are located outside of places like the US/UK/CAN and your clients are located in those countries as your rate would be very lucrative compared to your local costs.
For example, you live in the English speaking Caribbean or the Philippines you could, in fact, earn as much as $4,000 per month which is a great rate for those locations.
Do you want a quick and easy method to offer basic transcription today? Then check out GET PAID TO TYPE.
Practical Information for Finding and Training for Online Transcription Jobs
Daily Transcription Tests
Please note that for all companies suggested you must have a good command of English and excellent listening skills with a good grasp of understanding accents.
They are free to join with the only requirement being having to take a test prior to being accepted onto the site (excluding Fiverr). Payment methods are by PayPal, Payoneer or directly into your bank account and rates of pay are clearly listed on their websites.
Take a Transcription Course
If you want to become fully qualified as a general transcriptionist and get the best transcription rates out there, you should take this in-depth transcription course created by Janet Shaughnessy.
It's one of the best courses out there for using your great listening skills and typing skills and you will learn that there are many transcription opportunities available due to the number of podcasters, not forgetting the steady supply of lecturers and students doing interview research for their Masters and PhD's.
Why not try the free taster course to see if you like it.
Now go out there and take the plunge, give one of them a try and let me know how you get along with the best daily transcription job sites for work at home newbies by sharing a comment and don't forget to share with others and check out the other blog posts.
Love This? Save and Share on Pinterest!