One of the best things you can do for yourself this year as a person who works on a computer all day is to get yourself the perfect accessory. I'm not talking about the latest Chanel bag or a pair of Raybans but a pair of the very best Blue Light Blocking Glasses for online work.
Why am I talking about computer glasses that block blue light? Well, I've been having issues with aching and tired eyes and I just knew it was because I was always on my computer and I had seen in a Facebook group that others were having this very same issue.
This post may contain affiliate links. For more information read full disclosure.
A couple of people mentioned blue light blocking glasses so I thought I would do a bit of research on how these glasses could help me.
Related posts
Top Home Office Desk Accessories for Under $50
Great Work from Home Tech Job Sites
Perfect Gifts for Work at Home Dads
25 Best Work at Home Must-Have Gifts
8 of the Best Resources for Online Work
Now that I've found out how useful they are to me I thought I would share with you all that I found out and how these glasses can help you too. But before I tell you which ones are the absolute best for blocking out blue light let's learn a bit more.
What is Blue Light?
Blue light is a visible light that we see containing the spectrum of the rainbow from violet to red. There are blue light waves within the spectrum helping us to stay alert and upbeat.
Any source of visible light produces blue light waves, including the sun and artificial sources like a light bulb or a tablet, a smartphone, a laptop, your pc.
If you are working on a computer or online for long periods, it means you are staring at screens throughout the day. This can cause ill-effects to your body and mind such as headaches, eye strain, and being unable to sleep comfortably.
Computer glasses, also known as blue light blocking glasses can help you combat these common problems.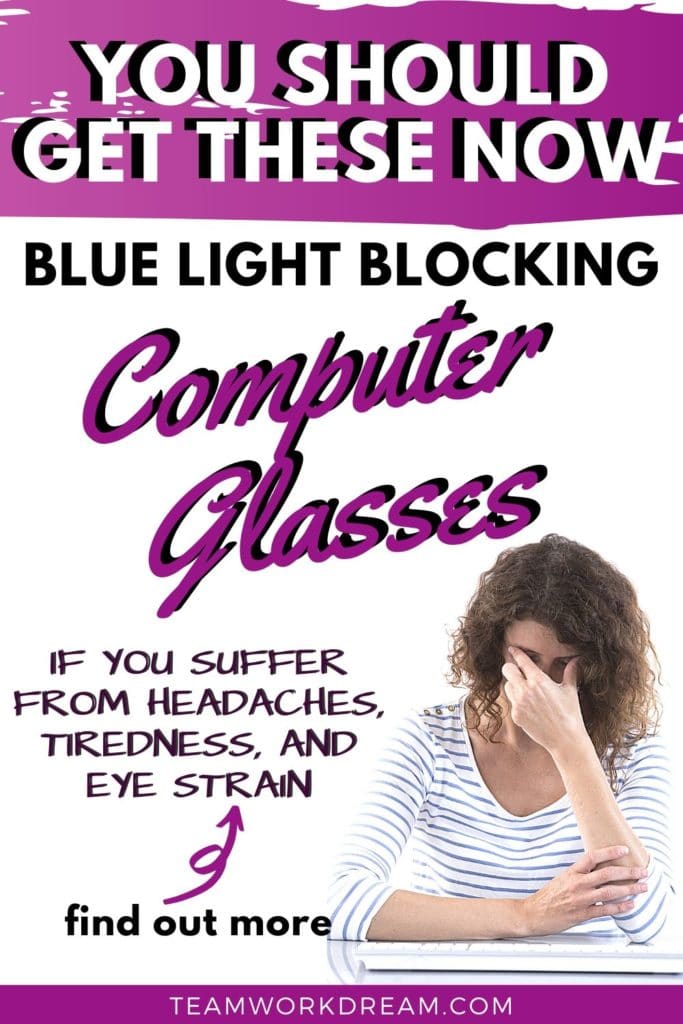 Do Blue Light Glasses Work?
Blue light glasses are used to filter blue light between your eyes and digital screens, fluorescent and LED lights.
Reviews and testimonials from people who have used blue light glasses have shown that they help to overcome fatigue, insomnia, headaches, and eye irritation related to blue light from various screened devices.
Protecting Your Eyes from Digital Blue Light
While testimonials are one thing, results from doing your own tests plus reading up on scientific research should help to make up your mind on whether to get your own pair of blue light blocking glasses.
Current studies show that people who use blue light blocking glasses might develop less fatigue and more comfortable vision than the people who do not wear them while using a computer.
Although research over the years is somewhat contradictory there is some definite scientific evidence that wearing blue light glasses can help you prevent fatigue and eye damage and wearing them will not cause you any damage.
If they help you sleep, work and feel better, then why not continue using them.
What are the Benefits of Blue Light Glasses?
Wearing blue light glasses has several benefits that appeal to many people including myself. Some of the most important benefits include:
Alleviating Eye Discomfort
Excess usage of computer and phone devices can lead to digital eye strain. Blue light glasses can help you minimize eye strain and enhance your focus.
This can help increase your productivity because there is less impact on the eyes for the higher than average computer users. You know who you are, those of you who use computers for work and then work online on your side hustle at home.
Improving Your Sleep
If you are exposed to too much blue light in the evening before bed, you could be struggling with your sleep and who doesn't want a good night's sleep?
Blue light can have serious effects on your sleep because the high energy frequency can keep you awake. You can also quickly turn down the brightness on your screen on your devices to reduce the harshness of light and glare.
Wearing blue light glasses can fight against the high energy. This means that you can use a computer and other devices at night without worrying about lack of sleep. The blue light glasses help reduce exposure of the eyes to blue light.
Preventing Age-Related Macular Degeneration (AMD)
The major cause of blindness in the US is AMD. This is the issue that I have and it's not age-related and I'm an early starter, unfortunately.
Blue light glasses can help fight against this condition. They prevent blue light from wearing down your eyes and improve early symptoms of AMD like blurry vision.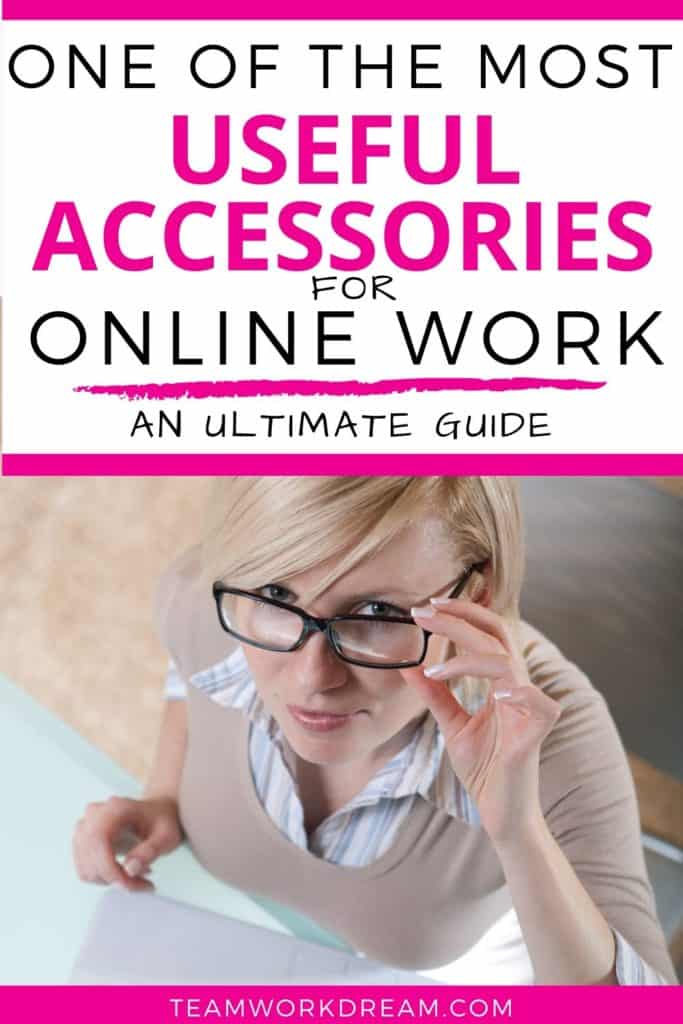 Are Blue Light Blocking Glasses Good for Gamers?
The answer to this question is a resounding yes. Gamers tend to play on their computers and their gaming systems attached to TVs for very long periods without noticing and can end up with digital eye strain.
Using computer glasses to relieve eye strain when playing pc games for hours is recommended and most blue light blocking glasses are multifunctional for whatever screen you work or play from.
Where Can You Get Blue Light Blocking Glasses?
There are many places where you can buy blue light blocking glasses. Blue light glasses are readily available in online stores such as Amazon, eBay, Best Buy and of course your local optician.
There are also other online sites whose main focus is the blue light blocking glasses niche. Some of these sites include Warby Parker which are one of the most safe and stylish, Zenni, Felix Gray, Eyekepper and Eye Buy Direct.
But if you're on a serious budget you can also get top-notch stylish and super trendy glasses from Voogue.me for men and women and use their user-friendly service to add anti-blue light lenses.

Are Blue Light Blocking Glasses Expensive?
The prices of blue lighting glasses vary depending on the quality, brand or the company producing the glasses.
However, you can get blue light blocking glasses from as low as $6. It all depends on how much you are willing to pay to be safe and productive while working to protect your eyes from straining.
Can You Find Fashionable Computer Glasses?
Gone are the days when you had to wear bright orange lensed heavy thick-framed unattractive glasses. Now you can get them in any shape to suit your face plus they are lightweight and very trendy.
The lenses are clear or just have a very slight tint so no one even realizes that you're wearing blue light blocking glasses when you're working at your 9-5 desk.
You can also get blue light blocking glasses in a whole range of colors even patterned not just standard black. You can have a look at this popular and fashionable range of blue light blocking glasses for your online work right here.
Which are the Best Blue Light Glasses?
Between affordable price, timeless style, and prescription compatibility, people who have used blue light blocking glasses for online work have reviewed some of the glasses that helped reduce eye strain after looking at their screens for a long time. Some of the best blue light glasses that they chose include:










Can You Get Prescription Blue Light Glasses?
One of my main concerns as a person who works on a computer all day is that I have to wear my glasses all the time. I can tell you I look like the character Maz Kanata (That's some research for you) If you're in this position you know what I'm talking about.
As someone who wears thicker lenses I'm kind of restricted with what kind of styles and lenses I can wear. Can I get prescription blue light gasses and if I could is it going to cost me a lot?
Yes and yes are the answer to those questions but I did find a simple and cheaper way around these costly issues just keep on reading.
What Blue Light Blocking Glasses Do I Use?
Remember that I mentioned that I have to wear glasses all the time and thick like the bottom of a beer glass? Well, I had to find a simple solution, clip-on blue light blocking glasses.
Simple to use and definitely won't break the bank. This is the one that I wear for my online work. It comes in a handy protective case with a soft cloth.
Simple Tips to Help Reduce Blue Light When Doing Online Work
As you're reading this you're probably wondering what you can do in the meantime? If you haven't yet got your blue light blocking glasses there are simple things that you can do to reduce blue light effects.
Make sure to sit in a well-lit room during the day. At night make sure that you have installed good lighting but be aware that LED lighting although energy saving can put a strain on your eyes.
Make sure to use a warm-toned bulb rather than the cold blue whiteness of the traditional LED light.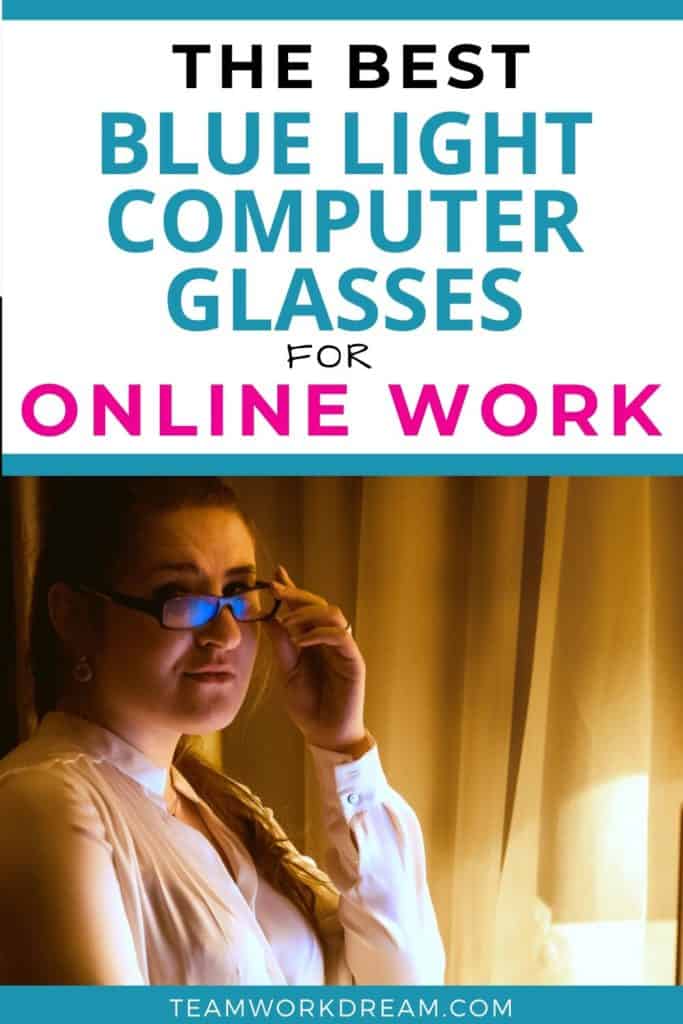 How To Reduce Blue Light When Not Working Online
One of the things that we sometimes forget is that blue light is all around us. Your online work on your pc or laptop is not the only time to consider blocking blue light. Try to do these few simple things in your downtime too.
Check all your screened devices. I noticed that my smart TV was set to shop mode for a whole year and when I changed it to home mode the brightness came down immensely.
You can also adjust the brightness settings on your TV in the traditional way. Do the same by turning down or moving the brightness slider on your phones and tablets.
If you can try to avoid looking at any electronic devices just before falling asleep, that includes reading an ebook. Let your eyes naturally adjust to evening and natural night light.
Try to monitor and regulate your time when using your computer at work and at home. If you're an avid gamer and love playing games online and through your game console set a timer. Set aside some downtime away from any type of screen.
Have you ever experienced answering a call or checking the time on your phone in the middle of the night and how your eyes felt? Yeah, I know, as if someone shone an extremely bright torch in your eyes.
You can easily solve this problem by downloading free apps that will reduce blue light on your screens.
I use Twilight to avoid this which is so much gentler on my eyes when looking at my phone in the evenings. You can download this app for free on Google Play. I'll talk more about blue light blocking apps in another post
Final Thoughts of Blue Light Blocking Glasses
Now that you have been provided with all the necessary information and you really need to rest your eyes from computer screen fatigue I suggest you get yourself a pair as soon as you can. I wish I had.
If someone you know who works online or is constantly on their computer complaining of tiredness, strained eyes why not recommend this post on the best blue light blocking glasses for online work that they can read up on and try for themselves.
Related posts for online work accessories
Great Work from Home Tech Job Sites
Perfect Gifts for Work at Home Dads
The Best Resources To Start Your Online Business