Working from home can be exciting, fulfilling, and challenging. As a work-from-home mom, you have other responsibilities and obligations that demand your attention. Because of this, you may need reassurances occasionally and some inspiration to help you continue pushing towards achieving your goals.
At the end of a long working day (Or whenever you want to decompress), a good audiobook can provide the entertainment, motivation, and inspiration you seek. Here are some of the best audiobooks for work-from-home moms.
This post may contain affiliate links. For more information read full disclosure.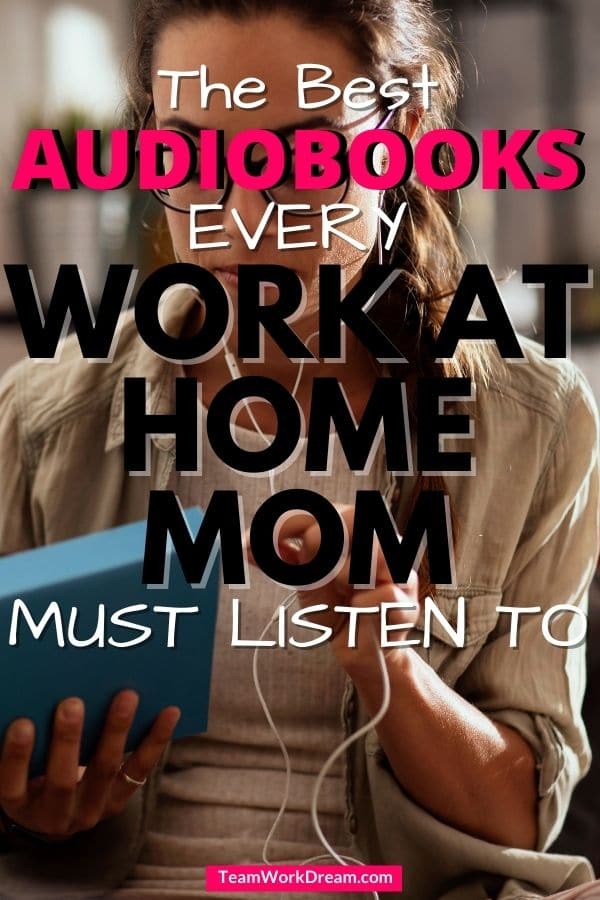 If you enjoy listening to audiobooks why not sign up for an Audible Plus membership. Get access to a great selection of audiobooks and listen to as many as you like, with no restrictions, this includes exclusive originals, podcasts, plus special offers and discounts.
Author and Narrator: Laura Vanderkam
Laura is an author of several bestsellers and a time management expert. In this audiobook, she highlights the struggle people face when not organizing their mornings to help balance family and work life.
Mornings hold the key to taking control of our schedules. If we use them wisely, we can build habits that will allow us to lead happier, more productive lives
In this audiobook, Laura shares insights into and reveals how successful people use their mornings to help them accomplish things that are often impossible to take care of later in the day.
Why not get this audiobook on Amazon? You may get an insight or two on how to manage your time successfully.
Author and Narrator: Kristen Hadeed
I know you must have made mistakes in the past -in your business, family life, and career. So has Kristen Hadeed. Rather than wallow in those mistakes, Hadeed embraced them, learned from them, and went on to build an empire that employs hundreds of people.
This is a humorous audiobook about the life of Kristen. It talks of the mistakes she made in her business and how those mistakes shaped the way she operates.
You will get inspired to keep on working and pushing towards your goals, without worrying about making mistakes in the process. Failing may be tough, but if you fail, learn from the mistakes you made and soldier on.
Author and Narrator: Elaine Pofeldt
The internet has made it possible for people to create, launch and manage million-dollar businesses from the comfort of their homes. In this audiobook, Elaine explains the process of joining this entrepreneurial movement by offering tips from business owners who are already living the dream.
Listening to this book, you will learn how individuals can generate revenues exceeding $1 million from the comfort of their homes. It is a great audiobook for moms seeking inspiration as they continue working from home.
If you're looking for remote work from home jobs FlexJobs can help you find legit work at home opportunities. Sign up now to join FlexJobs.
Author: Crystal Paine
Narrator: Michelle Lasley
Crystal Paine is a family blogger who shares real-life stories about how she managed to achieve financial independence for her family.
In this book, she shares tips on how to earn money creatively, how to grow money and how to live a fulfilled life. This is an inspirational audiobook that delivers practical tips to help you grow your business working from home.
Authors: Gary Keller and Jay Papasan
Narrators: Timothy Miller and Claire Hamilton
Do you find yourself getting distracted from accomplishing your goals too often? The One Thing Audiobook is what you should listen to when you want to focus on something 100%.
The authors offer you tips on how you can improve your focus. They showcase how to achieve results in less time, how to set and master your goals effectively, and how to achieve these goals.
Are you looking for the perfect device to listen to your audiobooks? Check out the features of the next-generation Echo Dots to suit your budget.
Author and Narrator: Lauren Golden
This book teaches women how to work from home and be with their loved ones at the same time. It dispels the notion that it is not possible to enjoy being with family and making money at the same time.
This is a book that teaches you how to learn more by doing less. Sometimes, quitting may be the best option on the table. Do not let work interfere with your family.
Lauren teaches how to handle both working from home and raising a happy family without conflicts. You will learn how to stay focused, manage time effectively and how to set up systems in place to help you achieve your goals and objectives. You also learn how to have fun as you work from home.
Author and Narrator: Mel Robbins
Mel Robbins is a renowned TV show host who has authored several best-selling books. In this book, Robbins teaches moms how to overcome fear, rejection, and the imposter syndrome. You keep wondering whether you are good enough. You wonder whether you can get clients to pay you for whatever services you are offering.
This audiobook helps you find your purpose in life. It shows you how to improve your relationships (business, career, or family) and how to live a more fulfilled life.
Author and Narrator: Jessica N. Turner
The struggle is real for work from home moms. You are constantly juggling between your family, your work, and other relationships.
How do you keep everything working optimally? How do you manage all these obligations?
Jessica offers you tips on how you can manage your time, create goals, create schedules, and how to achieve these objectives. Listen to this audiobook now on Amazon Audible.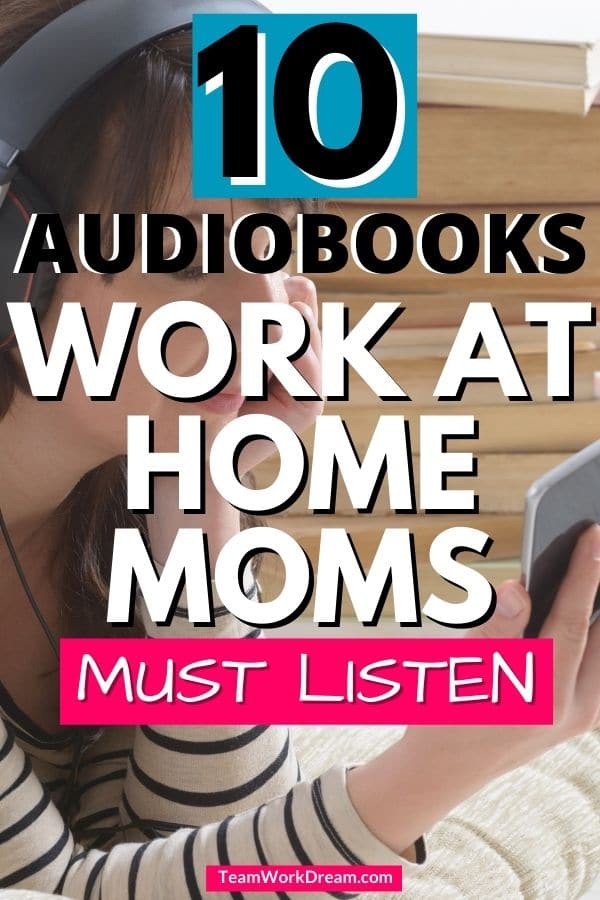 Author and Narrator: Marla Cilley
Marla Cilley is a housekeeping guru and New York Times best-selling author of several books. In this book, she offers a cure to working moms who find it difficult to keep their houses clean and clutter-free.
It's a housekeeping book that showcases how your productivity improves when working in a clean environment. Marla offers you tips and tricks to keep your house organized within a short time so that you can focus on other goals.
Author: Michael Ezeanaka
Narrator: Randal Schaffer
This is a good book for moms seeking to start working from home. There are numerous ways to make money online. You need to figure out what can work for you and your family.
This book offers you 50 different models of making money online and gives insightful tips to help you succeed in whatever money-making venture you choose.
If you enjoy listening to audiobooks why not sign up for an Audible Plus membership. Get access to a great selection of audiobooks like the ones on this list, exclusive originals, and podcasts, plus special offers and discounts.
Final Thoughts on the Best Audio Books for WAHM
Now that you have read this great list of audiobooks to listen to while working now is the time to get the much inspiration you need by using your down time to get motivated.
If you know any other work at home moms wanting to improve their productivity or in need of creative ideas why don't you share this great list with them?
Related Posts