Looking for the best work from home gifts? Upgrade their life with something special – no matter your budget.
Working from home is tougher than it may seem. As many of us have come to know all too well in the past few years, those who work from home face unique problems. From managing a home office, boosting productivity, prioritizing, knowing when to relax, finding time to stay healthy – let's just say that it can be tricky.
Even so, there are ways to make it that little bit easier. Why not help that special someone out? This guide is packed with the best work from home gifts – each one chosen to bring a little bit of joy to their working day.
Take your pick from useful work from home gift ideas for any time of year – whether you want to get something super-practical or a gift that will bring a bit of fun or relaxation into the wfh day.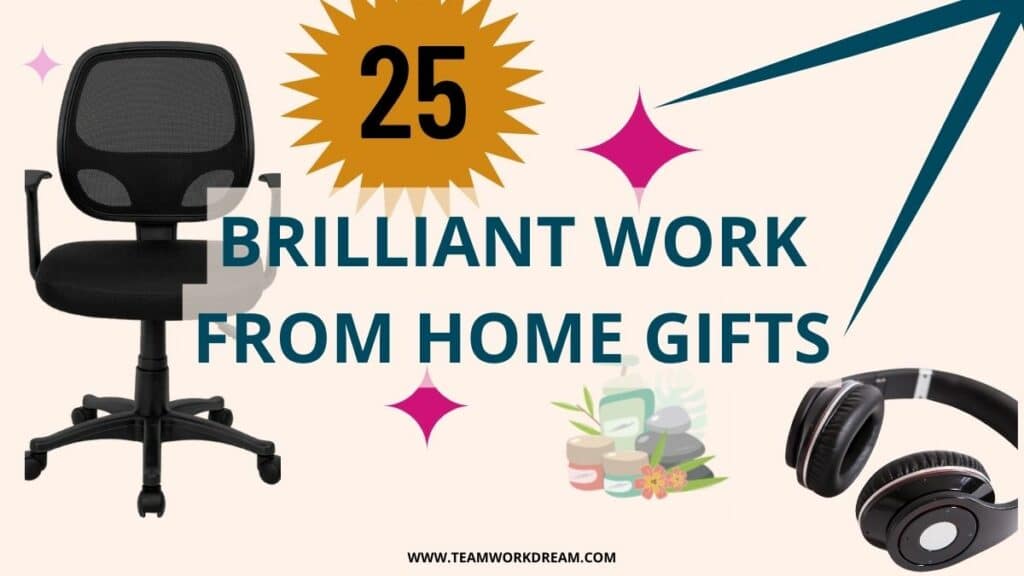 This post may contain affiliate links. For more information read our full disclosure.
Best Work From Home Gifts: At a Glance
No time to read the whole guide? Here are our five top picks for gifts for people who work from home.
Great Gifts for People Who Work from Home
These great wireless headphones come with a powerful Bluetooth function that can help tune out the many distractions that come with working from home and allow you to get a chance to listen to your favorite podcasts or top tunes instead. There's also a built-in mic and Alexa voice control – plus a 30 hour battery life – more than enough to see you through any working day.
Concentration is important when working from home especially (though not at all limited to) for parents. Noise canceling headphones are an ideal gift you can give to a working mom or dad.
Just because someone's working from home, doesn't mean that they're never on the move.
This stylishly minimal USB charging backpack is the perfect fit for a laptop, with the added benefit that you can charge your devices while you're out and about.
The backpack holds up to a 15.6" laptop, has multiple compartments to help you stay organised and an anti-theft compartment for safe storage of valuables too.
Do you know someone who has the habit of eating at their desk and getting crumbs over their keyboard and laptop (yeah, we're pretty much all guilty of that crime)? If yes, here is a quick solution.
This keyboard vacuum comes with two heads – a brush nozzle to dust and vacuum the keyboard, plus a small suction nozzle to get right into those tiny crevices. It's fully rechargeable and cordless – the perfect tool for keeping your home office desk spotless.
Working from home can be a nightmare for staying active. It's easy to do right – you sit down at your desk after breakfast and then you look up and it's time for dinner. That's where this nifty under desk elliptical comes in.
This cool home office gift is a simple way to assist with staying healthy and active even while working at your desk. It even has a detachable display for tracking steps and calories. Simply pop the screen on your desk and watch as the numbers grow.
It's probably time to give that dining chair a rest and get a great ergonomic office chair for your work at home friend to work comfortably from.
Having good posture when sitting at a desk for long periods of time can help in alleviating (and preventing) back pain. Plus wouldn't you want to look like a boss when working from your home office with this stylish office chair?
It's so very very easy to end up craving and snacking on not-so-healthy things when working from home.
You can gift your working from home friends or relatives the ultimate snack care package that includes all their favorite healthy snacks to keep them fueled during long hours of work.
Even better if you want to make it extra special you can decorate the box or place items and present as an excellent working from home gift basket.
The best work from home gift I've ever received is a mini hydroponics growing system.
It's a small, self-contained garden that you can use to grow vegetables, herbs or flowers indoors.
It's really easy to set up and use, and it makes working from home a little more fun. Plus, it's a great way to spy just the littlest bit of greenery even when you're stuck inside all day.
Exercise is important even for people who work from home. With a fitness tracker, your friend or family member can monitor and track whatever counts as an exercise. I have to say – I've been using one for a couple of years now and it's a godsend – particularly if you set the hourly reminder to get up and move.
As a healthy and practical gift, one of the most popular ones out there is the Fitbit with its easy-to-use app. Paired up with the under-desk elliptical you're well on your way to staying fit while working at home.
A productivity planner is a work from home essential – and the perfect gift too. You can give to a loved one to help them stay organized and to plan for the week, month and year ahead. This Clever Fox planner is available on Amazon and comes in a range of colors.
Good lighting is essential when doing detailed work at night or early morning especially when working at home online. Gifting someone a desk lamp will make their work that much easier.
Food and keyboards are not a good combination. Liquids, especially with keyboards, is definitely an accident waiting to happen. You can gift your remote working friend a cup holder for their upcoming birthday or this coming Christmas for holding their hot or cold drinks while working.
You can inspire and have fun by giving the gift of a funny work from home T-shirt. Relax in a fashionable and comfortable themed T-shirt available in a range of colors.
Want to make your work from home colleague super organized and neat? Then help by getting one of the most practical work from home office accessories for their desk – a desk organizer for ultimate productivity. No more lost notes or pens as everything will have its place.
You can never go wrong with a coffee mug. An awesome gift that compliments the coffee warmer. You can get ceramic mugs printed with something inspiring or funny for your loved one that will keep them motivated every time they pick them up.
You can find even more great ideas for Boss Lady Themed Gifts in this post.
It's so easy to forget that your home working loved one also needs some self-care. Why not get them a delicious smelling and relaxing spa set to unwind after a long day of working from home? Men, you haven't been forgotten – this luxury spa set is an indulgent treat.
Ever had that perfect cup of coffee and wish that it could stay warmer for longer? This smart coffee induction mug warmer is also another ideal birthday or Christmas gift for people who work from home.
They can warm a daily cup of coffee as they work. But don't think it's just for coffee, you can keep other delicious beverages warm too. Hot chocolate anyone! 😋
Your friends or relatives would love this work from home gift idea. Sitting for long periods of time can take a toll so a great way to help with this problem is to get a problem-solving back support cushion.
Proven to provide both comfort and lumbar support, this is an excellent way to promote healthy practices of good posture when working from home.
It's pretty easy to get dehydrated when concentrating on your work. Make sure that your work from home partner always has some water nearby to keep them refreshed and hydrated.
The selection of water bottles that are easily available on Amazon are great additional and essential desk accessory, why? Well, this one is non-spill and when out and about is also non-sweat so won't get your paperwork wet.
Plus using these stainless steel water bottles when working at your home desk is so much better for you and the environment.
Alright – this is an expensive home office gift – but one that can make a real difference.
Standing desks provide many health benefits by giving their users the versatility to work sitting or standing. The various choices and designs of sturdy and sustainable standing desks even include fitness chairs and bikes to help burn those calories and can assist with the prevention of a sedentary lifestyle.
This one's great if you have the space. Alternatively Flexispot has a wide range of standing desks suitable for any space and in numerous different styles.
If a remote worker wants a change of environment and wants to move from the home office desk to work from the couch or in the garden then a lap desk is a great accessory to work from. A laptop desk provides a sturdy platform, a cushioned base and some even have a cooling element to help keep your laptop cool when working from home.
If you or your work from home friend has a special area where you work from or a dedicated home office space, get the picture-perfect wall art to get yourself into gear for the working day and stay motivated. Adding a touch of inspiring office decor helps spark some productivity.
Looking for the perfect work from home gift? How about this reusable and smart notebook available in a range of colors. Plan your day, week and month with essential notes, to-do lists and calendars, scan and upload them to the cloud.
No need for a million notebooks. You can easily take notes while in zoom meetings and conference calls, upload your info to the cloud and wipe it clean and reuse the pages again and again with your inspirational goals and ideas.
This makes it a great money-saving and eco-friendly gift for the work at home mom or dad and a great on the go accessory.
If you want to have a great looking and sounding office then having a wireless and bluetooth speaker is a perfect gift for working from home people. They can enjoy better sound quality than playing from a computer and listen to their favorite podcasts and favorite tunes to keep them inspired.
People who work from home use a whole range of products and services. I'm sure your loved one would love a couple gift cards for the holiday season such as those from the popular department stores plus iTunes, Spotify, or Starbucks.
If you've not tried one of these you've not lived! Easy to use, convenient, quick clean and quick cook for the perfect breakfast sandwich. Great kitchen gadget for the whole family.
A tried and tested gadget for the work at home entrepreneur. Save some much-needed time making breakfast while working and making money at home.
Final Thoughts on Best Work from Home Gifts
I hope you've taken some inspiration from this work from home gift ideas guide and helps you make a family member or friend who works from home very happy
Love This? Save and Share on Pinterest!