How Can a Teenager Make Some Extra Cash?
As a teenager, it's great getting an allowance but it's even better when you're able to earn your own money. You can start earning extra cash a teenager in a number of ways and I'm going to let you know how to make money as a teenager pretty quickly with just the power of your smartphone, computer and your engaging personality.
This post may contain affiliate links. For more information read full disclosure.
These days you don't even need to leave your home to get paid to do small tasks, you can become that helpful teen online and start earning a great little side income or even surpassing a full-time income depending on your personal goals.
Benefits of Making Money Online as a Teenager
The positives of making your own money as a teenager are huge. Here are some of the best aspects of being a young money making hustler or a teentrepreneur. Think I created a new term.
Providing a sense of independence

A great sense of pride and achievement

Gain work experience

Develop a great life skill

L

earn how to budget their own money

Learn how to make financial decisions

Have disposable funds for social activities

Save towards higher education

And of course, make parents proud and possibly teach parents a thing or to as well.
**READ More great reasons for teenagers to make money working**
In this day and age, there are so many ways teens can make extra cash. Apart from the typical ways of earning like mowing lawns or working at a fast food restaurant, teens can make a good amount of money by working online. Getting an online job as a high school student is not too difficult and most teenagers have access to a computer and a smartphone. The good thing is you can start earning almost immediately online by completing simple tasks. 
Here are some of the most common ways that a teenager can make money online.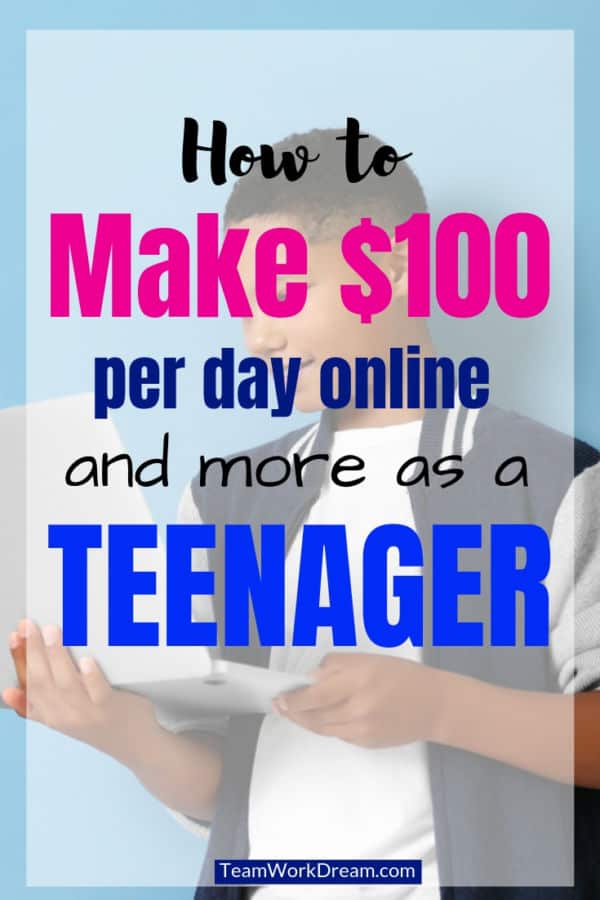 Super Simple Ways a Teenager Can Make Money
Get Paid to Complete Online Surveys
One of the quickest and easiest ways a teenager can make money online in their spare time is completing surveys. It's definitely not a full-time career or anything but it's a great opportunity to make a few extra dollars here and there to be able to put towards a future purchase.
Many companies allocate a portion of their budget for seeking out customer opinions or getting feedback from the public. While some companies conduct their own surveys, others hire professional companies to conduct the surveys on their behalf. Some of the most popular sites that allow teenagers to take part in surveys include Swagbucks, My Survey, Toluna, VIP voices, Paid viewpoint, Harris Poll, and Points2Shop.
Get Hired as a Tutor
If you're good at a certain school subject, you can be hired as an online tutor. Some of the online tutoring services hire teenagers as young as fifteen and sixteen years old to teach in a wide array of subjects.
For instance, SameSpeak hires individuals above the age of 16 years who speak English as their first language. For a tutoring-session of only 30 minutes, you could earn $10 teaching someone how to converse properly in English. Other sites that hire teens as tutors include SkimaTalk and Enroll. So in case you were wondering how you can make money as a 15 year old you do have some options.
Get Paid to Listen and Review Online Music
Now this one is pretty awesome. If you're a teen who's a music fan then why not earn some dollars while listening. That's what I call being productive! Some sites will pay you to listen to music online, leave a comment, or express your thoughts.
A site like Slice the Pie hires individuals from the age of 17 years to listen to music tracks with payment ranging from $0.05 to $0.20 per track. On the MusicXray site, you can get paid between $0.05 and $0.20 to listen and give feedback to music. It is quite an easy way to make money while doing something that you like.
Are You a Gamer? Get Paid to Test Video Games
If you're an avid gamer why not get paid for your hobby. You can be the first in line as a beta tester for any number of new games being developed. Find out if there are any glitches, rendering and continuation issues.
The game testing industry is pretty lucrative and you could start to make around $10 to $20 per hour.  Besides the cash, other benefits include being the envy of your friends as you would be the first to play, getting free games, possibly finding out cheat codes and you get to learn the inside scoop of the gaming industry. A future career that you might wish to pursue.
You could even provide customer support for video gamers. There are a whole range of remote positions that you can apply for. Why not give them a try and it doesn't matter where you're located as long as you are a gaming geek you stand a good chance of getting the job.
You can also go direct to the source and apply directly to any one of the video gaming companies. Just check out their websites and scroll and click to their career or game testing link.
Love to Talk? Make Money Taking Phone Calls
If you are 16 years old and over, you can easily earn some cash by taking calls as a customer service representative. Uhaul will pay you to work for them as a sales service representative with basic pay starting at $7.50 to $8.50 per hour. All you need is to have access to high-speed internet, a good quality USB headset to apply for the job. If you work really well you get the extra bonus of earning around $14 or $15 an hour. You can apply here.
Get Paid to Listen and Review Recorded Calls
If you're an older teen why not sign up with Humanatic. They are a company that hire anyone above the age of 17 to listen and review calls for quality purposes.
When you create an account with Humanatic, your job will be to listen to calls and give feedback based on several factors like the friendliness by the agent, the handling of a complaint, or how the caller's issue was resolved. The feedback is then used by the company to improve their services and address emerging issues. It may not sound that exciting but neither is taking out the trash or emptying the dishwasher but at least you can say you're earning some cash.
Do Voiceover Work
Are you good at creating different sounding voices? Then this is perfect for you. Voiceover involves getting paid to use your voice for commercials, radio ads, animated movies, and more. Whether you aim at becoming a professional voice-over artist in the future or you simply want to make some extra cash, voiceover work can be a great place to start.
Voices.com is a site that offers interesting opportunities for people of all ages who can speak with clear and interesting, or animated styled voices. You might even be good at accents. The website has no age restrictions so you can definitely earn some money as a child or teenager. You just might end up being the future animated voice for Batman. Just to note that a short voiceover project will fetch at least $100.
Make Money by Selling Designs
If you've got brilliant artistic flair and very creative, you can make money by selling your graphic designs online. Sites such as Redbubble. Etsy and CafePress allow you to draw and sell your designs to potential customers. You can even create an Instagram page to promote your products or design service to sell.
You can start by creating custom-made designs for laptop covers, t-shirts, tote bags, sweatshirts, pillows, and coffee mugs, which are in high demand. Start creating logos and catchy slogans to grab the audience.
Start a YouTube Channel
If you have a special interest or hobby you might want to share your expertise with the world by starting a YouTube Channel.  There are many children and teenagers making money online by monetizing their YouTube Channels. Taking this route may be a  bit of a slow starter but if you already have a large following or friends and colleagues on social media you might be able to get them to subscribe to your new channel.
You could also become the next new discovery as an entertainer like Johhny Orlando, a YouTuber who is making quite a name for himself in the music industry and quite a bit of money too from his songs, a fashionista or beauty expert performing hair and beauty tutorials for your age group.
Through monetizing, that is getting ads placed on your channel and getting paid every time someone watches or clicks on it,  making commissions from products that you review and promote or get sponsorships from companies to talk about their products you can earn quite a bit and get lots of freebies once you have a great following.
One thing I do have to mention about starting a YouTube Channel is that you have to be super committed as regular content will need to be uploaded and that online trolls can take a toll if you're not strong-minded and able to ignore negative comments.
If you want even more info to make some extra cash as a teenager why not making it a joint venture with your parents to make money online. Here are a few ideas.
WANT TO START YOUR OWN  BLOG?
As a SPECIAL OFFER from me, you can start a blog for as little as $2.95 per month with a Hostinger Premium Plan and you won't find a better deal anywhere else. Sign up and get a free domain name, unlimited websites, unlimited email accounts and unlimited bandwidth plus excellent 24/7 support.
Miscellaneous Jobs
You can also try several job sites that allow teens to make money by doing simple miscellaneous jobs. You can get paid to shop using Ibotta, write articles on Upwork or Fiverr, proofread work at Textmaster, create content on YouTube, or sell old books on Bookscouter. Yes, those books that you've grown out of you can sell on for others to enjoy.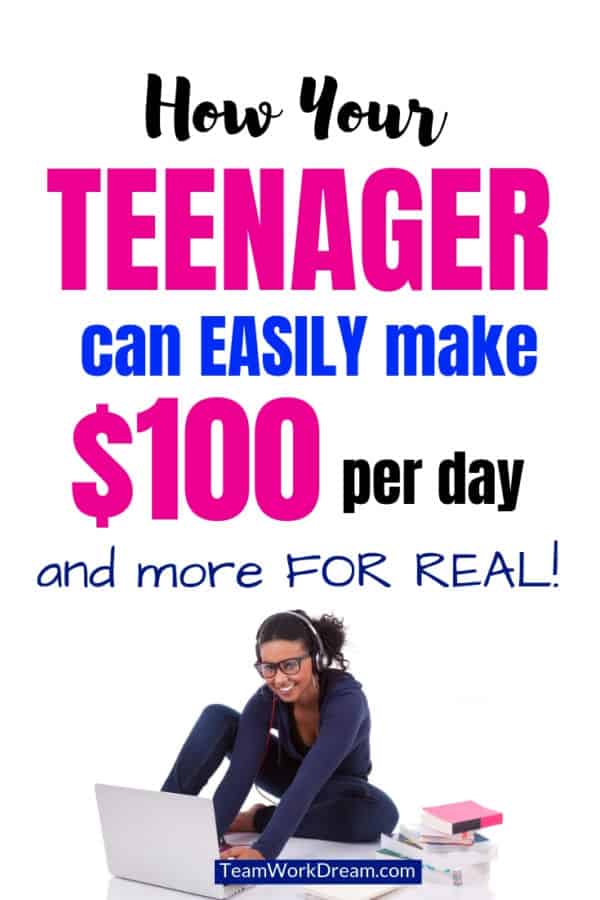 Traditional Ways for Teenagers to Earn Extra Cash
If you're more of a traditionalist when wanting to earn some extra cash as a teenager and love going out and meeting new people you can't go wrong with some of these ones.
Become a Babysitter
Babysitting is a great gig for teenagers, fetching around $15 to $20 an hour in some states and cities. Sites such as Care.com and Sittercity connects teenagers with parents in the neighborhood making it easy to get jobs. The most important thing is to create a detailed profile, include a picture of yourself, and share your previous babysitting experience.
Pet Sitting
If you're a pet lover why not help out by becoming a dog walker, a cat sitter or for the more adventurous pet lovers reptile and insect sitters or try helping out part-time at your local vet which is a great opportunity for future full-time work
Washing Cars
How about borrowing or renting your Dad's pressure washer and washing and detailing the neighbourhood cars. A great side hustle that you do on the weekends.
Sell Your Crafts
If your hobby involves anything crafty such as sewing, baking, soap-making and you're always getting wonderful compliments why not make to sell. You just might be onto a winning product.
While doing these side hustles and learning how to make money as a teenager is great you've got to remember to not neglect your schoolwork as getting good grades and an excellent education should also be part of the big picture to your future global business empire.
Happy Teen Hustling!
If you're a mom, dad, aunt or grandparent reading this why not share it with the teen in your life. Plus if you want more details on legitimate work from home opportunities sign up to my weekly newsletter.