Affiliate marketing is a multi-billion-dollar industry.
With affiliate marketing, you can make money while you sleep.
Affiliate marketing is an easy way to make big bucks.
These are all statements you've read or heard when affiliate marketing pops up in search results. The genuine question you may be asking however is "does affiliate marketing really work, can you really make money doing this?" The answer to that question is yes.
This post may contain affiliate links. For more information read full disclosure.
The rumors, myths, and scams have been filtered out in this post to help you to get the right information. Reading this article, you'll get the answers to the most frequent questions asked by those interested to become future affiliate marketers.
What Is Affiliate Marketing?
Affiliate marketing is a type of commission-based marketing strategy used by businesses and brands to drive traffic to their website to increase revenue.
Affiliate marketers are paid a commission to promote and share links introducing new and preexisting products and services to their readers and viewers.
With every click and purchase or subscription from an interested viewer, the affiliate is paid a percentage. These can be posted in blogs, emails, YouTube video descriptions, social media pages, and websites.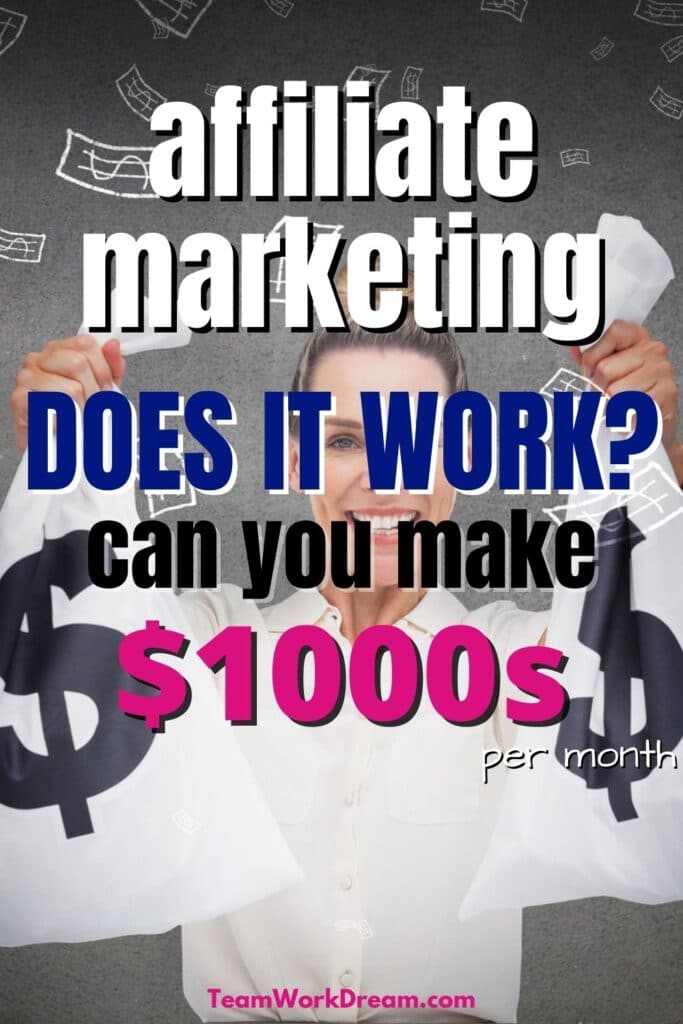 Is Affiliate Marketing Easy?
Many individuals get into affiliate marketing with the intention to reap big benefits in the shortest possible time. This is not how it works although there may be a few exceptions.
To be successful at affiliate marketing, a great deal of commitment is needed for a long period of time. There are many so-called gurus who will try to scam and sell you their get-rich-quick courses that will most often lead to disappointment due to misinformation and false promises.
Being successful at affiliate marketing takes time.
Unfortunately, this is probably not a statement you want to hear when wanting to find a way to earn cash quickly. Affiliate marketing isn't easy but after a few months or even years, you can earn a sizable sum once you follow the right steps.
To make the progress to success more enjoyable stick to a niche you have a good amount of knowledge about and one that you are interested in.
Affiliates who are able to research well and write interesting content while possessing patience and SEO skills tend to become more popular.
Driving traffic to your website can be immensely difficult but with great consistent content, it's easier to engage users to click and convert. It just takes a little time for Google to work its magic.
Affiliate marketing is not easy and it's definitely not for everyone which is fine. You might be the type of person that may possess the drive and skills to earn enough to pursue it as a full-time career, or you might prefer to continue your regular job and work with affiliate programs as a side hustle.
Do You Need a Website to Do Affiliate Marketing?
You may be wondering how you'll begin affiliate marketing without a website but there are several ways to earn as an affiliate marketer.
To begin you don't need to own a website or a blog which are two common places to find affiliates. However, you do need to have an online presence to promote company products to an engaged audience. Here are a few suggestions:
Social Media
If you have an active following on social media apps such as Instagram, Facebook, or Twitter this is an excellent way to get a large number of clicks to affiliate programs you promote to get paid.
Many of us spend a few hours a day on these platforms so using them to make money by promoting affiliated brands can be profitable and fun.
YouTube Channel
If you are a YouTuber using your channel can be beneficial to help market affiliate links. Research the different products or services offered by a particular brand that you wish to represent and recommend them to your viewers and subscribers.
Many individuals visit the platform daily to find simple solutions to questions. Use titles and thumbnails to your advantage by researching keywords.
Use Forums
There are a number of forums available where individuals hold discussions on varying topics. Find an active forum based on the products you are interested in marketing and in many cases, you'll be able to put a link in your signature.
If you represent a skincare company then you would enter a forum based on that niche. Have decent conversations and give helpful advice to questions, and interested persons will make a few clicks.
Before you add your affiliate links please ensure to check the community guidelines to see if promotion is allowed.
Email Marketing
This is one of the most effective marketing tools. You can invite your contacts and create a newsletter to gain subscribers. Create a marketing campaign and send it to your new and existing email audience adding relevant affiliate links.
This is a method used by affiliates with or without a large following on social media, a website, or a YouTube channel.
Can You Really Make Money with Affiliate Marketing? How Much?
Yes! You can surely make money as there are thousands of affiliate marketers actively engaged in several programs to market different products and services. It can become quite a lucrative means of earning affiliate income.
Statistics from PayScale have proven that annually top-performing affiliate marketers rake in an average of $71,000. Lower-level affiliates have proven to make up to $37,000 annually.
Please note that beginner affiliates may take some time to earn a certain level of income like full-time blogger Adam Enfroy. Adam amasses 7 figures from his blog with over 500,000 monthly readers.
Most everyday affiliate marketers earn a few hundred dollars a month as a side hustle which can grow into a larger income if more work is put into it and is an in-demand niche that attracts dedicated followers.
What To Do Before Becoming an Affiliate Marketer?
If you're interested to make a living from affiliate marketing there are a few things to consider before starting. Think of it as starting a business minus the inventory and hiring process. This means you need to make preparations to navigate the future outcome of your business.
1. Find a Niche
Selecting a particular niche will make it easier to cater to a specific audience. Trying to speak to too many audiences can ruin the entire process before it even begins.
Think about what you are passionate about, the level of competition, and research the affiliate programs that relate to your niche.
2. The Demand for Your Niche
Research and select a niche that is in demand but make sure it is not just a flash in the pan niche that is here today and gone tomorrow.
Also choosing a niche that hardly anyone is searching for won't generate many clicks for your blog, emails, or website.
3. Analyze Competition
There will always be competitors but the key is to determine the level of demand for your niche.
If several competing parties are in the market but have too little demand that is a recipe for disaster. Invest in quality research tools and be sure about your decision.
4. Research Affiliate Programs
Signing up for a program that does not relate to your niche in any way is a total waste of time. Affiliate programs act as the middle man for merchants. You will be marketing their products and services so with added research you can make the best choice.
Best Affiliate Marketing Programs to Join
Here are a few reputable affiliate marketing programs suggested by top-level affiliates.
Amazon
Everyone knows Amazon and it is one of the quickest and easiest ways to earn affiliate income as it is a highly recognized company.
Although the commission rates vary and are considered low Amazon is still considered one of the best affiliate marketing programs that is perfect for persons seeking to start out as you can add links to your blog, Youtube channel, Facebook and Twitter accounts.
The advantage of their program is that because they have such a strong brand and their platform sells everything you are bound to find something to promote within your niche. and it's totally free to sign up to the Amazon Associates program.
If you want to maximize your affiliate earnings through the Amazon Associates program, I suggest you give yourself the best start as a beginner by joining others in taking Journey to the Center of Amazon.
Once you follow the helpful tips, simple hacks and get the full understanding you won't need to ask does affiliate marketing works, you should start to see positive results pretty quickly. You won't regret it!
NameHero
If you have a website hosted by NameHero a popular website with strong conversion rates and you are happy with their hosting service you can recommend their affiliate program to your readers. Their base payout stands at $50, with a $500 minimum payout balance.
Fiverr
If you have started a successful freelance business and use the Fiverr platform as a seller or buyer you can share the various Fiverr affiliate programs. You can promote their learning platform called Fiverr Learn with others on your social media accounts, website if you have one, and your email.
ShareASale
If you're looking for an affiliate marketing program that covers a whole range of top brands where you can choose ones suitable for your niche there are quite a few. One popular one that you can sign up to without too much difficulty is ShareASale.
ShareASale has well-known merchants that offer affiliate marketing opportunities under the ShareASale umbrella that covers beauty, clothing, home and garden, education, automotive. You are sure to find an affiliate program that you can promote.
From Etsy to Rebook, Cricut to US Polo Clothing, Freshbooks to MagiMix. There are over 4800 merchants that you can sign up to.
FlexOffers
Another great affiliate program that you can easily join is FlexOffers, it might not be that well known even though it has been going for years.
This affiliate marketing website helps publishers to choose from a wide range of products and services and offer your readers and subscribers great discounts.
The FlexOffers site might look a little old-fashioned but I find that it is just perfect for making passive income. It's a nice unexpected surprise when commissions get added to your PayPal account because of things that you have recommended that are really needed and found to be useful to your audience.
I find that adding FlexOffers discount links in your newsletters to your subscribers and your blog is the best way to attract interest. Why not sign up and give it a try?
Monumetric
You can double up on earning money with certain companies such as ad networks. For instance, as a publisher of this blog, I have ads placed on the site that I earn from.
This is great and I find that their account managers are very responsive if I have any issues, such as not showing certain ads because of ethical beliefs, or if they do not suit my niche or they might make suggestions on how to make better use of certain ad placements on my blog.
Tey are very flexible and helpful in this way and I am happy with the service that they provide. They also offer an affiliate program which I recommend to other bloggers and in doing so earn a little commission for sharing their ad network with my colleagues and audience.
The great thing about Monumetric is that you don't have to have a mega-following to join. If you have 10,000 persons visiting your site you can sign up with Monumetric and they offer great rates and do not slow down your site once ads are placed which is a lot more competitive than some of the much more well-known ad networks.
Can You Set Up an Affiliate Marketing Program?
Did you know you can set up your own affiliate marketing program? If you have a great product such as an ebook, or a course and you want others to promote it as a way to find new audiences on your behalf you can join and sell your product and affiliate program on a site like SendOwl.
It is super easy to set up and you can start to earn a passive income by allowing others to sell your products and earn a commission as an affiliate. Everybody wins!
Learn How To Do Affiliate Marketing Right
If you want a helpful guide and tried and failed at affiliate marketing then I have just the thing for you. If you want to learn how to go about doing Affiliate Marketing the right way you can follow the steps of one of my favorite bloggers Debbie Gartner. I already use her SEO guides and they are absolutely invaluable.
Debbie always provides well-researched and totally honest information. She is not a guru but she does work, make mistakes, learns and improves, and then shares her experiences and proven methods with others.
You can learn more about her and her skills with affiliate marketing if you are a blogger and an intermediate or advanced affiliate marketer.
I must admit that I find her instructions very simple to understand so even as a newbie you'll find this ebook along with her free affiliate program guide super useful.
Final Thoughts on Affiliate Marketing
Now that you know that you can make some amount of money through affiliate marketing it's time that you got started. This is an excellent way to make extra income on the side just by using online applications that you use every day such as social media, email, YoutTube, and so on.
If you're going to spend some amount of time surfing the net and watching TikTok and Instagram stories it's also a good money-making idea to create your own content and promote products and services that you already use and love and show that affiliate marketing does work.
From a little to a lot of effort you can start to make $200, $2000, or even $20,000 per month with affiliate marketing.
Related Posts