How to Earn a Passive Income with Little Effort
I'm sure you've heard the term make money while you sleep but do you really know what that means? Well, I'm going to let you know ways in which you can start to earn a passive income easily.
This post may contain affiliate links. For more information read full disclosure.
Whether you are looking for a great way to build wealth, alleviate some financial burdens in your life, save up for a nice little nest egg for retirement or just make some extra cash on the side with very little effort, passive income is a great way to achieve this.
To avoid any misunderstanding that many people have I'm going to tell you about 12 passive income ideas that you can start doing straight away.
Easy Ways to Make Money While You Sleep
1. Create and Run a Blog
Although this is a long-term method starting a blog is a great big opportunity for earning passive income. By creating and running a blog in a niche you're interested in you can make money on it by many different methods.
You can add things like ads from networks like Google AdSense, Ezoic, Monumetric, Mediavine, or through affiliate marketing and even create your own products.
Once you get to grips with all the moving parts of creating a blog which does take a bit of effort, in the beginning, you can then move onto the next stage and monetize your blog.
As they say, you do the work once and earn from it multiple times. This is a very important step when including a passive income strategy into your blogging business.
[su_note note_color="#f4″ text_color="#666666″ width="600″]WANT TO START YOUR OWN BLOG?
As a SPECIAL OFFER from me, you can start a blog for as little as $2.95 per month with a Hostinger Premium Plan and you won't find a better deal anywhere else. Sign up and get a free domain name, unlimited websites, unlimited email accounts and unlimited bandwidth plus excellent 24/7 support. [/su_note]
2. Create and Sell eBooks or Audiobooks
If you have expertise in a certain field or learned skills through your own experiences you can write a book on it and share the knowledge with interested people.
There are a couple of ways you can do this 1, you can write it yourself and you will be in complete control of the content and the length of the book, the look, plus you will spend very little if anything at all than using traditional publishing companies.
A tip I learned from another blogger is that the best and quickest way to write an ebook is to use a talk to text app and dictate what you want in your book. Using this method saves time to actually produce a complete ebook in just 1 day.
The other way is to use PLR (Private Label Rights) where you can purchase good quality well-written content that you can edit yourself by adding, changing and repackage to your own style and branding. A great one to use is PLR Assassin who always have great up-to-date PLR products.
The final method is to hire a ghostwriter to write your ebook for you. Check out this service page for more information or you could use many of the freelancing platforms such as iWrite, Guru, Fiverr or Upwork to try and find someone to write your ebook.
It is advisable to get recommendations first though, if possible, and you can do this through Facebook groups. You can then sell your ghost-written book on your blog or submit it to an online library to access a larger market.
Related Passive Income Idea posts:
3. Sell Online Courses or Tutorials
How about creating great educational content in an area that you're good at? There are always people wanting to learn something new, develop skills to do their job or hobby better and you could be the perfect person to help them.
You can start by selling step-by-step tutorials and helpful guides in whatever niche you're in. This can be about anything as long as the demand is there. You can sell the course on your own website if you have one, or set up your course on external teaching platforms sites like Teachable or Thinkific to give a professional look.
It's a great idea to add videos to your tutorials as people tend to prefer visual aids and you can do this by using screen video capture showing exactly what you do using Loom if you work online or just a generally good quality camera if you plan on using YouTube.
Again, these are all great ideas for passive income as all you have to do is record once and start making money while you count sheep. For the tutorials, you can even upload your tutorial videos on YouTube and earn passive income from adverts.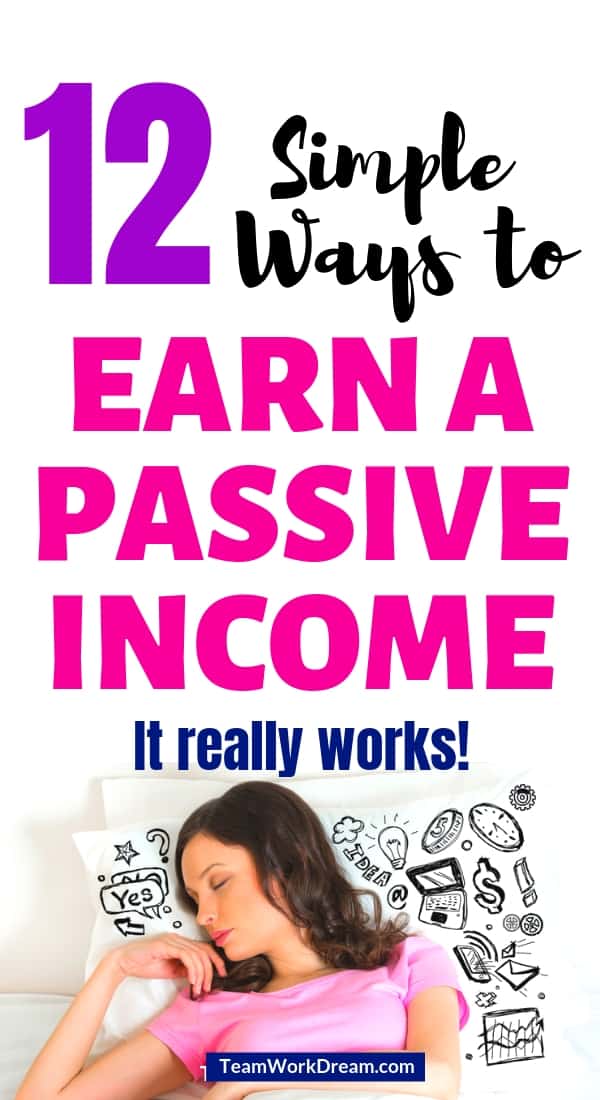 4. Affiliate Marketing
The good thing about affiliate marketing is that it is very passive and you do not need to have a blog or website.
Affiliate marketing is basically promoting someone else's product or service and earning a commission. Preferably when promoting a product or service it is one that you like and are familiar with and can highly recommend.
**See also Beginners Guide to Affiliate Marketing**
You can use affiliate marketing methods on your social media, so your Facebook page, your Instagram account or give a passing mention on Twitter along with, of course, your blog or website.
If you want to know more about affiliate marketing you can always try out this great book to help you make money online.
5. License Your Photos
If you love photography this is an absolutely great way to earn a passive income. There are so many websites, blogs, businesses and documents that require photos on a whole range of topics. You can license your photos and make your creativity a source of income.
All you need to do is take stunning pictures, license them and earn a royalty every time someone uses them. One brilliantly easy way is by stocking your photos on sites like Shutterstock, iStock Photo, and Graphic River, Creative Market and earn a royalty every time someone buys a copy for digital use.
Another way is to create packages of your photos and sell them yourself online on your own website, and even through your social media. Say cheese once and you can be smiling all the way to the bank.
**Read Take Great Child Photos for Your Online Business**
6. Develop a Mobile App
Both Android and Apple apps market are excellent platforms for making passive income. All you have to do is create an app or a game, submit it to the respective apps store, and earn through in-app purchases, ads, or both.
Even if you do not have any programming skills, you can outsource the work to a programmer and retain ownership of the app. There are also easy to use app programs that you can learn and use yourself without the need to know any code.
7. Sell Digital Products
Apart from eBooks and online courses, there are many other digital products that you can sell online like printables and make a passive income.
If you're very creative in graphic design and IT, you can create things like planners and other printables, web design elements, banners and logos, which you can easily sell on sites like Etsy, Envato Market, Creative Market, and Icon Finder.
Another option is reselling hosting packages, website themes, and WordPress plugins.
If you also really enjoy making your own digital products you can easily sell them yourself through Sendowl, a very easy to use platform for selling digital products. They also offer a 30-day free trial when you sign up.
8. Invest Your Money
Investing money has always been a great way of making passive income. Although the route is not always easy for everyone, there are several options that you can invest your money and earn passive income from it.
They include personal investments, real estate lending, and peer-to-peer lending. Sites like Betterment, Lending Club, and PeerStreet may be a great place to start investing your money. Always get professional advice before investing.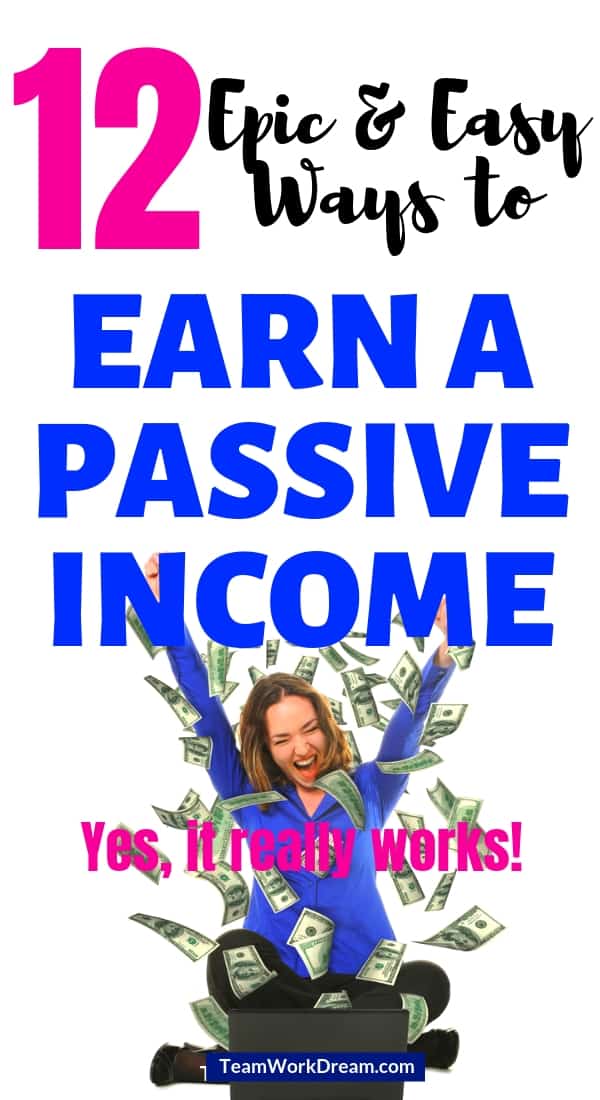 9. Sell T-Shirt Designs
Do you have some design flair, great ideas for T-shirt slogans then this could be the perfect passive income business for you?
Getting into the print-on-demand T-shirt business is a pretty easy passive income idea to start. Sites such as RedBubble, Teespring, Zazzle, and many others allow users to make custom designs for clothing like t-shirts and sell them to their customers.
>>> Have a read of the post of how to use the Best Print-on-Demand Sites to start making money passively.
If your designs become popular on Redbubble, you can earn royalties from the sales. Another option would be trying the Merch by Amazon service that allows you to upload and sell your attractive designs.
10. Become an Airbnb or FlipKey Host
Want to know how to create a passive income with no money? Try listing your house or an annex, extension or spare room on Airbnb FlipKey, SpareRoom for short-term rental plans. This is an excellent way to earn a passive income.

If you live in a great location such as near a popular beach or tourist attraction or an in-demand university and have a spare room in your home, you can easily rent it without having to make a lot of improvement to it.
If you are now an empty nester this is a perfect way to make some extra cash. All you need is to clean and prepare the room, list on SpareRoom, Airbnb or FlipKey, get travelers to book, and earn.
11. Rent Out Your Car
You can also list your car for rent when you are not using it. There are car sharing sites lite Turo or Getaround that allow you to put your car for rent and earn passively from it. You can choose your rent charges depending on the kind of car you own and your location.

12: Rent Out Your Parking Space
Have you heard of this? Well, you can make a nice little income just by renting out your driveway or garage if you live slap bang in the middle of any major city.
Yes, you have absolutely nothing to do except sign up to the relevant website and whoever needs the spot can rent it directly from the site. All you have to do is watch the revenue come in.
Sites like SpotHero (USA), JustPark (UK), Rover (Canada), Parking Australia are ones that you can easily join. But before signing up make sure you have the rights to your driveway to be able to take part in these parking schemes. Check your landlord or local government agency.
Final Thoughts on the Best Ways to Earn a Passive Income Online
I hope this has opened your eyes to the potential of earning a passive income while you sleep. There are many creative ways to earn money on the side without having to put in too much work long-term and it will provide you will a pretty steady income in years to come.
Do your research, find out what you might be interested in or what you could easily start to do. If you want more information sign up for the weekly Teamworkdream newsletter for the most up-to-date work from home job opportunities plus great tips and ideas. Also, don't forget to pin or share this post with others
Related Passive Income Idea posts: