Have you been getting requests from your teens that they want to start a YouTube Channel? If that is the case then I am going to share with you the top tech gift guide for teens to share their talent and start making money online.
My own son has always wanted to start his own YouTube channel as he wants to try out some of his science experiments to share online.
This post may contain affiliate links. For more information read full disclosure.
Although I'm a bit skeptical I do not want to be the one to stifle his creativity. He's been watching a ton of information on a number of his favorite channels gaming and science and now he also wants to be the next teen sensation to make money online.
With that in mind, I thought it would be a good idea to have a look at what's out there in the world of technology that can help you with your teenager and how they can start an online business venture with the help of some great tech gift gadgets.
Related article – 25 Best His and Her Work from Home Gifts
The research has been done and I've come up with this excellent tech gift guide for teens who want to make money online and I hope you don't mind me sharing it with you.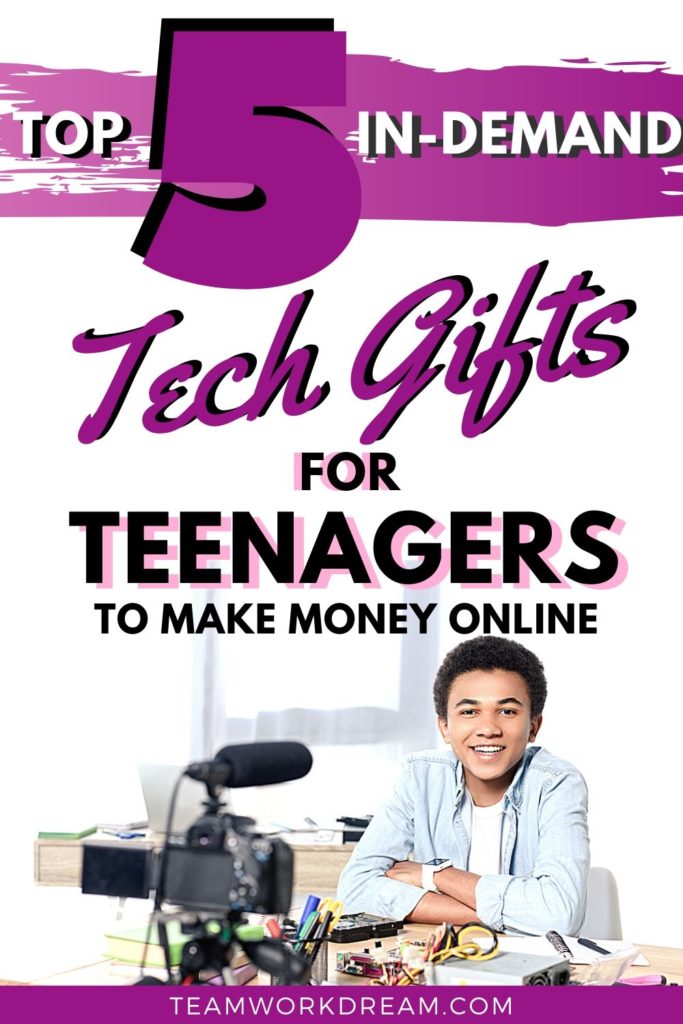 Tech Gifts for Teens
This gift guide for your teen is a simple one that will help you decide on what you can get this holiday season that can set them up in the world of online business and creativity.
There are a lot more than five of the best-selling tech items but if your teen is a total beginner then this tech gift guide for teens is a great start.
To make sure that this vlogging business is not just a fad I found a great little camera that has excellent ratings for a budget-friendly price.
Now don't get me wrong we all want to get the best for our kids and I'm not mean, I'm frugal but I have gone through a number of faddy phases and I'm not about to start up another one. So this camera right here is a nice balance when your teenager is starting out. It has great reviews on Amazon.
Just remember to buy them a bigger memory card for all that video content.

If you don't want to take this route and your teen already has a decent smartphone like the iPhone or Samsung which both have excellent cameras these days then they're good to go. Just add a trendy tripod.
So now you know that you can indulge them on a budget when they want to show off their latest clothing or makeup haul or unboxing of some gaming accessory or electronic device.
To make the whole thing complete you might need a few more accessories but thankfully, they are all reasonably priced.
One very important gadget is one that avoids a shaky hand when they are filming their great vlogging content. Make sure to arm them with a stabilizer otherwise known as a Gimbal and one of the best ones out there is the Hohem iSteadyMobile+.
So if your teen is a skateboard freak, a future film director, a personal shopping guru, or you plan on taking the family on a beach or skiing vacation and you want to make sure that their video content is top-notch then just check out the great reviews and watch the video right here!

If your teen is an avid gamer and wants to do live recorded gaming sessions and reviews then you can check these out from this great selection of the best headsets out there. They are compatible with most gaming systems and are available in a range of colors.

On the other hand, if they want to look super cool then you can't go wrong with Airpods for a great minimalist look.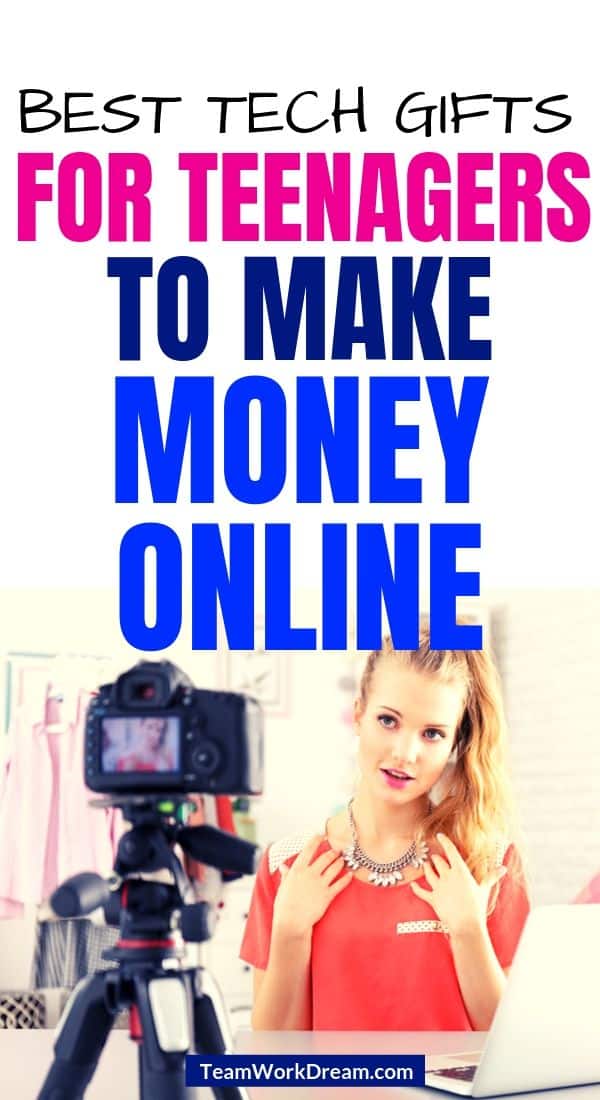 There are a number of ways that your teenager can make money online and vlogging is definitely one of the popular ways. If this is what your teenager wants to get into why not get them a lapel mic.
It definitely won't break the bank and they can sound and look truly professional whether doing a broadcast inside or outside totally handsfree.
If doing voiceover for books or animations is more their thing then one of the best microphones to get your teen is the Blue Yeti. It's of good quality and available at a very competitive price. Make sure to read all the top-rated reviews. It's also great for your teenager to start a podcast too.

You can find out more about this by reading this post on online jobs for teenagers that pay.
Is your teen driving you crazy talking about Ruby on Rails and Python and you have no clue what they are on about, don't worry, you're not alone?
What you have is a serious coder on your hands. Why not boost up their skills with this convenient dual-screen plug-and-play portable laptop monitor. As it's portable they can look mega cool and get their coding or video editing work done at the same time.
Simple Data Entry, creating graphics, and web design are all great options for your teen to make money online, and being able to maneuver between screens is an added bonus.

The camera that I listed above is great in the daylight but sometimes they want to get that lighting just right. If you have a teen daughter and she's a little fashionista then you know the lighting has to be one hundred.
This ring lamp is perfect when videoing in low light, at night when indoors and it's at a great price too. You can also get to borrow it from time to time if you're doing vlogging for your own channel.

Online Safety Tips for Teens
There is one more thing that I would like to add though and this section is going to get a bit heavy but very necessary to share.
These days teens are more focused on becoming YouTube stars and social media influencers but this comes with a warning.
As with all things temperance is required. Priorities such as doing homework, spending time with family far outweigh the long hours that can be spent making content that your teen wants to go viral.
Make sure to teach your teens online safety and responsible online use.
Monitor their use of the various platforms, the content that they make, and check your teen for any changes in personality. Yes, anxiety due to unfavorable comments or burnout is real.
Reasons for these checks are to protect them, protect your data, protect your home and family surroundings, and to protect your teenager's future.
Check out this really useful and fun video on how you and your teen can incorporate internet safety.
The content made cannot be deleted and when it comes to that time when they want to look for a 'real' job, their online content will be thoroughly scrutinized. Make sure that whatever they are doing will not bite them in the butt in the future.
On a much lighter note, our teenagers are good kids and just want to have fun and make a little money on the side or a lot of money depending on their goals. They could become the next online sensation and run a successful online empire.
For a simple guide especially for tweenage children then this book is perfect for helping them with the many options that are available to them.
If you want to give them a helping hand on their money-making online journey you can do so with any of the suggested items in the tech gift guide for teens above.
Related posts on how teenagers can make money online