Have you ever thought about making dog treats? What if we told you that with a few ingredients available at any grocery store, you could build a profitable business by learning how to sell dog treats from the comfort of your home.
Has this caught your interest as a pet lover? If you'd like to know more about cooking up special treats for adorable furry pets, continue reading.
This post may contain affiliate links. For more information read full disclosure.
Can You Make Dog Treats at Home and Sell Them?
Yes! You can definitely make and sell dog treats from home. They are quite easy to make and an excellent method to create another stream of income during your weekends. You can even do this as a business full time!
It's a great way to create and mix different flavors to make delicious treats all dogs will love enough for their owners to become permanent customers.
Many owners catering for their furry pals are purchasing more healthy homemade dog treats for different reasons. Treats are often bought for a pup's birthday celebration, as a reward for good behavior or a quick lip-smacking tasty treat.
Depending on where you live, there may be different rules and regulations to observe and comply with when building your pet food business.
Before marketing your dog treats to the public, a license may be required in some countries so check to see if your business needs to be registered.
In the US, the FDA requires that pet foods contain no harmful ingredients and that the label remains truthful as to the contents of the different treats.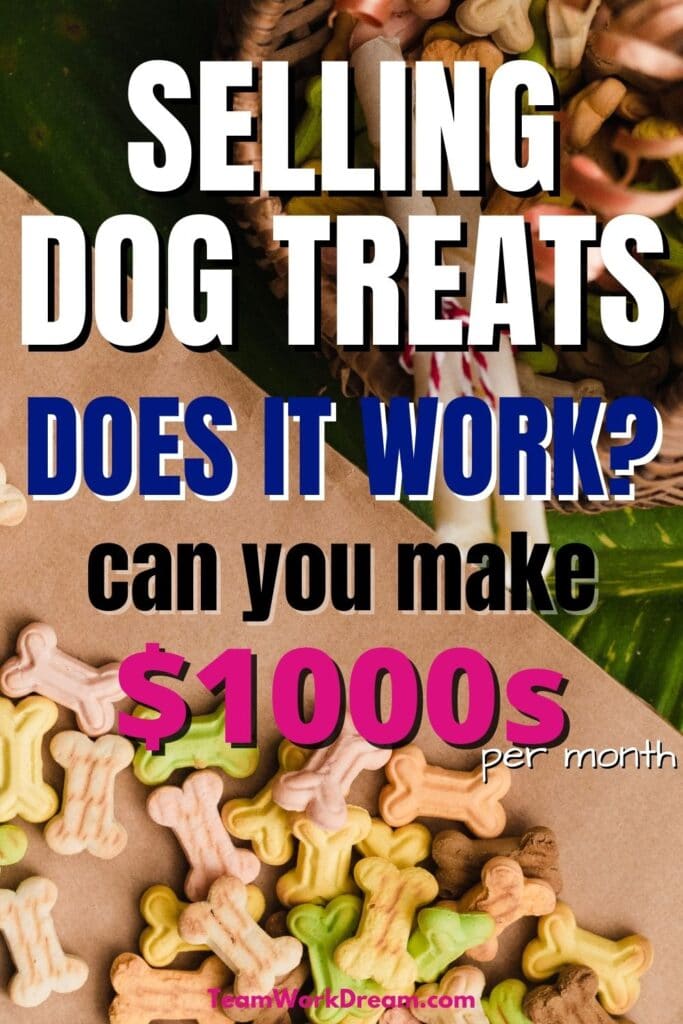 How to Choose the Right Dog Treat Recipes?
Choosing the right recipes for making treats is very important as some dogs have specific ingredients that they can or shouldn't consume.
Do a little research to find the best pet-friendly recipes and carefully observe the ingredients. Some of the most common and safe ingredients you'll need to bake healthy treats can be found in your kitchen. These include:
Whole Grain Flour
Oats
Carrots
Sweet Potatoes
Pumpkin
Apples
Peanut Butter (Check to ensure it is xylitol free)
Green Beans
Bananas
Here are a few ingredients to avoid as they are very toxic to dogs:
Spices like nutmeg and cinnamon may cause dogs to have an upset stomach.
Raisins are unhealthy for dogs and can lead to kidney failure.
Chocolate can result in stomach aches, heart failure, and even seizures.
Xylitol in some ingredients like peanut butter leads to liver failure and death.
Too much salt
Corn syrup
Artificial coloring
Being selective about the different ingredients to create dog treats is good but storage is another important factor. Homemade treats cannot contain preservatives like commercial products. You can learn more about this in this dog treat making course.
Airtight plastic containers are top tier for storing treats and are excellent for keeping them frozen before a sale.
If you want the perfect guide to create wonderful dog treat recipes you should enroll in the Diva Dog Bakery course. A wonderful easy to follow recipe book is included that teaches you how to make the best-looking dog treats from scratch.
If you want to know what the Diva Dog Bakery course entails you can see the full details of the 8 modules here.
Learn How to Make Gourmet Dog Treats
If you want to learn the best way to make and sell dog treats you will definitely want to follow Kristin Larsen footsteps who launched the lucrative Diva Dog Bakery business and the successful Diva Dog Bakery course.
She created this special premium dog treat business and took it to another level by selling on Etsy, local farmers markets, and even providing dog treats to famous events like the Emmy's for their celebrity guest swag bags.
No experience is required to start baking and packaging exciting-looking dog treats. This home-based business is a great skill to share with your teenagers or tweens to learn entrepreneurship.
Where Can You Sell Homemade Dog Treats?
There are several places you can sell dog treats. Finding a particular space to sell your products is good but marketing them on different websites is even better to generate mass orders and sales.
Here are a few places you may begin:
In Your Neighborhood
Do you live in a neighborhood with plenty of dog owners? How about introducing them to your tasty and nutritious dog treats perfect for special occasions.
Dog Parks
Even though you are not allowed to bring treats to dog parks, you can market your product to their owners with flyers. Approach a few owners and inform them about the healthy homemade treats their fluffy or hairless pets would be excited to try.
Farmers Markets
After making dog treats you can sell them at farmer's markets. Ensure the packaging is presentable to attract buyers. When selecting packaging if the dog treat is dry no special container is required, however, if they are wet a different packaging is needed.
Local Pet Stores
If you're looking to make dog treats full-time local pet stores are a great place to market your product. They may be willing to accept your homemade pet treats once you have a license, and the ingredients listed are FDA approved for pets.
Using attractive packaging that stand out will go a long way as pet owners shop and express delight with your product. That way you'll receive more orders from pet stores.
Etsy
Etsy is one of the easiest places to sell your homemade dog treats. Simply set up your online Etsy store, take a few quality photos and try to include a video with a dog or two enjoying their treats.
This attracts buyers and helps you be competitive as a trusted seller. Ensure the ingredients are listed, easily read, and understood.
Social Media
Facebook, Twitter, and Instagram are swarmed with dog owners on a regular basis. Use them to your advantage to gain awareness for your side hustle or business.
Try to use stories on all platforms to keep your audience interested in your dog treat products. Use TikTok to create challenges is another excellent strategy to gain the attention of buyers who would then purchase your homemade treats.
Is There Money in Dog Treats?
Making dog treats to sell is very profitable depending on how you market your product. New sellers who market their dog treats as a side hustle in different ways have proven to generate a monthly income between $500 to $1000.
If you're looking to do this as a full-time business get ready to earn up to $8000 per month. As orders increase you may even have to expand into a more commercialized kitchen.
Here are just a few success stories of dog lovers who have taken the dog treat course created by Kristin Larsen.
Data from Family Pickers show that many individuals sell homemade dog treats at an average price of $15-$20. However, feel free to alter prices as you desire to include the cost of ingredients and packaging.
Final Thoughts
Making dog treats at home as a side hustle is a profitable way to earn money during your days off and weekends. If you love the idea of starting a new business as a dog treat seller you can start by doing the following.
Create and register a catchy name all dog owners will remember
Get the required license
Select the best ingredients
Create distinctive packaging
Decide how best to market the finished product and where they will be available.
If you have pooch-loving pals why not share this pet side hustle with them.
Related Posts