The worldwide lockdown led to many employers adopting the remote working model. But how can we make home offices productive spaces? Read on for tips and tricks.
As more people work remotely, setting up a comfy and professional home office is necessary. However, working from home comes with a set of challenges.
Your workflow and productivity depend heavily on the office setup and equipment used. This guide looks at practical home office setup ideas and the best home office setup for productivity.
How Do You Design the Ideal Home Office?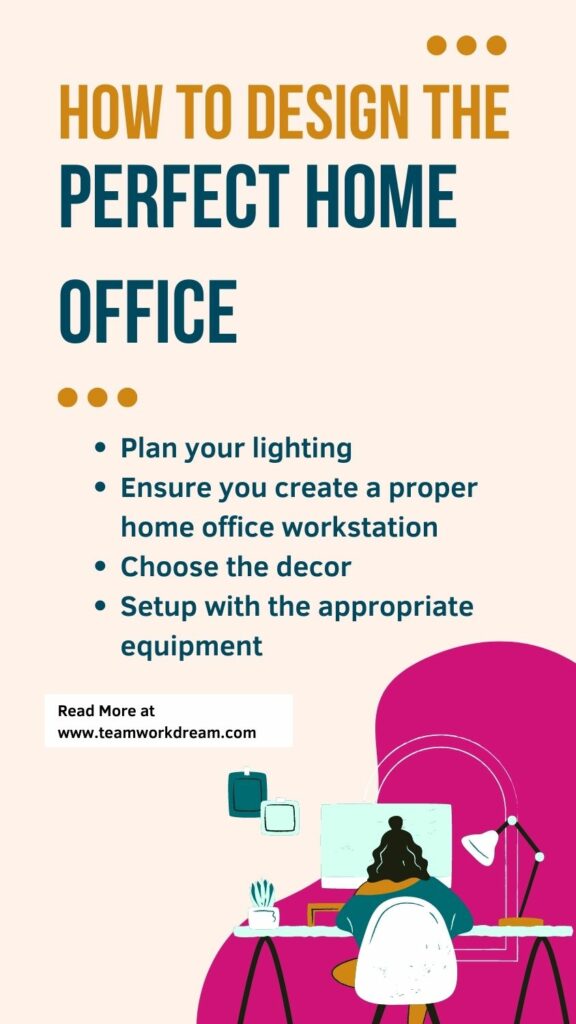 Plan Your Lighting
Quality lighting is vital. It heightens your ability to see and helps you do your remote jobs from home productively.
Lack of proper lighting can also lead to a number of physical challenges. Dull lighting can strain your eyes, causing you to lean forward. This then puts pressure on your back and shoulders, causing back pain.
The most effective type of light for your home office is natural light. This gives you Vitamin D and helps your body clock keep track of time. Optimize the use of natural light in your office with light-colored painted walls, expansive glass windows, or a skylight.
Alternatives like multi-layered lighting can create a balanced and illuminated space. Work with your angles and place artificial lighting behind your PC to avoid glare and shadows.
Create Your Home Office Workstation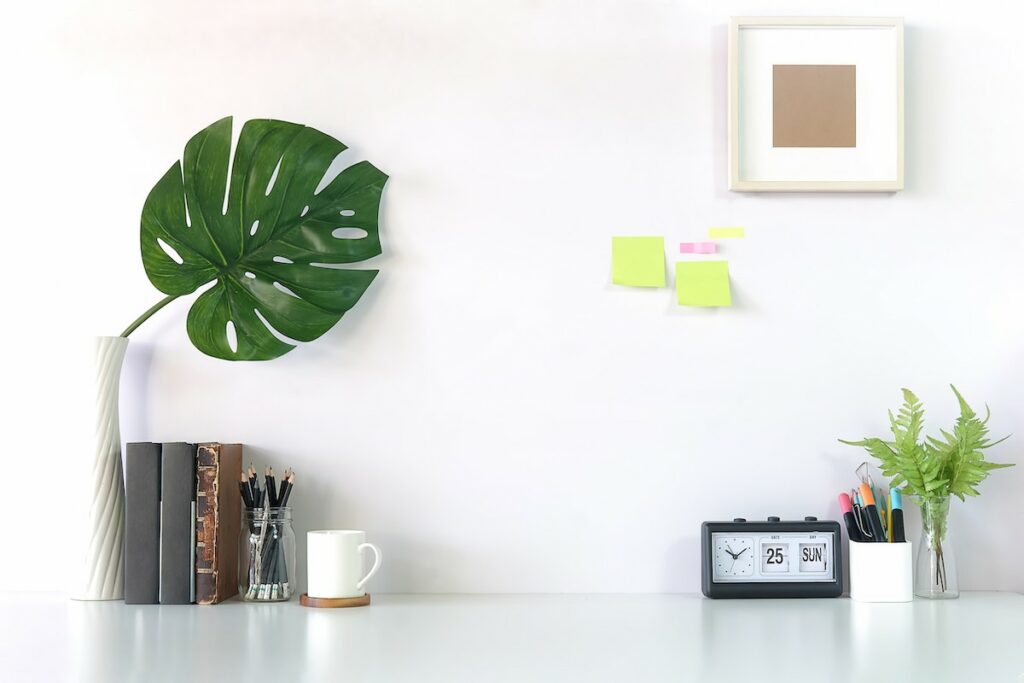 When creating your workstation, you want to build an environment that enables uninterrupted productivity and efficiency. Your home office workstation should mimic that of a professional environment.
The ultimate work from home office setup ensures that your workstation is secluded and free of distractions.
First prize is a space away from your relaxing areas, where you have a specific chair and desk space dedicated to working. A door to close once working hours are over is even better.
How to Decorate a Home Office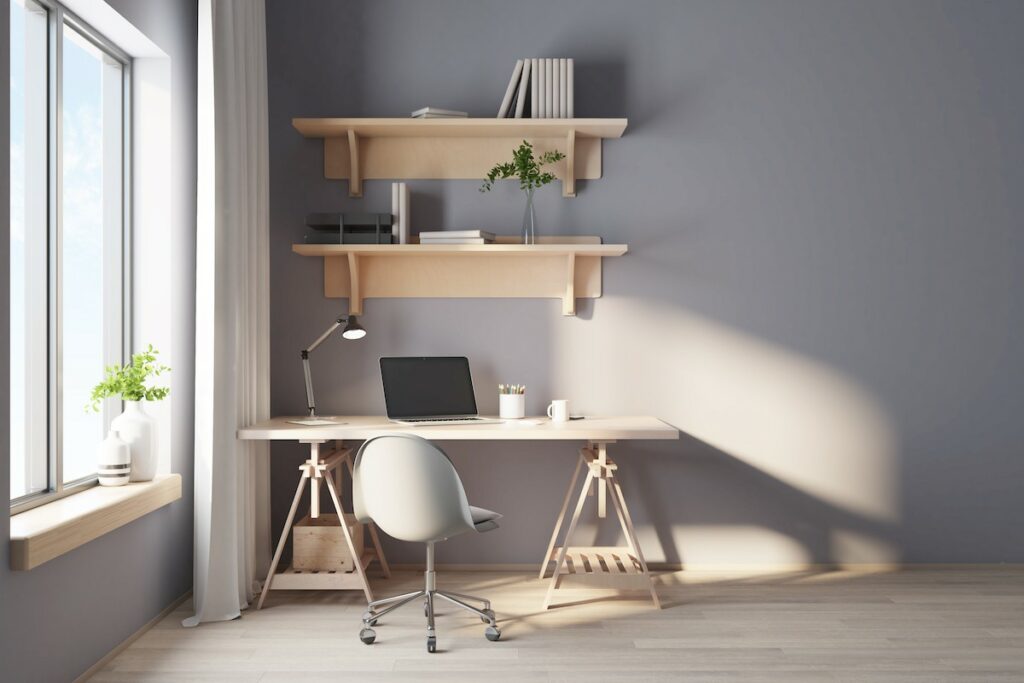 One of the most discouraging things is a monotonous office cubicle with dull furniture and solid brick walls. But luckily, working from a home office means you're in charge of how your space looks and feels.
Use indoor plants to brighten up your home office space. They are pretty functional, too, as they release fragrant aromas and oxygen into the air while infusing an element of nature into your workspace.
You can improve your home office decor with sentimental items and make it feel more personal. A bookshelf, some motivational posters, and comfy rugs all help make any home office more welcoming. Or, if you're a minimalist, keep things clutter-free by incorporating lots of storage.
The Best Home Office Setup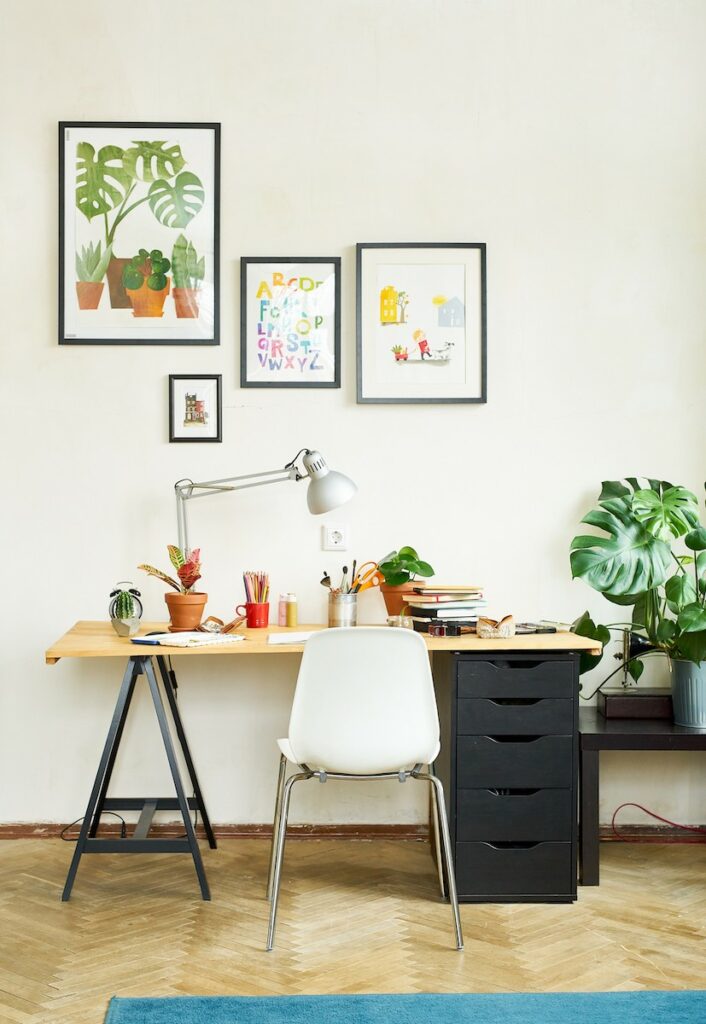 Home Office Desk
Your home office desk setup is an important item in your office. Think about how much space you need to work on your desk comfortably.
The most important thing to consider is that your home office desk setup must match your needs. For example, if you have a landline or two monitors, ensure the desk you buy can accommodate all those items.
Then you also need to make sure it's comfortable enough to work at for a full day. Consider buying a standing desk that is ergonomically designed to support posture, eliminate back pain, and increase productivity.
A good quality desk, made of sturdy and long-lasting materials, is also a much better choice than a cheaper version. You don't want your desk breaking while you are using it.
Of course, added bonuses would be extra storage, aesthetics, and affordability.
Top Suggested Home Office Desk:
The CubiCubi Study Computer Desk is a suitable at-home desk setup. The table has steel legs and a waterproof, scratch-resistant melamine-faced board. The table also comes with an additional storage bag and iron hook, convenient for hanging headphones.
You can buy this desk for under $70, in different sizes and colors.
Best Budget Home Office Desk:
Are you on a budget? Well, that's not a problem.
This Study Computer Desk is easy to assemble, has enough space for office equipment, and is going for under $23. The trapezoidal table legs distribute weight equally, thus minimizing structural load failure.
Home Office Chair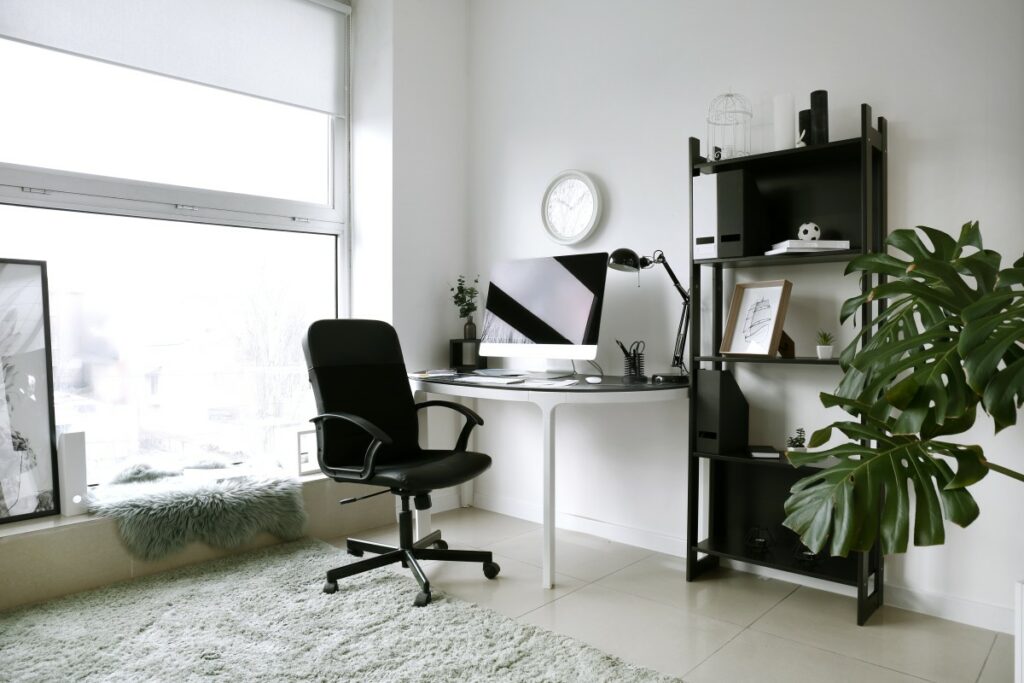 Even if your desk checks all the boxes, having a terrible chair will ruin your home office space and likely each of your home office workdays.
Sitting for extended periods can negatively impact your health. Avoid this by getting an ergonomic chair designed to promote proper sitting posture and the spine and shoulders alignment.
The chair relieves pressure off your hips and back by preventing you from leaning forward and slouching. Ultimately, this reduces neck and back pain while improving blood circulation and productivity.
Top Suggested Home Office Chair:
The SIHOO Ergonomic is a top-tier home office chair with multiple beneficial features. This chair has five ergonomic adjustments; headrest, back support, armrest, seat height, and back tilt.
Buy this chair for under $260 and select your preferred color between black and orange.
Best Budget Home Office Chair:
The Rolling Swivel Chair reduces back pain thanks to its locking mechanism that keeps the back upright. You can easily adjust the seat height to avoid slouching or leaning forward.
Get this modern ergonomics chair for under $32 in various colors.
Computer or Laptops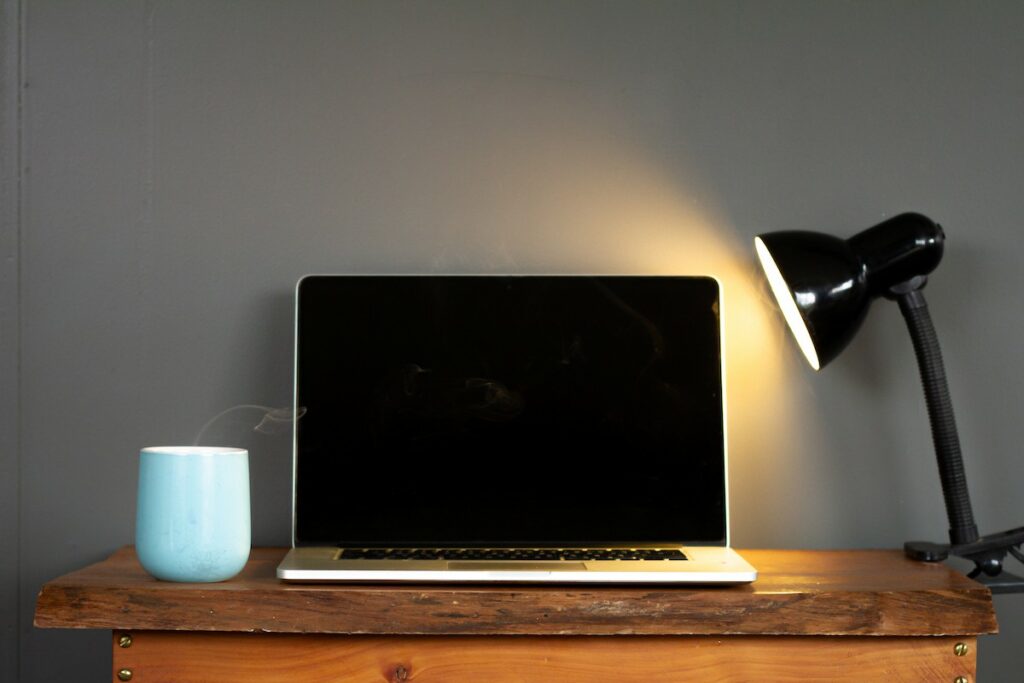 Working from home will require you to use a computer. This might be industry-dependent, but a powerful laptop with fast processing speeds is always a good investment.
The best laptops for remote work must have quality graphics and abundant storage to save your work or run computer-based software.
Top Suggested Home Office Computer:
The Apple MacBook Air is an excellent computer for your office setup at home. The laptop's high-resolution retina display is perfect for viewing all media, while the 18-hour battery life will minimize the need for charging.
Don't worry about space; the MacBook Air delivers 512GB to 1TB of storage capacity. You can get it now in silver or space-gray for less than $2000.
Create a full home office setup by getting Apple accessories for the best home office setup for a MacBook Air.
Best Budget Home Office Computer:
The HP All-in-One Desktop is an affordable home office computer. The desktop computer has a slick modern design and great features like the pop-up camera and dual front-facing speakers, perfect for video calls.
Delivering 256GB capacity and incredible Radeon graphics, you can purchase this computer for under $550.
Computer Monitor
A computer monitor will help you separate your workspace on a second screen. This enables you to avoid a cluttered home screen and creates a minimalist home office setup.
Monitors are wider than laptop screens, giving you expansive viewing. Use the portrait mode functionality for reading long text documents like contracts with minimal scrolling.
Top Suggested Home Office Monitor:
The Acer Ultra-Thin Zero Frame Monitor has an excellent screen display resolution and can be mounted on the wall, saving you a lot of desk space.
Use the noise-reducing microphone for group calls or meetings. This monitor goes for less than $120 and comes with an attachable webcam for under $70.
Best Budget Home Office Monitor:
A more affordable alternative, the Sceptre Ultra Thin LED Monitor, has a 20-inch screen, built-in speakers, and can be wall-mounted. Get this monitor for less than $114.
Monitor Arm
A monitor arm is a cool home office setup tool. Its adjustability allows you to position the monitor appropriately, away from direct light, glare, and shadows.
Use the monitor arm to bring your screen closer, thus putting less strain on your eyes, arms, and spine.
Another great feature is that monitor arms are mounted either on the wall or your desk, creating more table space.
Top Suggested Home Office Monitor Arm:
The Ergotron Single Monitor Arm has a durable and rigid design. The arm is flexible and has screen adjustment, rotation, and cable management functionalities. You can purchase this monitor arm for under $235, in silver or white.
Best Budget Home Office Monitor Arm:
The HUANUO Monitor Stand can be wall-mounted and holds two screens. The stand fits all monitors and is adjustable. You'll be able to rotate, swivel or tilt your monitors. Get this dual monitor arm for less than $60.
Keyboard and Mouse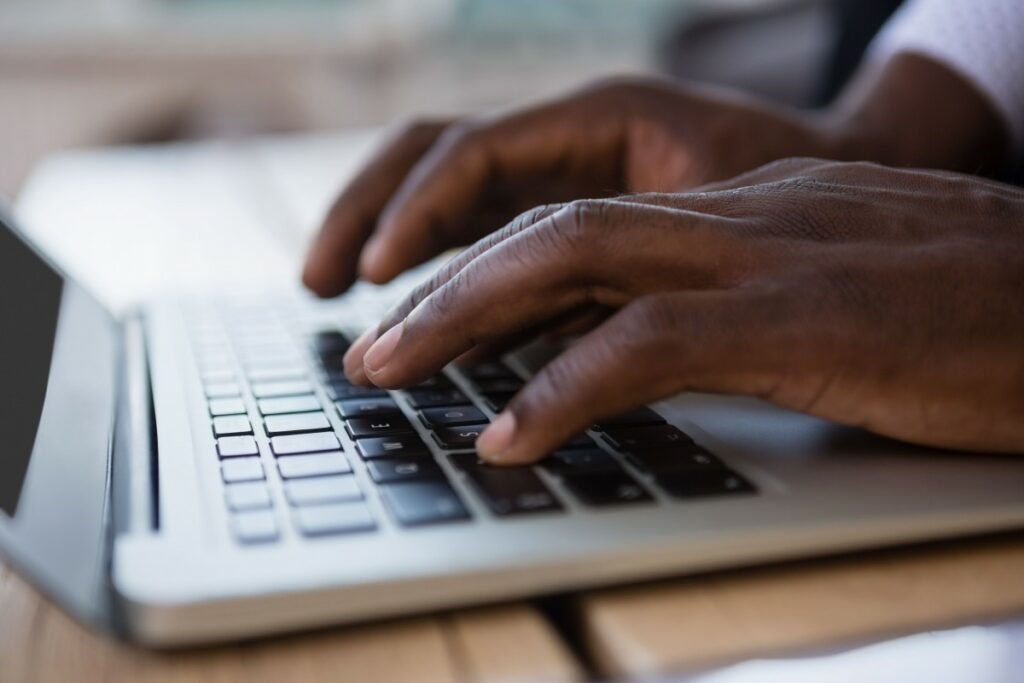 The most important computer accessories are the keyboard and mouse. Without these two pieces of equipment, you will have a hard time maneuvering through your desktop and effectively completing tasks.
Although your laptop has a built-in touchpad, the signal detector is sensitive and does not react well to moist or greased fingers. The same is true for working on a touch screen device.
Top Suggested Home Office Keyboard and Mouse:
The Logitech Wireless Keyboard and Mouse combo offers a long battery life while durable and resilient. Using this combo will allow you to work in a comfortable posture by eliminating the need to lean forward. You can get this combo for about $28.
Best Budget Home Office Keyboard and Mouse:
The Verbatim Slimline Keyboard and Mouse use a USB corded connection and deliver precise scrolling and typing. Buy this combo for under $14.
Internet
The internet is a powerful tool that allows you to connect and share information with people worldwide. Between communicating with co-workers and clients, access to the internet is crucial for doing your job.
Top Suggested Home Office Internet:
The Amazon Eero WiFi System offers coverage throughout the whole house. The 3-pack system is compatible with all internet service providers and the voice-controlled Alexa. Get this router trio for around $170.
Best Budget Home Office Internet:
The TP-Link Smart WiFi Router is compatible with all internet providers and devices. The three antennas provide a long-range connection and 1750 Mbps of high-speed internet. Get the TP-Link for $55 or less.
Video Conferencing Camera
Post-pandemic video conferencing has become close to the primary mode of communication between colleagues and loved ones. But, laptop webcams have a low-quality resolution causing blurry or pixelated images and videos.
Top Suggested Home Office Video Conferencing Camera:
The Logitech MeetUp is perfect for video and audio meetings. The device has a 120-degree view, ensuring that you can see everyone in the room. The built-in audio system has three microphones that deliver high-quality sound. Buy the Logitech MeetUp for less than $850.
Best Budget Home Office Video Conferencing Camera:
DEPSTECH is a streaming webcam with a microphone and automatic light correction. Its 6-layer glass lens delivers high-quality 1080HD video. Just connect the device to a USB port and press play for easy use.
The DEPSTECH video conferencing camera is available for under $30.
USB Hub / Docking Station
Docking stations are excellent tools for converting your laptop into a fully-equipped desktop. You can use the station to connect your computer to multiple external devices like printers, monitors, and the internet through an ethernet port.
Unlike USB hubs, docking stations have AC/DC power adapters allowing a faster-charging speed.
Top Suggested Home Office USB Hub / Docking Station:
The Del Triple Display Docking Station is small and has a clean design. The station has three super-speed USB 3.0, five USB ports, and other plugin options like HDMI, ethernet, and a display port. This docking station may be small, but it is compelling. Get it now for $145 or less.
Best Budget Home Office USB Hub / Docking Station:
The MCY Docking Station is compatible with MacBook, Dell, XSP, and USB C ports. The station has twelve ports, including hardware interfaces like HDMI and VGA.
This docking station delivers fast data transmission and high-speed charging. You can get this station for under $65.
Storage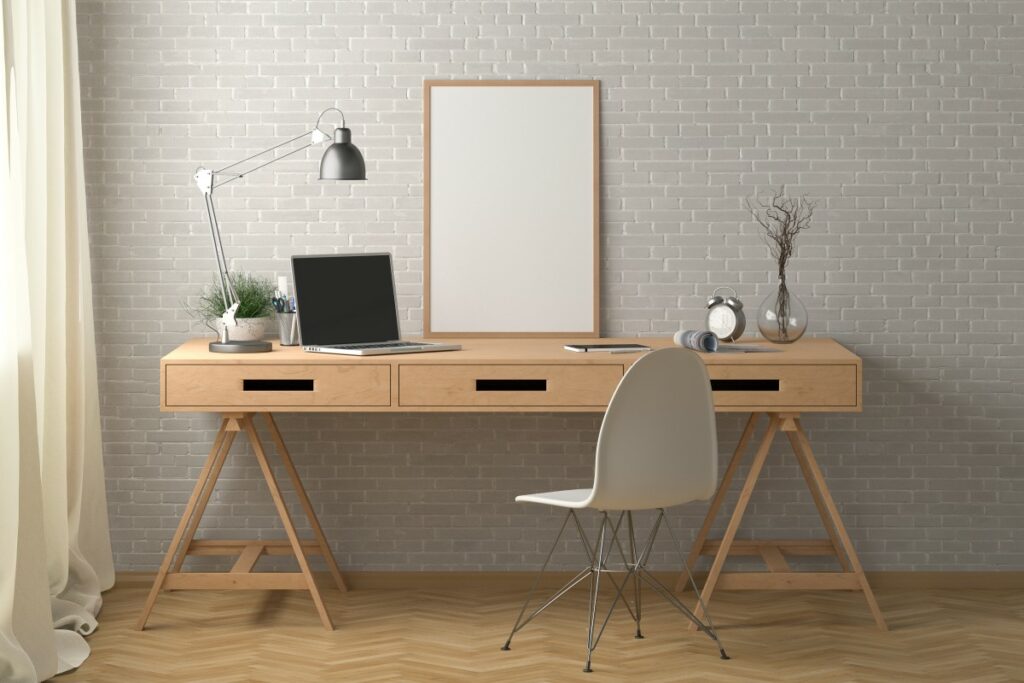 It is much easier to get distracted in a cluttered workspace. Build storage cabinets or wall shelving for extra stationery, books, electronics, and everything you will not need full-time access to.
In addition to functionality, built-in storage makes your home office setup aesthetically pleasing and welcoming. You'll find that your workflow is more efficient without distractions or clutter.
Top Suggested Home Office Storage:
The DEVAISE 3-Drawer cabinet is a mobile filing device suitable for convenient office storage for printers and other office supplies. The cabinet has built-in brakes to hold it in position and ample drawer space for stationery and document storage.
You can buy this stylish cabinet for less than $110 in black, gray oak, and rustic brown.
Best Budget Home Office Storage
A simple office storage alternative is the VASAGLE Bookshelf. The 4-tier shelf has ample space for office equipment. Its open design makes it easy to access your office supplies easily. Get this bookshelf for less than $80.
Surge Protector
A surge protector is vital when working with technology. It safeguards your appliances from getting damaged in a power surge or storm. The last thing you need is your computer dying as soon as the power trips.
The protector ensures an acceptable amount of electrical current passes through the outlet into the electrical devices. A rise in voltage will trigger the protector to divert the extra electricity to the outlet's grounding wire.
Not to be confused with a power strip, which lets you plug multiple devices into a single electrical outlet.
Top Suggested Home Office Surge Protector:
The BelkinSurge Protector has twelve AC outlets and two USB ports. The multi-outlet protector has a reliable power extension cord and a 918-Joule energy rating, safeguarding all office equipment from overload, lightning, and power spikes.
Buy the Belkin power strip, surge protector, and wall-mountable power charger bar combo for under $55.
Best Budget Home Office Surge Protector
A more budget-friendly alternative is the Alestor Surge Protector, with twelve outlets, four USB ports, and a six-foot extension cord. This protector has a 2700 Joules energy absorbing capacity with high device protection efficiency. The Alestor is available for under $19.
Office Supplies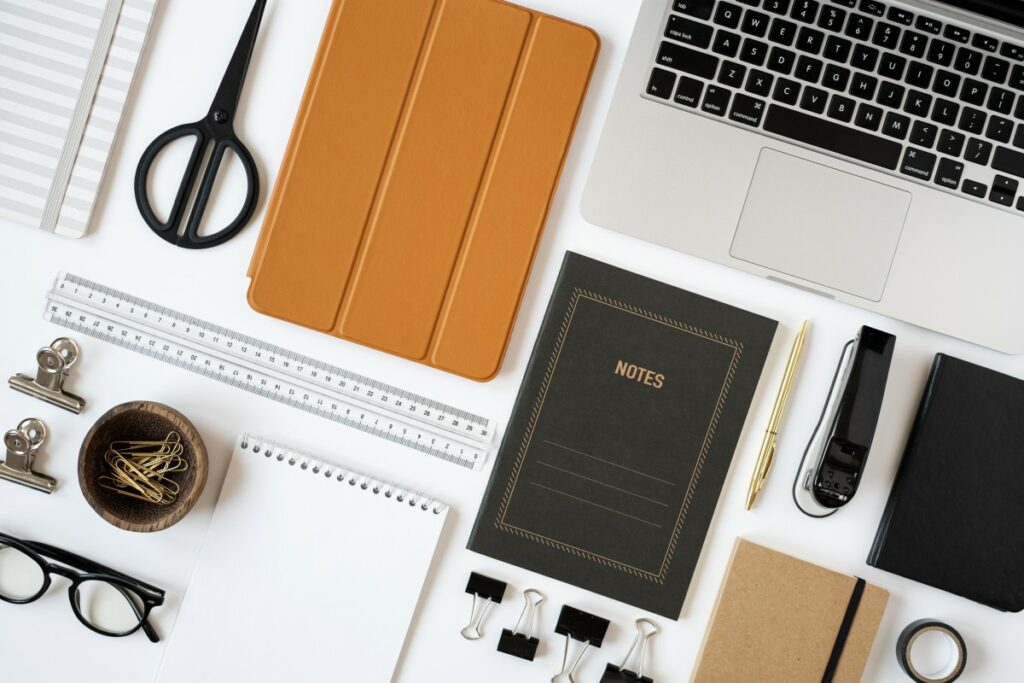 Items like stationery, document folders, sticky notes, and calendars are necessary for an effective workflow. You'll probably need a lot of supplies – like pens and highlighters – while others – like a desk tidy – you just need to pick your favorite one.
Another fun reason we love working from home is that we can choose our office supplies. If you're a fan of a specific color or theme, you can easily find pens and other stationery that fit with that theme. No one tells you that all of your pens need to be the boring ballpoint and blue kind.
Office accessories are consumables, meaning that you'll have to re-stock these from time to time. However, you can avoid running out often by buying these items in bulk.
Top Suggested Home Office Supplies:
Dealing with a slippery desk can be frustrating; the LapGear Lap Desk has a built-in device ledge, mouse pad, and phone holder. This thrifty device is compatible with all laptops and has a smooth flat surface perfect for ventilation. You can get this device in various colors for prices starting at $24.
Best Budget Home Office Supplies:
If you don't have a lot of desk space, the SimpleHouseware Desk Organizer is what you need. The mesh organizer has a sliding drawer, pen holders, and five folder stacking sorters. Get this desk organizer for less than $24.
Whiteboard and Markers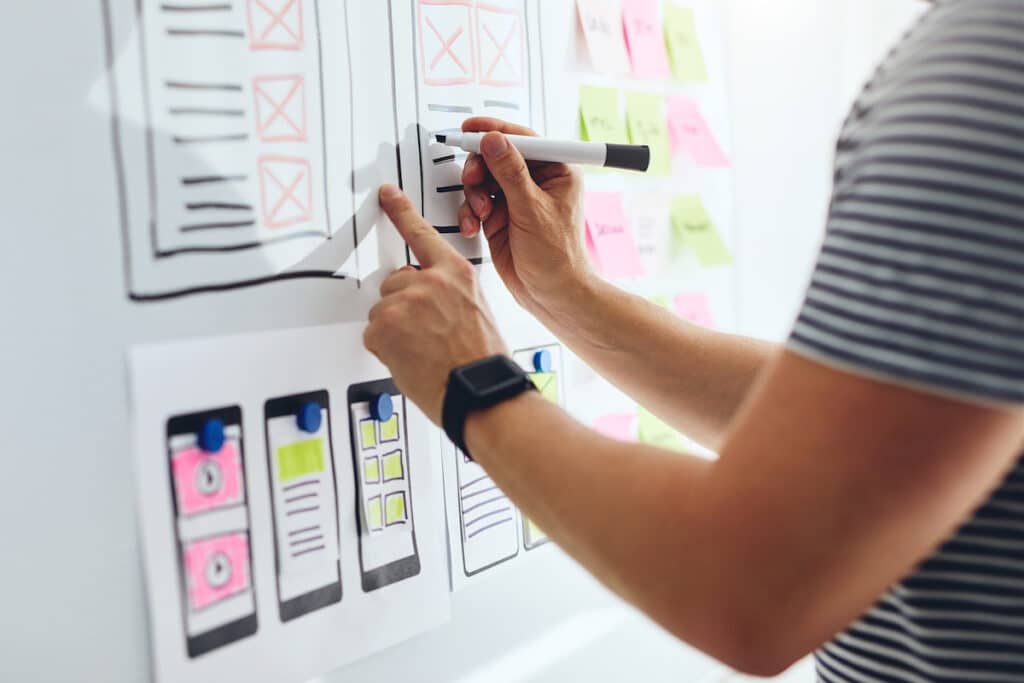 Research suggests that people retain visuals much better than words. Use a whiteboard in your home office to draft your daily schedule, a to-do list, and perhaps some brainstorming for a new project.
The whiteboard markers help separate and highlight important tasks. For example, you can use a red marker for a project close to its deadline and a yellow marker for pending or upcoming tasks.
With big, colorful boards, you won't be losing papers and important dates because they'll be up on your wall where you can see them.
Top Suggested Home Office Whiteboard and Markers
The Premium Magnetic dry erase board is the best you'll find when it comes to whiteboards. This board comes with six assorted colored markers and goes for about $14.
Best Budget Home Office Whiteboard and Markers
A good whiteboard alternative is the Kedudes Magnetic dry erase board. This board also comes with six assorted colored markers and features built-in erase caps. You can get this whiteboard and maker combo for just under $11.
Home Office Setup Checklist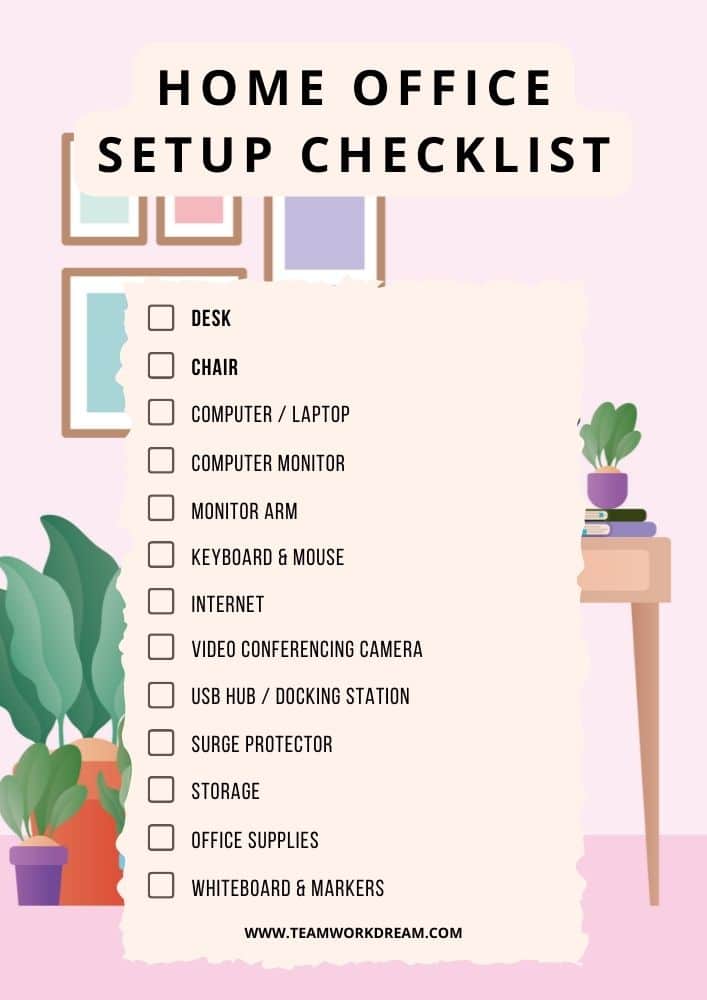 Love This? Save and Share on Pinterest!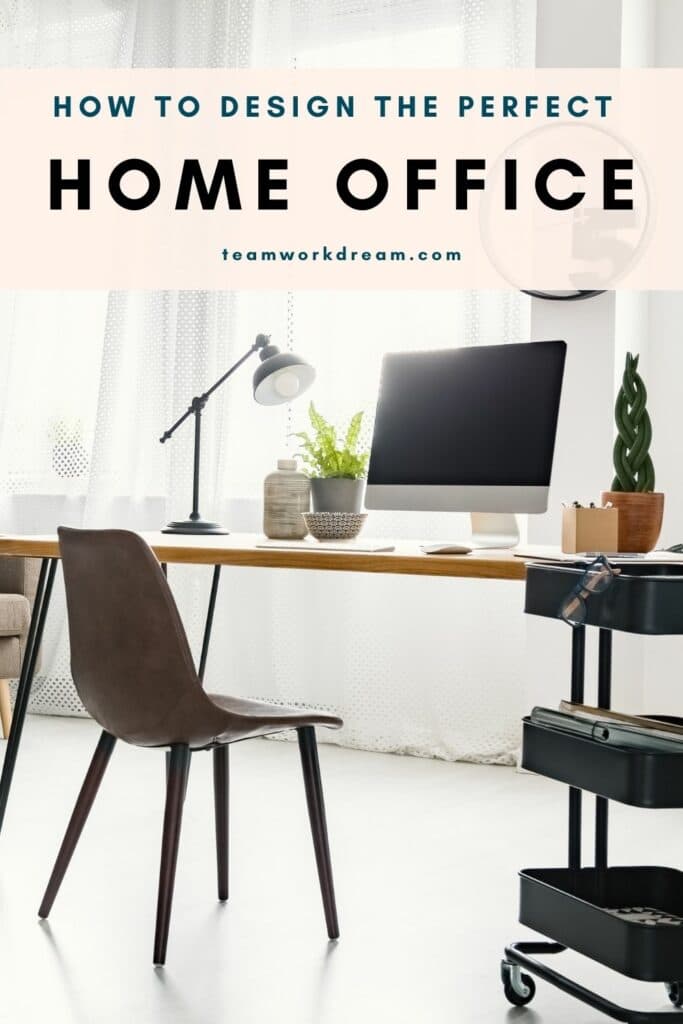 Read More Home Office Setup Tips & Guides