As a teen, working and going to school with an active social life can be hard, but online jobs can make it easier for you to maintain the perfect balance.
It's now a lot easier to find online jobs for teens so there's no need to rush from school to your place of work for fear of being late.
This post may contain affiliate links. For more information read full disclosure.
As soon as you finish school you can login to your smartphone or laptop and be at work in the comfort of your home or anywhere.
Online jobs create flexibility so you can work after school, in your free time, or on weekends. So if you're looking for a way to make a little extra or a lot of cash on the side depending on your schedule, the best suggestion is to sign up for online jobs that you can do as a teen.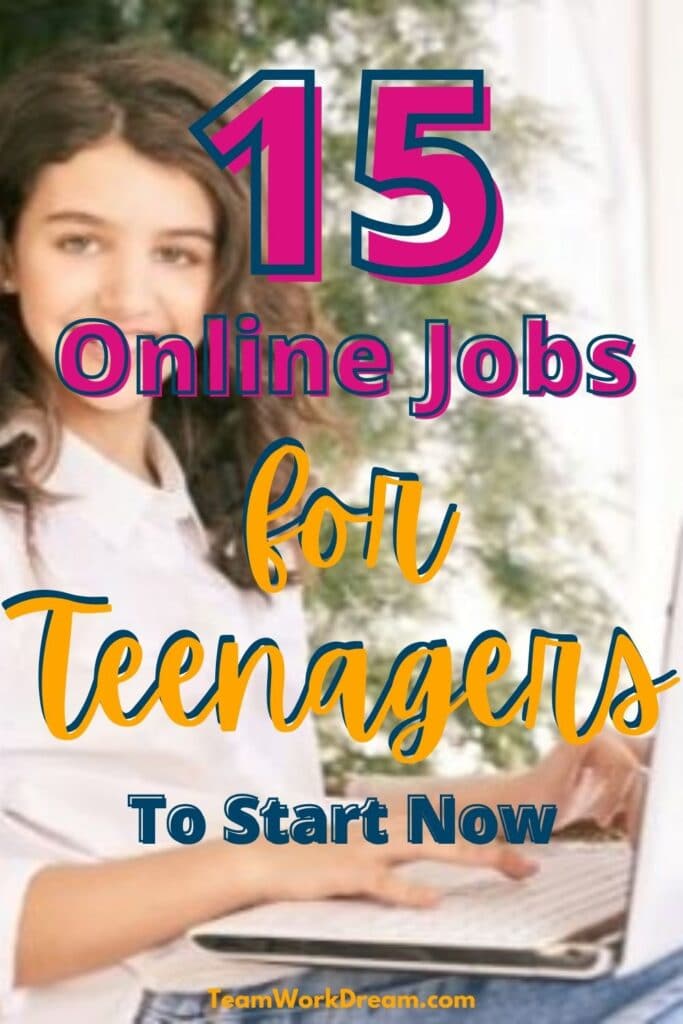 Money Making Jobs for Teens Online
Here are just a few of the online jobs all teens can try and the companies that currently have online openings!
1. Complete Online Surveys
Companies are always interested to know how they can improve their products or services. Online survey sites like:
Survey Junkie accepts teens from 16+ to complete surveys based on interests stated in your profile.
LifePoint pays teens from age 13+ to do surveys and is accessible in over 40 countries with 26 languages, so everyone can join!
Payment is done via PayPal and gift cards. Just remember that completing surveys is a nice little side hustle for you to earn cash for personal use. You won't actually get rich from it.
2. Online Tutoring
Doing well academically and like helping others learn? No need to tutor at a library or café anymore! Online tutoring allows teens to earn a weekly income. Try using:
SameSpeak hires teens from age 16+ whose first language is English and pays $10 every half hour. Using Skype is a must and having great communication and social skills is essential.
TutorMe pays teen tutors (age 18+) $16 per hour. Simply complete their application, select subjects to tutor, and when approved start tutoring online. It's simple and you'll enjoy teaching subjects you love!
3. Review Music
Listening to music creates a vibe but did you know it can also generate cash? Reviewing music is a great remote job for teens. With websites like:
RadioEarn you can earn points for every fifteen minutes of listening to online radio stations. Points are converted to USD, and payouts are done by bank transfers and Bitcoin, etc. You can also use RadioEarn's API on your website for passive income. It's a great deal!
With MusicXray you can be a teen from ages 13+ and get paid to listen to music. You will setup your account to show your preference in music so you can listen, rate, and earn 10 cents per song. The minimum threshold to cash out is $20 via PayPal.
4. Voiceover Artist
Do you have a distinctive voice? Want to be the unique voice behind a commercial, book narration, or online ad? You can offer voiceover services on:
Fiverr by creating your account (age 13+), and making a voiceover gig. Add samples of voiceovers you've done to attract clients and cash out via PayPal with a minimum of $20. It's easy, fun, and you can earn big time!
Audio Creation Exchange (ACX) is a website where teens (aged 18+) can become narrators and earn $100 for each hour of a finished book. Sounds good? Well, signup to learn more.
5. Create a YouTube Channel
Many teens of all ages make money on YouTube by creating and uploading videos to their channels.
Whether it's a video on how to create something fun, discussing important topics, or showcasing their talents, your vlogging channel can become monetized.
Before you start make sure to read YouTube's terms and conditions, grab your camera, create videos, and upload your fabulous videos to the platform.
6. Blogging
Are you passionate about a topic? Then write about it! Share your thoughts on absolutely anything you like, sports, beauty, politics, fashion, or other topics.
With the skill of writing and consistency of producing great content, your blog can earn money from ads and affiliate links.
You can write entertaining topics, offer courses, ebooks, and products or even create a paid membership site to earn even more.
7. Virtual Assistant
This is an online job where teens can apply to help businesses stay organized. VAs carry out tasks of scheduling appointments, making calls, arranging meetings, managing emails and so much more.
You can create a VA gig on Fiverr and a lot of small businesses advertise virtual assistant job openings on social media like FaceBook.
If you want to find out more about how to become a virtual assistant as a teen I suggest this mini VA course to get you onto the right path.
8. Proofreading
If you enjoy reading, chances are you're a good proofreader. Having a keen eye for detail allows you to spot errors and tone consistency. You can sign up to websites or offer your services to other students in your community using flyers or social media. Websites like:
Proofreadingservices for teenagers 18 and upwards is a great place to start offering proofreading services. You will need to take a test before qualifying.
Upwork is a highly recommended and legitimate online working platform for teens. Upwork does take a 20% commission so set your prices competitively and get paid via Paypal or Payoneer.
If you want to learn more about becoming a proofreader you might find this free webinar useful.
9. Social Media Manager
Social media managers monitor social media accounts for businesses, blogs, and influencers. As teens are usually scrolling and watching influencers for free it would make sense to get paid to do it.
They engage in trends, and marketing activities to build brand awareness while interacting with clients and supporters. If you have great knowledge of the various social media platforms, Fiverr and Upwork are excellent places to seek jobs.
10. Online Gaming
Do you enjoy online gaming? Sites like Swagbucks pay players as young as 13 to play games. Create your account, download the free games, then play and earn gift cards.
11. Transcription
With teens forever typing and sending messages and doing it superfast, it makes sense to make money from this skill. You could be earning great money as a teen providing transcription.
There are a number of companies that recruit complete beginners to become transcribers. Here are a couple that you can sign up for as a teen:
TranscribeMe – Requires you to do training and take a quick test to qualify as a new transcriber. You can easily start to earn a minimum of $15 per hour and more.
1888TypeItUp – As a teen, you can do both transcription and captioning with this company from the age of 14. You must be fast and accurate at typing and you will be paid by PayPal, Payoneer, or even Western Union. Positions are open to all no matter where you are located.
12. Data Entry
Data entry usually involves typing large amounts of data swiftly and accurately into a system or database. If you have the time and are super quick at typing why not make some extra cash by inputting data. All you need is a pc or laptop and high-speed internet.
MegaTypers has no age restriction so feel free to join where you'll provide data entry services and more.
Scribe offers translation, transcription, and data entry services. It provides monthly income that will cover your expenses.
13. Sell Merch Online
If you have a talent for creating stunning graphics or catchy slogans then you can add them to print on demand products like T-Shirts, Hoodies, Stickers, Mugs, and sell the merchandise online without too much work.
Sites like Redbubble, TeePublic, and many other print-on-demand companies handle all the product supply and worldwide distribution for you, and you just create and upload the designs and earn a commission.
The more designs you create using the right keywords to attract an audience the more items you will sell and it's great hearing that chi-ching sound on your phone when a sale is made.
14. Flip Goods
A very exciting online job for teens is to buy and flip goods. Buy goods that are trendy at reasonable prices and resell them at an even higher price.
Be careful however not to overprice each item to encourage a quick resale. You can do this on your social media accounts like Facebook Marketplace and Instagram.
15. Sell on Etsy
If you are the type of teenager who has a creative streak and loves to make unique things then making money on the Etsy crafting platform is the ideal opportunity. Some of the crafts you create can be completely digital too. Need ideas for things to sell on Etsy? Read this guide.
Final Thoughts on Jobs for Teens Online
So, this is it! Ensure to keep your parents in the loop as you work towards financial independence. As you work, you'll learn the importance of hard work and value every dollar you make. Take Care.
Related Posts