Amongst all the things you love about college, raising tuition fees and high-interest student loans definitely isn't one of them. So what do you need to do to find the best remote jobs for college students and earn good money?
In the past college students had the opportunity to offset these costs through part-time on-campus and summer jobs.
Unfortunately, however, with many colleges now operating remotely through distance learning and the different protocols guiding how businesses function, the chances of college students obtaining either type of job has been significantly reduced.
This post may contain affiliate links. For more information read full disclosure.
According to Forbes, there lies an uncertain future ahead for many students but generation resilient are finding great online workarounds.
Thankfully however in as much as our new norm has taken away, it has also given.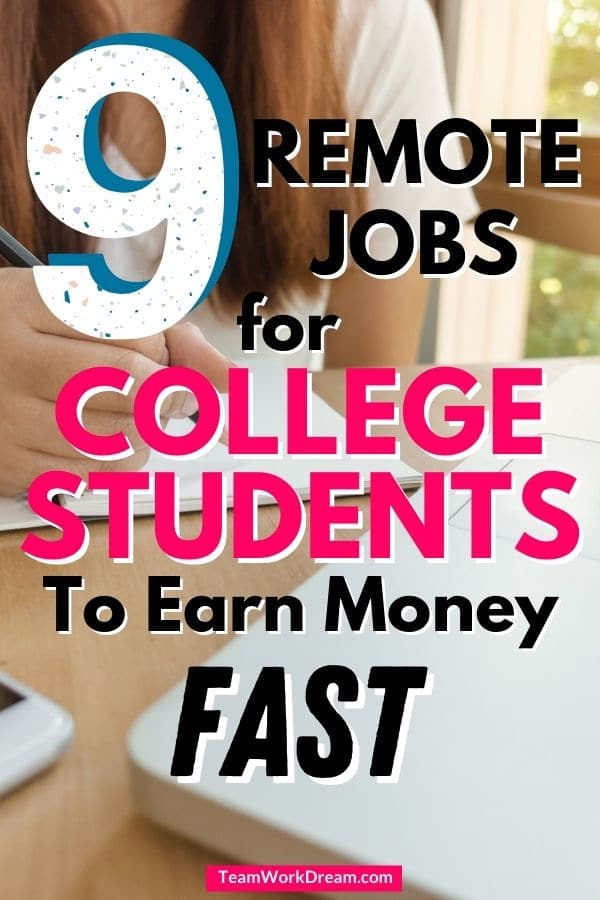 With companies increasingly transitioning to remote operations, the likelihood that a college student can now obtain a reasonably paid job online has significantly increased. Here are just a few of the many remote jobs available to college students right now.
Can a College Student Work from their Dorm or Bedroom?
With the convenience of online work and if you are a boarding student you can choose to work in your spare time in your dorm room, if you live in shared housing then you can work from your bedroom and if you are based at home with all your creature comforts then again you can work from home where you feel the most comfortable.
With that being said if you have the necessary skills or willing to learn what kind of jobs can you do from these typical college locations?
You can find top-paying part-time and full-time remote jobs on FlexJobs. Just sign up to find legit online jobs and other work at home positions.
Online Tutor
If you are doing pretty good in school, one of the easiest ways to earn an income is to share your knowledge with your fellow peers through paid tutoring.
As a tutor you'll have the ability to aid a classmate in need, while still being able to make an income from it, a definite win-win situation.
But don't think your prospective students for tutoring has to stop with just your peers. If you're up to the job, you could even widen your tutor subject offerings to include subjects for kids and teens, making you double the money.
You can apply to work for companies like Tutor.com, Wyzant
>>If you want more information on how to become an online tutor you can read this post.

If you want other quick-paying opportunities you can even earn some extra cash from your study notes with Stuvia.
Transcriber
Another quick online option that you might not have thought about is doing transcription where you simply type up audio and video content for others.
If you can type quickly, have a flexible schedule you could be on your way to making some cash on the side.
Believe it or not, being a student is to your advantage as more senior students doing their Masters and PhDs tend to require their recorded research interviews to be transcribed. This is one of the easiest entry-level remote jobs you can do.
You don't necessarily need experience, all you need is accurate and fast typing speed and if you are studying a certain subject then it will make you familiar with certain terminology.
>>For more information about where to find remote transcription jobs, you can read this super useful post.
Freelance Writer
The ability to write high-quality content is one skill that won't be going out of style any time soon.
With more companies now dependent on virtual avenues to reach their audience, having websites, social media pages, and even email with copy that connects is of great importance.
If you possess strong writing skills then you should be happy to know that you are currently in possession of a 'goldmine' that many people would pay good money for.
If you can write within a special niche you can earn even more. Rates can start from the low end of between $20-50 for a 1000 word article and the higher end of $150-300.
So why not use this to your advantage?
>>If you need some extra help take a look at this useful in-depth guide on how to become a freelance writer.
Blogger
Next to freelance writing gigs, starting a self-hosted blog of your own is another way that college students with an interest in writing can make some extra cash.
Unlike with freelance writing gigs however, making money as a Blogger may take some time at first especially if you are new to blogging, but don't allow this to deter you.
For most Bloggers the minute they start making money through their blogs, it doesn't just rain, it pours.
In fact, many well-known bloggers often report quitting their full-time job and using blogging as their primary source of income within 12 -18 months of having their blog sites monetized.
YouTuber
As a member of Generation Z most college students today are what I like to call digital nomads.
Born in a generation of technological advancements, Gen Z babies seem to exist in the womb knowing how to use smartphones and tablets, not to mention how to navigate websites and apps.
That said, it should come as no surprise that one of the best remote jobs for college students is that of a YouTuber.
As a YouTuber, students can identify their niche, craft a channel that aligns with this niche, produce high-quality video content then sit back, relax and watch as both their platform and income grow.
Use your wonderful personality, share great information and use your videography and editing skills to make money online through ads and affiliate marketing.
You could even create your own product such as an ebook or your consulting and coaching services and sell it through your channel. and if you're an introvert you don't even have to show your face.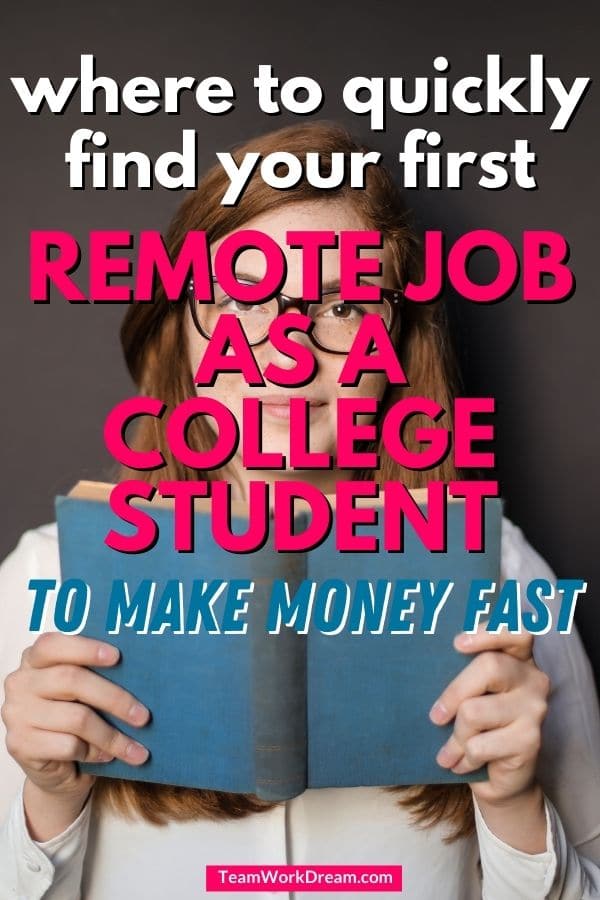 Freelance Graphic Designer
In a world where everything is now digital, the ability to produce eye-catching graphics will definitely set you and your online business a cut above the rest.
Out of this new fascination with all things graphics, has emerged a very lucrative business idea for capable college student graphic designers.
Why?
You don't need to be a master in Adobe Photoshop or Illustrator to get started.
Your familiarity with graphic designing tools such as Canva and PicMonkey will go a long way in kickstarting your graphic designing career.
The demand for printables, infographics, logos, social media banners, and other graphic designs is an excellent way to make money online.
You can start to offer online and offline graphic design freelance gigs that can have you receiving payments direct to your PayPal account and also easily work with your class schedule.
With all your knowledge and graphic design skills do not hide your talents, make sure to share your design portfolio through the various social media marketing platforms.
Freelance Social Media Manager
If you're a college student, chances are you spend much of your days with your eyes glued to your phone, jumping from social media app to app.
Despite what your parents might have told you, being this attached to social media isn't all bad though, especially if you're prepared to do what it takes to generate income from these platforms.
No one understands social media platforms quite like college students and because of this many business owners would be more than happy to hire you as their Social Media Manager.
If you already know the ins and outs of social media apps like Facebook, LinkedIn, Instagram, Twitter and can offer great services to clients then this might just be the perfect remote job for you.
There are also various types of positions within social media that you can do such as social media design, social media marketer, social media analyst, social media manager. Choose whichever one you are most comfortable with to start earning a full-time income while only working limited hours with this freelance side gig
Think of it this way, if you're going to give most of your free hours to social media anyway, why not do something that's going to at least allow you to find clients easily and earn substantially from it.
>>You can find out more details about becoming a social media manager here.
Virtual Assistant
If you are multi-skilled and have the time you can offer your services as a virtual assistant.
As remote work becomes more and more popular the need for virtual assistants has become quite necessary for both small businesses and large companies.
You can do this job part-time so if you have excellent communication skills, and can carry out tasks such as online data entry, offer customer support, provide email management, content writing, take care of social media accounts, and have knowledge of different online platforms then doing a VA side gig is a great way to earn extra money if you have a flexible college schedule.
>>Want more information about becoming a part-time virtual assistant then check out this post?
Learn more about the #FullyBookedVA by trying out the mini-course guide before diving right in.
Proofreader/Editor
While it's great being able to pursue different kinds of remote jobs and earn from them, at the end of the day it would also be pretty cool if your job was teaching you something that you could actually apply within your course of study.
And this is exactly what a job as a Proofreader/Editor affords you.
With all the time you'll be spending checking for grammatical errors and editing other people's work, you're bound to learn a thing or two about language considerations when writing.
This knowledge will then help you to do better when crafting content for your own college assignments, and of course, plus you can't ignore how much your earnings will improve while doing something that has long-term benefits.
As a student, you can sign up to companies such as proofreadingservices.com for proofreading and editing work depending on your experience and expertise.
If you have ever considered taking up general or legal proofreading you can find out a lot more by taking part in this free workshop.
Final Thoughts On Best Remote Jobs For College Students
In as many ways as our new norm has taken away from us, it has also given back to us tenfold.
Though finding part-time jobs on campus and summer jobs have at least for now become a thing of the past, the need to earn a paycheck to pay off tuition fees and student loan debts has not.
Remote jobs are the perfect solution for college students looking to earn some extra funds while enjoying the flexibility of setting their own schedules and naming their price.
If you found this post helpful or know someone who may be interested in, the best remote jobs available for college students, be sure to share it with them.
Related Posts