If there is one thing that every business needs whether online or otherwise in order to thrive, it's administrative support.
Running a business and performing all the different administrative tasks it requires to succeed can be a very heavy load for a business owner to carry all on their own. As a result, to ease this burden, many business owners hire employees to help diversify their workloads.
The Catch?
This post may contain affiliate links. For more information read full disclosure.
While employees can be a great help to the success of your business, hiring employees to work in an office tends to come along with tons of overhead costs.
Office Space Costs
Staff Taxes
Staff Insurance
Staff Training
Overall Operational Costs
Not forgetting having to handle the office drama that occurs around the coffee machine or water cooler.
Expenses which if your business is just starting out, you really don't have the capital to incur. This is reflected in the projected research done by the US Bureau of Labor Statistics that the jobs of administrative staff will drop by around 5% by 2026.
Luckily, this is where having a Virtual Assistant comes in handy. You can avoid all the unnecessary overhead expenses by outsourcing a variety of tasks to a VA giving you more time to promote your product, market your business, increase your productivity and achieve your business goals.
Related Posts for Virtual Assistants
You can find top-paying virtual assistant jobs on FlexJobs. Just sign up to find legit VA jobs and other work at home positions.
Who is a Virtual Assistant?
A Virtual Assistant or VA for short, is someone who is paid to provide administrative support to businesses from a remote location of choice.
Virtual Assistants offer a host of in-demand services to small business owners and entrepreneurs, including Email Management, Social Media Management, Content Creation, Graphic Design, and Customer Support.
But don't just take my word for it.
Here to tell us all about Virtual Assistants, who they are, what they do and how you can start your very own service-based Virtual Assistant business, is Virtual Assistant and business owner, Gina Horkey, founder of the HorkeyHandbook website.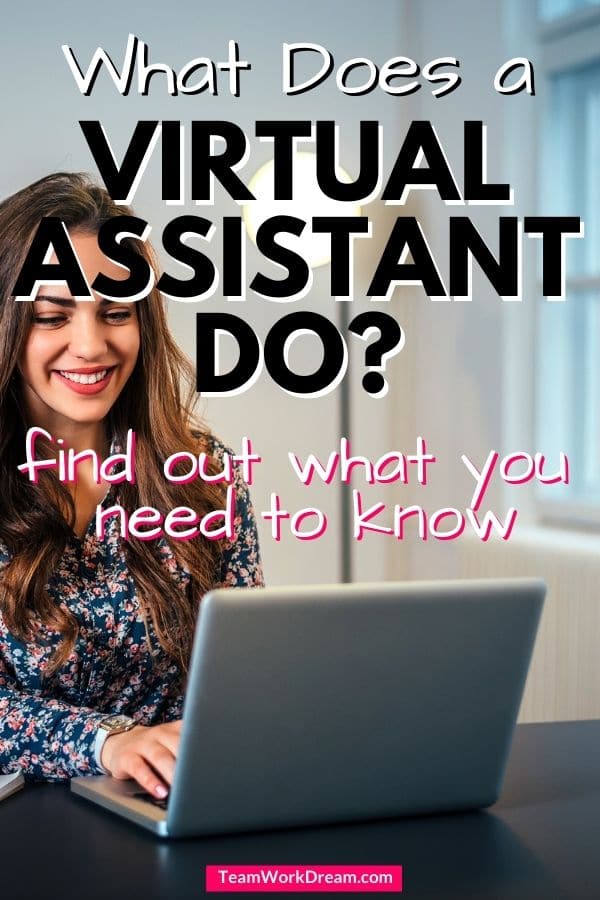 Role of a Virtual Assistant Interview with Gina Horkey
Can you give us a little background about yourself and how you got started as a Virtual Assistant?
Hi, I'm Gina, a mother of 3 from the state of Minnesota.
As the sole breadwinner of my family, in the fall of 2014, I began offering Virtual Assistant services on the side of my full-time job as a way to stabilize my income and make it more predictable.
After landing my first VA client I made the decision to put in my notice and quit my day job and I haven't looked back since!
Wow, that's interesting! So, what exactly does a Virtual Assistant do?
A Virtual Assistant is really just anyone that offers services virtually as a contractor or as a self-employed individual to clients.
Services offered by a VA generally range from Bookkeeping to Content Creation or even Email and Social Media Management.
What kind of person would you say is a perfect fit for VA work?
Excellent question! What I hear from clients over and over is that they're looking for someone who's:
Communicative
Organized
A self-starter
And reliable
Potential clients are looking for someone with great time management skills who is able to take on a range of responsibilities such as appointment setting, handling phone calls, writing blog posts, social media posts, and even take on the more mundane tasks such as data entry and electronic filing.
So, while prospective clients are looking for people that can provide select services, they're mainly looking for the above. Simply put, as long as you're trainable, you've got a shot!
Sounds great! Having worked as a Virtual Assistant for close to 7 years now, what part of the job do you enjoy most?
Ha-ha! My list is pretty long!
But if I had to choose, I'd say:
The flexibility to work from anywhere on my own schedule (i.e., you don't have to keep banker's hours in most cases when working with clients)
And the unlimited income potential. (you choose how much to charge and can raise your rates as you gain more experience)
And now for the million dollar question I'm sure my readers have been dying for me to ask, how much money can one earn as a VA?
Well, from the little research in existence, I know that the average North American Virtual Assistant earns between $25-40 per hour.
Though your earnings will depend on your experience, skill-set and areas of expertise. I.e., The more specialized your services and the more experience you have, is the more you can charge. You can set your own special rates.
In fact, I've seen people in our community charge as little as $15 per hour and others, myself included, earning more than $100 per hour.
Ultimately your hourly rate earnings will come down to how good you are at what you do and your ability to find clients that value what you're offering them.
Is there any course you would recommend someone that wants to start their own Virtual Assistant Business to take?
Well, I'd be honored if you'd consider taking my #FullyBookedVA course.
What this course is, is an all-in-one system that literally walks members through starting their new business, building a full client roster, and scaling their income through specialization.
It's perfect for newbies, but existing VAs have joined and moved their business to the next level as a result too.
If you want to learn more about the #FullyBookedVA why not try out the mini-course before diving right in.
Our VA Foundations courses cover everything from:
What services to offer and who to offer them to
How much to charge and where to find clients
How to effectively pitch clients, interview and onboard them
All things invoicing and contracts (including templates)
Working effectively with clients and efficiently in your business
What simple tools to use to make you more productive
In addition to that, you also gain access to:
VA certification
Weekly office hours, access to our team and your peers
Proprietary and non-proprietary client leads
5 skills courses to dip your toe into specialization
5 specialization tracks to help you achieve expert stats and command top-tier rates
Let's say someone takes your #FullyBookedVA course, how then can they find VA Clients?
We cover almost a dozen prospecting methods in our VA Foundations course, which is the first step for folks that join our #FullyBookedVA System.
Outside of that, we actually share a ton of high-quality client leads with our community.
As well as, we share the jobs that small business owners come to us looking to hire for and regularly round up the best of the best remote and freelancing gigs out there and share those with our students.
So there are a ton of options for newly qualified VAs to find full-time virtual assistant
Gina, before you go, what advice would you give to someone who wanted to become a successful Virtual Assistant?
You'll never know what you're capable of if you never try.
Don't think about what the worst-case scenario could be – instead think about what's the BEST POSSIBLE OUTCOME that can come from trying something new.
I do hope that you enjoyed this interview with Gina. If her story has inspired you to light your own service-based Virtual Assistant path feel free to sign up to her Virtual Assistant course right here.
It's a great opportunity to learn a ton of skills all in one place using her step-by-step system.
You get to learn at your own pace using the latest techniques and learn the most in-demand VA skills such as social media, email management, project management, real estate assistant, freelance writing, how to start your own VA agency, how to pitch, and a whole lot more.
All these courses used to be available as stand-alone training courses which added up to quite a costly amount.
Now, you don't have to worry about that as you can easily access them all in a much less expensive monthly subscription, allowing you to budget your time and your money wisely towards successfully working for yourself.
If you want to learn more about the #FullyBooked VA why not try out the mini-course before diving right in.
Final Thoughts on the role of a Virtual Assistant
As the way we work continues to change, with more businesses choosing to operate remotely, the demand for Virtual Assistants and the vital services they provide continues to grow.
If the need for constant administrative support for businesses is any indication, it's clear that Virtual Assistant positions won't be going anywhere anytime soon.
If you've been looking for the right remote job to kickstart your online business, providing Virtual Assistant services is an excellent place to start.
Once you have the right equipment, willing to take up the challenges of starting your very own online personal assistant business you can learn everything you need to know by taking the #FullyBookedVA course.
Promote your business on social platforms like LinkedIn and Facebook and start to work hours on your own terms and receive payments straight to your account all without having to leave your home.
If you found this post helpful or have friends and family who are curious about working from home as a Virtual Assistant don't forget to share it with them.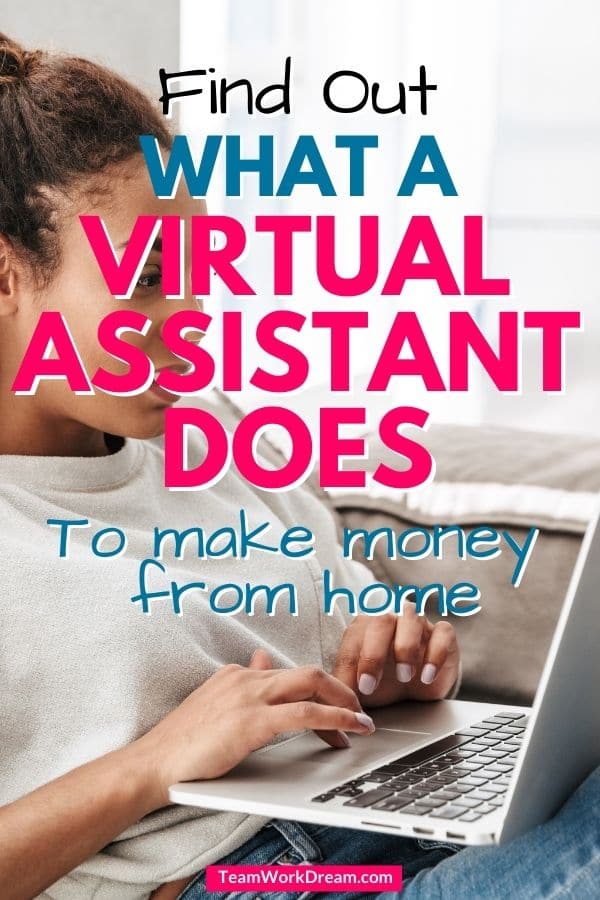 Related Virtual Assistant Posts