The future of work is remote and we are definitely here for it.
Thanks to recent technological advancements and the advent of globalization, your physical location no longer has to determine where you work. With more companies giving the option to telecommute, finally, you can live the life you've always wanted.
Whether it's making an income as a stay-at-home mom, or being able to reside in your country of choice while working with companies all over the globe, remote jobs offer you the flexibility you need to take control of your life.
This post may contain affiliate links. For more information read full disclosure.
Ready to finally make the transition to remote work? Here are the 20 best sites to find them: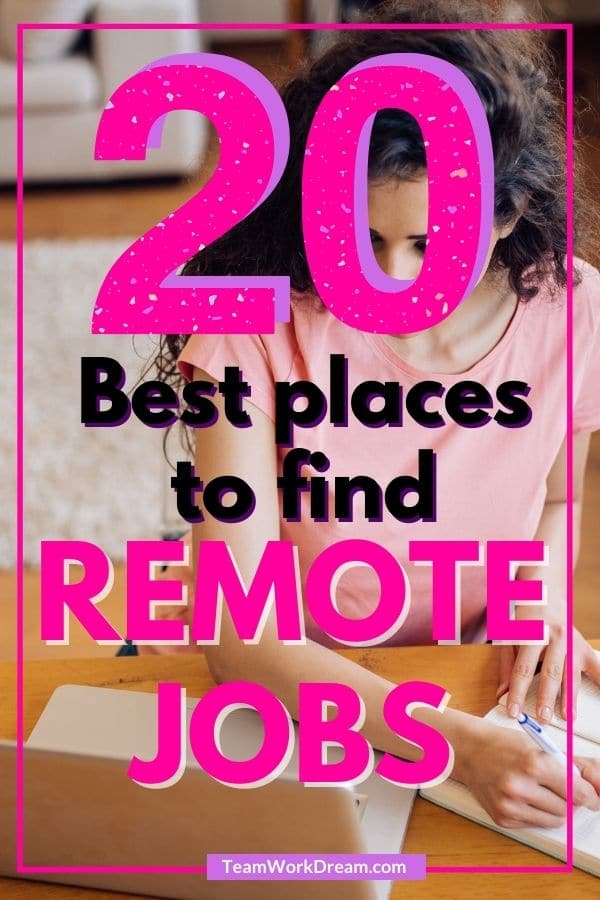 Best Sites To Find Remote Jobs
Ranked as the #1 Jobsite to find remote, work from home, and flexible job opportunities, FlexJobs offers an array of job prospects from reputable companies ranging from entry-level to top executive positions.
If you're looking forward to a hassle-free job search devoid of companies that scam, I highly recommend paying for a FlexJobs membership.
Not only do they weed out the good from the bad so you don't have to, they also make sure that there are helpful guides for you to find the ideal remote job every step of the way.
Solidgigs as their name suggests goes above and beyond to ensure that their freelance members are continuously booked and busy by providing consistent and screened 'solid gigs'.
Solidgigs is committed to doing the hard work for you by scouring the best freelance job boards and sending you the top 1% job listings right to your inbox.
Committed to creating a job platform best suited for job seekers and recruiters alike, JustRemote works hard to make your remote job search a breeze.
With handy features such as location filters and job boards that clearly highlight work schedule requirements and location limitations.
If you're fed up with the typical 9-5 routine and looking for jobs that are less contractual and more freelance, then the Fiverr freelance marketplace is just the place to be. Here you can find some of the best entry level remote jobs.
Not up to the agony of job searching? No worries let those jobs come to you.
Simply optimize your freelancer profile, create a gig describing the service(s) you offer, name your price, do some promotion on your social media platforms, then wait for customers to come find you.
You can find top-paying part-time and full-time remote jobs on FlexJobs. Just sign up to find legit online jobs and other work at home positions.
A job seeker favourite when starting with or without any experience as far as remote job listings go, Upwork is best known for connecting independent professionals with medium to long term job opportunities.
With a free membership option, Upwork is best suited for remote job seekers looking to test the water without committing to any job site membership fees.
A perfect work at home option for stay at home moms and also one of the best places to find remote jobs for college students.
Putting a different spin on the way remote job listings are shared, Freelancer.com, allows businesses to post job requests that freelancers can respond to by placing bids.
Though not the easiest platform to secure your first remote job on, Freelancer.com offers a free membership option, to help you decide if this site is right for you.
But a word of caution, do not give out your personal details on these type of freelancing platforms as although you can find genuine jobs there are unscrupulous persons placing job listings too.
Check out the 10 Step Guide on How to Avoid Job Scams
A perfect free alternative to FlexJobs, We Work Remotely is known for providing quality job listings particularly for remote job seekers within the fields of customer service, web design, and programming.
You can find more remote tech jobs in this post.
Even whilst working remotely, job security remains a job seeker's top priority and no remote job site understands this fact better than Outsourcely.
Created specifically to garner full-time job status for freelancers, Outsourcely endeavors to craft meaningful and long term work relationships between freelancers and employers.
Best known for providing handpicked and carefully reviewed job listings, Jobspresso is an easy-to-use remote job site perfect for individuals looking for jobs in tech, marketing, or customer support.
Like Jobspresso, Remote.co is another free remote job site that offers carefully curated job listings.
Unique to Remote.Co, however, is its time-stamped job listings that are conveniently categorized by position type, location, and work schedule.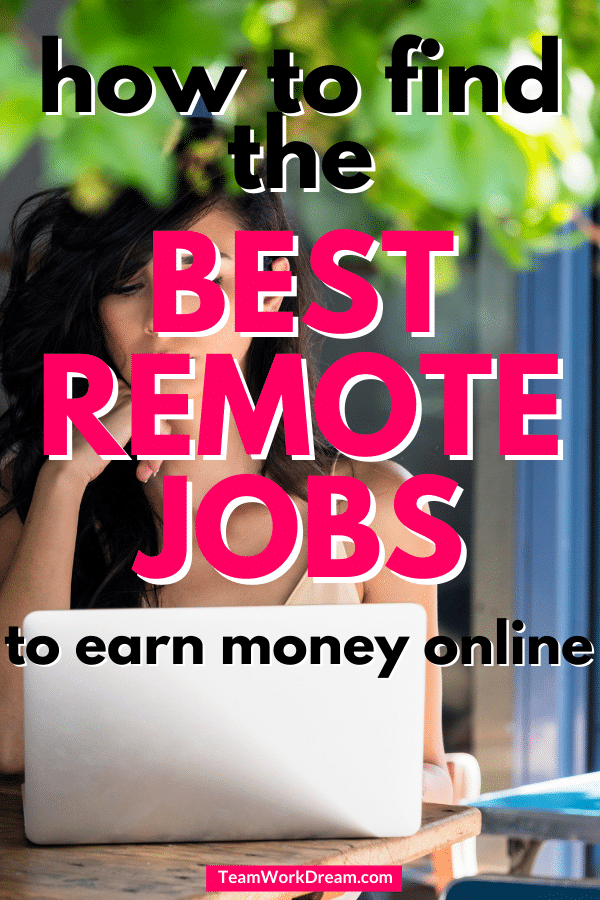 A job board that copywriters and content writers can call home, Problogger is a remote job site that caters to beginner, intermediate and experienced writers looking for full-time, freelance, or contract job opportunities. So if you are looking to break into freelance writing remotely then try ProBlogger as a first choice.
If you're already pretty well established in your career field and looking for a platform to expand your business by providing freelance services, Cloudpeeps is a good place to start.
This is a remote job platform that allows clients to recruit top-tier freelancers or 'peeps' as they're known to carry out various jobs such as content, design, web development, PR, admin, SEO and other work that can be done remotely.
It must be noted that only certain eligible operating countries can apply to Cloudpeeps as the supported system used is Stripe payment (make sure to check the country list).
If the word "creative" best describes you then Coworks is definitely your scene. This platform provides over 2000 freelance jobs for creative job seekers such as web designers, graphic designers, illustrators, and more.
Widely known for its detailed filter system, Skip The Drive as the name suggests focuses on available remote positions. This site saves freelancers time by providing categorized remote job listings with the option to add or subtract variables such as date, relevance, full-time, part-time, and location.
Transcribe Me is a work hub specifically geared towards job seekers interested, in transcription, translation, and data annotation.
If interested, simply log in to the Transcribe Me platform using the Google Chrome browser. Once you are accepted, you can review the available jobs, select an audio file of your choosing, transcribe it and submit it through the hub.
One of the best job boards available for remote job seekers is Dynamite Jobs.
Not only do they add over 100 plus quality remote jobs weekly to their board but they ensure that each job listed on their website is 100% remote, available, and paid.
Dynamite Jobs also gives you the benefit of finding the right job for you by allowing you to customize your job search with their on-site filters.
Indeed is probably one of the largest job boards you might ever come across.
This website gathers jobs from almost anywhere on the internet then conveniently categorizes them to better help job seekers looking for job specific remote roles within their area of profession.
Scribie like Transcribe Me is another transcription company that provides jobs to remote transcribers.
With minimum requirements to get started the Scribie platform welcomes transcriptionists at all levels from beginner right up to experienced.
Similar to Problogger, Contena offers a home to content creators, by providing the best writing and editing focused remote jobs.
One thing that stands out about Contena is that it not only offers remote freelance work but also remote full-time jobs.
Determined to make life easier for the remote job seeker, Remote Jobs Club delivers hand curated remote jobs bi-weekly right to your email.
Final Thoughts On The Best Places To Find Remote Jobs
Whether you're a 9-5er looking to transition to remote work, a freelancer looking to widen your job prospects, or somewhere in between both, looking for side hustle opportunities, there is a remote job that is perfect for you.
Use this list of 20 places to find the best remote jobs, to secure a remote job that best suits you and gain the financial freedom you've always dreamed off.
If you found this post helpful or know someone who may be interested in where to find the best remote jobs, be sure to share it with them.
Relevant Posts on the Best Remote Jobs