The demand for social media managers is on a constant upward trend as more brands try to reach a wider and bigger audience. This is where you can take advantage and learn the skills to become a work at home social media manager.
Every small, medium size and large company needs a social media manager to reap the benefits of all the social media channels to grow their business. The social landscape requires constant managing, monitoring, and measuring to drive positive results.
This post may contain affiliate links. For more information read full disclosure.
Wouldn't it be great if you could offer a service that can capitalize on this growth business without even having to leave your home? But before you can choose this social media career you need to already possess or develop the skills to become a lucrative social media manager.
You need to be creative, be able to analyze data well and have knowledge of social media trends. Here's how to become a successful social media manager.
What Does a Social Media Manager Do?
So let's go into exactly what a social media manager does. A social media manager is someone who manages social media accounts like Facebook, Instagram, Twitter, YouTube and even Pinterest for an organization.
The main duties are to grow and maintain engagement by posting content that resonates with readers and watchers on different social media pages, analyzing metrics and optimizing social media strategies.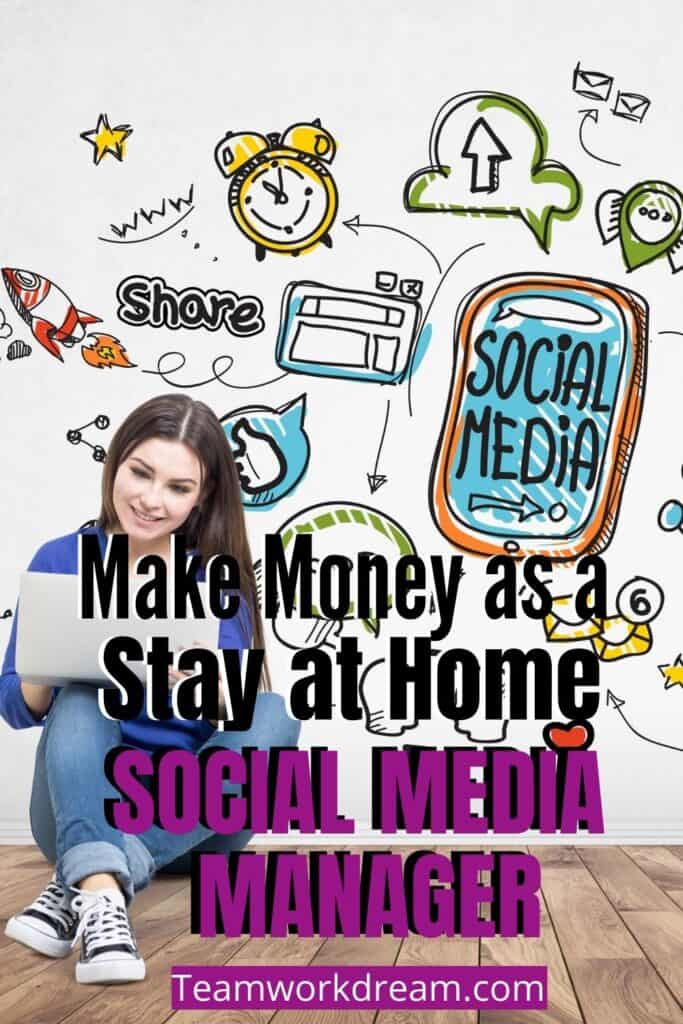 First Steps to Becoming a Work at Home Social Media Manager
One of the first ways to test your virtual social media skills is by developing your own audience. You already use Facebook, put up tons of pictures on Instagram with trending hashtags, pin lots of content to Pinterest and you might even have started to vlog on YouTube and respond to your readers and viewer comments.
Just doing these basic things means that you' are actually already on your way to being a stay at home social media manager.
Learn all these aspects of social media by creating and practicing on your own social media profile. You can create accounts on all the major social platforms and become familiar with strategies before implementing them on your client's accounts.
This is the first your step and once you become well-versed in handling your own social accounts you can then move a step further by taking an easy to follow social media manager course for you to start signing up clients.
Common Social Media Tasks
The most common tasks that you're expected to do as a social media manager is being able to cover your client's in customer service by doing some of the following:
Acting as a social media moderator and answering queries
Sourcing, collating and scheduling social media posts
Designing social media posts
Develop social media campaigns, doing A/B testing of ads, and being able to
Analyze social media results and produce reports.
One of the great things about being a social media manager is that you can easily do it on the go by just having your smartphone.
As long as you have access to your clients accounts you can quickly update and schedule posts. You can literally get paid for adding a thumbs up on a comment.
If you're looking for flexible work from home jobs FlexJobs can help you find legit remote jobs. Sign up now to join FlexJobs.
Do You Need a Degree to Become a Social Media Manager?
According to some information available, a lot of social media jobs that are advertised require you to have a degree and some amount of experience. A background in internet marketing, communications and even journalism are just some of the degrees that are stated for you to become a social media manager.
But is a degree really necessary? Not really. Some of the most popular social media experts do not have any formal training but are great copywriters and they are very successful.
They learned to do social media on the job through trial and error for their own audience and now share with others on what to do to grow an audience with engaging content.
How to Set Your Rates
Do you know how much to charge for your social media services? Before you sell yourself short make sure to find out what your competitors are charging to determine whether to charge more or less than their rate.
It is also wise to make it easy for customers to pay you by doing offering social media packages and recurring billing.
Make sure your proposals are simple, well-written and of high quality. Your presentation must look good and be easy to understand and show how you will be able to solve the client's social media issues. This increases the chances of getting and the right job and the right client.
How Much Can You Earn as a Social Media Manager?
If you want to work for a company or agency you can expect to earn at least $42,000 per year as a beginner. The average according to Payscale is $50,952.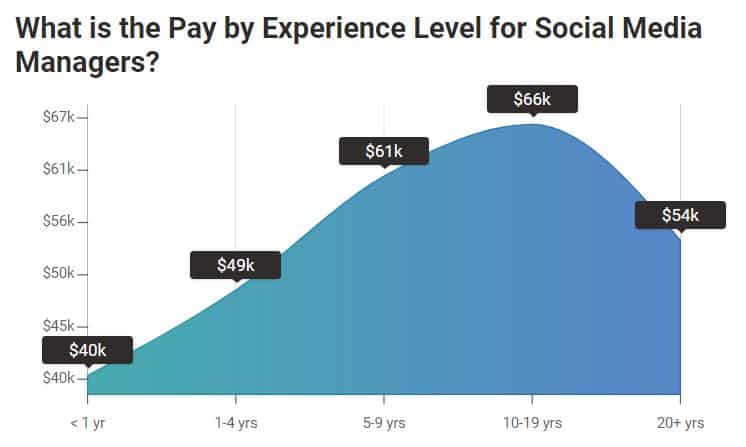 As with the anything, the more experience you gain the more you will earn. If you want to do this as a social media freelancer it will depend on what you offer in your social media manager package which you can vary in whatever areas you specialize in.
To break it down into an hourly rate you could start to earn as a complete newbie $17 per hour. But on average social media managers can earn between $25 to $35 per hour because they are in such high demand.
Where Can You Find Remote Social Media Jobs?
If you want to find a social media job from home and you have no experience, other than the normal job boards of Indeed, Glassdoor etc there are always entrepreneurs looking for help with their social media accounts on freelancing sites like Fiver and Upwork and within Facebook Groups.
If you want to get the best rates some of the best places to look for possible clients are niche Facebook Groups.
For instance, let's say you have experience in a certain field such as dentistry. You would be familiar with certain terminology making it easier for you to offer your social media services and help grow a dentistry business.
Many businesses need social media managers to assess and help promote their business using the various social media platforms. So decide on what niche you want to focus on whether pets, crafts, parenting and join those type of Facebook groups.
The list is endless just think about what you have experience in and what you are passionate about.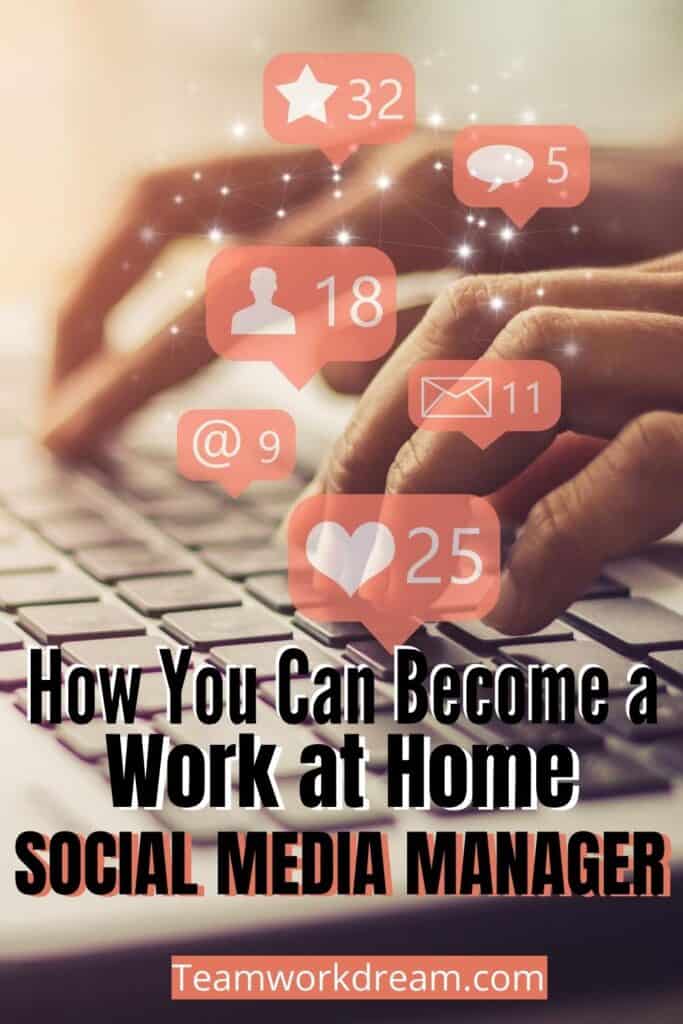 What Are the Key Skills Needed as a Social Media Manager?
There are some important factors that you need to know when wanting to become a work at home social media manager but you will learn this in any course you take. Below are some of the basics skills that you will need to have to set up your stay at home social media business the right way.
Set Realistic Goals for Yourself and Your Client
Your goals and objectives should connect with your results. The key is to identify the social media challenges facing the client when setting goals.
Some of the challenges that clients face include weak brand awareness, poor visitor traffic, bad reputation, not retaining enough customers, and slow sales. Having clear realistic goals can turn out better for you and your client.
Know the Target Audience
As a social media manager, you will need to learn who your client's target audience is. You will do this by communicating with readers as a moderator on behalf of your client. Knowing the target customer, you can use their data to laser target the message to make sure the content is appealing to them.
Create a Solid Social Media Content Strategy
Your posts must be creative, attractive, on-brand, and capture the attention of the audience. Create snappy and informative content for the various social media platforms so your copywriting skills must of a good standard.
Don't panic, follow other well-known copywriters and social media managers and creators. Check out their style for inspiration and guidance and if you need more help it's best to take an easy to learn social media course.
Another important aspect to consider when creating content is to tailor each of the platforms you are using to build awareness and increase conversions.
Think about what makes the client unique, the interests of the target customers, and what the brand can offer to people who are not in the market.
Build a Conversion Strategy
The heading sounds complicated if you are new to social media management but all it really means is that you should be able to listen and engage with your audiences as a social media manager. You can learn more about this right here.
Building a converting marketing plan is what your client will most require. Following up with the audience is also another crucial step to converting leads into loyal customers. You should always aim to have a call to action to attract customers to buy and engage with the brand.
Focus on Visual Branding
As a social media manager, you should create and implement a captivating visual strategy. Visual content has a high impact on user engagement and social media outreach. You can add infographics, videos, and high-quality images in the content to best represent the brand products.
If design skills is not your strong point there are workarounds. You can create great looking social media designs using a variety of templates from apps like PicMonkey, Canva, Crello or Snappa.
Free access is available to a whole range of design templates and photos but the Pro versions are best as they offer a larger selection of design features . All you have to do is add your own little bit of flair and client branding.
Using unique and Royalty Free images from various sites like Creative Market and Deposit Photos along with the free ones like Pexels and Unsplash can also help with client engagement.
Manage Your Time
Having good time management when handling multiple clients is essential as an at home social media manager. In the early stages managing social media can take a lot of time.
You need to constantly be on social media to monitor and engage with the audience when necessary. But it does become easier as you become familiar with all the tasks.
There are ways to simplify, automate and schedule to make your work easier. Use scheduling tools like Buffer, Hootsuite, Meet Edgar, SmarterQueue, Lately and there are many others to automate sending out client posts.
Use a social media calendar to help send out the right kind of content and as mentioned earlier use and create your own templates to make designing social media content simpler. All this will help you to stay organized and save tons of time.
Advance in Digital Marketing Skills
A prospective client will tell the difference between good and bad social media. A social media manager needs advanced skills to optimize your social media pages. So sharpen your skills by learning all you can.
Some of these advanced techniques include custom Facebook apps, optimizing YouTube videos with tags, titles, and product descriptions, hashtag marketing knowledge, and email capture forms.
All these things can be learned online from the comfort of your home and it doesn't have to be expensive. You can find out more here.
Evaluate Performance and Results
For you to know if your social media management efforts are taking the right direction, you need to analyze your data. You need to determine the posts that perform better than others, the reason why they stand out, and how you can maintain the results and optimize on those that perform least.
This is where your analytical skills come into play. You can learn how to do this with the right course and also through constant use of the social media platforms.
Final Thoughts on Working from Home as a Social Media Manager
Now that you know all the necessary skills to have and the tasks that need to be undertaken to become a work at home social media manager you now need to implement all that you have learned and start to make a full-time income online.
Start by offering a top of the line social media service, setting competitive rates and solving potential clients audience engagement.
Related Posts
How to Become a Virtual Assistant as a Newbie
Make Money as at Home Pinterest VA
How to Become a Well Paid Freelance Writer
Top Non Phone Jobs Hiring Right Now