Slick Money Saving Ideas for Christmas Purchases
With the Christmas holiday fast approaching, you need to have a serious savings plan in place that will help you save money on travel, groceries, shopping and much more. Wouldn't it be great to find out the best money-saving apps to use before the holiday season?
Over the last few years, the phenomena has been to use apps to check out offers and deals first and the US is the highest user when it comes to using apps in the retail space.
Retailers everywhere are setting up easy to use platforms to show you all that is available online and in-store but the trick is not to go crazy and start spending but to use the apps to your advantage and start saving.
This post may contain affiliate links. For more information read full disclosure.
Christmas holiday requires you to purchase holiday gifts, plan on trips, prepare larger than normal family meals bake, book airfares to meet up with family and trust me, it all adds up.
While doing all of this within your busy schedule the last thing you want to do is rack up any more debt. so today I'm going to share with you some of the best money-saving apps you can use before Christmas.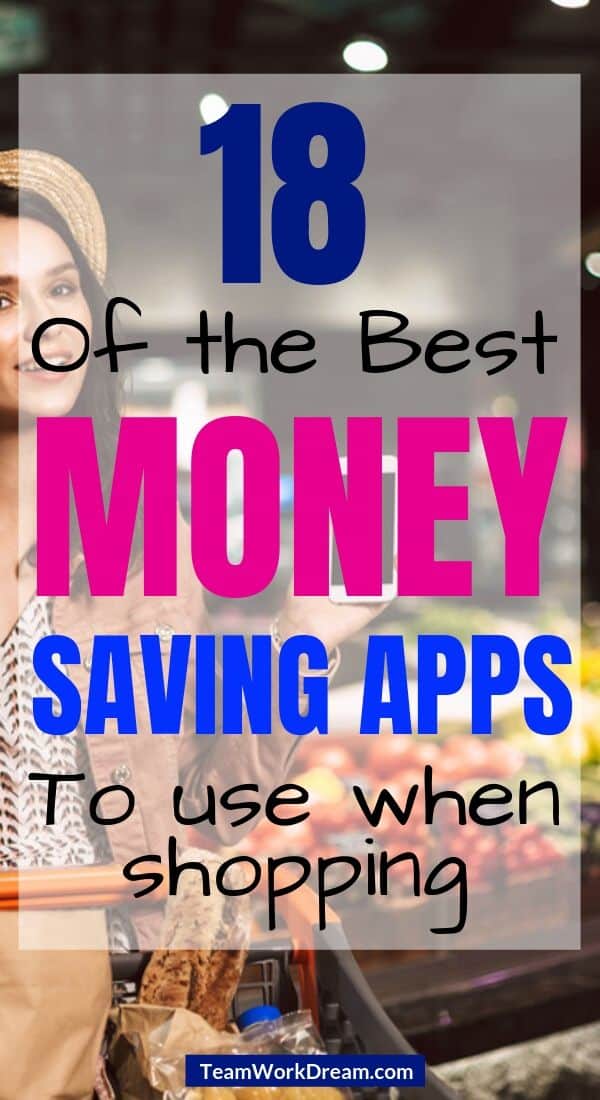 This is one of the best apps that allows you to easily save by shopping online for anything you purchase. You can combine Ebates with gift cards, coupon codes, reward accounts, and sales discounts.
All you have to do is sign up and log in to the Ebates app and search for the online store you want to shop at. A percentage of your purchase is rebated back to your account through PayPal or sent by check. Join up now to instantly get your $10 cash bonus.
Ibotta is a mobile app that gives you cashback for items you purchase at retailers, restaurants, and grocery stores. You scan barcodes and receipts to get credit after completing short tasks like reading a recipe.
If you shop online, this is a great app to save you money for Christmas. You sign up with Paribus and do your shopping normally such as ordering your favorite shoes. They then track your receipts for price drops to determine if you can get cashback. You get your money back once they identify savings.
It's important to budget and keep track of your spending. You can spend less on each purchase you make with the help of the RetailMeNot app. You can browse through your favorite stores and set up alerts that notify you when coupons are available. You can use redeem these coupons to help you save some cash.
Use Flipp to get digital weekly shopping deals and coupons. Get great savings from popular brands Create your shopping list and find out what deals are on offer to reduce your grocery bill.
>>>Need Sturdy Deluxe Collapsible and Reusable Shopping Box Bags for your car trunk? Get them from Amazon
The app allows you to see your accounts in one place including, savings accounts, and credit cards. It is easy to track your spending and predict into the future. If you want to save money for Christmas, it can show how much you need to save months ahead
Emma app aims to help you cancel needless subscriptions, avoid overdrafts, track debt and save money. You can get a full view of all your finances making it easier to identify where you need to save money.
ShopSavvy is a money-saving app that allows scanning of barcodes to compare prices. It displays prices associated with products that include online options like Best Buy, or Walmart when you scan an item. You can choose the items at the lowest price.
>>>Try out the QuikFlip range of hoodie backpacks available from Amazon and as seen on SharkTank when out and about doing small errands
Mint is a free personal finance app that can help you stay on top of your budget and save money in the process. The app will let you view all your bank account status, trace your spending, create budgets, and set savings goals. Mint will also remind you when bills are due so that you do not fall behind payment.
This app allows you to earn points known as kicks when you shop for the products you need. A wide range of retailers allow you to cash the kicks in for gift cards. You can get kicks in four ways: receipts, scans, linked card, and walk-ins. For instance, you can receive 25 kicks at the store entrance when the app detects your location.
Sign up now as a new user to qualify for 250 free kicks on Android or 250 free kicks on your iOS device.
You can purchase items online and earn cash backs in the form of gift cards. While shopping, you can extra points by watching videos and doing surveys. You can choose to redeem the points for gift cards or money.
Target Cartwheel app offers you affordable ways to stock up foods that are healthy in a mainstream box set. The app allows you to print coupons and save additional money on the rotating list of items every week.
>>>Don't forget to carry your insulated reusable grocery shopping bags to keep your cold items cool.
This app gives you money back for purchasing items that are on weekly offers. If an item you buy is on the list of specials offered during the week, you can scan your receipt and earn save some money.
Absolutely loving this one. Why? When buying organic goods you know the price is always a little more expensive. The BerryCart app which is solely for organic, gluten-free, non-GMO and natural products is perfect for this. You scan product coupons and deals and get the cash savings added to your account.
Another great app similar to Paribus. It's a way to get money back from purchases without you having to do anything.
Great money-saving tool to ease the difficulty of starting a budget and a rainy day fund. The Digit app analyzes your spending and then automatically saves the perfect amount for you every day.
This easy-to-use shopping app that helps you yo find local grocery shopping deals. Just write up your list in the app and it will easily find and compare the best prices near you and online.
By the way, in case you're wondering why there are reminders for you to get shopping bags, it's because many countries and States are now getting rid of the use of plastic bags to help the environment which is an absolutely great and helpful idea.
It's been introduced where I'm located and I have now gotten into the habit of always having a reusable shopping bag in the car and a nice neat foldable shopping bag in my handbag as it can get quite embarrassing when you pop into a store for just a few things and have no way of carrying your items.
So as an excellent double benefit of saving money with these shopping apps you can also help save the environment too.
>>>Be friendly to the environment, get your cute washable and foldable grocery bags from Amazon.
This app finds the best internet deals and coupons for you. Just add the Chrome extension and let Honey do the rest. It even compares and gets the lowest prices for you on Amazon.
Using any one or a combination of these money-saving apps will save you time scouring the internet, reach small saving targets, get excellent deals and avoid overspend whether in-store or online. These are great ways of using technology to become financially savvy.
You can use these apps all year round but a sweet bonus is collecting the rewards and using them to purchase gifts over the holiday season. A brilliant way to not put yourself in debt.
If I find out any more to add to this Best Money Saving Apps to Use list you'll be the first that I'll share it with. Some of these apps are country-specific so check if you have apps local to where you are and share them in the comments below.
Related Posts on Saving Money When Shopping