One of the best ways to stay motivated while working at home is to have the right working environment. The thing that can help with that is by having the right desk accessories for your home office and they don't have to be expensive.
You can find unique home office desk ideas that are fun, inspirational, adorable and just plain useful that will make working from home that much more bearable.
No more squeezing a boring old stress ball or using the same old paper clips. Now you can find trendy alternatives that will put a smile on your face and impress your friends and family that they will ask where you got them from.
This post may contain affiliate links. For more information read full disclosure.
With these wonderful work accessories, you might even give them ideas of what they can get you for future special occasions that you will truly love.
So with that being said here is my list of some of the most adorable and affordable desk accessories for your home office for under $50.
Yes, I'm also trying to keep your budget down while you dress up your home office.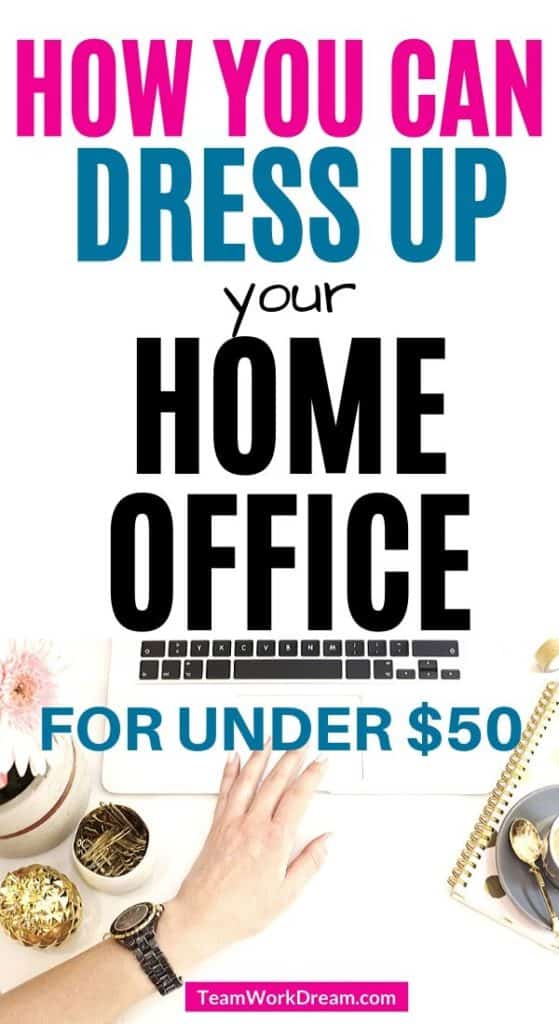 Fun Desk Accessories for a Home Office
If you've been having more and more online meetings now is the time to spruce up your background. No more kicking clutter under your desk or trying to find the tidiest place to video yourself from. Why not try out any one of these fancy backgrounds to really upgrade your zoom call. Best part is these are not only under $50 they are absolutely FREE.
Find out where to get the Best Boss Lady themed gift items for your at home office.
Need to jot down a quick note then this cute donkey will safely hold your written notes and messages. Available in 3 colors.

Get your thoughts together and pin important notes and docs to your memo board with these stylish red stiletto pins

Love plants but not green-fingered? Then dress your desk up with these faux succulents.

Keep your paperwork neat with these super cute animal-themed paper clips.

This mini filing cabinet is the absolute cutest. File away all your collected business card contacts right here.

Are you a glam queen then this is the perfect desk accessory for you.

Want to add a bit of feminine glamour when writing at your desk? These floral decorated pens will provide just that. Great money saver as they come with refills.

Why not coordinate all your desk accessories with this super stylish stapler bundle. You can match it with the lamp and wireless keyboard below.

Need to keep your area clean and tidy? Then use this cute and kitsch ladybug to keep your work area spik and span.

Keep your office space fresh and your skin moisturized and hydrated with this cute mini train humidifier on your desk. Available in two colors.

Not only is this a block calendar but also a super useful and attractive desk organizer.

Your thumb drive or flashdrive whatever you call it doesn't have to be boring. You can get them in any shape or any memory size. A popular TV or film character, feminine and chic diamante encrusted. The choice is yours.

If you're a Marvel fan then you will love using this Ironman Mask mouse and having it displayed on your home office desk. You can even get the matching USB flashdrive to go with it.

Have you always wanted to be treated like royalty? Well, now you can with this ready and waiting shining knight pen holder serving you at your work at home desk. It comes in a variety of metals.
How about getting a trendy rose gold Edison lamp for your desk to light up your work when working at home in the evenings.
No more untidy wires, make a fashion statement on your home office desk with a color-coordinated minimalist wireless keyboard. All choices within this list are all under $50 but if you really want to go for it you can choose this retro style one. I absolutely love it.