Don't Wait, Start a Work at Home Course
You may have been considering recently what to study to work online and trying to figure out how to learn and earn. Well, there is no time like the present. No matter the Season now is always the best time to start work at home courses.
At certain times of the year you are inspired to reassess where you are with your career due to a number of life changes and may want to learn something new.
If you're anything like me, the Fall is the time of year where you start to look at your career whether you work for yourself or for others, your working life, in general, to see if you can make more money, get promoted, change jobs and upgrade your skills before the new year.
This post may contain affiliate links. For more information read full disclosure.
The Fall and Winter months may get you setting resolutions but you know how it is, you can easily slip into Netflix and chill mode plus comfort food eating as the colder days and darker evenings start to set in.
The reality is that it doesn't matter what time of year, now is the time to choose the perfect training course for you. Something that matches your skillset or can improve them.
But what if your decision is to become a work from home mom or dad, a digital nomad single millennial, a retired baby boomer? What if you've been a stay at home mom for a while?
Why not use your time wisely and learn a new skill or take an at home study course to update your skills.
How will you move into your new work from home career and what training will you need? There are so many questions, such as, what are the best courses for housewives? Are these online courses legit?
We'll go into all these details in a moment but first let's find out why it's important that you take a work at home course before starting your online business?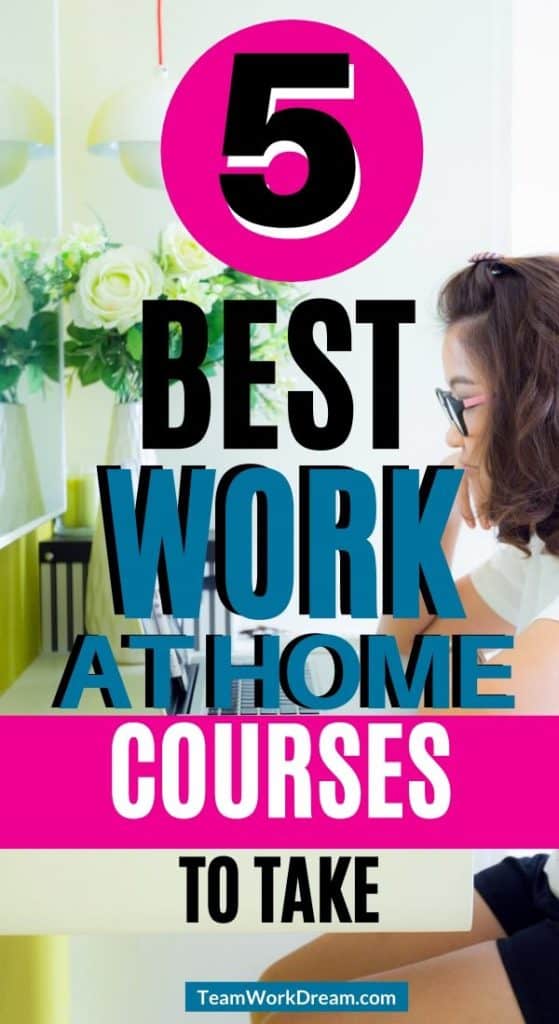 Why Is It Important to Take a Work at Home Course?
Preparing Yourself for Online Work
If you have not worked at home before getting yourself ready is super important. There's a bit of a transition period that you will need to really motivate yourself as you become your own boss. You will have to go through a mindset shift and having the right guidance can make this situation that much smoother.
Investing in Yourself
Taking a well-chosen online course should be looked at as an investment. With the improvement of technology it is so much easier to find a suitable course to improve your skills and prepare you to get online clients.
Once you have achieved the right in-demand skillset you can start to make money with your newly acquired virtual services.
Flexibility
There is no need to travel and take evening classes at your local college if you don't want to. You now have the flexibility to do courses in your own time at home.
Another good reason is that online courses are also usually much cheaper than actual college courses and some allow you flexible payment plans.
Related posts
When to Start Work at Home Study Courses
You might already have the necessary skills but it is always best to be fully equipped and up to speed with the right training courses in your chosen field. You might have decided to become a virtual assistant, a social media manager, a freelance writer or even a web designer.
>>>You might also be interested to become a Podcast Production Virtual Assistant
The New Year is really not that far away so wouldn't it be great to start a fresh and new work from home business and get everything in place to start to make a full-time income?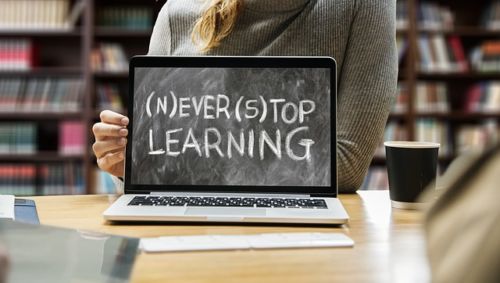 If you're reading this in the Spring, well Spring means new beginnings so go and check out the available courses out there. There are always some great deals that are promoted so if you're interested in blogging you can on selected dates sign up to the Ultimate Bundles GBTK deals or at anytime at that great online learning platform Udemy.
A quick money-saving tip, sometimes that perfect e-book or e-course that you've been eyeing up for a while might be included in the Ultimate Bundles so make sure to keep a look out as you can end up with mega discounts by as much as 80%.
Now a word of advice when buying bundled courses you might find it overwhelming as there is so much information, you might also not use all the contents in the Ultimate Bundles, for instance, but once you have it download everything to a folder, go through them in your own time and use the ones that are the most useful to you over and over again.
Another thing to note is that they offer new ultimate GBTK Bundles where you can get great learning aids once a year in October with even more great added products. If you're interested just put yourself to the waiting list. It's an absolutely fantastic deal!
>>>Why not consider taking the in-demand Pinterest Virtual Assistant Course?
You can get great at home courses during Black Friday/Cyber Monday and during that slow Summer Season some awesome discounts for a variety of work at home learning courses pop up from time to time.
Why You Should Not Do Too Many Work at Home Online Courses
There are a million free at home study courses that you can find online but try not to bog yourself down with too many, limit yourself to around 3 free courses.
A lot of the paid ones you might be interested in actually offer free or discounted mini courses so check them out carefully and see if they suit you and your needs before purchasing the full course.
Once you are happy with your choice of free course then try to stick to one and only one program and if you are still eager to continue upgrade to the full paying course.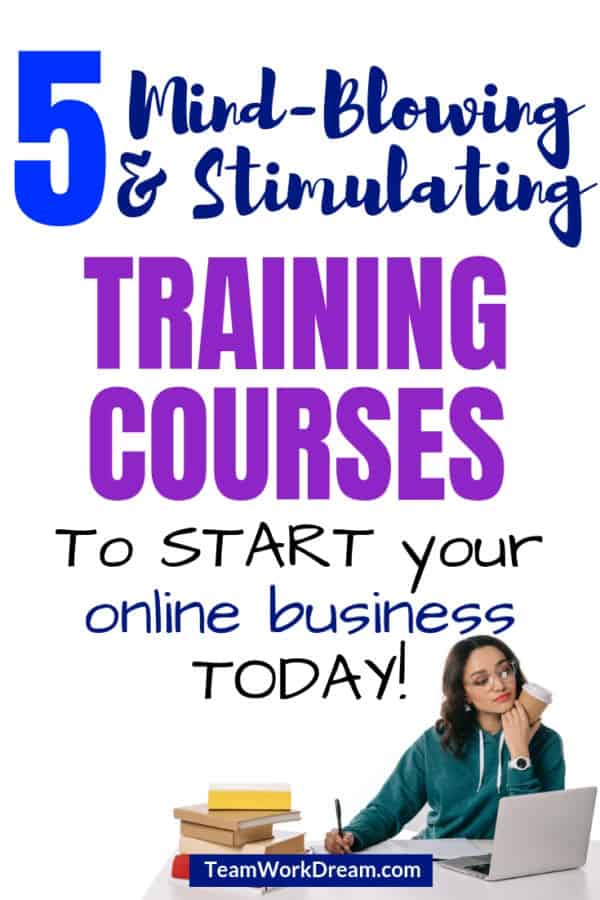 This can be extremely difficult I know because I've been there. I'm too ashamed to tell you how much money I spent in the early days on the many work at home courses and ebooks. I think I was suffering from shiny object syndrome. I have truly learned my lesson since then and I definitely no longer do this.
I now choose wisely why I am able to share information after thorough research. I also use genuine testimonials from others who have taken these remote work courses or my own personal experience and recommend the courses listed below.
Let me save you from yourself – don't buy every course that comes out, or the next e-book. DO NOT GET caught up in the hype! Choose no more than three work at home courses and make sure that you work through them from beginning to end.
Save Yourself Time
One of the main reasons not to take on too many online courses is to save yourself time. Learning how to do one thing really really well will put you onto a quicker path to making money online.
Each thing that you learn should be put into immediate use rather than waiting and having to worry about learning something else.
Make Time to Study
You need to consider before signing up for a course how much time you have. Do you have the time to fit study time in along with your 9-5 commitments and home life?
Are you prepared to sacrifice and make time to study in the early mornings, lunch breaks, or late evenings to reach your work from home goal?
This is one of the main reasons to limit the number of online courses you take. Take one, follow through, assess and review, implement. Once you see the growth you desire then you can move on to the next course.
Save Yourself Money
The more targeted and focused the course that you choose to do is the better you will invest in yourself and your hard-earned cash. This will save you money in the medium to long run as you will be more inclined to complete the course and put into practice everything that you have learned.
A lot of students have actually shared that they start making money before they even finish the courses as the information provided is so in-depth that they make back their investment in no time.
So follow the advice of not spending all your money on a lot of unverified courses. One of the worst things to happen is to spend your well-earned cash on a course that's not very good and it starts collecting dust in your download folder.
Another thing, make sure that the course you are buying is from a tried and tested person. That they've been there and done that.
There are a lot of ebooks and courses out there written by so-called gurus who really do not have the experience and end up costing you money by providing fluff information.
Only buy a work at home course that you're really truly interested in and make sure that you check out the reviews, follow the instructions and do it step by step.
If you're looking for flexible work from home jobs FlexJobs can help you find 100% legit remote jobs. Sign up now to join FlexJobs.
5 of the Best Work at Home Courses to Start Now!
So now that we've been through all of the ins and outs of choosing a course to start working at home here's a list of some of the best training courses you can start right now if you want to start earning from home:
1. Gina Horkey's Fully Booked Virtual Assistant
This course used to be a separate stand-alone course but now you can choose to learn all the different methods of virtual assisting such as a general VA, social media VA, a real estate VA, a project management VA, email management VA, freelance writer, including how to successfully set up your very own virtual assistant business and even how to grow it into an agency format.
You can pick and choose which ones you want to go through within a membership setting each month or just keep going which works out to costing a lot less than it used to.
You can work at your own pace so you could do it in a much quicker time or longer depending on your commitments.
The Fully Booked VA also has excellent videos and templates such as contracts, client pitch templates, how to market yourself, and most importantly where to find clients.
You also have full access to all courses which is great if you are a quick learner as you can move on throughout all the modules. For full course details just click on the image below.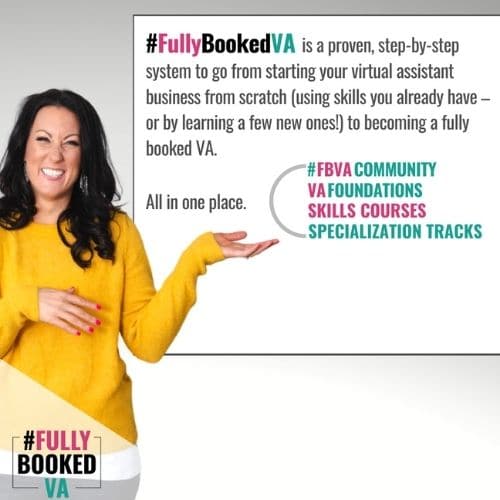 One of the best things is that at the end of each module there is a quiz to make sure that you have grasped all that was taught. This course is definitely worth the money and I have successfully taken it myself plus it's always in high demand due to the positive success rate of the graduates.
You can check out some of the wonderful success stories of past students. Gina Horkey has a range of other courses too if you want to become even more of an expert when working from home.
2. Caitlin Pyle's General Proofreading Theory & Practice – Proofread Anywhere
If you wish to start general proofreading then this is the course for you. Again self-paced.
This is a very in-depth course with absolutely no fluff to pad it out. There are over 40 modules that cover the different grammar aspects and rules and also how to market your proofreading business.
At the end of each module, there are tests and practice papers for you to work on and throughout the course, you can join the FaceBook group to help support you on your proofreading journey.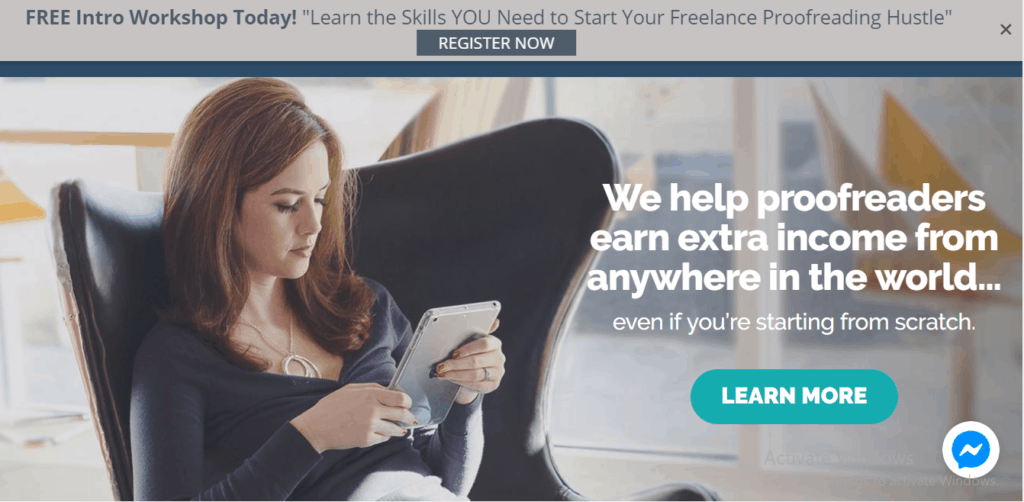 It doesn't just end there you also learn how to successfully grow your business once you start getting clients. All this is included to get you on the right path of working for yourself as a proofreader which is a well-needed service to offer. Check out the free webinar here.
3. Transcribe Anywhere created by Janet Shaughnessy
Another great work from home service to offer is transcription and if you want to learn transcription the right way this is one of the best at home courses out there.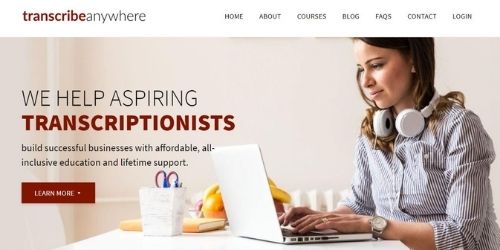 You'll be seriously surprised by the demand for transcribers just because of the explosion of podcasters, not forgetting the steady supply of lecturers and students doing interview research for their Masters and PhD's. Take the free taster course after reading through what the course has to offer.
This in depth course also has a payment plan to make it easier for you to balance your financial commitments.
4. Write Your Way to Your First $1K by Elna Cain
This freelance writing course is all about how to start up your freelance writing business, A wonderfully trusted and popular course that has a lot of successful past students who are now full-time content providers.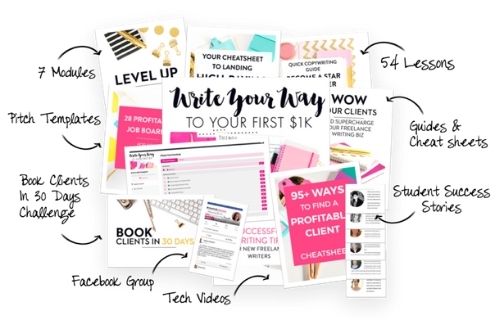 I have taken this course and I can definitely tell you that the information provided is valuable, easy to follow with great results.
Freelance writing is one of the best skills to learn to work from home. The Facebook Group is also excellent value as the community along with Elan share job opportunities for getting clients even before you finish the course. A payment plan for this course is available.
>>>Ever thought about using your writing skills to become a freelance writer? Find out how right here!
5. Pinterest Virtual Assistant a course by Kirsten Larson
Have you always been curious about Pinterest and what you can truly do with it?
How some people make money from using this fun picture pinning platform or if you are always saving recipes and creating boards of all your favorite things to come back to later then learning how to become a Pinterest Virtual Assistant and making a full-time income from it might not be a bad thing to learn.
With this course, you will be taught how to design, schedule, analyze, how to get new clients, how much to charge and many other excellent money-making skills just by using Pinterest. Check out this post for more info.
One of the absolute best things about this course is that there is a private Facebook group where they share the latest job offers wanting Pinterest VAs, designers and managers.

There are so many courses out there but these 5 are the most in-depth online courses out there that can really prove their results. Check them out, read the success stories, testimonials and do your own research. If you want to start working from home and make a full-time income plus spend time with your family try out one of the above online courses.
As a bonus here is another great course to work from home that comes highly recommended, Bookkeeper.com. If you're great with numbers and want to use your bookkeeping talents to freelance from home you can find out more information right here.
You will learn all about how to start up a virtual bookkeeping business and how to successfully gain clients to offer your at home bookkeeping services to. Also available as a convenient payment plan.
Can You Earn Good Money After Taking These Courses?
With anything you get what you put in. If you put in the hard work while doing the course and implement everything that you learn you can then decide if you wish to do it as a side hustle, part-time or full time.
Depending on the hours you have available and the work-life balance you want you can earn between $750 per month with one client or $7000 per month with multiple clients. It is entirely up to you. There are actally some past students who earn evn more than this.
Final Thoughts on What Work from Home Course to Take
As I'd mentioned earlier, I've taken quite a few courses, wasted some much-needed money at the time so now I'm super careful when purchasing courses. Not only that, I'm not one for courses filled with a lot of intro fluff before getting into the meat of what I need, I want to learn now!
If you're like me and any of these courses are attractive to you try them out, check out their free courses if available or their webinars and do your research for the genuine reviews, your gut will tell you what to do after that.
Want to know about other resources that can help your work from home business that is free or budget-friendly? Then you can always check out Udemy for some great discount courses at certain times of the year. These other suggestions on my resource page can also help you get started.
Now go out there and get your online training on. Go and get ready by taking one of these work at home courses to launch your new work from home career this year. Happy learning!
By the way, don't be selfish with this post share it with others, they might be feeling just like you and want a career change.
Related Work from Home Training Course Posts: