As the world listens to more and more podcasts the constant need for good quality creative content is always being requested.
With this extra demand, content creators are on the lookout for assistance with their workload and this is the perfect opportunity for you to learn how to become a Podcast Virtual Assistant.
According to a Nielsen report, the US podcast audience is expected to double by 2023. This means that there is room for podcast content creators to quickly grow their online businesses with the help of podcast virtual assistants.
This post may contain affiliate links. For more information read full disclosure.
Podcast creators will need to ensure that the content they share on their platforms is fact-based and relatable, but in order to build any form of a loyal audience, their content must be consistently produced and marketed in the right places for the right audiences to consume.
For this reason, many podcast creators outsource certain tasks and responsibilities amongst assistants who generally work remotely to get the job done.
These assistants are virtual assistants and those who make up the behind the scenes team of podcasts are referred to as Podcast Virtual Assistants or Podcast Production Assistants.
Before I go into more details about the ins and outs of a podcast virtual assistant let's find out exactly what a podcast is.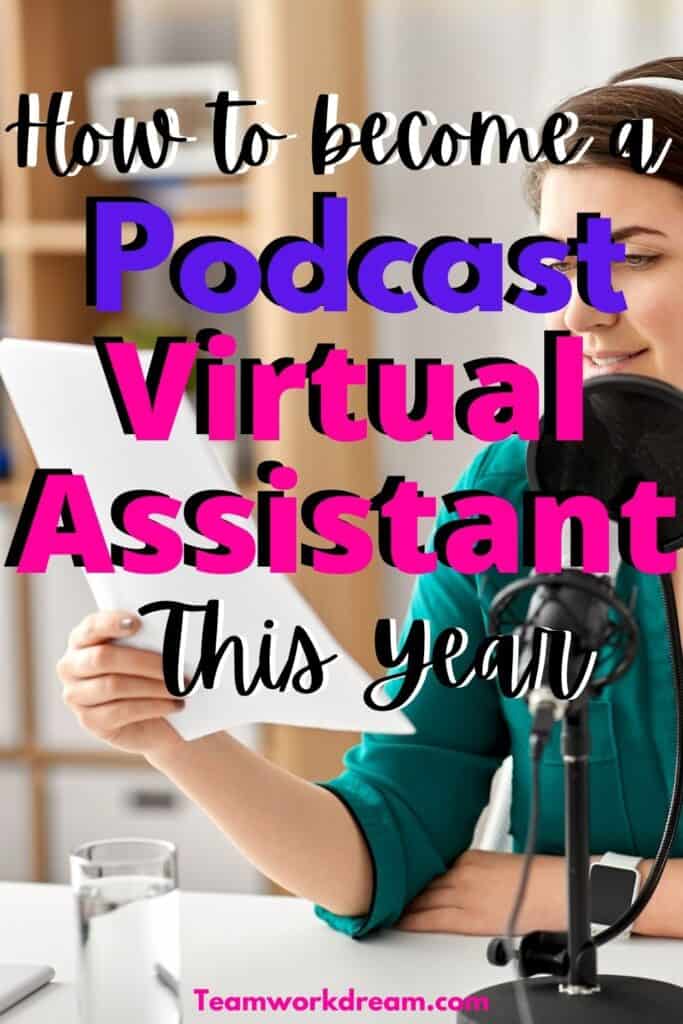 What is a Podcast?
Let's break down what a podcast is. Think about back in the day when listening to the radio was the only way you could learn of your country's latest happenings. Chances are there was a particular station you would tune into by a certain time or you would miss the special slot of a radio magazine item.
Well, a podcast is an original piece of audio content that is created as episodes on a wide range of topics that can be accessed and heard all around the world.
You don't have to find any special time to listen to these podcasts as you can easily listen to your favorite show on your smartphone and smart devices.
You can go back and play the shows over and over as many times as you like all through the power of podcasting.
If you're looking for a full range of remote work from home jobs FlexJobs can help you find legit remote working opportunities. Sign up now to join FlexJobs.
How Does a Podcast Differ from a Radio Show?
After the example I've just given, you're probably thinking that a podcast is a repurposed radio show.
However, on the contrary, a podcast is very different from your everyday radio show. For starters, unlike with radio shows there are no on air laws that govern how podcast hosts and guests can behave on their shows.
You can listen to podcasts on popular podcast directories like Apple podcast, Google podcasts, Stitcher, TuneIn and Spotify.
As a result, a podcast can be on any topic, any niche and since there are no governing rules dictating how a podcast should operate, a podcast can air as many times a week as the hosts wishes with episodes ranging in lengths from as short as 3 mins to as long as 3 hours.
Who is a Podcast Virtual Assistant?
Now that you understand what a podcast is and how it differs from a radio show, let's get into the real reason you're here and explore who is a Podcast Virtual Assistant and how you can become one.
Simply put, a Podcast Virtual Assistant is someone who is able to
provide technical assistance in the form of audio editing
administrative support being the point of contact between podcast hosts and their guests, and
marketing know how, helping to get the podcast seen, all while performing these functions remotely.
What Does a Podcast Virtual Assistant Do?
As you can imagine there is a lot of behind the scenes work that goes into podcast production and here are the many ways that a podcast assistant helps:
1. Guest Communication – a podcast assistant will be requested to get in contact with guests from time to time who are experts on the week's podcast topic.
A podcast assistant will handle all the necessary communication with such guests so that the podcaster can focus on planning the episode and preparing relevant interview questions.
2. Handle Interview Logistics – A podcast episode with a guest doesn't just happen, it takes careful planning and consideration. This is where a podcast virtual assistant comes in.
They will work out the logistics on how a guest will be able to participate in an interview, whether face-to-face or where this isn't possible, agree on a platform that can be used to make the podcast interview possible.
3. Post Production Technicalities – when a podcast episode airs, it is very different from how things actually sound when it was originally recorded. The likelihood that the quality of a podcast audio will be perfect that it can air without editing is very slim.
That said, it really does help to have a podcast production assistant who can edit the episode audio, transcribe the show and upload show notes, write a SEO optimized description for the episode and upload the podcast to all the available streaming platforms.
4) Fulfill Marketing Strategy – If you want your podcast to be heard then you'll have to bear in mind that to be heard your podcast will need to be well marketed to stand out. There are thousands of podcasts available today and according to reports there are around 850,000.
Having a podcast virtual assistant who has social media skills who can help with creating engaging graphic design of your episode images, promote and schedule podcasts and craft corresponding blog posts for the podcast website are all essential marketing strategies.
How to Become a Podcast Virtual Assistant?
If you are considering becoming a Podcast Virtual Assistant, you'll be happy to know that this particular job does not require a college degree.
Your prospective employers or clients are far more interested in the skills you can actually bring to the table rather than what letters are behind your name.
However, if you are a naturally detail oriented person, a good communicator and possess the ability to pitch yourself and your podcast production services well even in a virtual room of prospective clients, then you are already on your way to fulfilling your podcast assistant dreams.
For help sealing the deal, I recommend taking the top podcast production assistant course offered by the podcast production school.
Top Podcast Production Assistant Course
What is it?
There are many courses out there that will teach you the ropes of becoming an excellent Podcast Virtual Assistant.
However, what stands out about the podcast production school course is that not only will it teach you the skills you'll need to become a podcast assistant but also teach you step-by-step how to launch, manage and grow your podcast production services business.
What Does the Course Entail?
The course covers the right way to master and offer the skills of a podcast production assistant.
You will learn how to:
Understand the different types of podcasts
Process the workflow of podcasts
Technically set up and edit audio
Distribute podcast episodes
Create show notes
Repurpose content
Handle podcast project management
Guest management
Promote and market podcasts
Price, package and onboard clients
You will also receive technical training and receive templates and checklists and most importantly on completion receive a certificate.
With in depth tutorials on how to set up your business, what services to offer, where to find clients and how to price your services, you can rest assured that if you take this course, you'll be getting your money's worth and then some.
How Much Does the Course Cost?
On the subject of money's worth, I have to admit that this course is a little on the expensive side but rest assured you can make your investment back within a month of getting your first client.
If you choose to pay in full it will cost $598, which may sound like a lot of money, but there is the convenient option of a 6 part payment plan of $99 per month.
With all the wisdom that this course imparts and the fact that you could possibly earn 2 times the amount you paid for the course after securing your first client in a typical work week, if you ask me, taking this course is actually an investment in your life-long learning and earning capabilities.
How Much Can a Podcast Virtual Assistant Earn?
After reading all the roles a podcast assistant performs I can imagine that you must be curious about how much money you can make.
Let me first say that the actual amount a podcast virtual assistant makes will depend on various factors such as skillset. Not all VAs will perform all the roles listed above immediately.
Once you gain some experience and become more established in the podcasting industry, clients will be willing to pay a much higher rate.
That said, on average a podcast virtual assistant can generally make upwards of $30 an hour as a total beginner in the industry and make significantly more after attaining a few years of experience.
Where to Find Podcast Virtual Assistant Jobs?
Now that you have the full details of what a podcast virtual assistant does this could be a viable virtual work at home job that you could actually do.
Some great places to look for podcast assistant jobs are podcast Facebook Groups.
If you enjoy or have an interest in a certain niche you can look within those Facebook groups, check out client blog posts and YouTube channels and see if they plan to start a podcast channel or already have one but may need assistance.
Other traditional places you can look for podcast assistant jobs is ZipRecruiter, Upwork and Jooble.
Final Thoughts on How To Become A Podcast Virtual Assistant
With the growing popularity of the podcast industry, it's pretty clear that the demand for Podcast Virtual Assistants isn't going anywhere any time soon. If you think you fit the bill, a job as a Podcast Virtual Assistant could very well be in your future.
Are you ready to take the leap into the professional world of Podcast Virtual Assistants? Then taking the podcast production school course is an excellent place to start.
If you found this post helpful and have friends or family who have been wanting to venture out into the world of Podcast Virtual Assistants don't forget to share it with them.
Related Posts