Are you in need of a remote weekend job? There are many great opportunities for people who want to work remotely, and this guide will help get you started.
Whether you have a full-time position during the week, are busy managing your family, or are trying to start your own business, remote evening and weekend jobs provide flexibility and freedom.
These remote weekend jobs offer flexible hours so that you can make a little extra cash – on your own terms. Let's dive in.
Can You Make Money Doing Remote Weekend Jobs?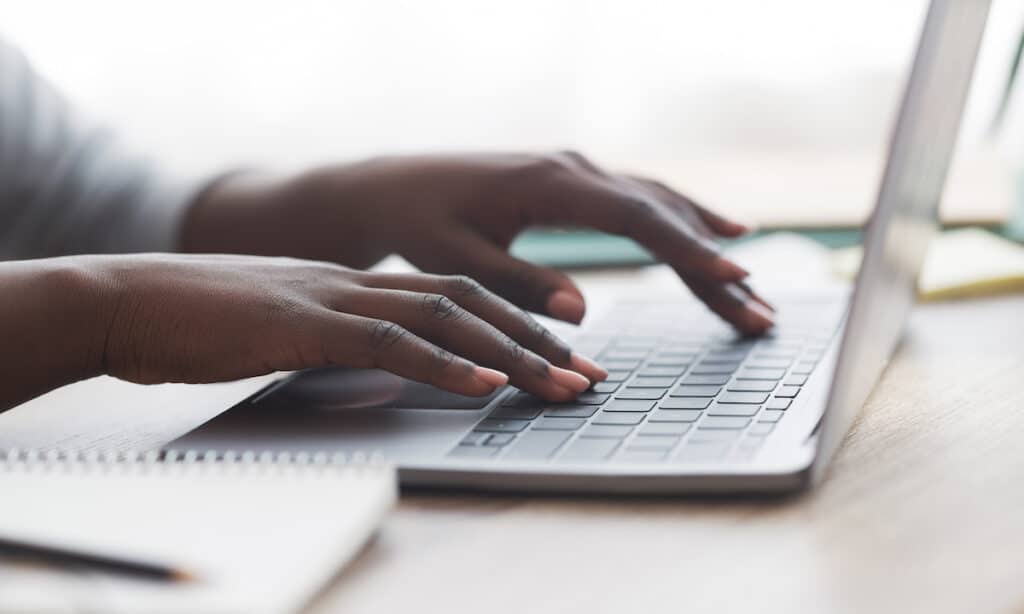 It might surprise you to learn that you can make quite a bit of money doing remote weekend jobs. There are plenty of opportunities out there for people who are looking to earn some extra cash.
Working remotely on flexible jobs allows you to take on as much or as little work as you want, and you can often set your own hours. Some jobs pay more than others, so it's important to know what skills and interests you have and choose a weekend remote job that suits you.
With so much of the world going digital, working remotely has become somewhat 'the norm.' And working as a freelancer, or simply part-time, is more accessible than ever. If you do it right, you could easily make the spare change you're looking for.
If you're looking for flexible work-from-home jobs, FlexJobs can help you find 100% legit remote jobs. Sign up now to join FlexJobs.
Types of Remote Weekend Jobs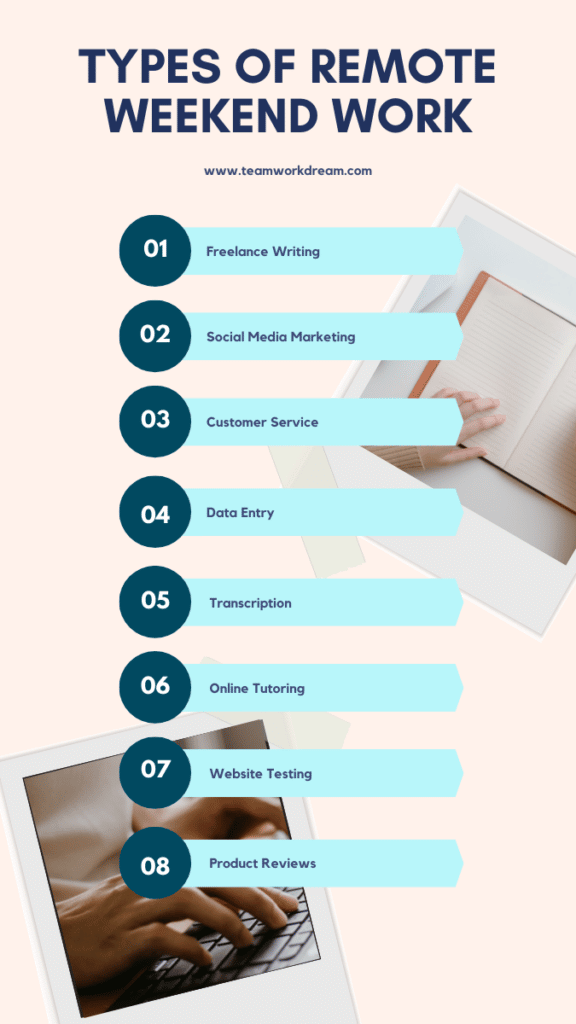 Freelance Writing
If you have a knack for writing, you could start freelancing and writing articles for various websites and publications. This is a great way to get your name out there and build up a portfolio of work.
You can often set your own hours as a freelance writer, making it perfect for someone who only wants to work on weekends.
Social Media Marketing
If you enjoy spending time on social media, why not get paid to do it?
As a social media manager, your job would be to plan out, create, and post content, as well as interact with followers, and generally help promote a company or brand online.
This is a great job for someone who is good at multitasking and has strong writing and communication skills.
Virtual Assistant
A virtual assistant is essentially an administrative assistant who works remotely.
This could involve managing emails, scheduling appointments, or doing research. Virtual assistants are in high demand, so this is a great job to consider if you want to work remotely.
Read more: How to get virtual assistant clients.
Customer Service
Many companies now outsource their customer service to remote workers. This means you could take phone calls, respond to emails, or reply to chat messages, all from home.
If you are someone who enjoys helping others and has strong communication skills, this job could be ideal for you.
Data Entry
You could start working as a data entry specialist if you have strong computer skills. Your job would involve inputting data into various databases and spreadsheets.
Weekend remote data entry jobs are great for anyone who wants to work remotely and doesn't mind doing repetitive work.
Transcription
Transcriptionists listen to audio recordings and type out what they hear. This could be anything from medical dictations to court hearings.
Anyone who has strong attention to detail and can type quickly would easily take to transcription work. Having a quiet place to work, so you can hear the audio correctly is also important.
Online Tutoring
If you have expertise in a particular subject, you could start tutoring students online.
You can usually set your own hours as an online tutor, so it's excellent for someone who only wants to work on weekends. Tutors also often set their own fees, so you'll have more control over how much you earn.
Website Testing
Website testing involves testing out websites to ensure they are user-friendly. This could include tasks such as trying to navigate around the site, testing out the search function, or checking for any broken links.
Website testing jobs typically need someone who is detail-oriented and has strong problem-solving skills.
Product Reviews
If you enjoy trying out new products, you could get paid to do so by writing reviews. Companies are always looking for people to review their latest products and give feedback. This is an excellent job for someone who likes trying out new things and enjoys writing.
How Can I Find a Remote Weekend Job?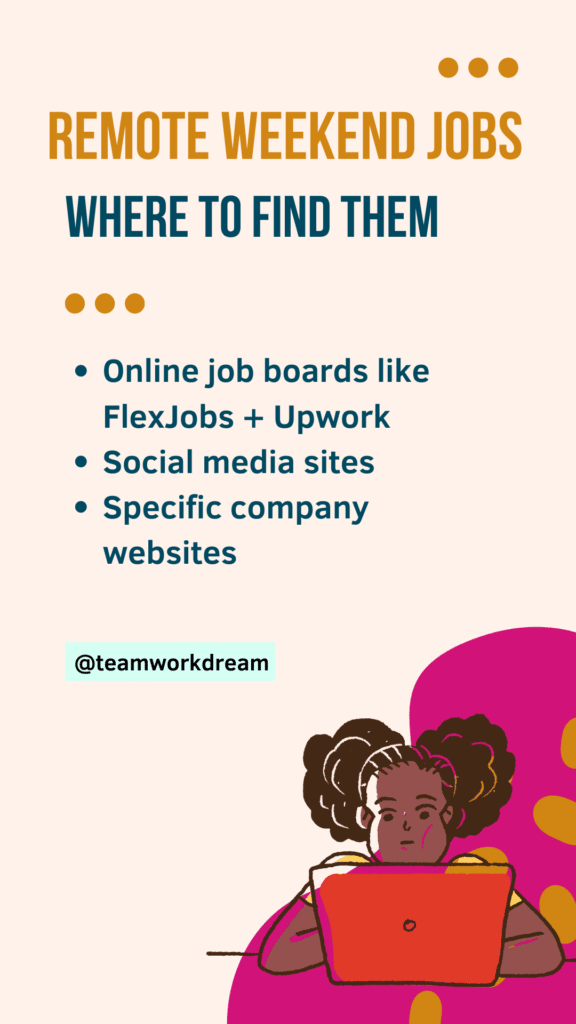 Online Job Boards
There are many different online job boards that list remote weekend jobs. These are the best places to start searching for flexible and part-time work. Here are a few of the best job boards to check out:
Social Media
You can also search for remote weekend jobs on social media sites like Facebook and Twitter. Simply use relevant keywords in your search and see what comes up. LinkedIn is also a great place to find open positions.
Company Websites
Many companies that offer weekend work-from-home jobs will also list them on their own websites. So, if there's a particular company that you're interested in working for, then be sure to check out their website to see if they have any part-time weekend remote jobs.
Remote Weekend Jobs Hiring Now
You'll find listings for weekend work-at-home jobs all the time, but they are often high in demand, so don't stay up long. There are also a few companies that frequently hire for remote weekend jobs. Here are a few companies to check out:
Find 100% legitimate work-from-home job opportunities with FlexJobs. Sign up now to join FlexJobs.
Final Thoughts on Work from Home Weekend Jobs
Weekend remote jobs allow you to earn a bit of extra money in your spare time without traveling to an actual workplace.
Once you've found a few remote weekend job openings that you're interested in, the next step is to apply for them.
When applying for remote jobs, it's important to put your best foot forward and make sure that your application stands out. List your relevant skills and qualifications, and make it clear why you are the perfect fit for the job.
Remote Weekend Jobs: Read Next