Remote working has become extremely popular in the past few years and Fiverr is now one of the first-choice freelance marketplaces to buy and sell online services. This micro-gig site is visited by over 5.5 million buyers, each looking for various freelancing services.
Thousands of sellers are online on a regular basis on the Fiverr platform and have maintained a healthy and consistent stream of income. As a total beginner, you can learn how to make money on Fiverr too.
This post may contain affiliate links. For more information read full disclosure.
What is Fiverr?
Fiverr is an online marketplace for selling and buying digital services from both experienced and beginner freelancers offering to do both small projects and ongoing projects otherwise called gigs.
A gig is a description of a particular service offered by a seller including the price and delivery date. Gigs can be displayed in 8 main categories which include:
Graphics and Design
Digital Marketing
Writing and Translation
Video and Animation
Music and Audio
Programming and Tech
Business
Lifestyle
There are over 500 subcategories that make it even easier for you to offer almost any service on the platform.
Whether you are an expert, a beginner, or have experience in things such as writing, transcribing, programming, and creating little jingles, all those services are in demand and can be used to make money on Fiverr.
Fiverr connects employers and businesses with freelancers from all over the world to carry out work at an affordable cost.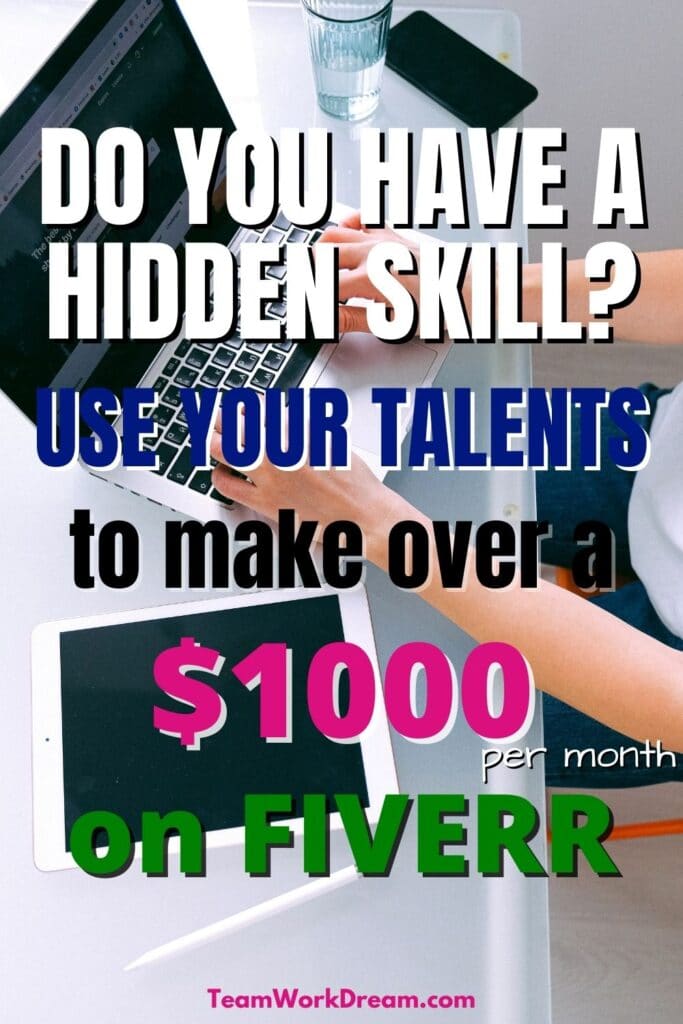 Do You Need Skills to Make Money on Fiverr?
Yes! To make money on Fiverr a number of basic skills sets are needed no matter what category you intend to offer services. They are as follows
Be organized
Stick to deadlines
Good communicator
for instance, if you decide to create a gig and offer a service in the subcategory proofreading and editing, attention to detail with great typing and editing skills are crucial for excellent results.
Having the requisite skills for each category will not only assist you in gaining orders but also help you to retain buyers based on the quality of your work.
You can also learn some of these skills as Fiverr has excellent teaching tools in video format on their platform. You can easily register for any of their online classes called Fiverr Learn and also use their forum for additional help from other Fiverr freelancers.
Of course, you can also use other online learning platforms to make money on Fiverr as a beginner.
How To Make Money on Fiverr Without Skills
There are several ways to make money on Fiverr even if you do not have the necessary skills and experience.
You can offer to do voice-overs for instance, for audiobooks. You might not have any formal training but do you read storybooks to your children or did any drama in high school? That might just help you grab a voiceover job on Fiverr.
The thing is even though you might feel you have no skills you most probably do. There are entrepreneurs and small businesses looking for all kinds of talent on the freelancing platform that do not require you to have any formal training, degrees, or a certificate.
You could be great at drawing and could help a small design company with illustrations. You might enjoy sewing in your spare time and could make sewing patterns for resale or create a how-to sew ebook for others to sell and use. You might be great at writing recipes that others can use on their food blogs.
The options to make money on Fiverr is endless even if think you don't have the skills. Just take a look in the Fiverr categories and subcategories to see if there is gig you can start to offer.
Steps to Starting on Fiverr
One of the key things that you must do when just starting out as a beginner on the platform, is to try to scale your prices at the minimum cost of $5. Why? Because not many buyers are willing to pay $120 for an online service from brand new sellers with a zero-star rating, i.e., no experience.
Slowly build a great rating (5-star is highest) with positive reviews from buyers and repeat clients and increase the price as you grow in popularity.
Now that you know the basics what are some of the ways to make money on Fiverr as a total beginner?
1. Social Media
There are interested buyers on Fiverr willing to pay to get traffic to their social media accounts. It could be for Twitter, Instagram, Facebook, Tik Tok, or Snapchat. Some individuals are seeking social media managers to manage and improve their online presence.
If you enjoy updating your own social media accounts and are very familiar with each of the platforms then becoming a social media manager, designer, moderator would be the perfect way to make money on Fiverr for you.
2. Write and Sell Ebooks
Some Fiverr buyers may not have the time to carry out certain tasks and research for and writing ebooks is one of them. The client will put out a buyer's request for a custom offer for a number of writing services including writing ebooks on a particular topic or subject.
A custom offer means specific instructions are provided by the buyer to a seller to research and produce original content. The ebook is written and completed by the Fiverr seller within a particular timeframe and at a certain cost.
The buyer and seller would communicate with the full details of what is required for the ebook, whether instructional, a short story, a course etc.
3. Do Research
If you're a whizz at using the internet you can get paid to do extensive research on Google. Ensure to use credible sources and that the information discovered is the most recent and specific to the research questions you receive from clients.
4. Proofreading and Editing
If you have a keen eye for detail and quickly identify punctuation, grammatical, and spelling errors, why not earn from it on Fiverr?
Thousands of posts, blogs, and articles are posted every day, so writers are increasingly seeking someone to proofread and edit their work. Post samples of content you've worked on to attract clients.
5. Design Business Cards and Postcards
If you have working experience with Photoshop this is very useful to create various types of designs. You can use your PhotoShop skills to design business cards
Companies with special requests for business cards will provide their logo with detailed information for each card. If you're on a budget you can also use Canva and produce superb designs for postcards, flyers, and leaflets for free.
Be creative when making the different products and ask your client for permission to display their work as a sample. This will help attract even more even clients who wish to place orders.
6. Write Reviews
If you have excellent writing skills and can provide detailed product reviews then this is a great gig. Write helpful information that is short and spicy for all audiences to understand for numerous products and services.
If consumers and clients find the information helpful, get ready to write a whole lot more and earn from it.
7. Digital Marketing
Thousands of clients visit Fiverr to find digital marketing services for their business. If you are proficient in SEO, content marketing, or Ad campaigns, this will be of great benefit for you and your clients. You can work with several clients and make money on Fiverr.
8. Tutor a Language
If you are bilingual or multilingual this can be of great benefit to you as a new seller. Fiverr allows you to create short courses that benefit all clients and they can watch them at their convenience.
Not interested to charge a fixed rate? Then charging an hourly rate for a video call is definitely possible. You can correspond with clients via zoom as per Fiverr's guidelines.
9. Transcribe Audio Files to Text
This is another simple way to make money on Fiverr and it's always in high demand and can easily be done as a beginner.
There are lots of people that need audio or video files to be converted to text to be used as show notes, blog posts, turned into ebooks, and many other reasons.
With excellent listening and typing skills, you can make a lot of money on Fiverr doing transcription.
10. Article Writing
Writing brilliant articles takes time and commitment. Some small business and blog owners will request articles that will keep current and potential audiences engaged. With great writing skills, you could make an impressive amount of money in a short while.
11. Video Testimonials
This is a high-paying gig on Fiverr and can be done by complete beginners.
Just make sure to have a great quality camera, a good smartphone can work, a confident and convincing sounding voice, a professional and presentable look, and you can make money on Fiverr by offering video testimonials to buyers.
12. Diet Planning
If you are a fitness fanatic or have excellent knowledge of health and proper nutrition, you can offer your services on this freelancing platform to interested persons.
People who work out and want to lose weight or those interested in weight gain are willing to pay for detailed meal plans.
You can quickly set up your freelance services by signing up to the Fiverr marketplace right here. Offer and sell whatever helpful skill you have.
What Sells Well on Fiverr?
Starting on Fiverr as a newbie and getting the first order is usually the biggest challenge. So, selecting a category that is constantly demanded by interested buyers can boost your chances of obtaining orders. Five of Fiverr's best-selling gigs are:
1. Logo Design
Companies are now outsourcing their desire for a particular business logo to freelance websites. If you are very skillful at using Illustrator or Photoshop create a logo design gig on Fiverr. You could make between $10 to $100 per design and charge clients for extras.
2. Video Animation
With a commitment to creating quality content, animators generate a large sum of income from 2d and 3d videos. Using video creation software, you could earn $5-$10 and more per 30-second video as a newbie on this platform.
3. Content Writing
Content writing is one of the best-selling gigs on Fiverr. New sellers who are doing extremely well have a professional profile to increase credibility and earn between $10-$50 per order.
4. Coding and Website Building
Website building is one of the highest-paying categories. You may even get developers such as SquareSpace and WordPress. Website builders can make between $150 to $5000 per project depending on your experience.
5. Business Planning
Buyers from all around the globe are searching for competent sellers on Fiverr to create their business plans. Some are seeking an effective market analysis or ideas for naming their company.
New sellers can make between $10-$100 for a single business plan while an experienced market analyst may charge extra.
How Much Can You Earn on Fiverr?
The total amount you can earn on Fiverr depends on the type of gig category and the service you offer. However, as a new seller just starting to receive consistent orders, you can expect a realistic monthly income of $100 to $300 per month.
Remember, you will begin offering your services at the low end of the scale, namely $5 but your rate will quickly increase as your ratings and reviews increase.
Many freelancers on Fiverr actually earn 1000's of dollars each month and some even work on the platform full-time.
How Do You Get Paid on Fiverr?
When a buyer places an order, the funds are paid to Fiverr. After the order is delivered and accepted by the buyer, 80% is sent to the seller's account while the other 20% is kept by Fiverr for using their platform.
All-new, level one and two sellers have to wait an additional 14 days for their earnings to be cleared for withdrawal. Top-rated sellers however have the privilege of cashing out after 7 days.
Once the waiting period has ended you can get paid using PayPal, bank transfer, Fiverr revenue card, such as Payoneer, and direct deposit depending on where you are located.
Final Thoughts on Making Money on Fiverr
Learning how to make money on Fiverr is an educational experience that takes consistency. It can take some time for new sellers to get recognized by buyers but building your good profile is important and using SEO tips also help a great deal.
Give yourself a standout name, upload a professional profile photo, add samples of work that you've done and try to make an introductory video of who you are and what you can do. It is said that these tips of profiles get a better response than those that do not have videos.
The next step is to be patient and wait for your first order.
If you found this post useful why not share it with others so that they can start making money on Fiverr too!
Related Posts