Looking for remote jobs you can do with no experience? This practical guide walks you through 10 perfect jobs (and where to find them).
It can be tough finding an entry level job, and finding one that's remote can be even trickier.
In this guide I will show you how you can do just that – we're going to explore jobs that you can do remotely with no experience and cover ten tried and tested places you can find them.
How To Find Online Jobs That Require Little Or No Work Experience?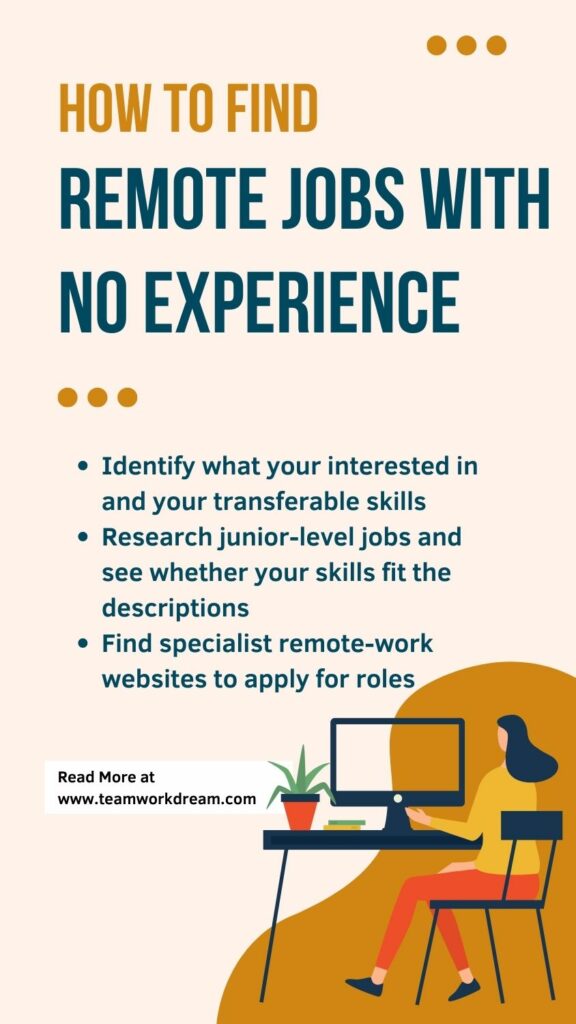 With the takeover of digital and most companies switching to digital first, this has created a wealth of new opportunities for online jobs– and ones that can be done remotely.
But how can you find them?
You might want to start by thinking about what you're interested in and what skills you do have, otherwise known as your transferable skills. These are skills that you already possess, but might not even realize can be useful for other jobs.
Google is your friend, there's nothing that Google can't help us with these days. So you should start there.
Research junior level jobs and start making a list, and also see how your skills can fit the job descriptions. There's also a ton of websites to help you find online jobs, but I'll walk you through those later.
10 Remote Jobs With No Experience Required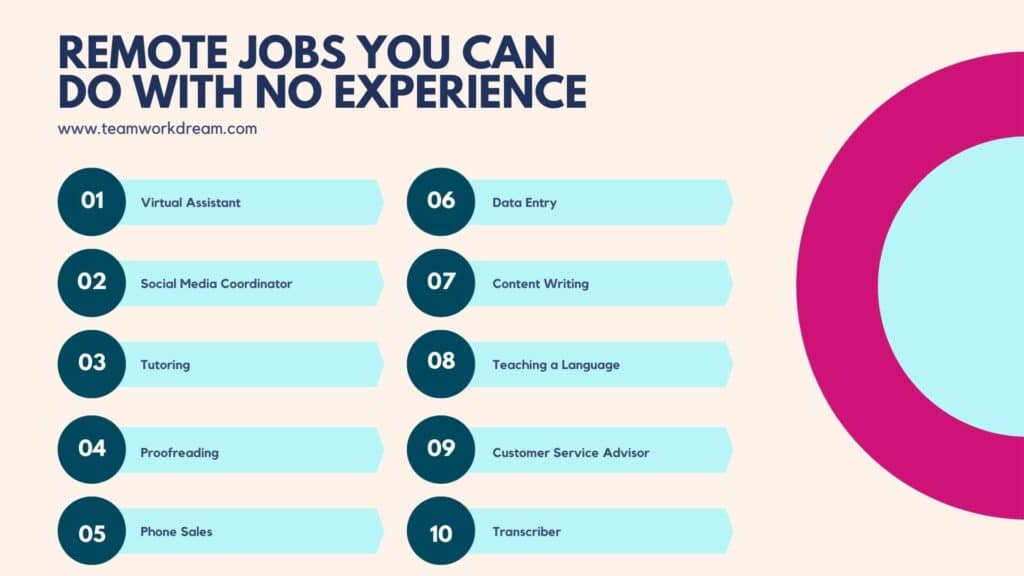 Virtual Assistant
Firsty, what is a Virtual Assistant?
A Virtual Assistant helps big and small companies with admin tasks, this could be making bookings, project management, data entry, basically anything that needs to be done.
So this remote job with no experience can be quite varied, which is great if you like working on lots of different tasks. The pay per hour starts at $12 and this job is great if you want to be able to set your own hours.
For this job you should have good verbal and written communication skills and critical thinking and problem solving skills, it would be worth adding those to your CV before applying.
Social Media Coordinator or Manager
Junior Social Media Coordinators help companies develop their online presence – with a starting salary of around $12 per hour.
Your role will focus on implementing targeted communications through social media, advertising and content for a variety of platforms that may include, Instagram, Facebook, Twitter, Tik Tok and more.
You can also expect to create social media posts, which includes researching, writing and editing as well as editing photos and tracking their progress.
Read this guide to find out more about working from home as a social media manager.
Customer Service Advisor
Customer Service Advisor work from home roles can be a good role to look for if you have no experience, and some of them are remote.
Customer Advisors assist customers and provide necessary information to resolve their problems.
A Junior Customer Service Advisor can expect to earn between $8 and $11.
Finding this role can be as simple as looking on your favorite companies websites and seeing if they have vacancies, otherwise there's lots of Customer Service Advisor roles available on job websites like Indeed.
Tutoring
Tutoring can entail lots of different opportunities: you could tutor for anything from blogging, musical instruments, math and science – it really just depends on your skillset.
A good place to start would be to figure out what you want to tutor and identify what knowledge you have to give on your chosen subject area.
After that, look on platforms that support tutors and make sure they include your subject area of course.
Tutors can usually set their own fees but typically tutors can make $20 per hour or more, but some websites may take a small fee for letting you use their platform.
Preply has a tutor for most things, so would be a good place to sign up if this one's for you.
Read our guide to finding online tutoring jobs.
Proofreading
If you enjoy anything grammar related then proofreading is a great work from home job that you can do with no experience.
Obviously, to do this role well you need to have impeccable English skills. If this sounds like you then there are a lot of proofreading jobs available – so you can build up a portfolio of work quite quickly.
The role can be quite varied depending on the clients you work for, you might proofread a website's content, a novel or edit blogs.
Proofreading jobs typically pay upwards from $13 and can be carried out from the comfort of your own home. You'll find proofreading jobs in a variety of places including UpWork and Freelancer.
Read this guide to discover more about work from home proofreading jobs.
Data Entry
If you consider yourself a fast typer and make little to no mistakes then a remote data entry job will be a great fit for you.
This fully remote job with no experience needed involves adding data to databases or documents, so a keen eye for detail is key here.
You could earn $11 per hour as an entry level Data Entry Clerk, there's dozens of companies continuously looking to hire people for Data Entry with no experience.
Want to go ahead? You should optimize your CV with skills like, typing speed, attention to detail and Microsoft Office program skills.
Content Writing
If you've ever written an essay or blog post then chances are you probably already have the skills necessary to be a Content Writer – and even if you haven't there are lots of no experience jobs for Content Writers out there.
The thing with Content Writer roles is that there's so many that you're sure to find one that suits you.
You could be writing blog posts, articles, product reviews, and the more you write, the better you get which makes for pay increases.
On your CV you'll want to demonstrate that you have great English skills and an attention to detail.
Research is key when it comes to this job, so make sure it's something that you enjoy. If you don't have any published work yet, then you could write about things that interest you and use them as your portfolio when applying for jobs before you get published.
Content Writer roles that are remote are quite easy to comeby, especially since work from home culture has taken off, you should definitely start by looking at websites like UpWork and Fiverr.
Some companies pay per article, and some pay per hour, if it's hourly you can expect to earn from $14 per hour.
Teaching a Language
If you can speak, read and write a language well, this can also be a remote job with no experience. Whether that be English, French, German, it really doesn't matter because they are all in demand.
For this role you would need to be fluent in your chosen language and know the correct grammar, spellings and it would also help to be a little creative too. You could teach adults or children, it really is up to you with this one.
There's lots of online platforms available for tutors with no experience and some will even provide training to help get you started, all you need is a can-do attitude, your laptop and a good internet connection. You can expect to earn from $12 per hour and some platforms will also give you bonuses for student retention.
Phone Sales
If you enjoy talking on the phone all day long, then why not turn this into your job?
Phone Sales is an easy remote job with no experience. Most companies who require Phone Sales reps look for entry level candidates because they will give you training anyway.
The role typically requires you to contact customers over the phone and promote the company you're working for. You'll most likely discuss products and services, so the role is ideal for someone who likes to do their research about what they're selling first.
Great conversational English skills are needed for this role, and a friendly voice goes a long way in this position. But don't worry, most companies will give you a script that you can tweak as you become more confident.
Finding this type of job can be easy, start with your typical job websites like Indeed or Linkedin and make sure your cover letter explains your people skills and confidence to talk on the phone. Typically candidates can make from $14 at junior level in this role.
Transcriber
OK, so what's a transcriber?
It's one of the easiest remorse jobs with no experience necessary. This job could involve listening to audio files and typing out the conversation, at which the employer will review the content and then pay you– it's really as simple as that.
You might transcribe for more general topics at first like blogs, videos and podcasts, and then when you become more confident you could move into legal or medical transcription which pays better.
With no experience you could earn between $3 and $11 and the pay will continue to rise as you move onto more tricky content.
You'll need strong listening skills, fast typing skills (you can practise), time management and the ability to fact check, write and edit. For beginners start by looking on websites like GMR Transcription, Go Transcript and 3Play Media.
Where to Find Remote Jobs with No Experience
Flexjobs
Flexjobs is the number one place to find remote jobs that have been vetted and verified.
It's a really great tool for finding remote and flexible job opportunities, and you needn't worry about any time wasting job adverts – which is a pet peeve when applying for jobs.
Flexjobs covers a wide range of jobs from customer service, marketing, writing to admin and accounting jobs all of which will vary in terms of pay. You should create a free account to access all opportunities.
Jooble
Jooble is an international job search website that's used by 69 different countries. The website is monitored and checked for real job adverts and posts new jobs everyday.
Expect to find remote jobs with no experience needed for data entry, customer service, translation and more. Pay varies depending on the type of job you apply for, but typically remote jobs with no experience start from $15 upwards.
Verbal Planet
If you're interested in teaching any language online then you should sign up to Verbal Planet. All you need is a good internet connection, and to be a native speaker of the language that you want to teach.
You can set your own hours and work from anywhere in the world and you get to set your own lesson rates, probably best if you base your pay off what other tutors are charging in a similar field in order to compete.
Accutran Global
This one's for transcribers only.
Accutran Global is a website who takes on transcribers with no experience and they're always on the lookout for new remote transcribers with no experience.
The starting pay rate for absolute beginners is $0.05 and you'll need to pass a transcription test to be accepted on their platform.
Indeed
So this one is typically used for in-office positions, but did you know that there are tons of freelance, fully remote jobs with no experience needed jobs posted daily on Indeed? It's very user-friendly and if you create an account you can upload your CV and sometimes be contacted directly by potential employers.
Obviously the key here would be to use the keywords remote jobs no experience when searching for a job. You'll find lots of no experience required jobs for writing, proofreading and teaching English or tutoring.
LinkedIn
LinkedIn has lots of employers all in one place on one handy platform, there's also lots of remote jobs with all levels of experience to apply for.
You can create a profile to help you stand out and list your skills, make sure they match with what you are applying for.
There's all types of employment included on the platform from hourly to pay per task meaning you can pick what is right for you. Make sure you tick the handy remote work box when searching for opportunities.
Virtual Vocations
Run by a remote team, Virtual Vocations remote job board offers lots of different types of job opportunities all in one place. It's very user friendly and has tools to filter your search, meaning you can search for entry levels roles with ease.
New jobs are posted daily and you can choose from permanent and temporary positions. There's a variety of pay per hour and salary positions available for remote workers with no experience.
NextRep
This job website is for customer service jobs that you can do remotely, and they are not asking for any experience.
Next Rep do however want you to have a certain skill set including, being positive and upbeat, patient and professional, and a strong communicator – which are skills that you probably already have.
All you need to do is register for work from home work, schedule a call with a Marketplace Coordinator and then hopefully be matched with a client that meets your skillset.
Fancy Hands
Fancy Hands is looking for work assistants who are great on the phone, organized and comfortable with data entry, but they are not asking for experience, so if you think you already have these skills then this could be a great place for fully remote work with no experience.
It's pay per task and the pay is anywhere between $3 and $7 and it can go up from there. You can set your own hours and work from anywhere you want and for how long you want too.
WordGigs
WordGigs is a platform that's good for people who want to break into freelance writing and have no experience.
All you need to do is take a grammar and writing test that is at high school level in order to be accepted to write for them.
This is only open to U.S residents and you must have a good high speed internet connection to work on this platform. Sign up for a free writers account and start accepting remote writing tasks.
Best Remote Jobs with No Experience: Practical Tips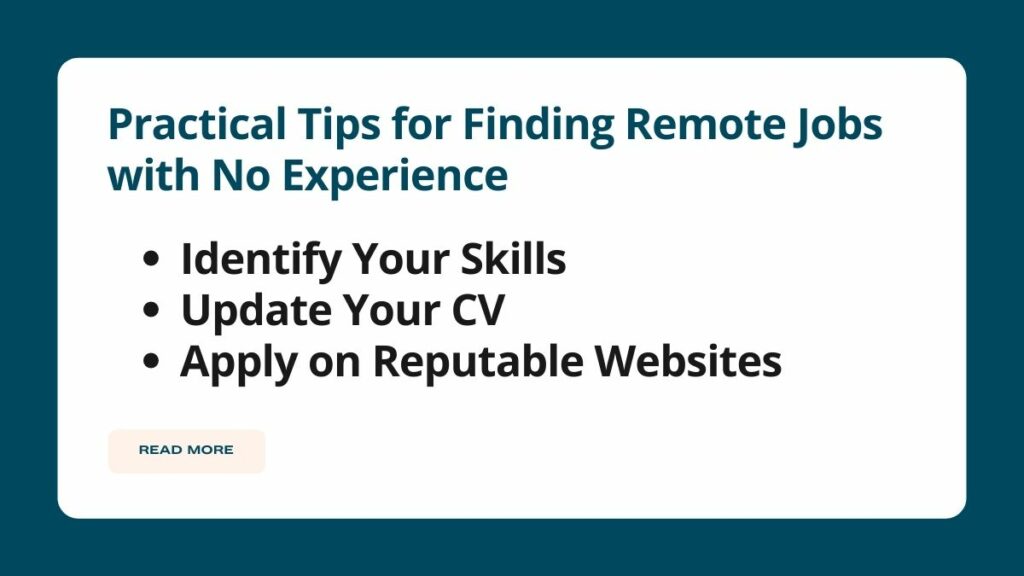 Identify Your Skills
To get a remote job with no experience you may want to start by identifying your skills. Moving on to finding out what remote jobs require those skills and then working out what interests you.
Update Your CV
To get any job, including remote jobs you must have a good CV that reflects your skills and experience.
As you may be applying for a job that you have no experience in, you will need to emphasize your transferable skills.
If you're not sure what skills you need for a certain job then it's best to look at job adverts and see their requirements.
Apply on Reputable Websites
Make sure you are only applying for remote jobs on reputable websites. Sometimes job adverts can be scams, one way to tell is if they are asking for money from you to sign up or the website does not have much information, this is probably a scam.
Prepare for Interview
If you land a remote job interview, know that this can be a little different to what you're used to.
The employer will want to know your work style and if you're trustworthy since you won't be seeing each other on the day-to-day it's really important to show them how you can be trusted to get stuff done, use examples from past experiences if you can.
Remote Jobs With No Experience: Read Next