Working from home? Great home office lighting is key – but often forgotten about. Boost your home office set up with these fabulous lighting options.
Finding the perfect lighting for your home office can set the mood for creativity and skyrocket your productivity. Lighting can be a fun and easy way to make your home office setup a little more personal.
As the concept of 'working from home' has rapidly changed in the past few years, more people want to create designated office areas in their homes. Optimizing your workspace can be as easy as purchasing some home office light fixtures or moving around some furniture to capitalize on natural light.
This guide looks at everything you need to know about home office lighting – keep reading for tips, tricks, and suggested home office lighting products.
Why is Home Office Lighting So Important?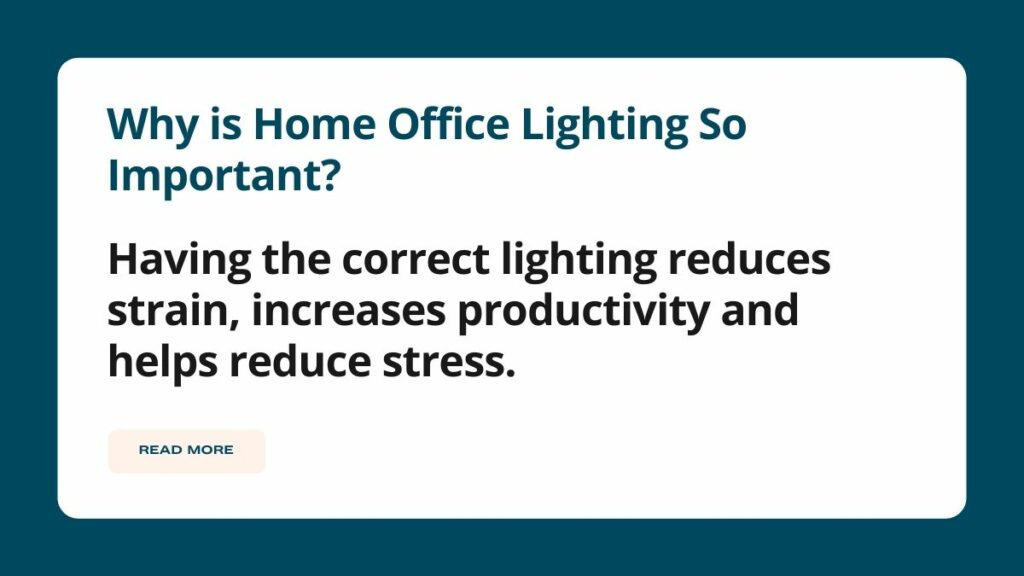 It might not be the first thing on your mind when setting up your home office, but having the correct lighting is essential for many reasons.
Optimal Lighting Reduces Strain
Tailoring your home office light can improve your efficiency by making your brain and eyes more comfortable in your workspace. Finding the best lighting for home offices might take some time, but your body (and boss) will thank you.
While bright light can keep you awake, harsh lighting can strain your eyes and lead to migraines. Especially when working on screens, even the best laptops can emit intense light.
At the same time, dull lighting may have you leaning toward your work, which can cause back pain and discomfort. In fact, there are plenty of studies floating around that have shown that poor lighting affects mental health.
The best way to avoid this and improve your productivity is by getting some sunshine into your home office. Natural sunlight is, of course, best, but there are plenty of other ways (more on this later).
Good Lighting Increases Productivity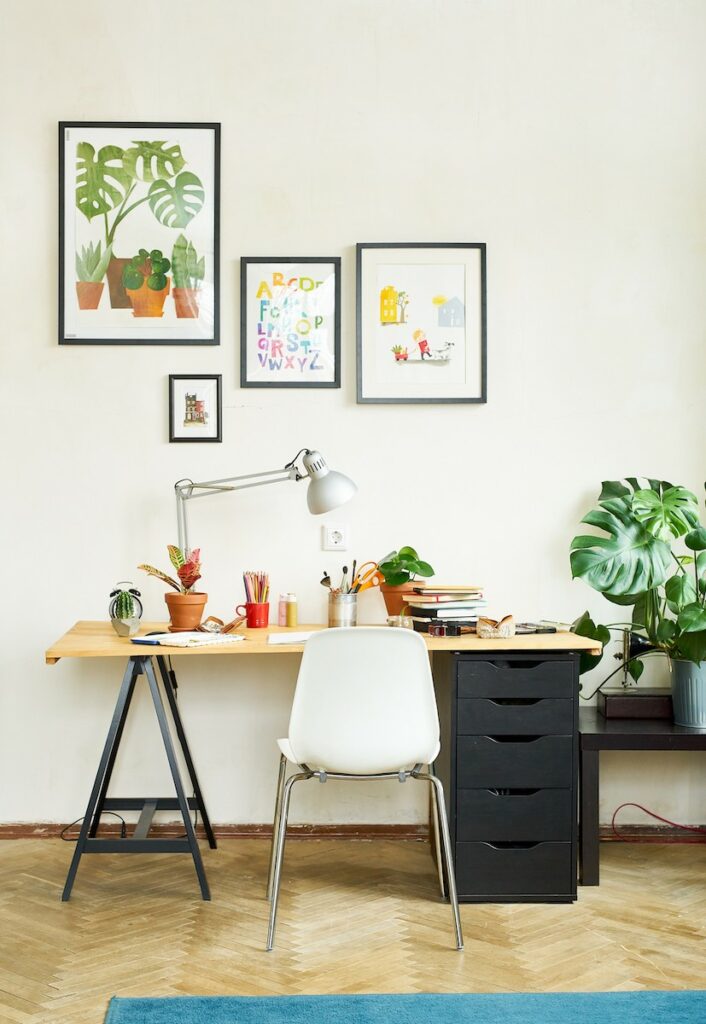 In your home office, natural lighting can be a game-changer. Natural light not only provides Vitamin D but also helps to regulate your body clock. Constantly being under artificial light can confuse your body's biological functions.
Opting for gentle, cool lighting can stimulate your brain when the sun's not out, while warm lighting will help you relax. This is why it is not recommended to use technology that emits cool or blue light before bed.
Optimizing your home workspace lighting will reduce eyestrain and improve mood, energy, and efficiency.
Personalize Your Space to Reduce Stress
Separating your workspace from your personal space is an excellent way to get productive. However, feeling disconnected from your workspace can increase stress and reduce productivity.
Home office lights are an easy way to incorporate personal flair into a professional environment without cluttering your space.
Colored lighting in a lightbar or under-desk lighting is easy to set up and change. It'll help you to feel more comfortable in your workspace. Having a personalized workspace can improve comfort and reduce anxiety.
Home Office Lighting – What You Need to Do to Get It Right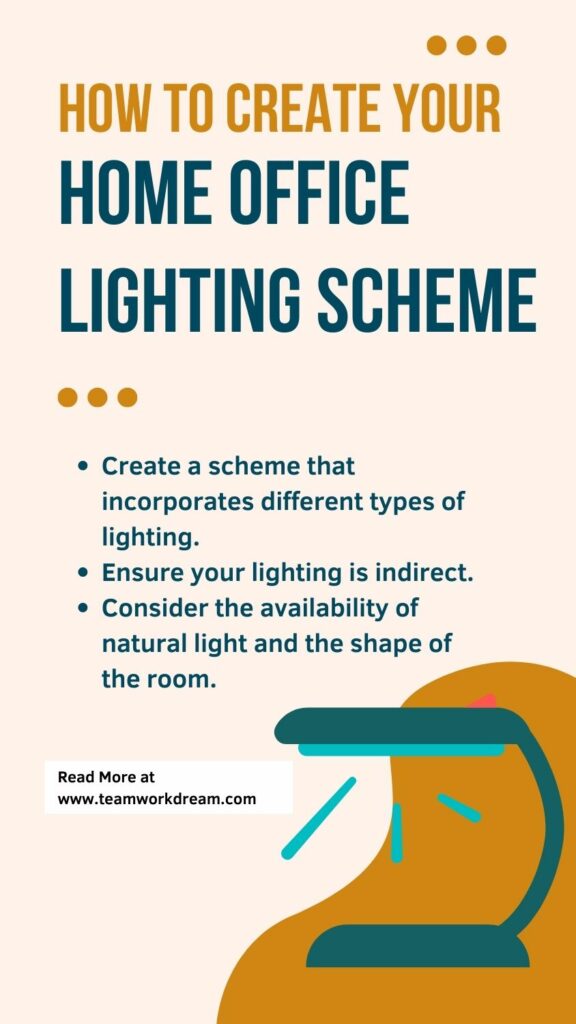 Create a Scheme That Incorporates Different Types of Home Office Lighting
Multi-layered lighting is a scheme often used by designers. It uses natural and artificial lighting at different levels and intensities to illuminate a room. It's a great way to help your space transition from day to night and create spatial illusions.
When natural light isn't at play, low-intensity home office ceiling lights paired with floor lighting and desk lighting can create the perfect balance to boost productivity and mood.
You can easily fix poor workspace lighting by introducing a new home office lighting fixture or two. Here's how different types of home office lights can help.
Home Office Ceiling Light
Ceiling lights are fantastic off-the-ground statement pieces to elevate your space without adding clutter. They are also a great way to illuminate your space while adding height to the room.
Downlights are great for ambience in small rooms with low ceilings, and they don't take up much space. For larger rooms or ones with high ceilings, installing a pendant light is an easy way to complete the look of your home office.
Home Office Task Lighting
Task lights are important fixtures for any home office. They are movable, adjustable, and flexible forms of lighting that illuminate a specific area where it's needed.
When made with LED bulbs, task lights are generally less harsh on the eyes. They're most suitable for people who spend many hours in front of a screen.
Home Desk Lighting
Desk lamps provide a combination of focused and generalized lighting. They are convenient to switch on without breaking your focus.
Desk lamps paired with floor lamps or pendant lights create ambient multi-layered lighting.
Natural Light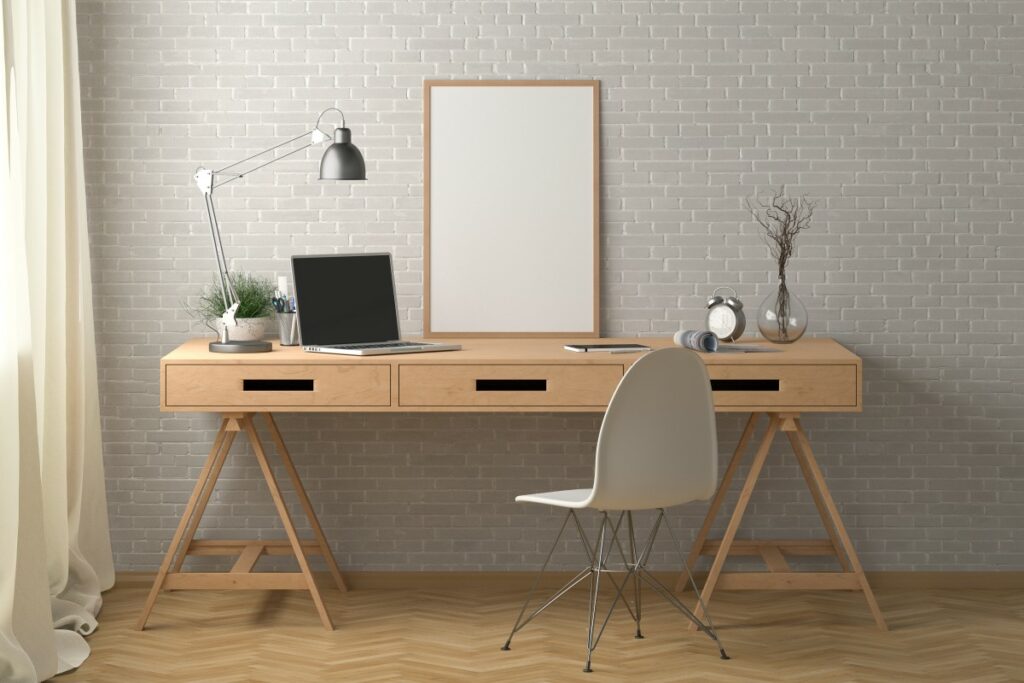 A simple way to improve the amount of natural light in your home office is by moving furniture away from windows and allowing the natural light to illuminate the room. If your office has little or no exposure to natural light, you could consider installing a skylight. Though, this is a very pricey option.
Keep Your Lighting Indirect
Indirect lighting illuminates your office space by diffusing light around the room. It helps to eliminate glare and improve visibility and productivity. This form of lighting creates a harmonious blend between illuminated and shaded areas.
While direct lighting is ideal for specific tasks, indirect lighting illuminates the whole space and is vital to creating an environment that promotes consistent concentration.
Other Tips
To achieve the best lighting for home offices, it's important to consider many factors like the availability of natural light, the shape of the room, and how to incorporate the use of both direct and indirect lighting.
Lighting a home office is an easy and clutter-free way to personalize your space and is essential to maintain productivity and reduce strain on your body.
Now that you know why home office lighting is so important, here are a few of the best home office lighting products you should consider using…
Best Home Office Lighting Fixtures at a Glance
The Best Home Office Lighting
Best Desk Lamp for The Modern Office Setup
Price Guide: $
The HaFundy LED Desk Lamp is the best home office light fixture for any modern workspace. Unlike most desk lamps that take up surface space, this one clips firmly to the edge of the desk.
It comes with three color modes. The lamp's cool white light mode is ideal for tasks that require creativity, while the warm white light mode is great for reading. This desk lamp is a strong competitor if you're looking for the best lighting for a home office with no windows.
The HaFundy Desk Lamp is also equipped with a daylight mode and ten brightness levels to mimic gentle daylight and benefit productivity. Although the lamp only comes with a USB cable, you can easily use a cell phone USB adapter to plug the lamp into the wall.
Because it's built with LEDs, it's much gentler on the eyes. It may not be as bright as non-LED lamps, but it's a great addition to any multi-layered lighting scheme.
Pros
LEDs reduce eye strain.
Saves desk space by clipping to the side.
Three lighting modes.
Ten brightness levels.
Memory function saves the last used lighting mode when switched off.
Cons
USB adapter not included.
The arm can be stiff and hard to move.
Not as bright as non-LEDs.
Best Smart Lamp for Ambient Home Office Lighting
Price guide: $$$
The Philips Hue Gradient Signe is a small but mighty smart table lamp. With an output of up to 2,500 lumens, this lamp is fantastic for ambient lighting in your home office. It offers 16 million color combinations of light which are easily controlled via the Hue app or by voice.
This lamp is perfect for adding personal flair to your home office. It's lightweight and suitable for most surfaces, while placing the lamp on shelving saves desk space. The Hue Gradient Signe links up to 10 other Hue lights around the house via the app, which is a great way to transform a larger office space.
The smart lamp is ideal for easy transitioning from day to night and adds effortless ambience to any room. If your office doubles up as a gaming room, this lamp has a neat media sync feature to add to your experience.
The Philips Hue Gradient Signe is also available as a floor lamp that can tuck neatly into a corner.
Pros
Small but bright ambient light.
Controlled via Bluetooth or voice control.
16 million colors.
Media Sync feature.
Cons
Requires Alexa for voice control.
Expensive.
Need the Philips Hues app for smart function.
Best Ceiling Light for Smaller Home Offices
Price guide: $$
The UOFUS 6 Light Semi-Flush Ceiling Fixture is an excellent option for smaller home offices. Finding home office ceiling lighting ideas can be tricky in small spaces. But this semi-flush fitting is only 25 inches wide, fits against the ceiling, and distributes light at various angles.
Indirect lighting is essential to reduce eye strain and increase productivity. This fixture evenly distributes light in 6 directions, and its proximity to the ceiling softens the light.
Although this fixture doesn't come with bulbs, it's compatible with 40W and 60W bulbs and easily pairs with dimmable bulbs and a dimmer switch. You can also fit it with LED bulbs. Not to mention that the sleek black design makes it suitable for most office themes.
Pros
Semi-flush fixture saves space.
Offers indirect light distribution in 6 directions.
Compatible with dimmable bulbs.
Compatible with LED bulbs to reduce strain further.
Cons
Requires installation.
Does not pair to a smart home system.
Bulbs not included with fixture.
Best Home Office Lighting: Discover More Home Office Guides
Love This? Save and Share on Pinterest!