Want to know how to snag a hotel mystery shopper job? Read this step-by-step guide.
Think that getting paid to travel and review hotels sounds like a pipe dream? Think again. Hotel mystery shopper jobs are one of those much-coveted jobs that actually aren't that difficult to snag.
Whether you want to know a little bit more about becoming a hotel mystery shopper, or want to find the best hotel mystery shopping jobs, this guide is for you. In it, I'll cover:
What hotel mystery shopping actually is;
What you need to know before you become a hotel secret shopper – including how much you earn and how to work out if it's the job for you;
How to become a hotel secret shopper; and
Where to find the best hotel mystery shopping jobs.
I even cover how to avoid hotel mystery shopping scams because they do exist and you need to be able to spot the signs and give them a wide berth.
Ready to start? Let's go.
This post may contain affiliate links. For more information read the full disclosure.
What is Hotel Mystery Shopping?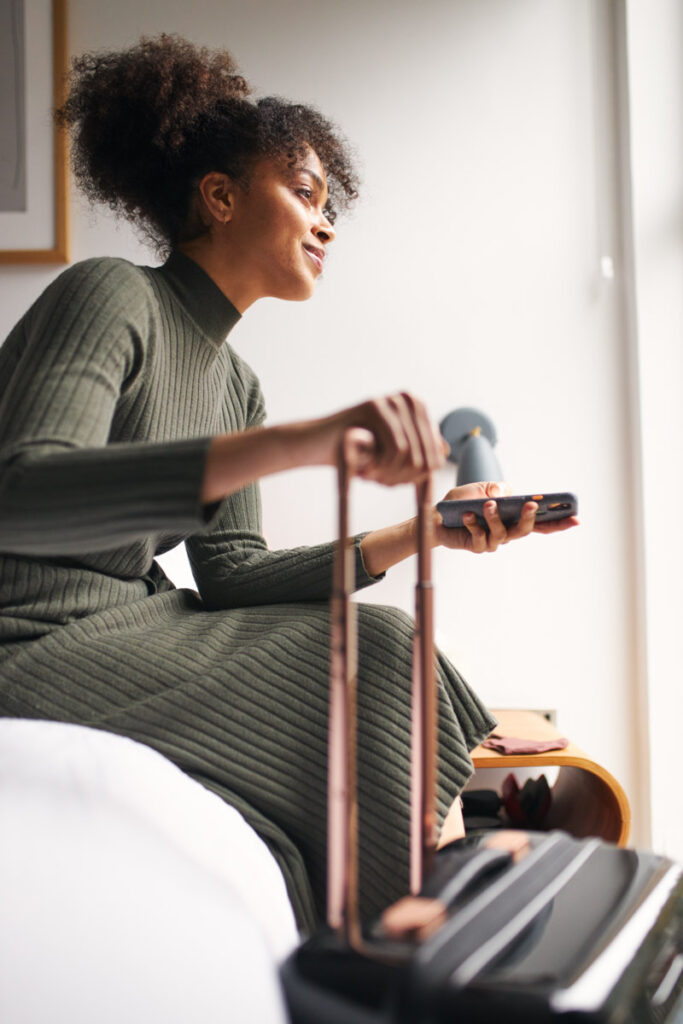 Hotel mystery shopping is a job where you are paid to stay in a hotel and report on your experience.
As a hotel mystery shopper, your main task is to go to a hotel and pose as a regular guest, while taking note of particular details and marking the hotel against a pre-designated checklist.
These details may include the hotel's customer service culture, product pricing, entertainment value, or food prep quality.
If you're looking for flexible work from home or work from anywhere jobs FlexJobs can help you find legit remote jobs. Sign up now to join FlexJobs.
Hotel Mystery Shopping Jobs: What You Need to Know
What Does the Role of a Hotel Mystery Shopper Entail?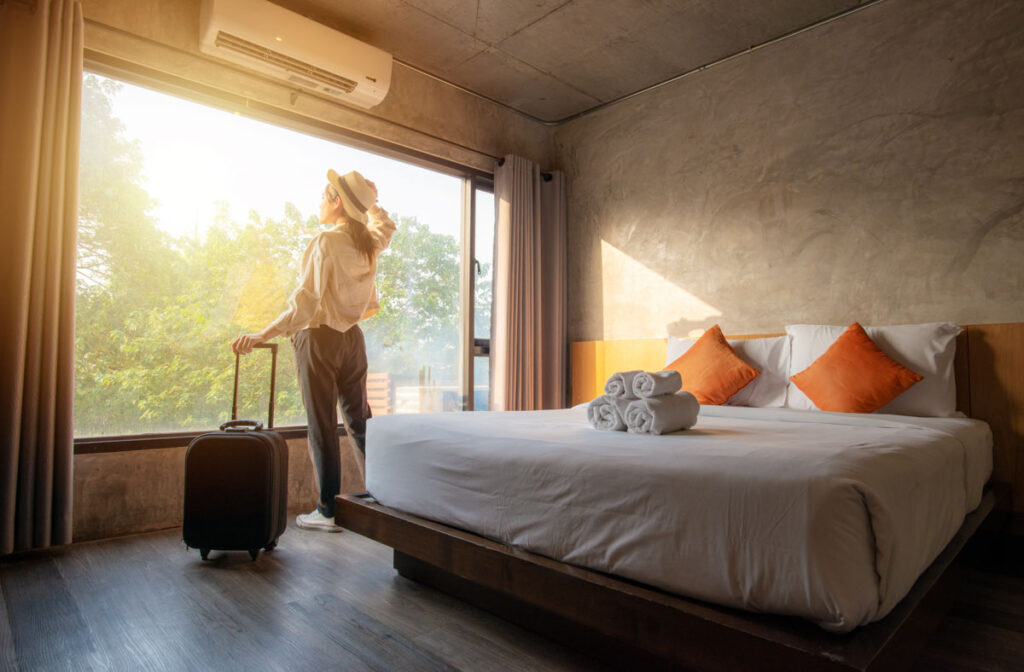 While the specifics may vary from company to company and role to role, a hotel mystery shopper involves you going to a pre-designated hotel and marking it in line with the specific mystery shopping criteria/ checklist you've been given.
The idea is to replicate the experience of a normal hotel guest, so you may be asked to pose a problem or ask a member of staff for a specific task to see how the situation is dealt with.
Receiving the Job Brief
You're provided with a hotel mystery shopping job brief for each stay, which will cover details including the location and name of the hotel, the length of your stay, a specific questionnaire / rating information and any unique tasks you have to complete during the course of your stay.
Documenting Your Stay in Detail
Taking note of things you noticed upon arrival. For example, were the ground properly maintained? How were you welcomed by staff members? Did you encounter any problems during check-in?
Documenting things you noticed during your stay. For example, what was the attitude of your housekeeper? What condition was your room in? Was it clean? What about the decor?
Additional details you will be asked to report on during your stay include questions like did the hotel provide all the amenities (such as entertainment, gym, meeting rooms, restaurants etc) listed? Was the food in the restaurants of good standard? What was the response you got when you asked for room service? Did the appearance of the walkways suggest that they were regularly cleaned?
Observing things, you noticed as your stay came to an end. For example, were staff members strict on checkout times? Were you treated better on days you gave tips? Would you consider staying at the hotel again in the future? Would you recommend a stay at this hotel to your friends?
Submitting Your Detailed Report
Having compiled all this information during your stay, once you leave you will be required to fill this information into your Shopper's Report then give a general summary of your experience at the hotel throughout your stay. It's very important that you give your honest review – after all – mystery shoppers are only useful if the reports they submit are accurate.
The specific way you do this will depend on your employer / the contracting company. Once you do this, you are paid in line with your contract.
What's The Average Hotel Mystery Shopper Salary? How Much Can You Earn?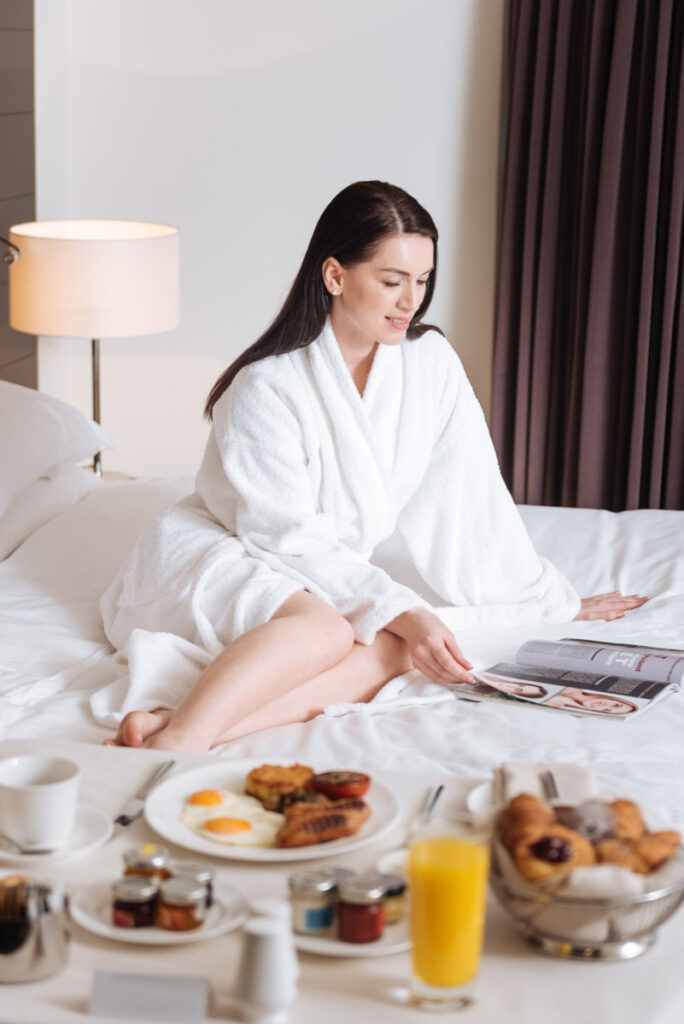 On average, a hotel mystery shopper salary is $22.67 per hour according to Indeed.com.
Bear in mind that this number fluctuates significantly depending on a number of external factors such as who you work for, how long the job takes, and the exact assignment you are given to do.
Your trip will be all-expenses-paid. It's not unusual for you to pay the bill up front and then be reimbursed once the assignment is complete – so it's very important to ensure you're working for a reputable company who will reimburse (and pay) you in a timely fashion.
Just to add that a Hotel Mystery Shopper is not to be mistaken for an official Hotel Reviewer which can be a very lucrative full-time position, with the national average in the US being around $52,000 if you are recruited directly through a hotel parent company.
Is a Hotel Mystery Shopper Job Right for You?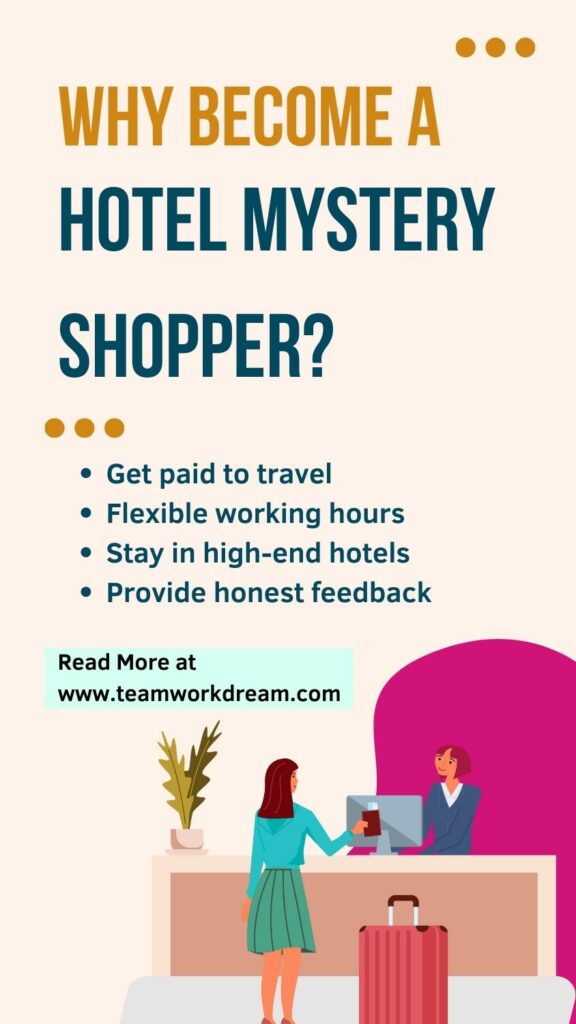 A job as a Hotel Mystery Shopper will not be for everyone.
However, if you love to travel, experience new places and take detailed observations during the course of a stay at a hotel or resort, a hotel testing job could be the perfect fit for you.
As this tends to be a freelance role, it can be a good pick for part-time or occasional work rather than full-time, though some companies have enough work for you to work full time if you want.
What are The Disadvantages of Becoming a Hotel Mystery Shopper?
There are a few disadvantages to becoming a hotel mystery shopper.
One is that you may not always get to stay in the best hotels. Sometimes you may be placed in a hotel that is not up to your standards, or you may have to stay in a different area than you would prefer.
Another disadvantage of being a Hotel Mystery Shopper is an obvious one: it involves spending time away from home. This can be difficult for some people, especially if they have families or other commitments.
Although it's not a disadvantage per se, you will need to be able to write reports about your experience, so you must be reasonably good at writing.
Finally, one disadvantage of being a Hotel Mystery Shopper is that it can sometimes be difficult to find work. My advice is to try and build a relationship with one or two companies and ensure all your work is submitted on-time and meets the specified standard.
How To Become a Hotel Mystery Shopper and Get Paid to Sleep in Hotels?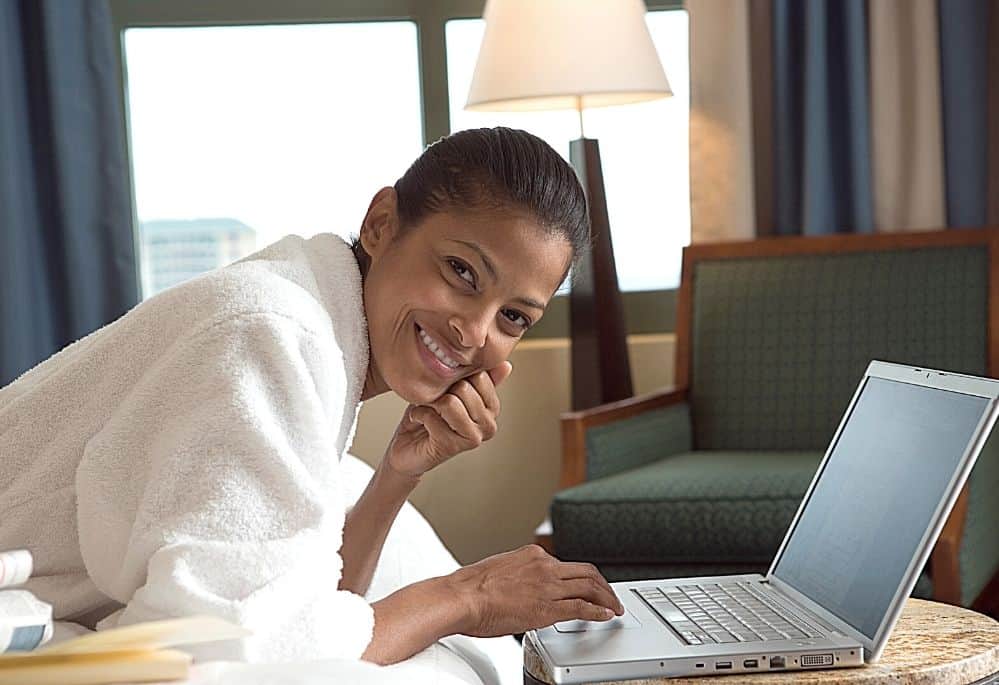 There are a few ways to become a Hotel Mystery Shopper.
One way is to sign up with a company that provides Hotel Mystery Shopping services. These companies will send you assignments, and you will be paid for your time and effort.
You can also find work as a Hotel Mystery Shopper on websites like Indeed. However, finding work this way can be more difficult.
No matter how you become a Hotel Mystery Shopper, the important thing is to find a good company that will provide you with assignments.
Where Can You Find Hotel Mystery Shopper Jobs?
There are quite a few hotels who don't mind putting their money where their mouth is and hiring mystery shoppers to give them honest reviews about their experiences at their hotels.
While some hotels will hire luxury hotel reviewers independently, others will utilize third-party agencies to perform the mystery shopper hiring and some companies recruit globally.
The best known hotel mystery shopping companies include:
If you're lucky enough to have built a travel blog, you can also write your own hotel reviews and earn affiliate income if readers / followers book using your affiliate links. However, it is a competitive industry.
Want to know more? Read my step by step guide to starting a blog.
Another avenue is if you have a travel blog that becomes popular enough you may just start getting those invites to review hotels, guest houses and villas around the world.
How to Avoid Hotel Mystery Shopper Job Scams?
While the job of being a Mystery Shopper is a completely legitimate one, there are few bad seeds that have given the industry a bad name.
If you are interested in pursuing a job as a hotel mystery shopper and want to avoid the risk of being scammed, here are a few essential tips:
Adequately research Mystery Shopper Companies and read their reviews prior to signing up with them.
Never wire money as part of your Mystery Shopper assignment
Avoid companies that advertise Mystery Shopper jobs in the 'Help Wanted' section of newspapers.
If it seems too good to be true, it might be so please, proceed with caution.
Avoid companies that charge a fee in return for access to Mystery Shopper jobs.
Secret Hotel Reviewer Jobs: Final Thoughts
If you enjoy helping to improve customer service and look forward to any opportunity to travel, then a Hotel Mystery Shopper job is probably just what you're looking for.
However, if you make the decision to apply to become a Hotel Mystery Shopper please be cautious and do thorough research as there are a few unscrupulous companies posing as Mystery Shopper agencies just waiting to scam innocent people wanting to find ways to make some extra money.
Now that I've shared what I know about how to get paid to travel and review hotels and you've found this post helpful, why not share it with friends and family who would also love the opportunity to get paid to sleep in hotels around the world.
Love This? Save and Share on Pinterest!