Is your closet overflowing? Is there little to no space to add new clothes to your closet?
If you've answered yes to any of these questions, it's time to clean out your closest, declutter and recycle the clothes you no longer need to make some cash on the side. Disposing of clothes by selling or giving away is good for the environment.
This post may contain affiliate links. For more information read full disclosure.
Selling used clothes creates more space in your closet and adds money to your purse or bank account instead. It's a total win!
So if you don't know where to sell clothes you don't want here are seven of the best places to sell clothes online.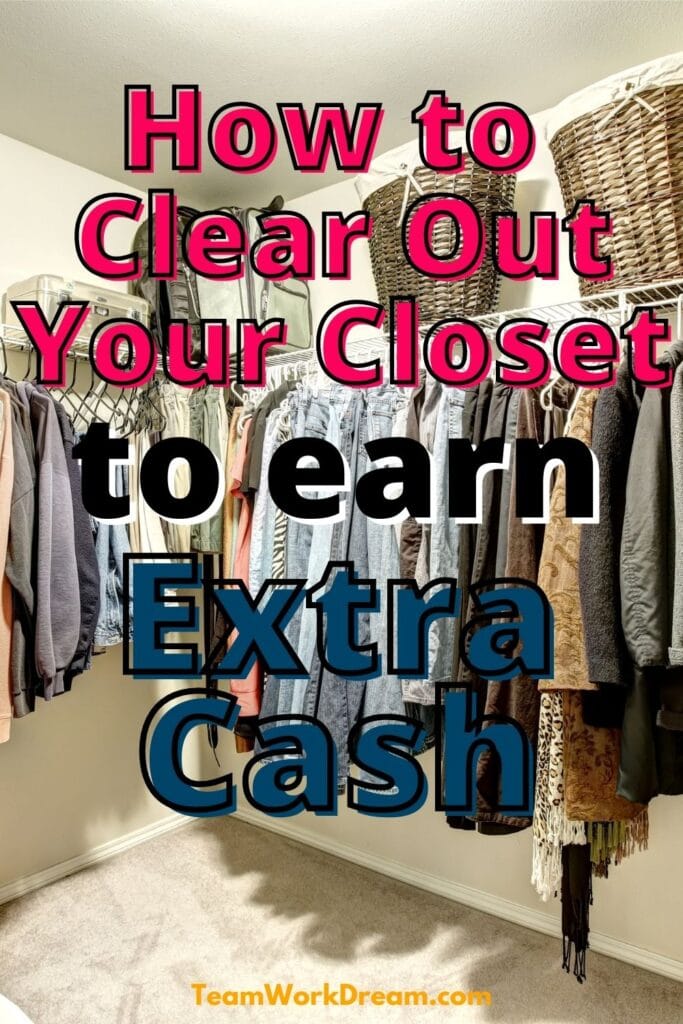 Where Can I Sell My Used Clothes Online?

1. Depop
Depop is a popular app where millions of users sell and buy used clothes for cash. The clothes selling app features trendy styles from various brands and clothing lines. If you are familiar with the social media app Instagram then Depop is very similar.
To start selling, simply create an account, upload a nice profile picture, and state what you'll be selling in your bio.
When posting listings take great quality photos and place an honest description. This will generate interested buyers who will value your efforts and see you as a trustworthy seller.
You can sell almost anything on the app but the bestselling clothing items are vintage and streetwear. Depop receives 10% of your sales and their payment methods are PayPal, direct deposit, and store credit.
2. Poshmark
Poshmark is another popular fashion app where you can make money selling used clothes online and buyers can find eye-catching, great quality used clothes at a bargain.
Some of the popular fashion brands that currently sell well on this app are J. Crew, Nike, Lululemon, Coach.
For items below $15, Poshmark takes only $2.95 of your sale as commission. However, for items listed above $15, sellers receive 80% of sales and Poshmark gets the remaining 20%. So make sure to price your used clothing competitively.
For instance, selling a beautiful sundress you no longer want for $15 means Poshmark receives $2.95. If you decide to sell the sundress for more, say $25 it means they'll get 20% which is $5.
Poshmark issues prepaid shipping labels so you can track each order and once the buyer receives their order, payment is received by direct deposit.
3. eBay
Being a long-standing global company where you can sell all your used clothes and set your own prices, eBay has proven to be one of the best choices for turning your unwanted clothes into cash for years.
If you have a few limited-edition designer pieces, why not start a bid? As always take great pictures to attract buyers and write a clear description.
Create a minimum sales price and watch as buyers bid on your used clothing as the highest bidder to receive your authentic and gently worn clothes.
Clothes that are sold below $100 eBay will charge 10.2% + $0.30 per order. You have the option to ship via USPS, FedEx, and UPS, and payment is done by direct deposit.
4. Facebook Marketplace
Using your Facebook account is another great way to make money selling used clothes online. Facebook's marketplace feature is used to make listings as easy as posting a new post or a new photo from your vacation. Using the marketplace is best for selling clothes locally but can be sold internationally also.
The benefit of using this online method to sell used clothes for cash is that you do not have to share any of your profits. You get to keep 100% of the sales earned. You can also set your payment method but the most popular methods to accept payment is by Paypal or direct deposit.
5. Etsy
Etsy is well known for selling handmade and vintage items but selling used clothes can be done too. Vintage is a long-time favorite and has more luck of being sold faster than any other clothing you may own.
If you are a collector of classic clothes or have access to an older relative's clothes then you have the opportunity to get paid to sell vintage clothes on Etsy.
There are charges to sell on the Etsy platform and they are 3% + $0.25 for the payment processing fee for each item is sold. You can receive your earnings via bank transfer services and Paypal.
6. Tradesy
If you're the kind of person that has closets and drawers filled with luxury designer brands, then Tradesy makes it easier for you to resell designer clothes quickly for cash.
This company caters more to women and allows buyers to pay shipping fees and offers shipping labels.
A flat commission fee of $7.50 is charged for sales under $50 and $19.80% for sales over $50. The withdrawal comes at an additional fee of 2.9% after which payout is done by direct debit, PayPal, or store credit.
7. Swap
Selling used clothes on Swap can be a bit expensive and they have strict requirements about the condition of clothing that is listed on their site.
However, it still is a good place for selling men, women, and baby clothing as they handle all of the inspections, taking of photographs, and listing of clothes for you.
Shipping labels cost $14.99 so be sure to read their acceptance criteria before making your decision. Rejected clothes can be sent back to you at a cost or you can request that they be recycled. The chosen payment methods are direct deposit and store credit.
How Do I Get Paid for My Used Clothes?
Now that you've figured out where you can sell used clothes for money, consider the different payment methods used by each company. Many online sites allow the use of Paypal and direct deposits but others offer different methods of payment as well.
Make sure to have more than one method of payment set up to be able to accept payment and take into consideration that length of time can vary to receive money to your seller's account depending on the company you sign up to.
Final Tips to Know Before Selling Used Clothes
There are a few important things to consider when selling your used clothes for cash online and they are as follows:
Look at prices – Before signing up and uploading images of your used clothes for resale make sure to get an idea of the pricing of items. See what other sellers are pricing their similar used clothes at. Pricing correctly will determine whether you make a quick sale or not.
Trendy clothes sell fast. – If you closely follow fashion having top-selling fashion pieces will put you at an advantage of selling your used clothes quickly. Take photos from various angles and try to ensure your background is as professional as possible.
Consider the Season – Use the right time of year to sell the right type of clothing. Listing your colorful and stylish summer shorts during winter or your winter faux fur jacket during the summer season may pose a challenge. Buyers are usually searching to buy clothing to go with the changing season, though you might find a smaller audience willing to look outside of the season.
Write good descriptions – When writing descriptions for your used clothes for sale be sure to mention the quality or condition of the clothes. Does it have tags, slight damage, and if you wore it more than once? Ensure your clothes are clean and all descriptions are honest.
I hope all these important details on how to sell used clothes online for cash we're helpful. If you have a fashionista in your household why not share this post on the best place to sell clothes for cash with them.
Related Posts