Do you remember having to rush to work because you ignored your alarm and slept in? No need to do that anymore! Let sleeping be your job!
Relax into the warm, soft, comfortable layers of your sheets, and peacefully sleep while you make money doing it. Sounds like a scam, right? Well, continue reading for this surprise side job!
This post may contain affiliate links. For more information read full disclosure.
How Can I Make Money While I Sleep?
There are several ways to make money by sleeping. If sleeping on the job was once an issue for you, try any of the following options that will actually reward you for taking a nap.
1. Testing New Sleeping Products
Some companies willingly pay people to test and review their products. These can vary from sleeping pills to mattresses and bedding.
Some individuals make double by getting paid to use the products and reviewing them on their blogs or YouTube channels to interested audiences.
2. Sleep at Hotels
Research companies that major in hospitality pay consumers to stay at hotels as mystery shoppers.
Individuals get paid to sleep at a specific hotel for a night or more, and at the end of their stay must provide a detailed review about the entire experience.
You can read more about it in this post on Jobs that Pay You To Sleep in Hotels.
3. Stream Commercials
A nice simple way to earn some money is to stream ads from different websites on your phone or laptop and mute them to make cash without needing to watch them
. This is a super-easy way to earn money while you get a good night's sleep.
4. Become a House Sitter
While on vacation some families like to hire house sitters to stay at their house and carry out a few duties.
After tending to different plants, collecting mail, and light cleaning you can take the longest naps and get paid just for being at their home.
Now this sounds like the ideal and relaxing way to take a break, go to new places and make money. You can get full details on How to Become a House Sitter right here.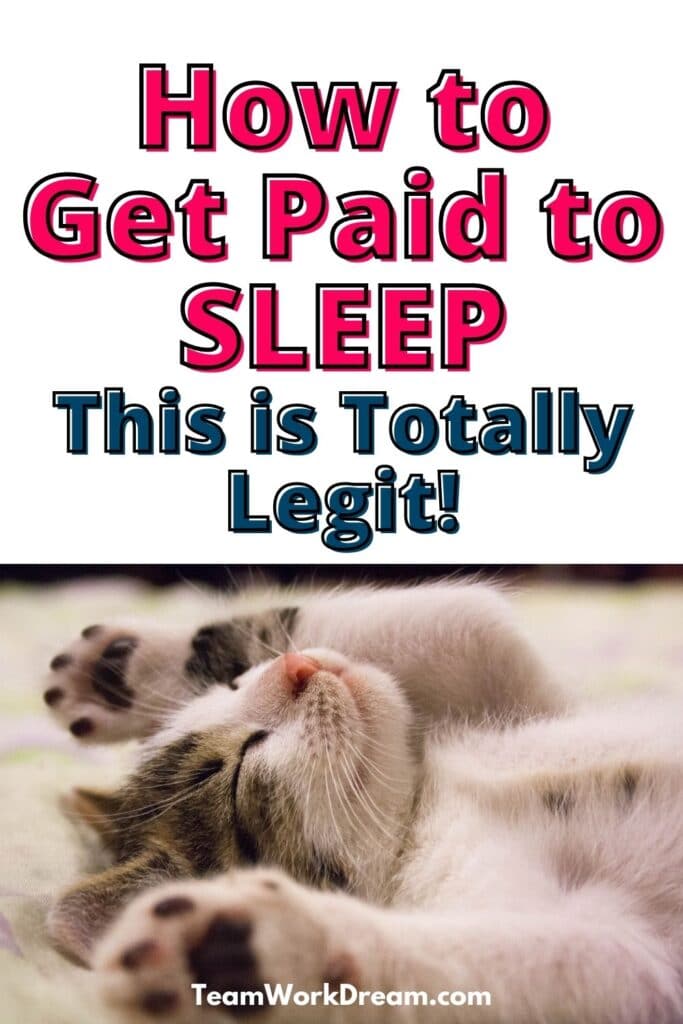 5. Upload Sleeping Videos
There are niche audiences that will sit and watch certain autonomous sensory meridian response videos otherwise known as ASMR videos on YouTube.
Most people relate it to food eating but it can actually relate to any video that stimulates a certain sensory reaction such as sleeping.
If you're comfortable filming yourself you can actually live stream yourself sleeping using a good quality camera and calming aesthetic music as a way to present content that will help viewers to fall asleep.
You will then get paid via ad revenues from the number of views you receive.
How Much Money Do Sleep Jobs Pay?
How much an individual makes from sleep jobs varies for different companies and the extent of what is being done.
House sitters make approximately $14-$17 per hour,
Testing sleep aids can average $250 per hour,
Mattress testers make $80 per hour and
Hotel reviewers make $25 an hour.
There is no fixed rate as some companies that pay people to stream ads may vary based on the number of points you earned for one hour. Those points may have a limit of say 800 points for $5 or 1200 points for $12.
Top Companies That Pay You to Sleep
Finding legitimate companies that you can work with to make money while sleeping can be tough as they are not widely advertised. That is why I've found eight of the top companies that you can research to find the perfect jobs that will pay you to sleep.
1. Wakefit.com
Wakefit is a sleep solution startup, offering mattresses and sometimes pillows to sleepers through their Wakefit Sleep Internship program.
Applicants will be given a mattress and a sleep tracker to get 9 hours of sleep for 100 consecutive nights, after which they will be rewarded.
2. Sleep Junkie
Sleep Junkie is another company where you can get paid to sleep as a mattress tester. They send mattresses to your home for you to test and take the longest naps over a two-month period.
You'll then be required to review the comfort and overall quality of the product and receive $3000. Sounds like fun? Sign up before applications close using the link provided.
3. Coyle
Coyle Hospitality Group is a market research company that hires mystery shopping evaluators. Evaluators are sent to a hotel and get paid to sleep and use the hotel facilities.
They then review the hotel based on the comfort of their stay and the friendly interactions of staff. If you don't mind getting paid to sleep at a few hotels then sign up to begin the process.
4. PrizeRebel
Prize Rebel is a legitimate online website that rewards points convertible to cash or gift cards. To get paid while sleeping you simply need to play videos ads and put them on mute while you rest for hours at night.
As the points accumulate over time you can withdraw your earnings via PayPal.
5. Care.com
If you're interested to become a house sitter or a dog sitter this is a great place to visit to find jobs where you can get paid to sleep.
Some families prefer to leave their pets at home while on vacation or trips, so a pet sitter is hired instead. As a house sitter, after carrying out some basic chores you'll be able to sleep for hours uninterrupted.
6. Craigslist
Sleep researchers and centers commonly post ads on Craigslist to find interested participants for sleep studies. These researches are often carried out by getting candidates to test mattresses, sleep aids, environmental changes, sleep patterns, and other products.
To start getting paid to sleep visit their website regularly for new sleep ads.
7. Eachnight
Eachnight is a company that conducts sleep research using bedding, mattresses, and more to identify the advantages and disadvantages of sleeping.
Participants in the sleep study can make up to $1500 at the end of the research. Visit their website for more information on how to join and get paid to sleep.
8. MyPoints
MyPoints is another market research company that you can use to make money while sleeping. As mentioned, you can play the ads on mute and get many hours of decent rest.
You can even earn points by playing games, completing surveys, or reading emails. With 700 points you can withdraw $5 cash via PayPal or gift cards.
Final Thoughts on Getting Paid to Sleep
Making money while you sleep can be a great side hustle for your weekends or something you do after work. Do further research on the different companies and examine the reviews made by individuals who previously participated.
Select the type of job you'll be interested to do and then find the company that best suits you and get paid to nap. Happy dreams!
Related Posts