While you're always busy taking care of everybody else isn't it about time you took care of yourself?
According to research 44 per cent of consumers believe that self-care is only for those who have time, while 35 percent believe that self-care is only for those with enough money.
Adjusting to working from home can be difficult and you can easily fall into some very bad habits such as working extra long hours, not taking time away from your computer screen.
How about working in your pajamas all day and not having a dedicated space to work from? Yeah, that's not really a thing. You need to fix that as that can be the unfortunate beginning of a sedentary lifestyle and the wrong mindset.
So this is where I will share some of the best self-care products to work from home.
This post may contain affiliate links. For more information read full disclosure.
With these wellness products, you will be able to introduce a great work from home self-care routine. Take the time to check out each of these useful items to achieve ultimate relaxation and create some work-life balance.
Related Posts
Best Self-Care Products for Work at Home Survival
Creating an atmosphere for work that is healthy, calming and inspirational, relaxing yet productive might seem a difficult ask but with the right items, you can achieve the perfect home office environment.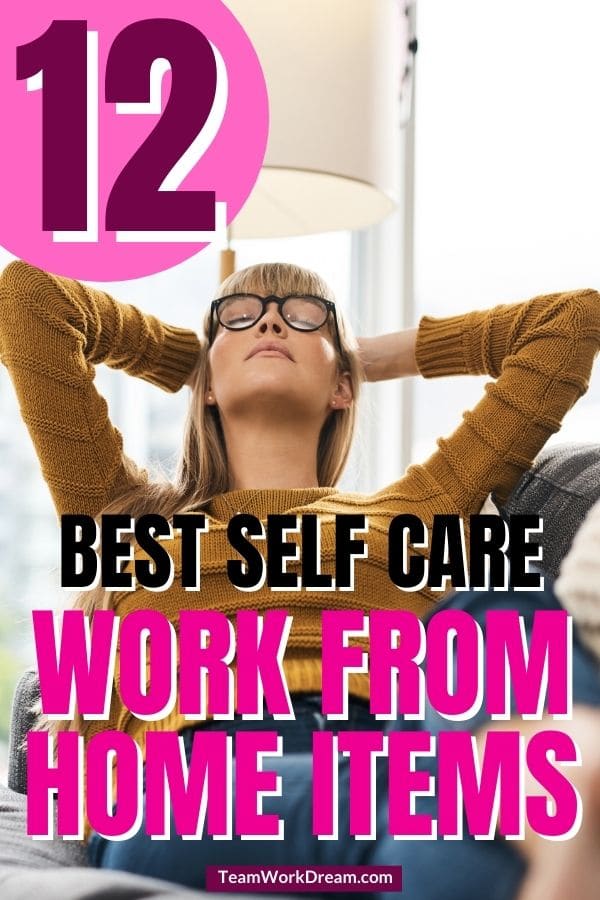 1. Computer Blue Light Blocking Glasses
If you constantly work at a computer you might be experiencing the side effects of headaches, and eye strain including difficulty sleeping. To help prevent this the use of computer glasses is a must.
Research shows that blue light emanating from digital screens such as cell phones, tablets, pcs, televisions can affect your eyes causing a range of vision ailments.
Getting yourself the necessary accessory of computer glasses that filter blue light when working online results in better productivity and a good night's sleep.
One of the most reliable bestsellers is the Unisex FEIYOLD Blue Light Blocking Glasses that are comfortable, lightweight with a trendy design and comes in a pack of 2.
For a full detailed guide on computer glasses, you can read more here.
2. Computer Screen USB Lamp
Having a well-lit work area is important for work at home self-care. Avoiding glare and reflection of harsh light on your pc or laptop, not being seen clearly when holding a Zoom meeting. Unable to have a properly lit workspace can affect your productivity.
If you're working in the nights having warm-toned dimmed lighting to avoid blue light effects and highlight your working area is essential.
One of the best and neatest is this computer monitor LED light that connects via USB and has 3 light modes creating excellent illumination of your keyboard and working desk area for when notetaking.
3. Eye Massager
Besides the use of computer glasses you can, if you have sore tired eyes from excessive gaming, long hours of study, or late night working, use this best selling eye massager.
With modern technology, you can incorporate traditional acupressure methods to relieve eye strain, dry eye, and eye puffiness.
This eye therapy machine not only leaves your eyes feeling refreshed using various massage modes but also allows you to connect via wifi to your playlist to play relaxing background music. It's adjustable for a comfortable fit and portable which is perfect for long-distance travel.
4. Neck and Back Massager
If you have the bad habit of hunching around your desk when working at home then you've probably experienced stiff shoulders and an aching back. One of the best self-care things you can do for yourself after a hard days work is to have a super relaxing massage.
No need to book a masseuse, you can ease neck stiffness, and soothe aching back and shoulders promoting good blood circulation with the portable Shiatsu massager. It comes with a convenient leather carry case and can also be used on all areas of the body for complete relaxation.
5. Air Purifier
If you suffer from allergies especially during the colder months when your home is all closed up, an air purifier is a great item to clear the air where you live and work.
You can easily place this attractive smart and healthy gadget in your home office or if you get a larger size it can be placed in a strategic position so the whole house can benefit from clean air.
This particular model is designed with a modern and minimalist look to suit most home and office surroundings. Available in two sizes you can purchase one depending on the size of the room.
6. Compression Socks
You might be wondering why compression socks are being suggested as you're not traveling anywhere, but have you actually thought that you might not be active while working at your desk and suffer from swollen feet and ankles.
You might be working from home while on maternity leave..
Also, the sedentary lifestyle over the last year has really been serious and finding ways to solve the lack of movement and help with good circulation and energy are important.
Wearing compression socks during the day can help to alleviate some of the side effects of long hours of sitting or standing.
7. Under Desk Elliptical
If compression socks don't quite cut it for you I suggest an under-desk elliptical machine to keep you active and fit even while working from your home office.
Doing some form of exercise for at least 10 minutes per day will increase your heart rate, reduce levels of body stress, make you more alert and release feel-good mood lifting hormones.
Yes, exercising actually helps to make you relax! So connect the mini elliptical bike app to your smartphone to set some exercise goals and monitor your progress.
8. Natural Light Therapy Lamp
Something that can be misunderstood is the effect of the winter season. Like the popular Game of Thrones phrase that 'winter is coming', many people suffer from Seasonal Affective Disorder (SAD) and don't even realize it.
Feelings of fatigue, tiredness, sadness and depression may start to set in due to a lack of good old vitamin D.
This is not to be trivialized and brushed off as just the winter blues. With light therapy you can start to experience the benefits of better sleep, boosted energy, and help with SAD.
Many people especially those of you who live in the Northern Hemisphere experience long dark winters and anything that can alleviate the negative effects of staying inside for long periods of time is a plus.
This is something that greatly affected me why I now live in the tropics but not everyone has that option to get the glow of the sun plus the mountain and sea breeze.
A great device to help towards a happier and healthier lifestyle is the sleek-looking compact HappyLight by Verilux which is UV-free. Available in both compact and full-size and great to use while you work at home inside during the winter months for natural light therapy.
Still scrolling down as you can't quite find what you're looking for? Then get some more useful work from home gifts and self-care product ideas right here.
9. Bath Pillow and Bath Tray Combo
A nice relaxing bubble bath without any disturbance is the ideal self-care treat.
For utmost comfort, if your bath doesn't already have all the spa features you can add a touch of spa-like luxury with a bath pillow.
To complete the picture and have all your self-care favorites within easy reach just add the expandable and elegant bamboo bath caddy with all the self-care treats that you love.
10. Shiatsu Foot Massage Machine
Want your feet to feel like you're walking on air? Then this wonderful foot massager will become your best friend. Available in a neutral color to suit your style and home decor your tired tootsies will appreciate the soothing feeling of a Shiatsu massage.
After a long day of standing, use this stress-relieving, portable, and easy-to-use foot massager anywhere around your home or office to have you feeling like Royalty.
11. Relaxation Kit
The most awesome thing to do for yourself is to relax. Find some time for you. That one safe space in your home to get away from everything and everyone and hopefully be left alone is your own zen-like zone, the bathroom.
Indulge and pamper yourself with this gorgeously scented relaxation kit.
12. Gratitude Journal
A gratitude journal is a great way to focus on the positives within your life and really put things into perspective.
When you write your thoughts, ideas, goals, and affirmations in a thankful way you will come to realize that the glass is in fact, half full. Check your progress, monitor those small positive changes, and work yourself into a better you.
Final Thoughts on Work at Home Self-Care Products
A good thing about self-care is that once you follow a routine you can return to work feeling fully rebalanced, rejuvenated, and refocused.
Being able to spend time with yourself allows you to assess your habits whether good or bad, set realistic goals, and readjust your mind and body for whatever you have planned.
When adjusting to working from home you have to be disciplined and that definitely includes making time for much-needed self-care which usually gets neglected.
Having a work at home environment that is creative and productive by introducing elements of self-care will reflect positively in how you work and in your work.
If you enjoyed this post and would like to suggest some of these great self-care products for home office surroundings to people you know, make sure to share this post with them.
Related post on self-care and working at home