You have been wracking your brain wondering how you can make money and you've probably been sitting on a talent goldmine this whole time. You could make money crafting!
I'm sure you already have a ton of stuff around your home that you could turn into a successful crafting business or you could learn how to make money crafting.
I won't go into detail about what exact items you can craft because that totally depends on what you like doing but I can certainly share some ideas on what is currently trending and also what is always in-demand all year round.
This post may contain affiliate links. For more information read full disclosure.
Make Money Crafting Full or Part-time
The great thing about crafting is you can do it in your spare time and work it up into a full-time job if you so wish. It is totally up to you.
If it is something you do as a hobby and love doing, it makes sense to make money from it if you can. As the saying goes, if you find something that you love to do you'll never have to work a day in your life.
Crafting can easily be a side hustle that you can earn a full-time income from.
Say, for instance, you're a dog lover and love to sew, you can make the cutest outfits for other dog lovers in and around your local area or decide to level up and make it a national or international online business.
Who Should Start a Crafting Business
One important factor about crafting is that there are no age restrictions and no limitations. You can be a child, teenager, college student, stay at home mom or dad, a 9-5er or a retiree.
Once you can do a craft that others are interested in then you should be able to make money from it. Just follow the right steps and promote your business in the right places.
This can be done through friends and family by word of mouth, social media, taking part at community fairs and craft markets, online crafting sites like Etsy, and also your own blog or e-commerce site.
Just remember though, you need to be able to get that money quickly so besides face-to-face cash transactions make sure to set up a PayPal account for your online sales so as to accept credit and debit card payments.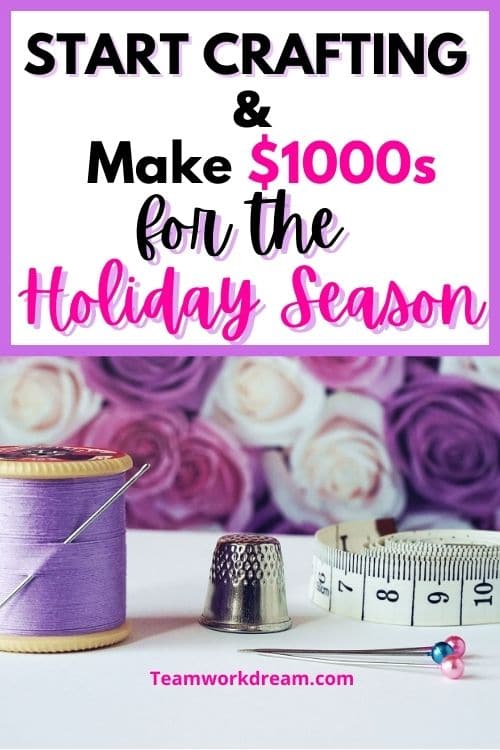 Most Popular Money Making Crafting Ideas
Now let's get into what you've been waiting for, the most popular ways on how to make money crafting.
1. Knitting
I'm sure you know by now that knitting is not just for grannies anymore, it's actually quite trendy and relaxing to know how to knit.
There are so many things you can knit apart from the usual gloves, scarves, and mittens to Christmas sweaters and oversized throws to stuff knitted toys.
You can be extra creative and follow a particular theme like making animal-inspired pieces or even superhero-inspired pieces.
Find some inspiration by looking at Etsy for ideas and if you are a complete newbie you can learn how to knit for free by searching on YouTube.
2. Crochet
Crocheting can easily be teamed up with knitting as an at home craft business. Just ask Shanice Taylor. Curious to know who this is? She is the woman who custom-made the crochet dress of world-famous singer Rihanna.
To learn alongside any of the instructional videos on YouTube search around your home to see if you already have yarn and crochet needles, if not you can always get yourself a knitting and crochet bundle from Amazon.
3. Bath and Shower Bombs/Fizzers
With simple ingredients, you can help turn your potential customers' bathrooms into zen-like spas from your handmade essential oil-infused bath bomb gift sets.
Easy to make and not too costly to start this type of crafting business is a great one to get repeat customers. Not only that, if you have children you can get them involved too as it's so easy to make.
Use a wide range of molded shapes to create unique products and also use all natural ingredients as an added benefit and selling point for your bath bomb craft business.
4. Soap Making
Although this craft has been around for eons the key to its success is supplying great quality products, unique scents, and shapes, along with positive glowing skin results.
There are a ton of YouTube videos showing you how to make soaps but you can always get a few more ideas with a beginners soap making kit before spending a ton of money on professional equipment and packaging.
Use this start up soap making kit to see if it's something that you enjoy and want to turn into a viable craft business.
5. Body Butters
There are so many people making beauty products that you might believe that the market is totally saturated but there is always room for one more if you take a slightly different approach to your product along with providing excellent customer service.
Promoting self-care, a good skin routine and using natural ingredients in your body butters can make attractive gift items for potential customers.
If you don't have a particular preference you can actually combine your crafts and create gift packages of bath bombs, soaps lotion bars, body butters, and lip balms for a complete self-care beauty package.
You might also be interested in reading 31 Money Making hobbies to Make Quick Cash
6. Quilting
If you enjoy the art of sewing but not the pressure of making fashion items you can make and sell quilts instead as wonderful keepsakes. You can do this by hand or on a sewing machine and use scraps of material to create a masterpiece.
To make your life that much easier and your quilting work accurate, get a fabric cutter for ease of use and time-saving.
7. Resin Art
You probably have a resin art item in your home right now. A cute keyring, handmade jewelry, a coaster, or maybe a chopping board.
Crafting these attractive items using epoxy resin and glitter or gold leaf adds a touch of glamour to any home decor piece and these are just a few of the resin craft ideas you can do as a side job to earn extra cash.
Just a quick word of caution, make sure to set a budget as some of the ingredients can add up. Also make sure to practice before releasing your craft work to the world. Perfect your skill before promoting and selling.
You can get beginner resin art starter kits that are great for practicing and gifting your craft masterpieces to family and friends. Once you've mastered the art then you can level up to starting your resin craft business.
8. Paper and Vinyl Craft
A popular craft that has made many a stay at home mom 4, 5 and 6 figures just by purchasing a Cricut or other brand of cutting machine is paper and vinyl crafting.
From personalized printed T-Shirts, cups and tumblers you can provide a profitable service in a number of niches with this kind of craft. Cake decorating, wedding events, home decor, birthdays, gift boxes and baskets the possibilities are endless.
If this is something that you have always been interested in doing I suggest getting yourself the Cricut Explore Air 2 Bundle.
It's on special offer, complete with a great set of accessories due to the release of the newer Air 3 model, perfect for a beginner and also great for starting an at home business.
It's a lot cheaper than the newer model 3 which as a beginner there is really no need, in my opinion, to personally stretch the budget in the early stages of your business but feel free to check out the features in case you prefer the Explorer 3 Bundle offer.
***Current Special Offer on Cricut Maker. Up to $140 off original price on Amazon. That's a huge 38% discount. And $80 saving on the Cricut Explorer 2. Hurry while stocks last!
9. Balloon Decorating
When starting out this can be a low-cost high reward type of creative business. You can combine it with other crafts or focus on one particular niche. This could be weddings, baby showers or just personalized birthday balloon gift baskets.
As long as you have a good eye for color and design and are not scared of the odd popping of a balloon you can create stunning backdrops, decorate entrances and stage platforms for special events from free online balloon decorating tutorials or paid classes and start earning a great part-time income.
Again, this type of artistry can be combined with other crafts mentioned above.
10. Hand Lettering Calligraphy
Did you know you can make money from your handwriting? Yes, you can sell your very own handwritten fonts on sites like Design Bundles, Font Bundles, Creative Fabrica and many others. It's a great art to learn and if you already have a natural talent for beautiful hand lettering then you are halfway there.
You can use calligraphy and brush pens to practice with and here is a great set for the beginner. But if you don't have these pens you can learn and practice on your iPad on relevant apps such as Procreate, Paper, Calligraphy HD just to name a few.
Just upload your fonts to crafting and font sites and earn money with your commercially licensed calligraphy every time someone downloads your font.
You might also be interested to read 5 Top Ways to Make Money with your Beautiful Handwriting
Money Making Crafting Tips for Newbies
Before giving my final thoughts, I just want to share with you a couple of simple tips and mistakes to avoid.
First of all, before promoting and selling your craft items through social media and online through Etsy or your very own site make sure that you can make whatever craft you choose efficiently, neatly and quickly.
Practice on family and friends first for free or sell to them at a reduced cost. Make sure that you have the time to dedicate to actually make and fulfill your craft orders. Again, this means practicing which will make you quicker.
Remember, the last thing you want is to start your crafting business with bad reviews.
Do not copy the craft designs of others. You can be inspired by and make a variation but not an exact copy.
Another tip is that there is no need to hire a professional photographer or buy a top-of-the-range camera when starting out. You can always use a good quality cell phone.
Just make sure you have good lighting and a great background to take pictures of your handmade items when promoting on your website and social media pages.
As a beginner, don't go overboard buying every little non-essential crafting gadget that you might never use. Don't scrimp on good-quality items either.
Check and see what tools and inventory the professionals are using. They might actually be using alternatives to sponsored recommendations. Buying a cheaper item might cost you in the long run so make sure to do your research when purchasing your craft materials.
Now this one is a key tip for right now. There is a particular time of year when everyone wants to buy unique gifts to decorate their home and to give to friends and family.
This special time is Thanksgiving through to Christmas. During this time craft items are sold at their peak and this is where you can make the most money from your crafting talents.
The key to the success of this is to be prepared and the time to do that is now, yes, in hot July. There's a reason for the phrase 'Christmas in July' as retail outlets start to view and buy up Christmas inventory for their stores.
This is the time for you to maximize your time and start making your handmade items before the rush of the holiday season.
Final Thoughts on How to Make Money Crafting
This post only touches the tip of the iceberg. There are so many crafts out there that there just isn't enough room to list even half of them. Just know that as long as you can do something creative with your hands you can more than likely monetize it.
Check your hobbies, is it gardening, painting, cake decorating? Whatever your crafting hobby is that you're always getting complimented for then give it a go as a crafting business.
If you found this post useful, why not use it for inspiration and get started with your crafting ideas to make extra money and don't forget to share this post with others.
Related Posts