Where to Find Entry Level IT Jobs
As we move more and more into the technology age with artificial intelligence and virtual worlds the demand for global coders is ever on the increase. Because of this demand, I want to share how you can go about finding great paying expert and entry level IT jobs that you can do from home.
This post may contain affiliate links. For more information read full disclosure.
Yes, no need to travel state to state or overseas to get a great salary, you can earn a great income right where you are in or outside the US and traditional countries.
Just think about it, no cold weather, no long commute. All you need are the technical skills, a great looking and engaging resume and be open to taking a test or two so that the potential client can know what skill level you are at and possibly a face time interview via Skype or other video call method.
Related topics on online entry-level jobs:
Work At Home Expert and Entry Level Job Sites
There are a whole load of expert IT sites offering remote work and here are a just a few to get you started to become a work at home IT expert.
NoDesk – An excellent resource with a global listing of remote work on their job board. Feel free to search for the perfect position. The site covers a wide range of remote positions.
PowerToFly – A female-driven work site promoting diversity and equality with a great selection of global jobs which include remote IT jobs.
StackOverflow – A targeted remote working site for developers.
Authentic Jobs – As the name suggests this is a leading job board for designers, hackers and creative professionals with some of the available positions being remote jobs.
WFH.io – Another work from home job site but it also covers positions outside of IT.
One type of remote IT job that you might not have thought about is the world of cryptocurrency, blockchain and digital currency. There is a whole lot of remote positions out there waiting to be filled.
Just take a look at the TechMeAbroad website or check under the cryptocurrency category on the NoDesk job board for the most up-to-date job posts.
How Much Can You Earn as a Remote Programmer or Developer?
It's quite common to find the IT guy from your 9-5 working from home for most of the week as most of the work can be taken care of remotely.
When it comes to pay the range can vary depending on if you are a computer programmer, a software developer, a software engineer, an app developer or a web developer.
According to this news article, the range can be from $55,000 to over $100,000 annually depending on your knowledge and experience.
Of course, if you are seeking entry level information technology jobs then this rate of pay will seem quite competitive and if your outside of the US/UK even more attractive.
As an IT freelancer, you can earn between $55 to $80 per hour.
Although this might seem a bit more than an employed member of staff doing the same job don't forget that you are a freelancer so as a remote worker benefits are not included in your independent hourly contractor rate.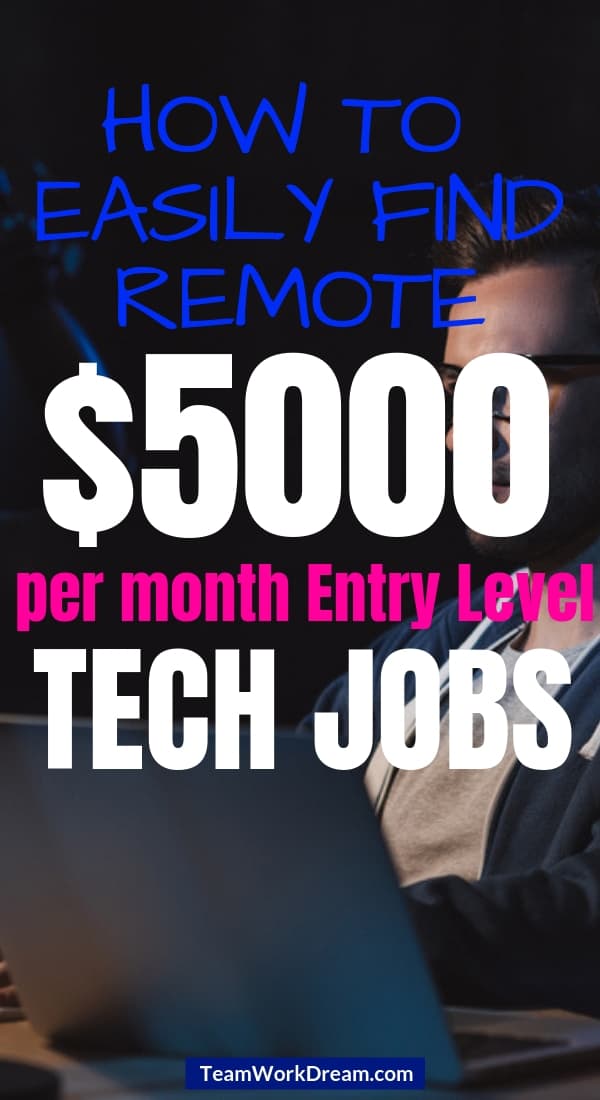 Location Will Not Be a Problem
One thing to remember, never be put off by the advertised remote locations.
The key word to look for is 'remote'. You just need to know that you have the abilities and attributes, your qualifications are on point and that you are motivated and willing to sell your skills.
That's one of the great advantages of remote IT jobs you can be completely location independent.
Don't forget if you're based in places like Latin America or the Caribbean like me your timezone is similar to the East Coast of America and If you're in Ireland or even Ghana you have the same timezone as London and close to other European timezones.
One important thing you must have though is a reliable high-speed internet service. Take a look at a previous blog I posted to get an idea. How To Find Remote Work
Final Thoughts on Finding Remote IT Jobs
So with all that you have seen on these global websites, I hope that you now see that there is a world of opportunity for you, especially you coding experts, computer programmers and app developers.
One more thing if you love gaming there are a lot of work from home opportunities in this field too.
Check out this post for more information on how to make money as an online game tester. Sometimes you just have to think outside the box, Why not look at the website of the companies whose games you play?
Look outside of trying to find a 9-5 job where you live, there are real high paying remote jobs available where you do not have to leave your country much less your home to get the kind of financial reward that is equivalent to being in what is considered a developed country. Just ask a digital nomad!
Try instead, if you can no longer face the long commutes, the unreliable transportation systems, the ever-increasing fares, that miserable supervisor and find great paying entry-level IT jobs that you can work from home using any of the sites above.
If you're not so technology-minded but still want to work from home you might just need the right training to upgrade your entry level skills to prepare for your work from home journey.
To help with that have a read of this post which has a long list of work from home ideas that just might have your name on it. You can also find out about some of the best online courses out there to start earning a full-time income.
For additional information check out the other blog posts that might be able to help you. Also, don't forget to pin and share.
Related topics on online entry-level jobs: