Being retired doesn't mean you want to sit around doing nothing all day it means you have the choice to do what you want, when you want after the many years of work.
But is there enough in your retirement fund? Would you like a way to top up your income with a great little side hustle? Do you really know what to do after retirement to make money?
This post may contain affiliate links. For more information read full disclosure.
According to retirement statistics, retirees are looking for flexible and more meaningful work. The majority of those nearing retirement age are considering working past the typical age with 72% of adults over 50 wanting to continue work into their retirement.
Retirement does not have to limit you from making money. There are many ways and even some part-time jobs as a retired professional that you can do.
Now that you have some extra time on your hands there are some fun jobs for retirees that are great opportunities for you to earn some money on the side. Want to find out more? Then read on to find out how you can earn extra income in your retirement.
Money Making Ideas for Seniors
1. Taking Care of Pets
Retirees can make extra money by looking after pets. The duties involved in taking care of animals include pet sitting, grooming, dog walking, feeding, cleaning, and bathing when owners travel for work or vacation. If you have experience with your own pets, it counts as experience in this type of job.
2. Rent Your Space
You're probably at the age where the kids have left the nest and you're not ready to leave your home to downsize. Why not consider renting out your home?
One of the options is to rent the entire property when you are on holiday or all the time if you have another property elsewhere.
Another option is to rent out a room to a lodger or use better yet, use sites like Airbnb, HomeAway or FlipKey to rent out some rooms for a short period of time.
This is an excellent option if your home is in a tourist area, near a popular beach, hiking trails, lakes or historical sites.
3. Temporary or Seasonal Work
If you are looking to make extra income, or miss working life, temping can be a good fit for you. Since you already have the skills and the experience, you can register with a local agency for seasonal work or short-term projects.
You can also sign up for a number of online companies such as Amazon, American Express, Carnival Cruises for online seasonal jobs. In other cases, temporary jobs include covering for employees who are on medical or maternity leave.
You can get more information on Seasonal Jobs on how to make extra income.
4. Babysitting
You can help working parents take care of their children by babysitting. The responsibilities may vary depending on the age of the children. The pay will also vary depending on the responsibilities and location.
Some of the babysitting duties include picking up children from school, making dinner, or helping them with homework. You can sign up with companies like Sittercity or Care.com.
5. Tutoring
If you are retired with tutoring or teaching experience plus test preparation on a particular subject, this can be a great way to earn an extra income.
You can either tutor online or sign up with a tutoring company that requires you to go to homes or in the office. You can find jobs at Take Lessons. Do a search for tutoring companies for jobs that fit with your expertise.
6. Teaching English as a Second language
You can earn extra income by teaching English to Chinese students through online sites like TeachAway or VIPKids. If you're a retired teacher or you a strong English language command and a degree then you can start to teach English as a second language.
Fun Jobs for Retirees
7. Become a Local Tour Guide
Working as a tour guide is an interesting job that can earn you extra income as a retiree. This job does not require any prior experience but you might want to check with your local tourist department as they may provide free training.
A great company to join to become a local tour guide is TourHQ which is really easy to join.
The start-up cost is minimal and you do not need any special license to operate. An alternative is to apply to various places for tour guide work like historical monuments and local museums.
8

. Market Tester and Researcher

If you love giving your honest opinion and getting free stuff plus cash why not start participating in surveys and focus groups. It's an easy way to make money as a retiree.

Companies will pay you for your feedback and opinion about their products. All you need is a smartphone or laptop and access to the internet to get started. You may also from time to time need to attend a focus group.

With your years of experience within your working life and life in general, your view on certain things will be invaluable. The added bonus is you might be one of the first to find out about and test new products.
9. Personal Shopper
Why not become a personal shopper for busy professionals. If your pastime is shopping, you can have fun and get paid while shopping for someone else without getting into debt.
10. Television or Movie Extra
Ever dreamed of being on a movie set? Then why not use your amateur dramatic skills to get yourself a bit part in movies or television shows. This type of work can be found on Craigslist for casting calls or you can register with a casting agency for free.
It is a part-time job, maybe once or twice a week, but it can earn you some extra money. You might even get to meet somebody famous.
11. Golf Course Marshall
If you're an avid golfer why not become a golf course marshall. Not only will this save you a whole lot of money on golfing fees but you get to take part, maintain and watch the sport that you love. Indeed always has golf marshall job opportunities so why not take a look.
Retirement Hobbies that Make Money
12. Gardener
You can become a gardener and grow flowers for specific events of the year like Valentines and Mother's Day, Christmas. You can even make floral centerpieces, corsages, fruit or vegetable and herb baskets and other items for special occasions then sell them locally to earn some extra money.
If you're already a gardening buff this is a great way to use some of your outdoor space to grow and make some extra cash.
13. Selling Your Craftwork
As a retiree, you have skills that are valuable and you can easily turn some of these skills into opportunities.
If you have talents that are considered old school or DIY (Do It Yourself) such as quilting, pull thread embroidery, carpentry, blacksmith, glassblowing you can also teach these skills or sell your craftwork at local markets or online sites like Etsy.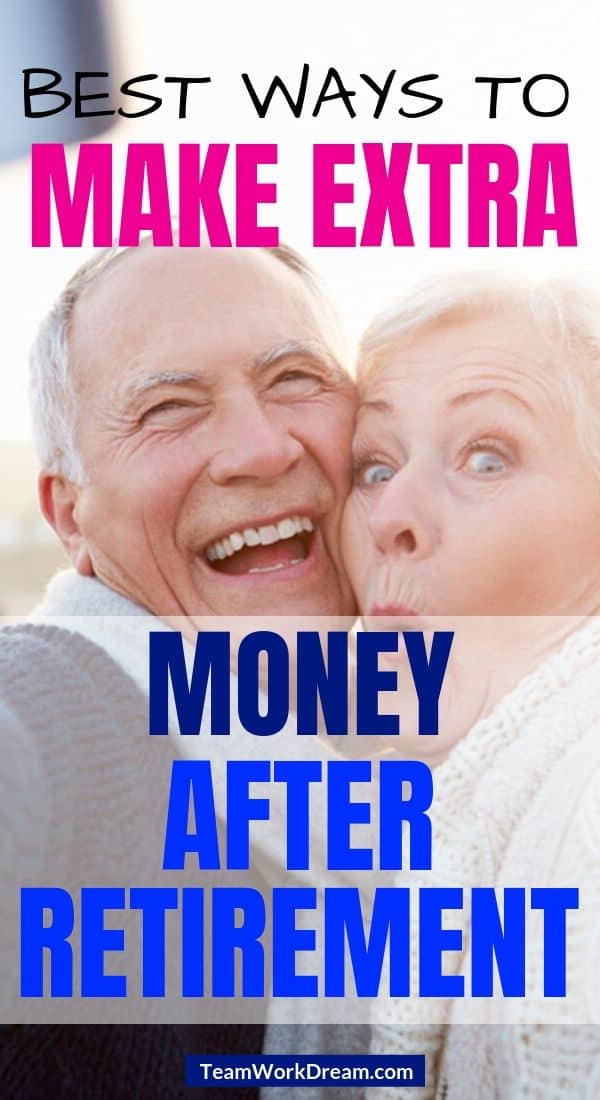 14. Selling Your Photos Online
Now is the time as a retiree to spend time traveling and exploring. You can sell your photos at online sites such as Shutterstock or set up your very own stock photo site.
This a great way to capture events that most working people can only view in photos, and share those moments as you travel across the world. Stock photos sites allow you to earn royalties by selling videos and photos.
15. Selling and Flipping Your Stuff
After a lifetime of working and spending, you might want to start downsizing and decluttering as you've collected years of stuff that you may not need anymore.
Selling these items at a local market, backyard sale, or through online sites like eBay is a quick and easy way to make some extra cash and might just get you started in flipping items.
Final Thoughts on How to Make Extra Money When Retired
From the ideas above you can see that there are many options to top up your retirement income. You can easily use your hobby or just do fun things to earn some extra money.
Related Posts