The Best Places to Find Seasonal Work from Home Jobs
If you are looking to earn some extra money before and during the Christmas season then I have a list of the best winter seasonal jobs that you can start doing from home.
Some of the most popular companies such as Amazon hire in response to the increased customer demand for retail goods and services during the winter holiday season and most of these companies hire home-based employees.
This post may contain affiliate links. For more information read full disclosure.
Workers who get temporarily hired during the holidays typically receive better benefits, more flexible hours of work and more overtime opportunities and sometimes you can also use this as a way to obtain a permanent position if available.
Before we go through the list of the best places that hire seasonal workers from home before the Christmas holiday let's check out the basic equipment that you will need to do these seasonal work from home jobs.
If you're looking for a full range of remote work from home jobs FlexJobs can help you find legit remote working opportunities. Sign up now to join FlexJobs.
What Equipment Do You Need to Do Seasonal Online Jobs?
As most of these seasonal jobs are online there are some basic equipment that you will need and more than likely you already have the relevant resources to start working immediately but in case you don't here are few recommended essentials.
Once you decide to do a seasonal online winter job this means that you will need a fairly quiet place to work. You must have a land-line, high-speed internet and you will also need a pc or a laptop, a smartphone to work from and if you plan on providing a customer representative service you will need a good comfortable headset with a microphone plus noise cancellation.
I use this particular one (pictured below) when talking to clients on Zoom or Skype calls for my Virtual Assistant business and also when transcribing podcast interviews and it definitely drowns out any background noise.
Another great item that I also find super useful especially if you do not have a dedicated place to work from or just need a change of scenery while working is an adjustable laptop stand. It's a great sturdy and budget-friendly resource that you can use anywhere in your home. Check it out as it is seriously useful whether sitting or standing.
Although printer/scanners are being used less and less and it would seem practically becoming obselete you might want to consider getting one in case you don't already just for any documents that cannot be signed off electronically.
Also, you can never ever go wrong with a set of notebooks to jot down any notes, numbers and references to help you get your work done.
Where to Find the Best Winter Seasonal Jobs
If you have a car, a bike, or a scooter, you can use any of these vehicles to make deliveries. You will earn money by bringing people their food orders from their local restaurants.
The good thing is that you can work on your own schedule so you can choose to deliver in the morning hours, nights or only on weekends. This is a great way to earn some extra seasonal cash as the demand for having food delivered increases over the winter months.
There tends to be quite a few online Christmas job openings in the floristry industry and you don't necessarily have to have experience in the floristry field to do this seasonal customer service job.
You can sign up and get a home-based call center job at Teleflora. Hiring usually takes place in the Summer and Fall for the holiday season. On their website under the location just select telecommute or home-based option.
Amazon is everyone's favorite online retailer for finding the perfect gift at any time of year and for the Christmas holiday season which is absolutely one the busiest times for the online retailer. Just remember if you plan on providing a delivery service then you must have your own transportation.
Why not take advantage of this fact and become a work from home employee. The jobs they offer during the holiday season include packaging, fulfillment, and delivery. Amazon hires workers from certain countries and states. Check if they hire in your area.
During the Summer and Fall, Amazon starts to heavily recruit for seasonal at home call center workers to fill the holiday demand.
If you can provide great customer service, flexible with your time and quick at handling queries and typing up messaged responses then this could be the perfect seasonal winter job for you. They even have call centers where I'm located right here in the Caribbean.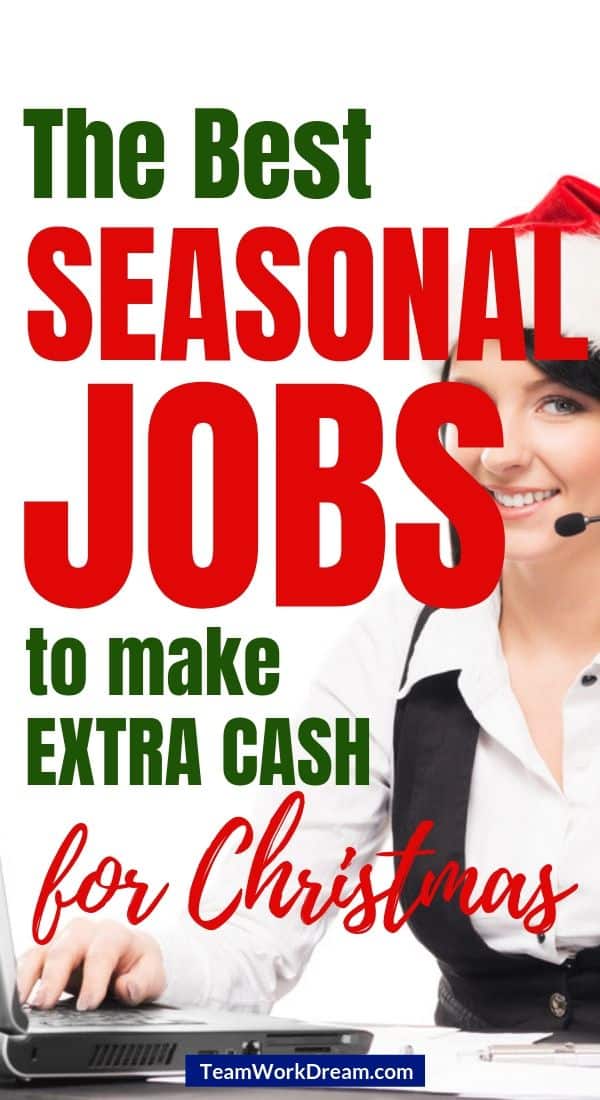 American Express is another place you can get seasonal work during the Christmas holiday. You can work from home receiving calls in a fast-paced environment.
The duties include offering tailored solutions to customers and evaluating account information. The company covers monthly fees and connection cost for internet service and dedicated telephone from an American Express approved provider in your State.
If you have reliable driving experience and you're familiar with your City you can become a seasonal Lyft driver. It's a great time of year to earn extra money and provide this service because of all the additional events that take place over the holiday season. Rather than having a designated driver, customers can just order a Lyft instead.
You can make money driving people to Thanksgiving and Christmas get-togethers and other special seasonal holiday events, dates, work events, shopping and appointments. Although this is a year-round service, it will pay more to drive during the holiday season.
Another work from home company that regularly hires over the holiday season is 1-800- flowers.com. You can check within winter for Christmas work. Sutherland cloud source handles their seasonal work for service agents and at home sales.
Although HSN hires home-based sales and customer service representatives on a regular basis, they also offer seasonal work from home jobs for holiday season preparations.
If you're interested in working remotely for them in the keywords search box, type 'work from home or seasonal' on their website. There should be a number of home-based jobs available for residents in different States.
If you are a tax or an accounting professional looking to earn extra cash for the Christmas holidays, Intuit hires seasonal tax advisors and tax support specialists. When selecting your location, choose USA remote in the location dropdown.
UPS hires drivers, package handlers, and driver assistants to help with the winter holiday season rush. Most of the workers hired during the holiday season become permanent employees. This is also a great chance for people looking for long-lasting opportunities. Don't forget to check out your own country location websites
You can work for Radial during the winter season in customer service and fulfillment centers. Employees help to source and send the surge of orders that the company expects to get over the holidays. Radial is one of the best places you can get seasonal work at good pay.
At Concentrix, they have a home agent program that offers services such as customer service, sales or technical support through incoming calls. The company offers workers paid training and benefits. They hire in Canada, US, United Kingdom, India, Philippines, the Caribbean. Concentrix has schedules from 16 to 40 hours available weekly.
Kohls offers seasonal jobs sales associates to help provide customer service, credit operations, stock merchandise and fill online orders. They also hire freight and distribution associates to assist with packaging of orders and delivery.
Teletech hires work from home customer service representatives to assist big e-commerce retailers in tracking, fulfilling and troubleshooting orders. The company helps these larger retailers by providing tech support during holidays.
Sykes Home gives home-based agents an opportunity to take sales calls and inbound customer service for clients. Agents get hired by phone and online.
The hiring process includes a pre-interview screening with a test of technical skills and voice audition through a phone interview. If you have bilingual skills with knowledge of mandarin or Spanish languages, it is an added advantage for you.
There are peak times for holiday cruises and the winter season is the time that they require more remote customer service reps to assist with guest information travel arrangements, ticketing queries and other general customer service support.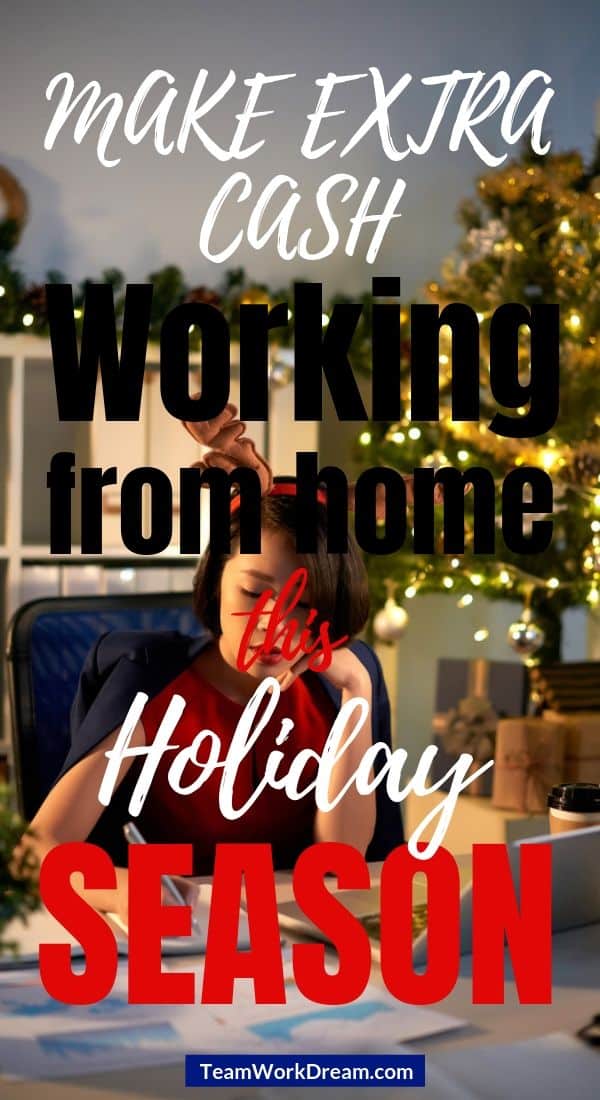 Final Thoughts on Online Winter Jobs
As these are seasonal winter jobs they only come around just before the last quarter of the year so it's good to apply as soon as Summer is about to end.
Unfortunately, due to them being temporary they do not normally provide you with the equipment or an allowance to purchase work from home equipment. There are some companies that do this for long-term full-time positions.
The holiday season can be a very expensive time of year but if you use your time wisely, start saving the extra earned from your seasonal job and cut back on the non-essentials you can save up quite a tidy sum to put towards debt or something nice for you and your family.
You may have noted that quite a few of these seasonal jobs referred to jobs in the US but don't let that put you off, check out your own local large scale retail companies where you are.
Also, don't forget to make sure you have the essential equipment so that you can hit the ground running and start your seasonal online job immediately.
Remember that quite a few of these large international companies such as Sutherland Global, Concentrix and Amazon also outsource their remote customer service jobs to other countries and just might have the perfect winter seasonal job just for you.
If you are successful in getting any of these seasonal positions why not let me know so that I can share your story and don't forget to share this post with others too.
Related posts for Seasonal Jobs: