Excellent Mother's Day Gifts for the Work at Home Mom
Mother's day is my absolute favorite day of the year. Why? Because it means that I get the chance to do something for myself, not have to do anything around the house and on top of that my family comes up with the best mother's day gift ideas. It's also a great time for me to relax and for my family to appreciate everything that I do for them.
This post may contain affiliate links. For more information read full disclosure.
Sounds selfish, doesn't it? Not to me, not really! There's 365 days in the year and I get two days in the year to be absolutely spoilt rotten and totally appreciated with no cooking, or cleaning involved and that's my birthday and Mother's Day. I think it's well deserved.
Now I work from home so balancing work and home life can be a bit of a challenge but I have a few gift ideas that could make yours and my working life that much easier or just fun once we've finished putting our feet up on Mother's day. 
Here are a few of my favoirites that I would love to get. How about you?
Related Gift Idea Posts:
It would be great to get a new mug. I currently have the hustle mug but it would be nice to get a personalized mug with pictures of the family on it.
**You might also be interested in Impressive Gifts for the Work at Home Hero**
Another thing I've noticed, as moms, we tend to neglect ourselves and take care of everyone else and when we do get a spare moment to ourselves there's nothing more important and enjoyable than pampering yourself and by freshening up your look by getting your hair done.
By the way, have you seen the Mother's Day Gift Ideas from Target? A great selection of affordable and adorable gifts that I can't decide what to choose.
More Great Mother's Day Gift Ideas
There are a few of my fellow bloggers out there who have come up with some awesome gift ideas to save time, save money, be more productive and just plain old relax so that you can back to your work from home job feeling refreshed and ready to get back to business. You can check them out below.
Melissa
Crafting moms always need storage and bags to carry their things around and Melissa of Polkadotchair does not disappoint with her 50+ diy Mother's Day Gift Ideas.
Heidi
This post is perfect for Dads and older siblings wanting to help the little ones make the perfect gift for Mother's Day.  Happiness is Homemade has a great list of easy Mother's Day Kids Crafts.
Lois
I absolutely love, love, love the Mother's Day gift choices on Lois of Walking on Sunshine blog. Perfect ideas for a chilled out self-care day.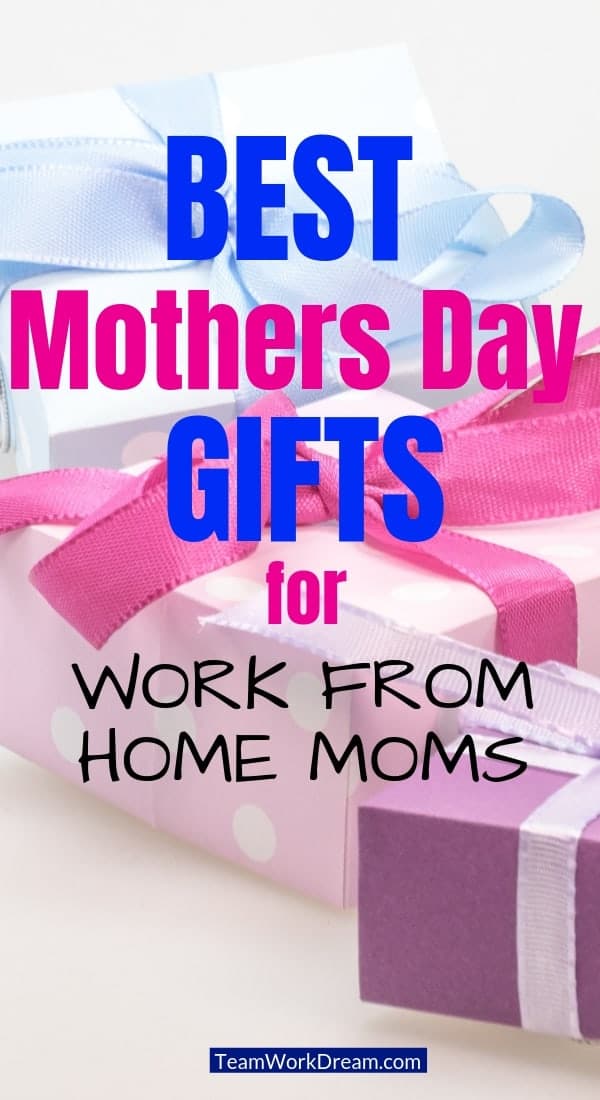 Lydi
If you want a great variety of Mother's Day ideas then check out Lydi Out Loud.  Get some ideas of what you do locally for a fun day out.
Theresa
If you want a really extensive Monther's Day Gift Guide then Theresa of Dear Creatives has got your back. Brunch ideas, gardening ideas plus some cute accessories and clothes that I think I might just try out myself.
Lori
Do you love all the latest tech gadgets? Need them for your work from home or anywhere business? Well, now you can add even more great tech gift ideas to your list by checking out Lori's More with Less Today blog.
I hope that this list of best Mothers Day Gift ideas have got you thinking up a storm. Start giving hints of what you want to your nearest and dearest. Groupon always has some great spa day deals and excellent photography portrait specials or doing something creative like painting or artisan bread making.
There are so many great ideas out there for you to really enjoy your Mothers Day. So get your loved one to grab a great Mother's Day Gift deal now!
So as not to let the other mothers in your life feel left out don't forget to pin it for later and share with everyone.
Related Gift Idea Posts: