Handle Your Freelancing Business
You're a fairly newish freelancer, you've cut your teeth on the Fiverr online gig platform and you're ready to take off the training wheels and level up? But how do you go about simplifying your freelancing business? How do you go from Level 1 and 2 Gig rockstar on Fiverr to an independent kickass freelancer?
This post may contain affiliate links. For more information read full disclosure.
You've told family and friends that working from home means a lot more than drinking lattes from your Mr Coffee machine and lounging around in your pajamas even though that's a false impression that many have. And, as much as working on your own well planned out schedule as a freelancer is a wonderfully great feeling it can get lonely and tedious when having to deal with your own personal administration.
Apart from handling clients' projects and orders, you also need to keep a track of your expenses and income. This can be an uphill struggle if you're not organized and can end up taking up too much of your precious working time that you could have actually been using to make those coins.
That's where the need for a freelancer management software comes in. In this post, I will be sharing with you how to simplify your work from home business with AndCo, one of the best and most basic ways to streamline your freelancing business FOR FREE, especially as a beginner.
What is AndCo, I've Never Heard of it?

I hear you loud and clear, but as a freelancer, you're seriously missing out! This bare-bones proposal creating, contract sending, invoice making, expenses tracking and project management system makes freelancing admin a breeze.
AndCo is a simple to use management cloud-based software for freelancers. The software was acquired by Fiverr, yes, that popular freelancing online job platform to become AndCo by Fiverr. The best part of AndCo is that it's completely free, yep free to use, excluding the charges by merchant fees of course when you start getting paid.
Prior to Fiverr obtaining AndCo, there was a $168 annual fee but that now, my friends, is no longer the case. But be aware that as great as it is AndCo is not quite a full accounting software like Quickbooks.
Don't let that worry you though, keep reading because it does include typical accounting features like invoicing, expense tracking, time tracking, and project management. The developers have also included unique freelancing features like proposals and contracts created in collaboration with the Freelancers Union.
It also features a helpful instant chat support feature with 'real people' making AndCo an excellent and helpful app for freelancers enabling them to automate essential management tasks and get great customer service. It also has a Chrome and Firefox, extension, compatible with Mac and you can add the AndCo app to your smartphone so you can invoice, check expenses and update tasks on the go.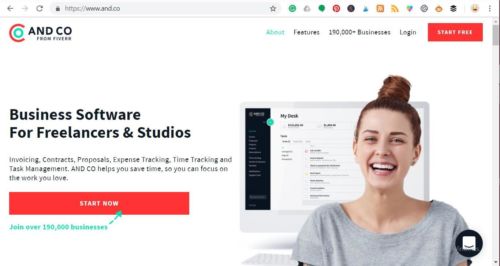 As mentioned earlier, the AndCo app helps you in processing invoices, accept payments, track your time and your expenses, all the while having access to an experienced customer chat service operator in case you have any issues or need suggestions on how to improve your productivity by using this streamlining management platform.
The tool is useful in keeping track of your billing schedules, making sure your clients pay your invoices on time and if time slips it also automatically reminds you and your clients when their payments are late. AndCo can receive payments from your clients via PayPal, ACH transfer, and also WePay and Stripe for credit card payments.
Another benefit is that since the tool is designed to make your life easier, you can connect your home business to your bank account. This will help in automatically tracking, reconciling and categorizing your expenses for tax preparation.
How AndCo Can Simplify Your Freelancing Business
AndCo is a well thought out system that anticipates the information needed by the user and automatically offers it. It operates as an assistant keeping track of the tasks that you set yourself for completion.
The software's dashboard known as "My Desk," is set up in the same way as the physical working folders of many freelancers. The software pushes recommendations to the dashboard based on the information you have provided, the same way a virtual assistant would.
The main desk view brings to your attention the current project you're working on, any task reminders such as invoicing a client, paying quarterly taxes, or automating certain expenses. Since freelancers don't always actively track these expenses AndCo alerts you about them and can take care of them by having them in a central location as the process is automated.
One of the best ways in which AndCo simplifies your work is by minimizing the data that you enter. The software comprises of several creative ways of solving repetitive data entry problems for freelancers.
A really cool tip for you is that you can even use your main brand color to the program to really look professional. Another benefit to make a note of, whenever you send your client an email whether it be a proposal, project listing or invoice you are notified when it has been received and when opened by the client.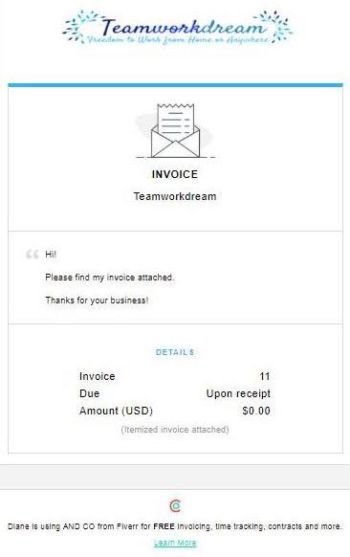 Proposals and Contracts
One of the things that removes uncertainty and provides security is being able to easily supply a well-written proposal and contract to your potential client. You can do this with little to no effort when using AndCo where you set the scope of the work to be carried out, the rate at which you are to be paid whether fixed, recurring etc., with the addition of an attached service contract stating the terms, conditions and responsibilities of both parties.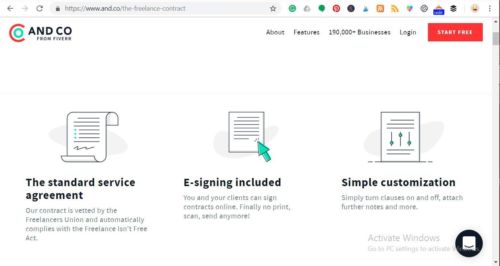 The contract can be as extensive as you want it as it is easily editable and has been created in collaboration with the Freelancers Union to create the first written standard freelance contract to protect freelancers. Contracts can be signed digitally or you can upload your electronic signature if preferred.

Client Information
When adding client information on AndCo you only need to do this once and if there are any changes such as an address or email it is very easy to edit and update. Most freelancers invoice their clients at the end of a project. However, most of the project data can be found in the initial proposal agreement or contract.
Projects
When you start a project, you can drag and drop your initial agreement onto the AndCo dashboard. The software will then create a project for you with little data entry on your part. In addition, the data is treated globally so that whenever you add a new client that has worked with someone else on the AndCo platform, the client's info is auto-filled as you type their info. Brilliant, right?
Another plus and this is the project management part of it, is you can add a list of individual tasks to your projects to keep yourself in check by sticking to your to-do deadlines. You can also attach relevant files and add to the new notes feature to clearly keep your client up-to-date. To note this is a very basic project management system but as they say, every little helps. There are other project management systems available.
A great bonus is that you can state how payment is calculated so depending on the freelancing service that you offer you can state whether you are paid by the hour, day, week, month or year and even by item, word or unit.
Invoice
The invoice feature comprises of a single invoice template that is so simple to use you barely need a demo. You can create invoices uploaded with your logo directly to your earlier created proposals or projects, set payment terms such as whether a deposit is required, include discounted items/services and email messages.
Your clients can then view and securely pay their invoice via your And Co portal (which, by the way, the client doesn't have to sign up and get an account for) by PayPal, ACH transfer, WePay or Stripe. Also, there is no need for you to panic if you are based outside of certain countries when providing a freelance service.
Don't forget, if you have a Payoneer card all you have to do is login and go to the Global Payment Service area and select whichever currency you wish to accept your payment in and add these details manually to your edited invoice. This will act as your ACH transfer details. So happy freelancing!
If you don't have a Payoneer card feel free to sign up for one it's a very simple process.
Another interesting feature of AndCo is that you can save client information including their names, addresses, emails, and business names. This means whenever you click on a client, you can view all their information including their contract, ongoing projects, unpaid invoices, previously paid invoices, and more. This makes it so much easier when getting ready to distribute client invoices. An additional bonus is that you can add multiple tax rates to your invoices and add notes to your clients too.
Expenses
In terms of expenses, AndCo gives you the option to connect live bank feeds, categorize and track your expenses, bill your expenses to clients and no more having to sift through wads of paperwork as you can add your emailed receipts and also take pictures of your receipts that are then stored in one central place for you to easily find come tax time. Better yet, you can pull up an easy-to-understand expense report to keep track of where you might be overspending and be able to claim back over time.
Subscriptions/Recurring Payments
If you're one of those super smart freelancers who has a set in stone regular fee as part of your freelancing business, for instance, as a social media manager. Then why not set up a subscription as a recurring payment? This is the perfect way to easily set it and forget it without you having to worry about getting paid or sending out individual invoices.
Time Tracking
Got a client who wants to know how you work based on time then introduce them to AndCo's time tracker that will automatically record and create timesheets and invoices based on your time spent on their task/project. It can be used across multiple devices so that you always know that you are calculating for the correct billable hours.
Income and Expenses
If you want a quick overview of your freelancing performance you can speedily go to the Income and Expenses tab to see what work you have carried out over a certain period of time and even compare time frames based on week, month, years and create filtered categories or date ranges. You can choose to see this in listed format or as a graph.
Shoebox
This is pretty self-explanatory. As the name suggests this is the area where you can store relevant files for each of your projects. You know, just like that old shoebox that has your bits and bobs in, old receipts, notes, diagrams etc. It's exactly the same principle but digital.
A major advantage of AndCo in freelance management is that it employs real human operators. This means that the solutions provided are applicable to real life situations. In fact, conversational UI is only used when there is a clear benefit to the experience such as simple lists and clean forms.
By avoiding the top freelancer mistakes and simplifying your freelancing tasks, AndCo makes activities like expense and invoice tracking an easy experience. The software handles the often frustrating and tedious tasks, leaving you with time and space to handle money making issues that matter.
I've been using AndCo for a while now with my virtual assistant business at Teamworkdream.com and also regularly recommend the use of AndCo in many of the Facebook Groups that I'm a part of. It's a great platform for a remote worker to establish their professional image when starting out. One of the best reasons as mentioned earlier is that it gets you organized while helping you keep costs down as a newbie as it's a free service to use. No monthly or annual fees here!
So whether you're a graphic designer, freelance writer, a virtual assistant, a Pinterest VA, a social media manager, a transcriber or even a video editor for YouTube vloggers AndCo can help you run your business in the right way. Why not give it a try, I highly recommend it. Also, if you need some additional ideas for your freelancing business take a look at this useful list.
One more thing I just want to add, AndCo are always updating their cloud-based program in a non-disturbing kind of way. Why? Well, they are very open and willing to listen to freelancer ideas and suggestions to make the app even more awesome! All you have to do is drop them a line, make a sensible suggestion and within a few short weeks if the demand is there a notification will be sent out for the new upgrades or tweaks.
If you want enjoyed reading this review why not share it with others by pinning it right now and send to a friend. Don't forget to also check out the Teamworkdream Facebook page
Related  Freelancing from Home Posts: