Avoid These Mistakes to be a Freelance Rockstar
Like every other job, working from home involves approaching and interacting with clients for work. When starting out doing freelance jobs from home it is necessary to maintain a positive working relationship with the client.
This post may contain affiliate links. For more information read full disclosure.
However, the freedom that comes with freelance work at times can be misleading resulting in certain mistakes that can deteriorate the working relationship. I am going to share with you 10 freelancing mistakes to avoid when approaching a client for work.
**READ 50 Best Virtual Assistant Services to Offer**
10 Things Not To Do for Freelancing Success
1) Too Much Pitching
Most freelancers make the mistake of introducing themselves to the client with a long pitch. Instead of focusing on the client, they tend to take a lot of time and space pitching about their services, products, or company.
>>>Learn how to email pitch and draft contracts the right way using the perfect template guides.
Unfortunately, clients nowadays only care about getting the job done they do not need a whole employment history lesson and who you have worked and volunteered for.
The trick is to show that you care about their business, and focus more on how you can solve their problems and needs rather than a long list of what you are offering. Check out what they need and how you can fix or fill those needs.
2) Accepting and Settling for Low Rates
With no guarantee of a monthly income, many freelancers make the mistake of settling for low pay just to please the client. In most cases, having a pleasant working relationship seems like an excuse enough for accepting less pay.
Although offering work at a low rate may be a great way of actually getting the client sometimes especially when just starting out, the client may get a distorted perception of your worth when done too often.
>>>Want to know what rate to charge as a Freelance Writer? Get all the information on How to Become a Freelance Writer
3) Accepting Every Type of Job and Project
Failure to filter projects or the range of jobs offered can have a negative effect on your freelancing life. When you bid on every gig available or take up any kind of project, you are likely to end up doing projects that you do not like or demanding clients who treat you like their commodity.
You need to formulate criteria for choosing projects and choose clients whose business align with your services and values.
4) Sending Out Generic Messages
To save time and effort, many freelancers make the mistake of generating a generic message for their potential clients. It may seem easy and straightforward to compose such messages, but recipients are more likely to be turned off by a generic message regardless of how compelling it may appear.
>>>You might also be interested in How to Become a Successful VA.
In the case of emails, some clients will send such messages directly to the trash folder without even reading them. Another thing to consider is that small businesses network with each other through events and online groups and forums. Therefore, it is critical to personalize every message and ensure it meets the needs of respective clients.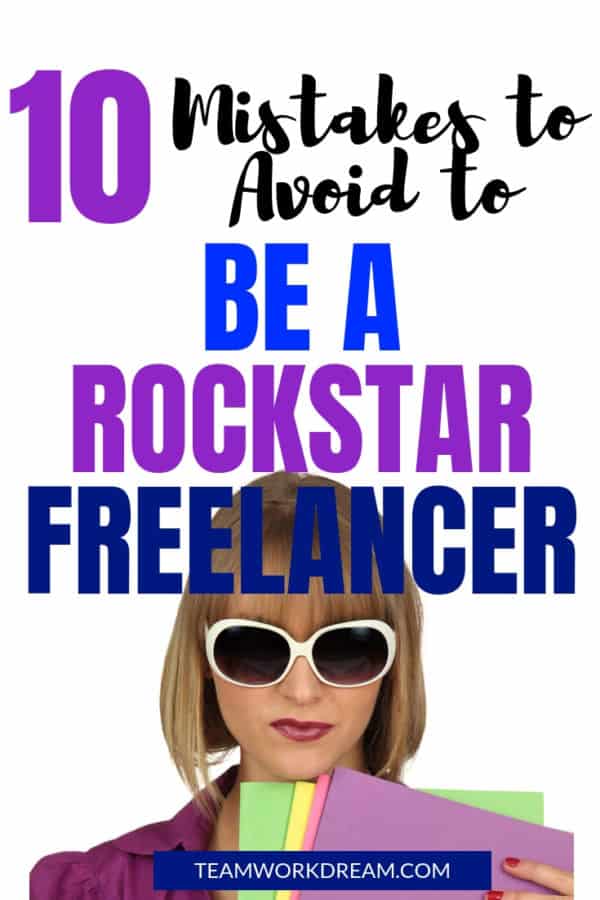 5) Over-promising on Delivery
Promising the client to follow their requirements and deliver the work as stated is good customer service. However, over-promising on what you can deliver can be bad for your clients' experience.
The impulse of making grand promises to a client is wonderfully impressive, but actually delivering on those promises is a different thing altogether. If you do not deliver as promised, the client will be dissatisfied, probably cancel the order, and you may miss a chance of getting referrals.
6) Failing to Communicate Enough
Communication is everything when dealing with your clients and it goes without saying that a client will hire you again and again when they have confidence in you.
In the freelancing world, clients come from different backgrounds with diverse cultures and practices. This increases the chances of miscommunication tremendously. It is important to understand the client's needs, clearly state what you offer, and ensure you communicate enough without leaving anything unsaid.
7) Not Asking the Right Questions
Apart from failing to communicate enough, many freelancers do not ask the right questions. Communicating enough does not mean that you understand your client completely; asking the right questions does.
Failing to ask the right question or not asking any at all will make the job more difficult, could lead to a misunderstood delivery of the task, or unfinished work resulting in the possible loss of a great client.
8) Trying too Hard to be Liked
This goes without saying; when you approach a client, you want to start a business relationship and not a friendship straight off.
Most of the time, freelancers make the mistake of starting a conversation with the intent of creating a new friendship. In turn, the client will view you as a person that will say and do anything just to be liked rather than someone who can deliver.
This can lead to blurred working boundaries and your work-life balance may then become difficult to manage as strict boundaries were not set at the beginning of the working relationship.
9) Not Being Specific on Pricing
Many freelancers make the mistake of being vague about how they price their services. When you approach a client, they need specifics to make a decision.
They need to understand whether you charge per project or per hour and whether you have a base price. Being specific on pricing will also set the ground for the client to start negotiating for the work. To work around this use a simple freelancing business system to have everything clearly set out.
10) Not Realizing It's a Business and Giving Up Too Soon
It takes time to be a successful freelancer, and many people tend to give up too soon. When approaching a client for work, it is important to avoid distractions of others and life in general along with doubts and fear of failure.
They say that when you have a brick and mortar business it takes around 3 years before you start to see steady positive results. With your freelancing business, it's slightly quicker but it can also take some time if you're not patient and willing to put the work in.
The key is to make sure you treat it as a business. As a freelancer newbie or expert, take time to talk with potential clients and convince them you are the right person for the job. I guarantee you will become better over time.
Final Thoughts on Freelancing Mistakes to Avoid
With all that being said, those are the 10 mistakes to avoid when approaching a client for work. With a bit of care and focus, you will soon establish yourself as a reputable rockstar freelancer with excellent customer service.
Pitch the right way, offer competitive rates, accept the right jobs that suit you, communicate well and ask the right questions, provide an excellent service and treat your freelancing business like a real business and you're well on the way to being a brilliant and highly recommended freelancer.
If you want to know a few more freelancing mistakes to seriously to avoid you might want to read this article.
Have you faced any other challenges when applying for freelancing work that you've learned from? Why not share by getting in touch or fill out to receive the Teamworkdream newsletter where I share new legitimate jobs each and every week. You can also pin it for later.
Related freelancing business posts: