Well you have read, researched and now have everything set up, you are internet-ready, you've checked out all the remote working platforms and have your professional looking advert up and running and showing globally. But if you are offered a job how do you receive payments for remote work?
This post may contain affiliate links. For more information read full disclosure.
In case you are still thinking about what online services to do you might want to check out this list of remote services you can offer.
Knowing how to set up your business to receive payments for remote work is important and it is best to get this done before starting to accept work.
Read for interest:
Now one of the most important things you will need as simple as it sounds is a bank account. Yes, there are still many of us here in the Caribbean and elsewhere who deal in straight cash and prefer not to save within the banking system but that all needs to change as we all have to step up our game.
Wherever you are located within the world there should be a bank that can provide suitable banking services for your needs and as a future freelancer and online entrepreneur, you will need a bank account where you can have the option of connecting your earnings.
If you are like me and now based in the Carribean, try to obtain a savings account that is linked to a Visa Debit card. I believe that Scotia, CIBC, FCIB, FGB, JN and Sagicor Banks all have Visa Debit cards. You may know of others within your region which makes it easier to do online payments or to make online purchases.
The other reason for having a bank account is that you will need one when registering for a freelance prepaid card which is a quick and efficient way of receiving payment as a freelancer on any of the freelancing platforms or when working independently.
I use my Payoneer card all the time when working online and have used it for local shopping and travelling with ease. Most global remote workers and freelancers based in countries outside of the USA/UK/Australia tend to use this method.
The great thing also is that if you refer a friend you may also be able to earn $25. Just use the signup and once you've received your card and up and running in the world of online work refer your friends too.
Another great benefit of using Payoneer when based in certain locations is that you can also accept payment through ACH Transfer. Just go to your Payoneer online account, go to the Global Payment Service area and select the currency you wish to be paid in and send these details to your client in an invoice.
Having a PayPal account is also another useful means to receive payments from clients. The only issue with PayPal for us here in Jamaica (not sure about the other countries outside of the US/UK) is that you will have to request a cheque to receive funds which may take some time, around 30 days.
If you're lucky enough to have a bank account with the Bank of Nova Scotia it only takes 10 days for your cheque to clear but it's best to ask your bank as each has there own set of policies. If you don't want to have to go through clearing a cheque you can always make online purchases through your Paypal account instead.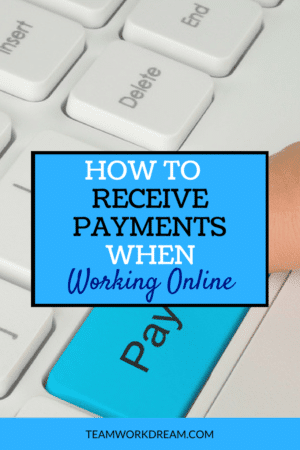 Another great platform that I use is called AndCo and it's great when you find your own clients as you can have a branded look with your contracts, proposals and invoices.
It really streamlines your work from home business. Just link your PayPal account when sending out your invoices. They also use Stripe and WePay for you to accept payment by credit card, this is also region-based
I have shared in previous posts that you can work from anywhere but in regards to payment gateways, there are certain restrictions depending on what region you are in so check this out beforehand so that you can be properly set up to accept payment for any work you undertake.
So now that you have your bank account and Payoneer card and everything else is in place I will share with you other ways to find legitimate and free remote working opportunities on a variety of global platforms.
There are other methods on how to receive payments for remote work such as Google pay, Venmo, Skrill but if you have any questions in regards to this post just drop me a line or make a comment below and don't forget to check out Teamworkdream's Facebook page as there is info there that can also help you out.

Topics of Interest