Making printables is easy and a great way to earn passive income. If you constantly have some spare time on your hands, you could easily create a home-based party printables business.
People are always buying printables while planning to host all types of events. The best part is, you don't need to be an expert to start! Others have done it, and so can you!
This post may contain affiliate links. For more information read full disclosure.
How To Create Printables?
Here's how to begin.
Get an idea of a digital printable you'd like to make which can be in the form of a card, stationery, planner, checklist, bookmarks, and wall art amongst other creative pieces.
Sketch the design, decide on the size, and experiment with colors to find one to represent your brand. This along with your brand name will help customers identify your products.
The software you'll be using to design the printable depends on the type of product you'll create. Buyers will be more intrigued to purchase a printable that looks professionally done.
Three suitable platforms to craft your products are Photoshop and Photoshop Elements, Canva for free, and Adobe Illustrator.
When your design is complete, ensure they're saved and downloadable in JPG, PNG, SVG and PDF formats so customers can make multiple copies.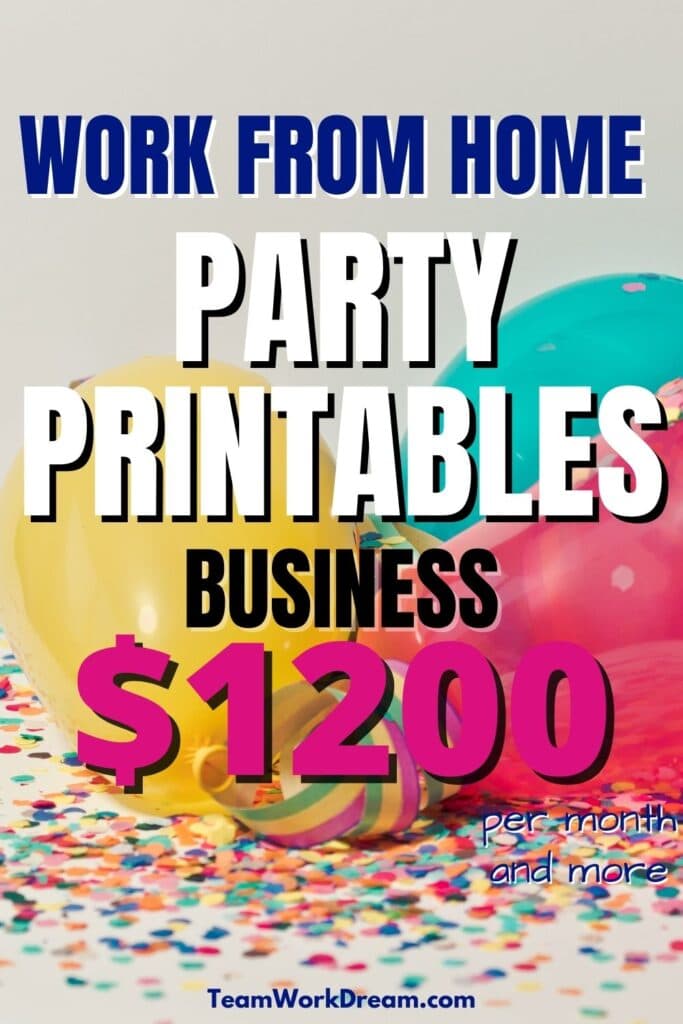 Where To Sell Digital Party Printables and Games
Selling your digital party printables on several websites not only gains more recognition but also increases the revenue earned. Here are a few places to start:
Create an Etsy Store which is very popular for selling digital printables.
Make a gig on Fiverr and display copies of your gorgeous printables with a watermark to attract clients.
Plan to create a series of digital printables for sale? You could create Your Own website and add an e-commerce plugin.
If you have an existing blog, you could sell your printables by using various plugins like SendOwl the most cost-effective when just starting out. Shopify, ECWid, Woocommerce.
Join Facebook groups with different bloggers who are willing to purchase printables. For example, a wedding blogger may be willing to purchase your digital wedding planners.
Amazon is another website you can easily use to sell printables.
Special Occasion Digital Downloads
There are several printables that you can create for different occasions. These include:
Christmas – seasonal cards, tree decorations, gift labels, games
Birthdays – banners, wall art, labels, kids' activities, stickers, bottle labels
Baby Showers – guess baby weight games, coloring pages, banners
Anniversaries – personalized bottle and glass labels, banners
Engagement and Wedding – place cards, invitations, gift labels
Bachelor and Bachelorette – banners, sashes, games, bottle labels
Thanksgiving – table numbers, food labels, games
One of the easiest places to learn how to create party printable is through Crispy Prints. I've subscribed to this myself and created ready to go printables with just a few tweaks.
It's practically automatic and the video guides are so simple a child can do it.
I do have to admit though that the site itself looks rather old-fashioned and dated but the application of Crispy Prints does exactly what it says and you can produce a lot of printables in a very short space of time once you watch the how-to videos.
You can actually have your party printables business up and running in a single day.
You can view some of the simple videos (not part of the course but a great example) by Ike Paz the creator to get an idea of how the system works.
How Much Can You Earn Making Party Printables?
Party printables sell all year round! So, start and you can cash in big! People are always celebrating and neat printables make the occasions more personalized and special.
Selling on the right sites you could earn up to $1200 per month by averaging prices between $2 to $15. Once you've uploaded your printable files there's no need to continually track sales as you'll hear those pings on your phone.
Final Thoughts
Making party printables is fun and easy. You can help event organizers, and party hosts by creating unique party printables to make their special event memorable.
The best thing is, your party printables can generate income for years without the need to monitor or change anything. Try it today!
Related Posts