Choosing the Best Print on Demand Company to Make Money Online
There are many ideas to make money from home but one simple one that lets you do less work is by using the best print on demand companies to create merchandise such as t-shirts, tote bags, mugs and even branded jewelry.
I'm going to share with you some of the best print on demand companies to make money from home and if you really can make good money from it. But before doing that let's find out exactly what print on demand is.
This post may contain affiliate links. For more information read full disclosure.
What is Print on Demand?
Print on demand (POD) is printing products in small quantities and selling them on a per order basis. It's similar to the dropshipping ecommerce method but with less hassle.
Why? Because it is a cost-effective method that avoids the storing or wholesale stock, plus the processing and delivery of orders.
Print on demand allows you to easily create your design online, set up an online store, and share your product links via social media.
What is the Advantage of Print on Demand?
You do not need a physical store

POD allows you to set up a business quickly and easily without all the risk

You can sell your products without managing shipments

You don't have to store inventory

You do not have to manage delivery of products

Very little capital is required to start your business

You can start this business from any location

Simple to integrate with your ecommerce site such as Shopify, Etsy or Woocommerce and others
Can You Make Money from Print on Demand?
You most definitely can make money from the print on demand model but there are some things that you need to take into consideration.
If you have some great looking graphics or catchy quotes, and really know how to market your business well or have a great following you really can start to generate a good income.
Trendy slogans, attractive graphics, and having your branded products seen by the right audience is very important.
Many users of print on demand services actually start out on platforms like Instagram before branching out and creating their own ecommerce sites.
Creating print on demand products is a great way to start earning a passive income. You only have to design your graphics/slogans once and whichever printing platform you choose your customers can purchase your well-designed products over and over again without you having to do any of the heavy lifting.
What Type of Products can be Sold with Print on Demand?
Normally when you think about print on demand you think mainly about T-shirts but there are so many other products that you can choose to add your designs to such as pens, mugs, caps, bags, coasters, mousepads, phone cases, shower curtains, towels, cushions, doormats, flip flops, sneakers, hoodies, jackets, water bottles. wall art. The list is endless.
If you have an eye for design using any of the convenient apps such as Picmonkey, Canva, iPiccy, Photoshop, InDesign, or if you're a dab had at using Procreate on your iPad then you can start selling your artistic designs by adding them and selling them via print on demand.
Can't you just see your one in a million designs on these items?
Best Print on Demand Companies to Start Making Money
Here's a great list of companies that offer the best print on demand services.
Printify is one of the leading print on demand ecommerce market that relates to large print networks like t-shirts. They cater to designing, sourcing and fulfillment, plus shipping of products.
Printify allows you to get the best prices for custom-made products. The company allows integration with other popular ecommerce platforms like WooCommerce and Etsy. This allows you to choose a platform that matches your interests to start selling your products.
Society 6 focuses on the artistic prints niche. This ecommerce market place is easy to set up and use. It allows you to sell a range of products that include items like pillowcases, mobile phone cases, and t-shirts.
Another benefit of using Society 6 is that it allows you to retain copyrights to the designs as a seller. The website also runs different marketing campaigns that can boost your sales.
Printful is a site that works well for entrepreneurs. You can print clothes for all ages, accessories, pillow covers, towels, and wall art. Printful enables you to advertise with other ecommerce platforms.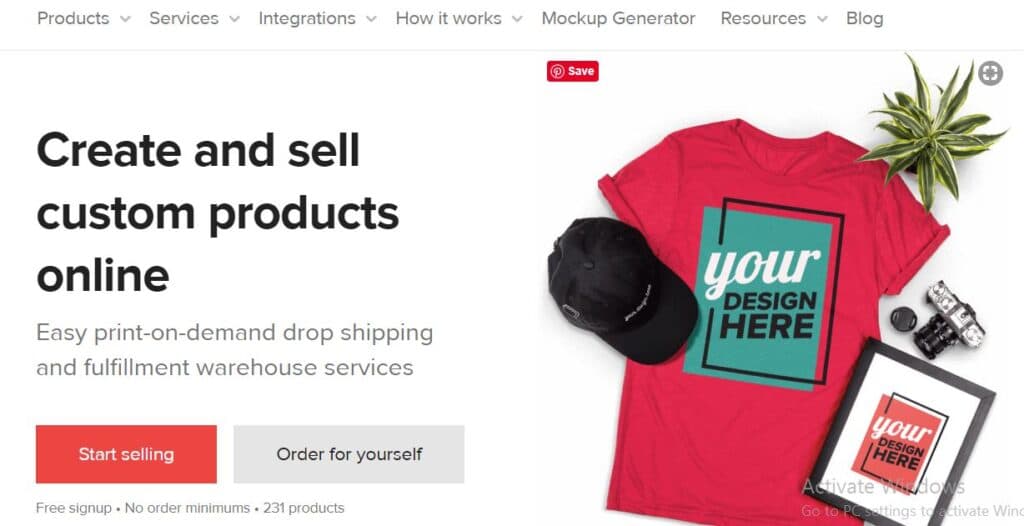 When an order is received, Printful communicates with you and then delivers the products to the customers.
Printful guarantees high-quality products and dropshipping. This allows you as a seller to focus on creating and improving your products. The company also takes care of stocks, printing and all the production.
Spreadshirt is a great option for new sellers looking to set up a print on demand shop. The platform gives you the opportunity to generate income and it is easy to use.
When you put your products on Spreadshirt, everyone on the platform can sell your designs. In the process, you earn a commission on each sale made.
If you desire to have control over your designs, you can open your own Spread shop. All the sales of your designs are now made on your site, and you can make regular profits.
Redbubble is a viable print-on-demand platform for sellers looking for a big consumer base. A diverse creative community submits their artwork in the platform that you can easily join.
Some of the products that you can print on Redbubble include notebooks, t-shirts, hoodies, postcards, duvet covers, stickers, among other products.
The platform has a user-friendly interface, a free to join setup and a fast uploading process. It also allows you to set your own pricing margins for each product.
Teespring is a competitive print on demand company. They have several categories of products that can be browsed based on hobbies, interests, age, animals, location, and sports.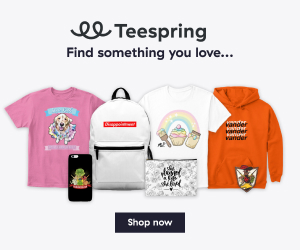 Teespring has an interface option where customers can remarket their products and designs. You can print products like mugs, gifts, home decor, t-shirts, and hoodies.
Teespring also allows you to set different prices for different products and offers dropshipping of products to consumers.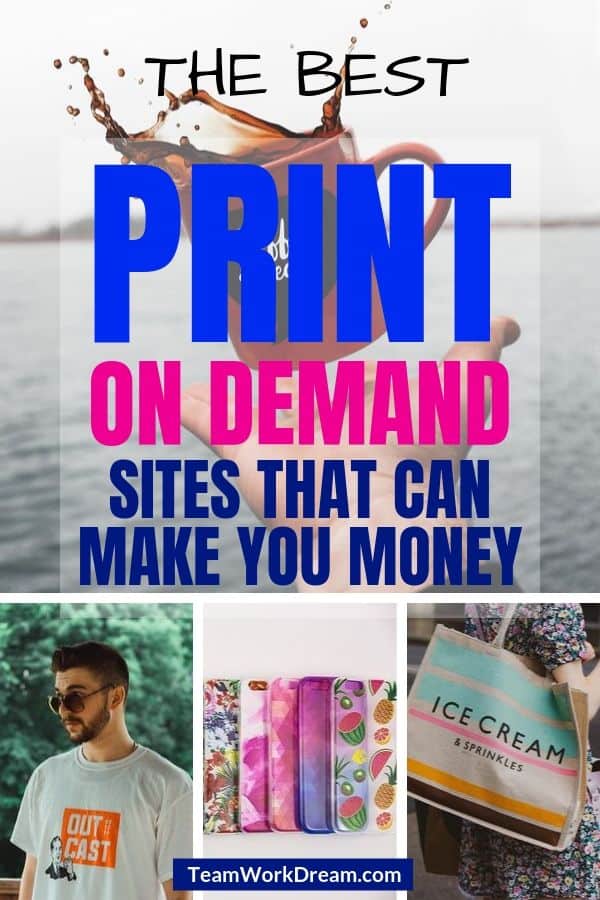 Zazzle is an online business that assists creatives and designers to make products using their art. You can upload your own designs, set your own margin rates, and earn referrals on any sale. Zazzle offers you a straight forward platform with no listings.
Your designs are listed within the main site and you can share them on your social media to drive more sales. The site also offers you tips and tutorials on ways of improving your products and designs.
Teelaunch is a great option to get started in the print on demand online business. It integrates with Shopify. Teelaunch print-on-demand pricing structure allows designers and artists to start their stores with no investment. The website is easy-to-use and offers the best solution for quality customized products.
Print on Demand Final Thoughts
There are many prints on demand options to choose from based on your needs and interests and if you're looking for a way to start earning from home without having to hold stock and still use your creativity then print on demand may just be for you.
Using print on demand companies offers you the opportunity to create designs that are highly in deamnd. A great way to check for this is to take a look at Google Trends or whatever is trending on the popular social platforms,
You can quickly scale up your production and sell to a global market. You can also customize quality products and offer more value to your customers for very little outlay to yourself.
If you have someone artistic in your family and friend circle why not share this post of the best print on demand companies to make money online it might just be the online business model that they're looking for.
Related print on demand posts: